In today's fast-paced world, the knowledge level of employees is one of those important cornerstones to a successful operation. There is clear evidence that a well-informed and self-sufficient production team ensures higher productivity, resulting in increased business success. So how can you ensure your staff has all the knowledge it needs to keep your print shop running smoothly?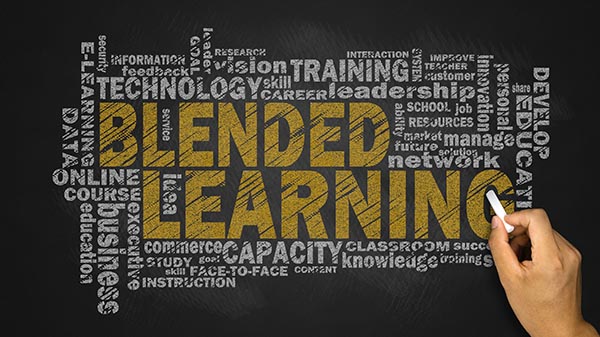 Let's reflect on this last year. In 2020, a new reality landed on our doorsteps and the world had to adapt to an unexpected shift in how we live, how we work, how we meet friends, how we shop, and also how we learn. As the COVID-19 pandemic quickly led to travel restrictions and social distancing, self-paced, eLearning became the method of choice for training needs. Several studies have demonstrated that eLearning enables students to absorb five times more material without increasing time spent[1].
But even though remote learning has become the dominant (or only) choice these days, there is still a need for hands-on, classroom-based training. As the global vaccination process takes hold, we will hopefully return to some sort of normal and get back to blending face-to-face training with online learning. Modern learning systems today offer a hybrid learning journey that integrates online courses with live, instructor-led, classroom formats.
A Learning Management Systems (LMS) is a platform that gives managers a full line-of-sight into which employees know what, their knowledge levels, and any gaps that may exist. They can track the learning progress of their employees, check their certifications, and assign them to relevant courses. Operators may also enroll themselves in courses, choosing from personalized selections which are tailored to the specific level, equipment and models that the company owns.
For the printing industry, blended learning systems that leverage sophisticated LMS platforms are key to building up skillsets and enhancing the learner experience. Through new and exciting training methods, like gamification and virtual reality, operators are better equipped to handle the many different situations that can ultimately minimize support calls and impact overall efficiency. Such continuous knowledge enrichment that is visible to managers is invaluable to employee engagement and business growth.
HP Indigo's learning system, "PrintOS Learn," is a centralized platform for managing personalized and continuous learning development and adopts the principles of modern-day LMS as described above. It offers more than 70 self-paced courses and hundreds of classroom sessions per year to students from more than 65 different countries in more than 10 languages.
To view the entire Workflow Chef series and other relevant sponsored content from HP Indigo, visit https://whattheythink.com/topic/hp-workflow-chef/.
[1] https://sellcoursesonline.com/online-learning-statistics