Let's talk about prepress, and particularly what it means for your bottom line.
The time it takes to prepare a job for digital print depends on many variables: the type of application, job complexity, number of pages, quality standards, and of course, the type of systems you have in place to automate and enable all of these
Based on our own internal analyses, on average, it takes around 30 minutes to prepare a commercial job for print (labels and packaging jobs take longer). For a print service provider with 50 jobs per day, this means 25 hours of prepress work, which requires about three prepress employees.

So, what's the issue?
With the current trends that point to an increase in the number of job and a continued decrease in the length of each job, this ratio becomes unsustainable from a business perspective.
Adding to the costs, business owners are already facing challenges in hiring, training, and retaining skilled prepress staff.
Is there an optimal solution?
Assuming your jobs are created by your customers and are not pre-set on your web-to-print system, the only sustainable solution is implementing prepress automation.
There are two approaches to prepress automation: a traditional (centralized) view, and a specialized (distributed) view. Here are some tips on how to assess which option is right for you.
Centralization
Many commercial printers have both conventional and digital presses. Typically, the conventional presses were added first, along with prepress systems such as Heidelberg Prinect or Kodak Prinergy. These systems have sophisticated prepress and automation tools that can handle any job, regardless of its press destination. When using those tools for both plate making and digital printing, customers can leverage their existing equipment, knowledge and trained personnel by having a single, centralized prepress system. This setup makes it easy to route jobs between offset and digital, based on the job characteristics, and also based also on the current workload of the production floor. When the digital press is integrated with the offset prepress system—such as the case with HP Indigo presses—the submission and status reporting to the MIS are also centralized and automated.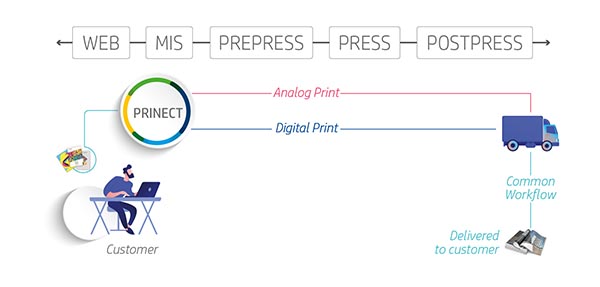 Specialization
Another approach is decentralization. Many customers prefer to split the prepress for their offset and digital jobs and use a specialized tool for each. Typically, there are more digital than offset jobs per day, and the digital jobs require simpler prepress but need to be delivered within a shorter timeframe. Using the offset prepress systems and "masters" is often overkill—plus, it can potentially slow things down for the entire floor. Therefore, it sometimes makes sense to use an additional set of prepress automation tools that is lighter and more flexible, such as Enfocus Switch, to handle the digital jobs.
Another advantage of this approach is addressing some of the unique characteristics of digital print, such as variable data or special inks that require specific tools or processes. In most cases, the decision whether to use digital or offset was already when the quotation was calculated, and therefore the job can be routed directly to its print destination.
Whether you choose to take the centralized or the specialized path – remember that prepress automation is an absolute must today. Make sure you have a clear automation strategy that will enable you to reduce costs, simplify operations and grow along the way.
To view the entire Workflow Chef series and other relevant sponsored content from HP Indigo, visit https://whattheythink.com/topic/hp-workflow-chef/.