Your Friday Nerding Out Over Pencils
Writing directly in the CMS this morning so I can feel alive

— Zach Montellaro (@ZachMontellaro) April 22, 2021
Amazing Stories
Whenever life or the news gets depressing, remember that we just flew a helicopter on Mars. Via Gizmodo:
It's the first powered, controlled flight on another planet. Ingenuity completed the flight carrying a small piece of one of Orville and Wilbur Wright's original aircrafts tucked under its blades, in a nod to the legacy that made this morning's achievement possible.
Au Mal Pain
Rose is a colour,
Arial is a font, pic.twitter.com/zqOOnmGlOZ

— Jeremy Woodcock (@jwPencilAndPad) April 16, 2021
Gone to the Doggs
The New York Times looks at changes in bookselling during the pandemic and wonders if book publishing may be changing forever (when hasn't it?)—and not in entirely good ways. They cite the rise of online book-buying and an emphasis on well-known authors, citing the runaway success of a cookbook written by Snoop Dogg. Although book sales were high during the lockdowns of 2020…
the tide did not rise for all authors and sellers. The pandemic altered how readers discover and buy books, and drove sales for celebrities and best-selling authors while new and lesser known writers struggled. Many of the 200-plus new books that Chronicle released failed to find an audience and quite likely never will.
…How and where people buy books shifted greatly, as homebound readers shopped online, driving a greater share of sales to Amazon and to big retailers like Target and Walmart. This mass consumer migration — which was already underway but accelerated during the pandemic — could have a profound impact on literary culture.
Clubbing
Now this looks like my kind of book club @Bookishcrick https://t.co/fOF7CNb552

— Richard Osman (@richardosman) March 25, 2021
Print House
Are you a print business looking to see what new kinds of products and applications you can offer? Well, what about houses? Via Reuters, a company has started 3D printing houses. The model home was unveiled a couple of months ago in Calverton, N.Y.
The demo house was built by construction firm SQ4D, to show the public and industry what was possible. Now the company is putting one up for sale - a still to-be-built house in the nearby town of Riverhead, which has been listed on property site Zillow at $299,000.
With a detached garage, the house will cover some 1,400 square feet (130 square meters). The footings, foundation and slab, along with the walls, will be entirely made with the 3D printer.
Naturally, they had to build their own printer. "We took the idea of a plastic 3D desktop printer and wanted to make it much larger and spit out concrete," said Andersen.
Click through to watch a little slide show. Looks nice.
On the House
If your house numbers are in this font, you know that bad boy is selling for 20% over asking price with a cash offer and waived inspection. pic.twitter.com/bkpFtcgNno

— Josh Cohen (@jcohenwrites) April 19, 2021
Wooden It Be Nice?
OK, not into 3D-printed houses? What about lab-grown wood? The BBC thinks it may be the future of furniture.
Ashley Beckwith, lead author of the study, said her hope is that lab-grown wood could one day supplement traditional forestry methods. Her team is growing the wood by using a 3D-printed gel to mould plant cells into the desired shape. The technology could be used to create wooden parts or planks, which could then be used in a piece of furniture.
…She added: "We dedicate a lot of resources to growing whole plants, when all we use really is a very small portion of the plant… so somehow we needed to figure out a more strategic way to reproduce materials that isn't so reliant on the land."
…Explaining the differences between wood from trees and lab-grown wood, she said: "Right now the differences between these types of structures and a traditional wooden structure is that wood is highly ordered… you have the grains in the wood and they go in a specific direction because they are vessels designed to facilitate liquid to flow up a tree. "But in our situation we don't have this alignment at the moment, so it's more like particle board or a composite where there's no directionality to the structure."
We're waiting for the day when we truly enter Bizarroworld: naturally-grown plastic.
Transitions
Time Between Thing Being Amusing, Extremely Irritating Down To 4 Minutes https://t.co/2m1riYtNFG pic.twitter.com/HEQerRnlNl

— The Onion (@TheOnion) April 19, 2021
Provoking a Reaction
Vox asks: "Could the solution to fashion pollution be…tiny nuclear reactors?" They immediately answer: "Considering they don't exist yet, probably not, no." Then why ask the question in the first place?
a man named Rickey Ruff wants to outfit every single one of the what he describes as more than 8,000 fashion suppliers worldwide — chemical manufacturers, dye houses, garment factories — with their own personal, miniature nuclear reactor. (According to the Open Apparel Registry, there are more than 55,000 known fashion suppliers worldwide.)
And why would he or anyone want to do this? Well, as Cary Sherbune and Debbie McKeegan point out regularly, the fashion industry has a terrible environmental record, which the Vox article reiterates.
It's estimated to be responsible for around 5 percent of global carbon emissions, and the Sustainable Apparel Coalition, which includes Reformation, H&M, Zara, Patagonia, Levi's, Walmart, and Boohoo, has set for its members a target of 45 percent emissions reductions by 2030.
…Textile fabrication and coloration are particularly energy and emissions-intensive. Dye houses and laundries need thermal energy to run their boilers. "You have to burn something in order to get the water temperature hot enough to do its job," says Perkins. "Solar will not do it. Geothermal will not do it." That "something" is usually cheap, abundant coal or, when it's available, natural gas, which is only slightly better. "The alternative sometimes is to burn forests," Perkins says.
So enter Ruff and his venture called Global Nuclear Concepts. Ruff is a former football player, but has always loved fashion.
Ruff sees nuclear power as the leapfrog technology that will allow developing countries to grow their entire economies with clean energy. When he heard about modular nuclear reactors, factory-built plants that can fit on the back of an 18-wheeler and be assembled on-site, like Legos, the idea clicked into place.
Not everyone (or much of anyone) is on board. Still…
When I bring up all these concerns to Ruff, he is undeterred. "You're totally right, it is a heavy lift. It's a lifetime mission," he says. "I'm in the storytelling phase to get the vision out there. But I think with the proper support, though, it's absolutely not impossible."
More Signs of the Times
gonna publish a coffee table book with Covid-related signage pic.twitter.com/VEhtC619Ll

— Mark De Angelis (@DeAngelisMark) April 20, 2021
Plastic People
There are not too many people—outside the plastics industry anyway—who would deny that there is far too much plastic in the world, a lot of it in not at all good places, like deep in the ocean or in the stomachs of sea turtles. Challenges abound in figuring out how to get rid of the stuff. However, via Gizmodo, Dionisios Vlachos, a professor of chemical and biomolecular engineering at the University of Delaware, has co-authored a study that tackles the idea of converting plastic back into the oil from which it was originally made.
The study details a new type of technique for treating single-use plastics that, researchers say, can break down all sorts of tough-to-recycle plastics—including polyethylene bottles and bags—into liquid petrochemicals. One of the most notable things about the new technique is that it's able to break down the plastics at lower temperatures than other pyrolysis methods, which helps transform the plastic into denser fuel and uses two to three times less energy.
…[H]igh-heat techniques, Vlachos said, break down most of the chemical bonds in the plastic, which makes the final product closely resemble light gases like shale. This new technique, by contrast, can create liquid fuels at the lower heat used—around 437 degrees Fahrenheit (225 degrees Celsius)—producing "nearly ready-to-use fuels for cars, trucks, or airplanes and lubricants," Vlachos said.
Sounds kind of like a closed-loop plastics manufacturing system and while it probably won't completely solve the problem of too much plastic, it seems like a good start.
Not Mutually Exclusive, Though
What's the worst or funniest typo you've ever seen? When I used to phone in my reports to copytakers from around the world, I always worried about what might happen, amid crackly phone lines. I'll spill the worst cases later this week! pic.twitter.com/9LmQ3lz1uQ

— Neil Drysdale (@NeilDrysdale) April 19, 2021
I Love the Sound of Breaking Glass
Via Core77, meet Simon Berger, a carpenter turned artist who "draws" portraits by smashing glass with a hammer.
Berger's technique is to precisely strike panes of glass with a hammer, using the resultant spiderwebs as highlights. In this manner, he's able to create some astonishing portraits…
Watch him in action:
Pocket Full of Kryptonite
To be fair, Spin Doctors are exactly who I'd ask to help out with Two Princes. https://t.co/vAjhBHqgUo

— Jeremy Woodcock (@jwPencilAndPad) March 31, 2021
We Can't Have Nice Things
From the BBC:
Product placement is big business for movies and TV series alike, and items can now be added digitally to films and programmes both new and old.
Of course, product placement in movies and TV is nothing new; in fact it is believed to date back to the Buster Keaton's 1919 film The Garage, which featured the logos of oil companies.
But while previously the product had to actually, physically be there when the shots were filmed, the advertising industry is now turning to technology that can seamlessly insert computer-generated images.
So items can be digitally added to almost any movie or TV show. For example, advertisers could put new labels on the champagne bottles in Rick's Cafe in Casablanca, add different background neon advertising signs to Ocean's 11, or get Charlie Chaplin to promote a fizzy drink.
Film purists and other cineastes will love this.
Need Some Time
It took me a while to get into this film. https://t.co/v3msGNx44S

— Frank Conniff (@FrankConniff) April 21, 2021
WhatTheyDrink
Via Laughing Squid, Alton Brown (food expert, "Thyme Lord," and former host of Good Eats) explains the history of the gin and tonic—and why it might be more correct to refer to it as a medicinal elixir than a cocktail. Gin and tonic water had different origins and periods od development, but both came together in the Far East when quinine (the main ingredient in tonic water) was used by British colonials to ward off malaria. However, pure quinine is rather bitter, but it was quickly discovered that it was far more palatable if a drop (or two) of gin were added.
We'll drink to that!
Breaking News
I can't believe this stuff really happens. I saw a man buy a ham sandwich last Thursday in a sandwich shop. He had a red bike. https://t.co/Cqve4Z6GOE

— Nitin Sawhney (@thenitinsawhney) April 18, 2021
Down at the Eel
Not that we typically follow controversies in the world of seafood, but one phrase in a headline took us rather by surprise: "the crime-ridden global market for eel." Reelly? Apparently, yes. The Counter has a long story about the current eel market and a profile of Sara Rademaker, lover of eels and founder of American Unagi, now the largest commercial eel farm in the United States.
In many parts of the world, eel populations are currently endangered, decimated in part by overfishing, pollution, and the damming of rivers where they've historically lived. Against this backdrop, Rademaker is fighting to carve out a transparent, sustainable sliver of a crime-ridden global eel aquaculture market that, as of 2017, was worth billions of dollars. By raising only legally caught elvers to maturity, Rademaker is betting that transparency and traceability will win market share—and all the better if she casts light on this deeply secretive and often infuriatingly complex industry.
…As a small band of self-described "eel people" including Rademaker scramble to improve the industry, they do it with the knowledge that their battle is an uphill one. They struggle to shine sunlight onto this under-the-radar creature, some species of which have been deeply exploited for decades, often to the point of population collapse. Using court documents; rare access to restricted labs around the world; and extensive interviews with biologists, law enforcement agents, environmentalists, and aquaculturists, this story is a journey into the profound economic and cultural value of the enigmatic eel—and how far some will go to control it.
Who knew?
By the way, if you're really into eels, we recommend Shôhei Imamura's 1997 film The Eel (Unagi). The synopsis, from IMDb: "A businessman kills his adulterous wife and is sent to prison. After the release, he opens a barbershop and meets new people, talking almost to no one except an eel he befriended while in prison."
And of course, the band Eels.
Games People Play
April 4, 2021
Back in the Village
Via Boing Boing, a Kickstarter some of us can get behind: an officially-licensed line of action figures for the great 1967 TV show The Prisoner. Refusing to contribute would be Unmutual.
Consider Yourselves Warned
Soon, the internet will make its own cat photos and then it won't need us https://t.co/Qf0z4VryaG pic.twitter.com/OF4LSTJfSu

— The Verge (@verge) April 12, 2021
This Week in Printing, Publishing, and Media History
April 19
1824: English-Scottish poet and playwright Lord Byron dies (b. 1788).
1927: Mae West is sentenced to 10 days in jail for obscenity for her play Sex.
1971: Launch of Salyut 1, the first space station.
1987: The Simpsons first appear as a series of shorts on The Tracey Ullman Show.
2013: American journalist, author, and publisher, founder of USA Today, Al Neuharth dies (b. 1924).
April 20
1535: The sun dog phenomenon observed over Stockholm and depicted in the famous painting Vädersolstavlan.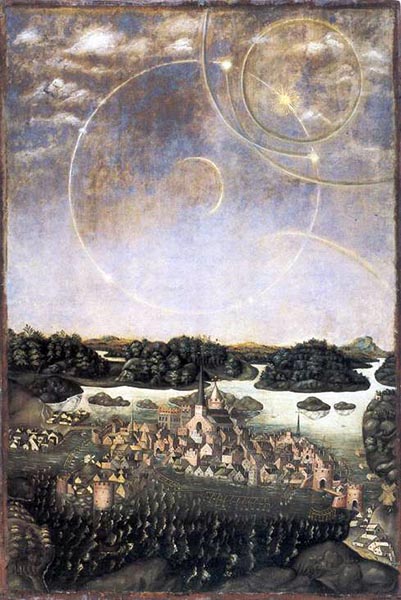 1893: Spanish painter and sculptor Joan Miró born.
1912: Anglo-Irish novelist and critic, creator of Count Dracula, Bram Stoker dies (b. 1847).
April 21
753 BC: Romulus founds Rome (traditional date), but not in a day.
1816: Cornish-English novelist and poet Charlotte Brontë born.
1838: Scottish-American environmentalist and author John Muir born.
1910: American novelist, humorist, and critic Mark Twain dies (b. 1835).
1934: The "Surgeon's Photograph," the most famous photo allegedly showing the Loch Ness Monster, is published in the Daily Mail. (In 1999, it was revealed to have been a hoax.)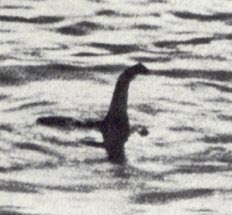 1977: Annie opens on Broadway.
April 22
1616: Spanish novelist, poet, and playwright Miguel de Cervantes dies (b. 1547).
1707: English novelist and playwright Henry Fielding born.
1724: German anthropologist, philosopher, and academic Immanuel Kant born.
1876: The first game in the history of the National League was played at the Jefferson Street Grounds in Philadelphia. This game is often pointed to as the beginning of Major League Baseball.
1899: Novelist and critic Vladimir Nabokov born.
1977: Optical fiber is first used to carry live telephone traffic.
April 23
1616: English playwright and poet William Shakespeare dies (b. 1564).
1850: English poet and author William Wordsworth dies (b. 1770).
1985: Coca-Cola changes its formula and releases New Coke. The response is overwhelmingly negative, and the original formula is back on the market in less than three months.
2005: The first ever YouTube video, titled "Me at the zoo," was published by user "jawed."
April 24
1704: The first regular newspaper in British Colonial America, The Boston News-Letter, is published.
1731: English journalist, novelist, and spy Daniel Defoe dies (b. 1660).
1800: The United States Library of Congress is established when President John Adams signs legislation to appropriate $5,000 to purchase "such books as may be necessary for the use of Congress."
1905: American novelist, poet, and literary critic Robert Penn Warren born.
1940: B is for Birthday—American author Sue Grafton born.
1990: The Hubble Space Telescope is launched from the Space Shuttle Discovery.
April 25
1901: New York becomes the first U.S. state to require automobile license plates.
1908: American journalist Edward R. Murrow born.
1953: Francis Crick and James Watson publish "Molecular Structure of Nucleic Acids: A Structure for Deoxyribose Nucleic Acid" describing the double helix structure of DNA.
1954: The first practical solar cell is publicly demonstrated by Bell Telephone Laboratories.
1961: Robert Noyce is granted a patent for an integrated circuit.
Anything catch your eye "around the Web"? Share it with us at [email protected].