Your Friday Converting a 3D Printer Into a Sandwich-Making Robot
I'm getting my first vax shot tomorrow which will be the first thing I've done to extend my life expectancy in over a year.

— J. Elvis Weinstein (@JElvisWeinstein) April 14, 2021
Ruff and Ready
You may have noticed on Wednesday that the Google Doodle paid tribute to Johannes Gutenberg, whom some of you may have heard of: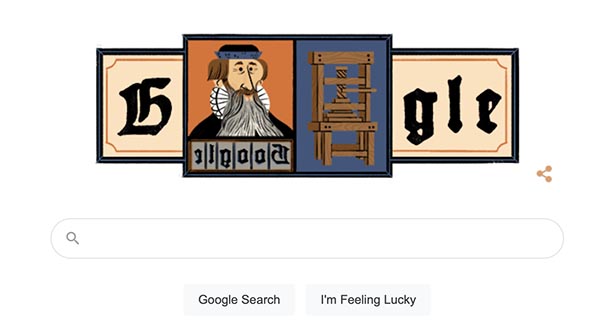 The Museum of Printing was excited, but had this to add:
If you've done a search on Google today you will have noticed that the 'Google doodle' is in honor of Johannes Gutenberg.

The only bone we have to pick is the neck ruff, which we don't believe was the popular fashion in Gutenberg's time. #Googleberg

1/2 pic.twitter.com/MsvYOgvzxw

— Museum of Printing (@MOPrinting) April 14, 2021
And they have a point. According to several sources, including the Fashion Institute of Technology's Fashion History Timeline, the ruff didn't become popular in Europe until the mid-16th century, and Gutenberg died about 100 years earlier in 1468. Which is odd, since nearly every single portrait of Gutenberg we've ever seen shows him sporting a ruff. Was he not only a printing but also a fashion trendsetter? Unlikely; more likely was that, since there was no portrait made of Gutenberg in his lifetime, by the time he had become famous and portrait-worthy, the ruff was in fashion and artists simply garbed him in the contemporary style.
Shoot to Thrill
why is ACDC deciding this stuff pic.twitter.com/Z4SoDsn1VT

— nicole boyce (@nicolewboyce) April 15, 2021
5? Gee!
The rollout of true 5G networks has been slow, and so far the lightning speeds the new connectivity enables have yet to be seen in a major way, but give it time. One benefit of true 5G, when it arrives, is that you may be able to ditch your broadband. Says Gizmodo:
Could 5G one day replace your home broadband connection and keep all of your devices online? The short answer is yes. The benefits that 5G brings in terms of faster download speeds, faster upload speeds, more bandwidth and lower latency mean that it's very possible to get online using 5G rather than a conventional broadband link—but there's a lot you need to know before choosing 5G broadband (and a few caveats worth mentioning, too).
Even 4G may help you cut the broadband cord:
This switch from wired to wireless for home internet is already a reality with 4G LTE. Getting online via a cellular network rather than a traditional wired internet connection isn't new, but as these networks are becoming more robust, faster, and cheaper, it's becoming a more viable proposition for more people. The arrival of 5G has the potential to accelerate that process even more quickly.
Heavy Petting
Hope you all had a nice #NationalPetDay. pic.twitter.com/givfMYCRJO

— Mark Hamill (@HamillHimself) April 12, 2021
A Scanner Expensively
If you're a fan of sci-fii author/visionary Philip K. Dick, you will certainly want to get your hands on a new four-volume collection of his short stories, recently published in a limited edition by the Folio Society. Says The Verge:
Each volume is bound in fluorescent colors, with 2,560 pages of text containing some 118 stories. There are 24 illustrations by 24 different artists, and the set itself has a theme inspired by the symbols found on Zener cards — famously used throughout the 20th century to test for telepaths (mind-reading being a recurrent theme in Dick's fiction).
However:
The collection is absolutely stunning, like so many special editions by The Folio Society, but has a hefty price-tag of £495 ($679). There are also only 750 copies available to buy and it looks like they're selling out quick.
Maybe we'll wait for the paperback.
Ponzi Power
Bernie Madoff has died. Now two people under him have to die and two people under each of them and so on and so on for this thing to work.

— The Sklar Brothers (@SklarBrothers) April 14, 2021
Join the Club
Was anyone out there ever a member of the Columbia Record Club? (At least one of us here at AtW sheepishly raises a hand.) For those of you to young or too sensible, the way it worked was that for one penny you could get 8 (or sometimes more) LPs (or tapes, 8-tracks, or later CDs), but you agreed to buy a certain number of other records at "regular club prices"—which were quite a bit higher than what you would pay at your local record store (when there were such gardens of Eden on the planet). More insidiously, you were automatically sent the record of the month (and billed) unless you remembered to cancel in advance. (This is called "negative response billing" and is now illegal in many states and Canada.)
At any rate, Boing Boing links to a video unearthing the "Mysteries of the Columbia Record Club." We're unsure if we knew it at the time (but suspected it, since the packaging didn't always match the versions our friends had), but the records sold through the club were special pressing made by Columbia, and supposedly the quality suffered. Still, for impoverished teenagers, it was a great way to start to amass a collection. And sometimes inadvertently getting the album of the month turned us onto something that we never would have gone out and bought.
Mash Up
If you get this, I want to follow your mature ass. pic.twitter.com/vSuPwKxCC6

— Jeffe de Las Vegas (@JefScotCantrell) April 14, 2021
A Lot on One's Plate
The design podcast 99% Invisible devotes an interesting episode to something we all take for granted, but has actually been more contentious than you would think: the license plate. It was also an early form of marketing.
Early on, license plates had just the basic information: state and ID number against a solid colored background. That all changed in 1928. Before that, car owners were fairly sedentary, but one of the things that roared in the Roaring Twenties was the car engine. That is, Americans discovered the road trip. And that meant a whole new tourist industry sprung up, serving the mushrooming demand for gas stations, restaurants, motels, etc. It also created a demand for marketing—luring roadbound tourists to specific attractions. And thus was born one "free" marketing medium:
the secretary of state in Idaho had an epiphany. He realized that the license plate was the perfect place to advertise a home-grown product, and that product was… a potato. The execution wasn't perfect. But it was innovative. Below the tremendous tater, there was even a modest, pragmatic slogan: Idaho Potatoes.
Sure, that was centered more on agriculture than tourism, but it kickstarted a trend.
States spent the middle of the century transforming their plates from austere government documents into colorful boosters of tourism and industry. In 1940, Arizona stamped "Grand Canyon State" on its plates and never looked back. In 1950 Minnesota went with 'Land of 10,000 Lakes." Some states went with a classic slogan and stuck with it, like New York's "Empire State."
As with anything, it drew its critics and cranks.
Florida had to nix one of its plate designs after residents complained that the grapefruit with a stem attached looked more like a bomb. Massachusetts, meanwhile, tried to put a codfish on its plate only to be blamed by fishermen for a poor catch that year because the fish on the plate was swimming away from the word "Massachusetts."
One license plate slogan caused more trouble, and triggered a First Amendment issue. It all started in New Hampshire, whose state slogan "Live Free or Die" bumped "Scenic New Hampshire" off state plates in 1971.
Not everyone embraced the "Live Free or Die" slogan. At 88 years old, George Maynard still gets heated about the New Hampshire license plate. Maynard and his family joined the Jehovah's Witnesses, and in 1972 they moved to Claremont, New Hampshire. That's where the trouble started.
Every day, Maynard would hop in his car to drive to work while his New Hampshire license plates displayed in all caps, "Live Free or Die." This really grated on Maynard because he didn't share Meldrim Thomson's belief in freedom over everything. As a Jehovah's Witness, Maynard actually believed that god-given life was more important than freedom and he didn't appreciate the government telling him what to die over. So Maynard covered the slogan up with some tape. But when he erased the state's message, George Maynard marched to the front lines of the license plate wars.
He started by taping over the slogan, which was illegal (why that should be is a good question, just as long as the number is visible who cares?), and racked up tickets—and then went to court, in a case that made it all the way to the Supreme Court—which decided in Maynard's favor.
"The First Amendment protects [..] you against government censorship. But the free speech clause also protects your right not to speak," says Caroline Mala Corbin, a first amendment scholar at the University of Miami, "So it protects you against the government, forcing you to say an ideological message that you disagree with. And that was what the problem was here."
Then when vanity plates came on the market, license plate court cases were off to the races, and the battle continues today.
Caroline Mala Corbin thinks license plates will always be a contested space—a government-issued document, displayed on a private vehicle. It's as if a license plate is a kind of bullhorn. Only instead of taking turns speaking, both the government and private individuals are trying to speak into it at the same time. Perhaps that's why this little hunk of metal has so often become an ideological battleground, a place for governments and citizens to clash over the identity of an entire state, in the attempt to reduce it to a slogan and symbol, speeding down the highway.
Advice from the CDC
being vaccinated does NOT mean you can invite six people you've been blackmailing over and pretend to be your butler while coercing them into killing all your informants. no matter how convoluted your scheme might be. please be smart.

— matt ford (@JMatthiasFord) April 7, 2021
Paper Cut
Have your mind blown by this video by CGP Grey which, says Boing Boing, "starts off as a seeming ode to the metric dimensional wonders of A4 paper and all of the larger and smaller A-size papers that can be made by simply folding (or unfolding) a sheet. But, then things get seriously mind-expanding as they keep folding and folding that sheet of A4, down to the quantum level and beyond, and then back to the A4, and unfolding it out beyond the known universe."
Mandatory Minimums
TOUGHER SENTENCES FOR PROOF READERS

— trouteyes (@trouteyes) April 11, 2021
Sinbad or Go Home
If you're a fan of cinematic stop-motion animator Ray Harryhausen, you won't want to miss a new virtual exhibition of his life and work. Curated by the National Galleries of Scotland, Ray Harryhausen: Titan of Cinema:
includes five specially created films, images and texts from the exhibition, and archive films and objects from Ray Harryhausen's life and work and 3D model videos. Your experience will also include access to a series of related, live online events created in close collaboration with the Ray and Diana Harryhausen Foundation. Details of the live events are to be confirmed soon. Users will be able to access all content in the experience until 20 February 2022. Each of the films explores a different facet of Harryhausen's storied career.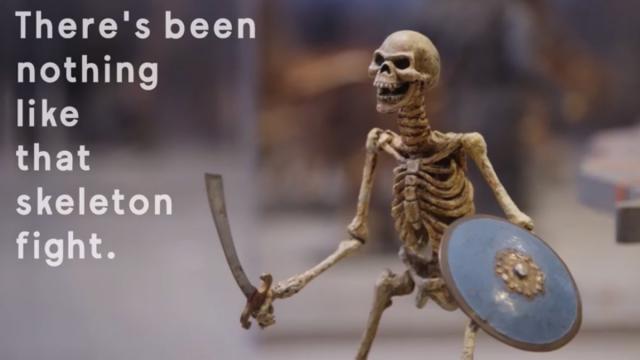 Granted we're a little weary of virtual events by now, but this may be worth it.
Barfly
Dive Bar Opens After Pandemic To Find Grizzled Regular Still In Middle Of Story https://t.co/myONE3CTLc pic.twitter.com/53t4FPNJsa

— The Onion (@TheOnion) April 9, 2021
Play "Downeaster 'Alexa'"
Here's a great new way to annoy people: you can now share songs via. Alexa Says Gizmodo:
The company has introduced a Music Sharing function for Alexa that will allow the assistant to send a song or artist to a connection who also has an Alexa-enabled device. While listening to a song, you can prompt Alexa to forward it to someone you know by saying, "Alexa, share this song with [friend]." You will, however, need to enable Alexa Communications, which will prompt you to import your contact list.
When you send a song to one of your contacts, Alexa will let them know both through the Alexa app as well as on their Echo device. They can then ask to hear their messages, and Alexa will respond by asking to play the track. (The notification will also appear as a push notification if you have them enabled.)
Amazon says that Alexa will play the song either on a recipient's default music streaming service or on another service on their device. If it cannot find the same song you asked it to send, Alexa will recommend a station to listen to based on the artist name and song title.
And, if that fails, Alexa will just sing it herself.
This perfect for music nerds who love to impose their obscure tastes on other. We can't wait to turn everyone we know onto 1970s Italian progressive rock.
Cookie Monsters
Is there someone I can call and tell that from here on out that I ACCEPT ALL COOKIES? All of them! You never need to ask me again!

— JEN KIRKMAN (@JenKirkman) April 13, 2021
It is getting annoying, isn't it?
Crunching the Numbers
What is your favorite edible hyperbolic paraboloid? Not that there are many to choose from, but the Pringle potato chip is perhaps the most famous. What exactly is a hyperbolic paraboloid? Mel Magazine asked this question of three mathematicians. "[A] hyperbolic paraboloid is a kind of surface that, when cut one way, it looks like parabolas opening down, and if you rotate it 90 degrees, it looks like parabolas opening up."
Hyperbolic paraboloids are really interesting. They're my favorite shape actually, and aside from Pringles, they're used a lot in architecture because they're structurally really strong. Many shapes struggle with compression. A flat roof, for example, might buckle from too much weight, but with a hyperbolic paraboloid, the curves prevent buckling, just like how an arch is stronger than a straight beam.
The shape also lets Pringles to be stacked in a tube as they nest very well, and they don't slide around.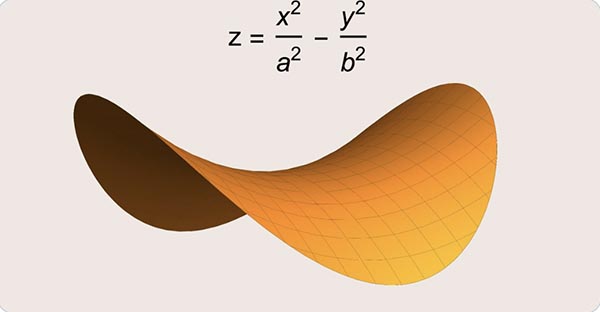 Bet He Gets that a Lot
This guy must be JOKING, right? pic.twitter.com/NBwzR2Tc9n

— Eden Dranger (@Eden_Eats) March 26, 2021
Fan Club
The weather is getting warmer, and pretty soon we'll be able to turn offthe heat and turn on the A/C. Or is there a better option? What about, via Core77, a ceiling punkah, or a manually operated fan like those typically seen in Cleopatra movies being waved by servants.
In South Asia, a similar fan existed for centuries and was called a punkah. Made from plant fibers or fabric, it was essentially a plane of material hung vertically from the ceiling, and powered by a person tugging on a string.
Everything old is new again, so Oliver Kessler Design has developed the Sensu Punkah:
"Gentle, draft free ventilation is what makes the swinging ceiling fan (Punkah) so unique. In antiquity the Maharajas and Pharaos [sic] enjoyed the silent circulating of air that a Punkah offered. The tranquil pendula swing of the Punkah became part of the Indian and Arabian heritage and could also be found in 19th century Southern USA and in schools in the Australian outback.
"These majestic fans disappeared with the beginning of the 20th century due to the availability of cheap electric motors, allowing the mass-production of noisy rotating fans. These, however, cannot substitute the sensation provided by the soft natural breeze and soothing movement of a silent Punkah."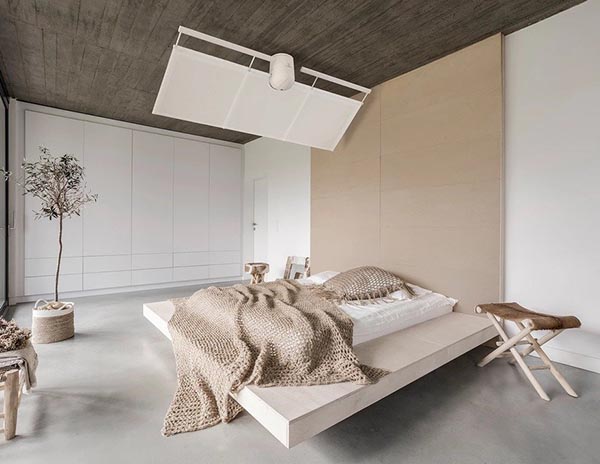 Here is a video of it in action:
Early Complaints
"Where's Karen?"
"She's etching..." https://t.co/xqu2SOveHi

— Dr. Ashley Botting (@AshleyBotting) April 13, 2021
Hare Loss
If you're in the UK, keep an eye out for Darius, the "world's longest rabbit." Says the New York Times:
Four feet long and weighing 50 pounds, the heavyweight bunny should be easy to spot. But he went missing this past weekend, and now the police are involved, appealing for information about his apparent abduction from his home in a small English village.
Darius's owner, Annette Edwards, has offered a reward of 2,000 pounds, about $2,745, for his safe return, no questions asked.
We have a theory:
Hip Shop
Saw a woman at Stop & Shop who was wearing a hat that said "Gangsta Rap Made Me Do It."

I cannot, for the life of me, figure out which song made her go grocery shopping.

— Adam Bernard (@AdamsWorldBlog) April 2, 2021
So Ya Thought Ya Might Like to Go to the Show
Via Laughing Squid, Pablo Rochat shares a photo of a concert ticket from a show he went to in 2020.
This Week in Printing, Publishing, and Media History
April 12
1932: American singer and ukulele player Tiny Tim (né Herbert Khaury) born.
1981: The first launch of a Space Shuttle (Columbia) takes place: The STS-1 mission.
1990: Jim Gary's "Twentieth Century Dinosaurs" exhibition opens at the Smithsonian Institution National Museum of Natural History in Washington, D.C. He is the only sculptor ever invited to present a solo exhibition there.
1992: The Euro Disney Resort officially opens with its theme park Euro Disneyland; the resort and its park's name are subsequently changed to Disneyland Paris.
April 13
1742: George Frideric Handel's oratorio Messiah makes its world-premiere in Dublin, Ireland.
1743: American lawyer and politician, 3rd President of the United States Thomas Jefferson born.
1860: English-Belgian painter James Ensor born.
1870: The New York City Metropolitan Museum of Art is founded.
1899: American architect, game designer, and creator of Scrabble Alfred Mosher Butts born.
1901: French psychiatrist and academic Jacques Lacan born.
1923: Would you believe... American actor and director Don Adams born.
1906: Irish novelist, poet, and playwright, Nobel Prize laureate Samuel Beckett born.
1960: The United States launches Transit 1-B, the world's first satellite navigation system.
1974: Western Union (in cooperation with NASA and Hughes Aircraft) launches the United States' first commercial geosynchronous communications satellite, Westar 1.
April 14
1629: Dutch mathematician, astronomer, and physicist Christiaan Huygens born.
1828: Noah Webster copyrights the first edition of his dictionary.
1894: The first ever commercial motion picture house opened in New York City using 10 Kinetoscopes, a device for peep-show viewing of films.
1939: The Grapes of Wrath, by American author John Steinbeck is first published by the Viking Press.
April 15
1452: Italian painter, sculptor, and architect Leonardo da Vinci born.
1755: Samuel Johnson's A Dictionary of the English Language is published in London.
1888: English poet and critic Matthew Arnold dies (b. 1822).
1924: Rand McNally publishes its first road atlas.
1980: French philosopher and author, Nobel Prize laureate Jean-Paul Sartre dies (b. 1905).
April 16
1844: French journalist, novelist, and poet, Nobel Prize laureate Anatole France born.
1871: Irish author, poet, and playwright John Millington Synge born.
1889: English actor, director, producer, screenwriter, and composer Charlie Chaplin born.
1994: American novelist and critic Ralph Ellison dies (b. 1913).
2012: The Pulitzer Prize winners were announced, it was the first time since 1977 that no book won the Fiction Prize.
April 17
1397: Geoffrey Chaucer tells The Canterbury Tales for the first time at the court of Richard II. Chaucer scholars have also identified this date (in 1387) as the start of the book's pilgrimage to Canterbury.
1524: Giovanni da Verrazzano reaches New York harbor. ("If only there were a bridge here," he is thought to have remarked.)
1790: American inventor, publisher, and politician, 6th President of Pennsylvania, Benjamin Franklin dies (b. 1706).
1897: American novelist and playwright Thornton Wilder born.
1955: English singer-songwriter and guitarist Pete Shelley born.
1957: English novelist, essayist, lyricist, and screenwriter Nick Hornby born.
2014: Colombian journalist and author, Nobel Prize laureate Gabriel García Márquez dies (b. 1927).
April 18
1918: American publisher, creator of CliffsNotes Clifton Hillegass born.
1930: The British Broadcasting Corporation announced that "there is no news" in their evening report.
2020: Europe surpasses 100,000 COVID-19 deaths.
Anything catch your eye "around the Web"? Share it with us at [email protected].