By John Nelson, Editor, Smithers
COVID-19 has had a profound effect on thermal print equipment and consumable sales, but these will return to positive growth in 2021, according to the latest expert analysis.
New exclusive data from the Smithers study The Future of Thermal Printing to 2025 shows revenues (in end-user prices) fell to a projected $34.11 billion in 2020, down from $36.37 billion in 2019. Total value in 2021 will approach the 2019 revenue figure, as vaccines and a relaxation of lockdown (shelter-in-place) orders are rescinded. Print equipment sales represent 27.2% of overall revenue in 2020, while consumables (receipts, tickets, tags, labels, ribbons, other media, etc) account for the remainder.
A return to positive demand, driven principally by emerging markets in Asia, will push combined global value forward at a 4.4% compound annual growth rate (CAGR) to reach $42.30 billion in 2025, Smithers' analysis forecasts.
Western Europe saw the largest percentage loss at 10% across 2020; and North America is projected to experience the largest revenue fall—$818 million. The smallest percentage loss was in Asia-Pacific at 1.8% in 2020 from 2019 as pandemic control measures were more effective and normal industrial production resumed in H2 2020. In contrast, Western economies continue to struggle in the face of a winter resurgence and new virus strains.
The specific nature of the economic disruption associated with controlling a pandemic is witnessed in the different core end-use segment for thermal printing. This will be most evident in healthcare, but will help reshape all markets through 2021, and onto 2025.
Healthcare
In healthcare, sales are expected to reach 2019 levels by 2021 due to the huge investments currently being made to defeat COVID-19.
This encompasses the full range of thermal printers, concentrated on barcode and specialty direct thermal (DT) and thermal transfer (TT) equipment. The specialty group includes printers designed for a specific or unique application, such as printing patient wristbands, ID cards and diagnostic images from X-rays, and computed tomography (CT) scans.
The pandemic effect on healthcare and need to safeguard drug supply chains will also foster the wider adoption of pharmaceutical labelling mandates. As first espoused by the EU's Falsified Medicines Directive, these require individual thermally print 2D data matrix codes on each pack, providing a new sales stream for thermal print. Even as and when normalcy returns, the pandemic is liable to accelerate the adoption of these over the Smithers forecast period.
Retail
COVID -19 has also led to a revolution in retail. Till receipts have diminished as regular shopping trips have been replaced with more ecommerce sales, which has pushed demand for thermally printed delivery labels and tags.
The increased use of contactless card payments to minimise physical interactions is also a boom area; retailers have invested in updating their systems through 2020. There is now an installed base of checkout and handheld printers that will stay in operation for years to come, with the POS receipt system segment now effectively saturated in North America, Japan and Western Europe. Covid has also acted as a brake on the recent trend to extend POS thermal platforms to print more customer engagement items like coupons, promotional messages, and loyalty points scheme updates.
Eastern Europe and Asia-Pacific will continue to offer increases in retail, as legacy systems are replaced and governments—particularly in China and Russia—introduce new measures to optimize taxation.
Retail will remain the largest sector of thermal printing, worth $10.9 billion in 2020, but it will have annual growth below the market mean through to 2025.
Manufacturing
The second largest segment for thermal printers and media—manufacturing—will see the fastest rise in demand across the next five years, driven by an economic resurgence supported by government stimulus spending, and new applications.
For durable goods manufacturers, TT printers are widely deployed and integrated with enterprise resource planning systems (ERP) for product ID labels, agency compliance labels, parts containers, and pallet labels. Expansion will be heavily dependent on manufacturing growth in Asia-Pacific creating an impetus for Western suppliers to develop their sales forces in those areas.
Increasingly manufacturing is moving to mobile workforces in many areas, like warehousing, inventory, control and parts picking. This is supporting a rapid increase in the placement of mobile printers, either carried by staff or mounted on their pallet trucks.
Entertainment and Hospitality
Hospitality businesses have seen some of the greatest disruption in 2020, and into 2021. Restaurants have had to limit their operations to take-outs only, entertainment venues have closed, most public events and sport fixtures have been cancelled or are happening without spectators, and travel restrictions have led to sharp decline in hotel stays.
When normalcy returns, growth will be concentrated on the deployment of mobile units at entertainment events for line busting and ticketing, and wristbands for gate access; and kiosk deployment for customer information and check-in/out services.
Transportation
Across 2020, international and internal travel has been curtailed severely, and commuting journeys have fallen as office staff have moved to homeworking. This has seen a direct loss for orders for new equipment, and fewer maintenance hours being used; in both cases, there is a direct link to a loss of thermal products as volumes of printed media have dropped.
Non-essential air travel and regular office working are likely to see only a limited, phased return through 2021 slowing recovery in transportation printing; though this segment may see some positive influence from new government spending on infrastructure projects in the medium term.
Lottery and Gaming
Gaming in 2021 in the Americas and Western Europe is a saturated markets. In some major countries—including the US—players are switching from conventional lottery games to instant ticket games – causing a reduction in thermal paper consumption.
Through to 2025, opportunities will be in emerging and developing regions and countries for lottery and gaming tickets as these are introduced; but this is dependent on government support and an economic resurgence increasing disposable income levels.
ID documents
For ID documents, dye diffusion printers are facing competition from other technologies that create more cost-effective and faster print solutions. ID card printers are maturing in North America and Western Europe, but is still a viable growth technology in developing regions where security and identity cards are less common. Various states in Eastern Europe, the Middle East, Africa, and less developed parts of Asia are adopting ID card printers to accelerate enrolment programs.
The impact of COVID -19 and other trends on future demand for thermal print equipment and consumables is analyzed in depth in The Future of Thermal Printing to 2025. This includes a comprehensive data set segmented by:
Printer type (Barcode; Mobile; Photo, including ID card; PoS/kiosk; Ticket & tag; Specialty)
Consumable/media type (DT PoS receipts, DT ticket & tag, DT label, DT specialty, TT ribbon, TT label & tag, TT polymer tubing & tags, D2T2 ribbons & media)
End-use application (Retail, Manufacturing, Transport, Healthcare, Commercial services, Entertainment & hospitality, Government)
Geographic region (Asia-Pacific, North America, Latin America, Western Europe, Eastern Europe, Middle East & Africa).
This definitive business strategy guide is available to purchase now priced $6,500 (€5,250, £4,750).
Global thermal print industry revenue by end-use application, 2015-2025 ($ billion)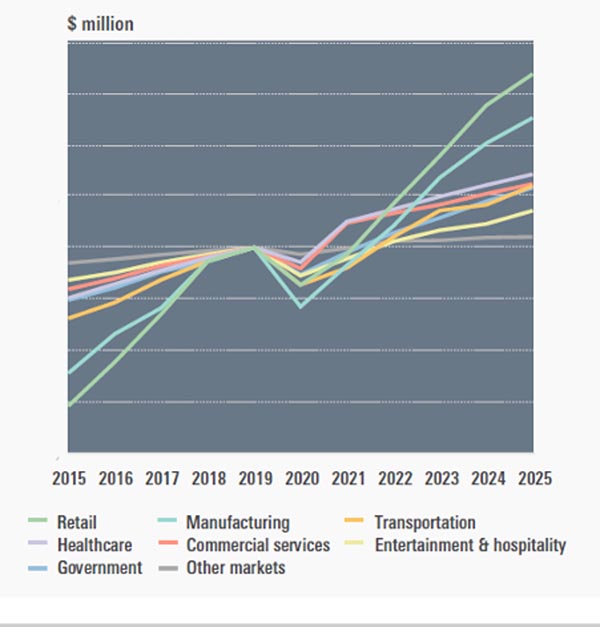 Source: Smithers