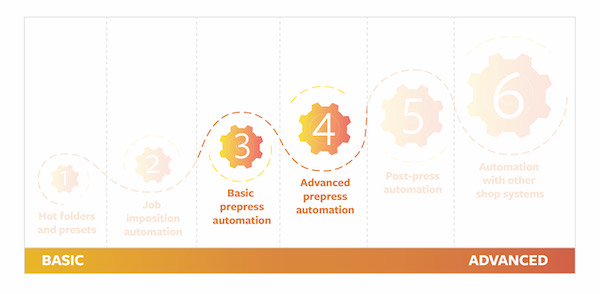 By John Henze
(See Part 1 of this series here.)
If you have taken the first steps to automating your workflow—including using hot folders and presets to automate routine tasks including job submission, imposition, and more—you will have seen significant benefits from software you had likely already invested in.
To take your workflow automation to the next level, examine your prepress operation to uncover bottlenecks that require extra labor and slow the production process. It's important to note here that each automation level you pursue is a discrete step that you can move through at your own pace, and each will produce efficiency gains that help justify continued investments to deliver even more automation – and greater profitability.
Set the Stage to a Fully Automated Production Site
Get started with EFI™ Fiery® JobFlow™ Base, a browser-based, easy-to-use, free prepress workflow automation solution. This powerful system will allow you to advance your workflow automation capabilities by incorporating the steps you have already taken (presets, hot folders, imposition templates) and building them into a streamlined workflow. In fact, using JobFlow Base to automate manual job setups can greatly reduce the number of clicks required for setup. For example, manual setup of a multi-up booklet can require 15 different clicks. By automating the process in JobFlow Base, 15 clicks are reduced to just one click—submitting the job.
Here are just a few of the things you can automate with Fiery JobFlow Base:
Automate imposition, including the ability to batch and impose jobs based on job or page count using the Collect module, including, for example, batching all business card orders to be produced together in the afternoon, making overall production more efficient.
Automatically enhance images to make sure you get the best possible outcome based on your printers and inks/toners, the substrates you are using, and more.
Automate preflight by using Fiery Preflight to inspect files for missing or corrupted assets and generate a report outlining the findings.
Manage files going in and out of the shop—not just submitting jobs to print, but automatically archiving jobs in a specified location. You can also automatically retrieve your customers' jobs from various locations including Dropbox, FTP, smart folders, and more.
Automatically convert source files to PDFs without any human intervention, so they are ready to proceed through a PDF workflow.
You can also save sets of actions as workflows that can be shared across the shop. EFI maintains a free sample workflow library for many common job setups that you can download from efi.com. Simply import the sample workflows into JobFlow or JobFlow Base, and you're ready to get started immediately! Most users are able to set up JobFlow and JobFlow Base on their own, but Fiery Professional Services support is available to help if needed.
Take It Up a Notch!
When you're ready, take it up a notch with the paid version, Fiery JobFlow. This will allow you to automatically inspect, troubleshoot, and correct jobs using Enfocus PitStop. The gold standard in the industry for advanced preflighting, Enfocus PitStop is conveniently integrated with Fiery JobFlow.
One user, Matjaž Gombac, CEO of the Ljubljana, Slovenia-based print business Silveco Ltd., noted, "By learning how to use JobFlow Base, we are creating more complex and automated workflows, minimizing mistakes. We now plan to invest in the full version of JobFlow, mainly due to the advanced scripting, which allows us to build our own prepress processes accordingly to suit the variables of printed materials. It is extremely powerful and highly flexible, and as far as we have found, it has no real competition."
With advanced scripting, you can take automation to an even higher level, as Silveco has found. For example, you can use advanced scripting to incorporate job processing from other third-party applications. Use the JobFlow Connect module to develop custom workflows that address just about any automation need. We've already done the work of integrating Fiery JobFlow to EFI MarketDirect StoreFront to allow online orders to flow seamlessly through production.
And the savings in time and dollars are real. Just ask Jeff Routman, President of Allegra Tampa Downtown, who notes: "I can correlate JobFlow to payroll savings because I don't have to bring in a new, specific person for typesetting, direct mail, social media, and campaign projects."
Reaping the Automation Benefits
By adding these simple next steps as companies like Allegra, Zenprint, and Silveco have done, you will see faster cycle times, reduced labor costs and happier customers. You'll be able to get more work through the shop in a day without adding more staff, and you'll see great returns in the form of increased profitability.
For more information about ways you can improve workflow automation in your printing operation, download our free ebook: Automation Building Blocks: 6 Easy Ways to Streamline Your Print Production. (https://go.efi.com/en_Fiery-Automation-ebook.html.)
John Henze is vice president of sales and marketing for EFI's Fiery business. For more information about EFI Fiery digital print solutions, visit www.efi.com/fierydfe.