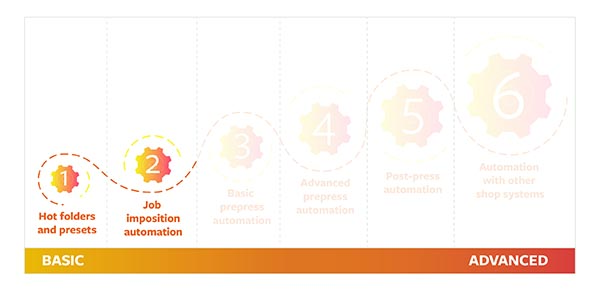 By John Henze, EFI Fiery
In a highly dynamic and competitive marketplace, manufacturers understand the need to automate processes to the greatest extent possible, both to reduce costs and increase throughput. The same holds for the commercial print marketplace. But for many smaller print businesses, automating their printing workflow can seem like a daunting—and expensive—challenge. That's a misconception that is holding businesses back from greater profitability. In fact, getting started with workflow automation is much easier than you might think, and you likely already have many of the required tools in place!
It's also a misconception that workflow automation is an all-or-nothing proposition. Even starting with the simplest automation steps, such as automation of repetitive tasks, can deliver big returns. Don't take our word for it. Here's what Cindy Ley, Production Specialist at Allied Reliability Group, had to say:
"I learned how to save time by automating production on repetitive booklet types, for example, by dropping files to Fiery Hot Folders containing print settings, including Fiery Impose templates."
And John and Tim Rozema of Get It Now Print went from running about 20 jobs per day to being able to produce more than 100 jobs per day. John Rozema says:
"We implemented a suite of EFI tools. It's all easy-to-use software that is easily programmable, very user friendly, and integrates with our MIS. Now we can really get the job done. Clients are always amazed at how fast we can get work out compared to others they have used in the past. We can offer them a better price, too, based on the increased volume we are able to put through our printer."
Are You Using Hot Folders?
If you have an EFI Fiery digital front end (DFE), the Hot Folders function is probably already built in. Fiery Hot Folders provide the ability to drag-and-drop files to a designated file folder to automate repetitive tasks. Let's use job submission as an example. In a manual process, as jobs come in, they are reviewed by the prepress department, who must then determine which printer the file should go to, and in the case of native files, convert them to PDFs. Then the file is copied to the queue of the appropriate printer. Depending on the size and complexity of the file, this could take anywhere from five minutes to a half hour. While five minutes doesn't sound like a lot, think about Get It Now Print: Those five minutes translate to more than 90 minutes of prepress time in a day when processing 20 simple files each day. But that time expands to eight hours (!!) if you are processing 100 jobs! And do the math on complex files—the result is even worse.
With Hot Folders, a customer service rep can determine what type of file is being received—for example, a 5x8-inch booklet—and simply copy the file to the booklet hot folder. This takes seconds and is the type of automation that allowed Get It Now Print to increase daily throughput by a factor of five. The file can then be processed automatically after sending it to the appropriate printer, based on the instructions built into the Hot Folder. Fiery servers also allow creation of Presets that can be incorporated into the Hot Folder structure. Presets can be used in a variety of different Hot Folders, making it even easier to get started down the automation path.
Automating Imposition
Staying with the booklet example, your company is likely using some sort of imposition software that will correctly impose a native file or PDF into the right layout for booklet printing. While this saves time over previous totally manual imposition work, it still takes time. Imposition templates can be incorporated into the Hot Folder/Preset workflow taking workflow automation beyond basic job settings and submission by automating job layout and makeready.
Imposition templates streamline job submission and reduce both clicks and errors. Fiery Impose, a module you can easily and affordably add to your Fiery server configuration, can let you automate imposition using pre-existing templates or custom templates you can easily create. That's what Martin Klop, Head of Prepress and digital print at CREZÉE does:
"Imposing a job with Fiery Impose is a breeze. In only a few clicks, I can compile a new form with bleed, registration, crop, and color marks. And it's extremely easy to save the form as a template so I can use it again for a similar job."
There's nothing worse than starting to print a booklet and finding the imposition layout is wrong—or, worse yet, not discovering the error until the job reaches the bindery!
Stepping Stones to Greater Profitability
So, as you can see, you can quickly and inexpensively improve your productivity by streamlining individual, labor-intensive tasks without hiring expensive consultants.
Obviously, the first thing to do when looking at automation is to see exactly where you want to start. Contrary to popular belief, you don't need a grand vision or all-encompassing automation design before you begin. Do a simple analysis of common jobs you produce every week and start there. Then, start by streamlining and automating repetitive tasks associated with those jobs.
This is just the first step users can leverage for even more efficient automation. Each level is a discrete step that you can move through at your own pace, and each will produce efficiency gains that help justify continued investments to deliver even more automation—and greater profitability.
The next article in this series will build upon these initial steps and show you how to quickly link tasks into simple workflows for even greater productivity advantages.
For more information about ways you can improve workflow automation in your printing operation, download our free ebook: Automation Building Blocks: 6 Easy Ways to Streamline Your Print Production. (https://go.efi.com/en_Fiery-Automation-ebook.html.)
John Henze is vice president of sales and marketing for EFI's Fiery business. For more information about EFI Fiery digital print solutions, visit www.efi.com/fierydfe.