Your Friday Concert Featuring The Birds
Frank Romano and Bernie Sanders peruse their Brooklyn High School yearbook in the Museum of Printing Romano Library. pic.twitter.com/JH5FrJUrtJ

— Museum of Printing (@MOPrinting) January 25, 2021
Beige-a-Vu
Some of us remember the original Apple II computer, which at that time featured a spray-on paint finish that has come to be known as "Apple Beige." Like most paint finishes, the one used on extant early Apples has faded or discolored over the years. Medium thus asks, "What Color Was Apple Beige?" and goes on a journey to find, to the nanometer, what color Apple Beige really was, starting with this: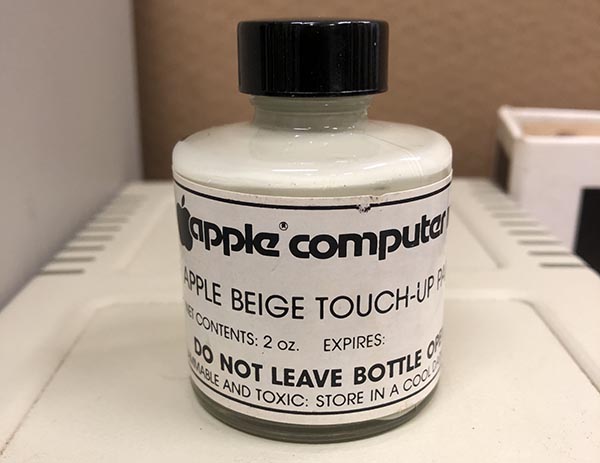 I came by this relic, a remarkable artifact of the fledgling home computer era. It's a small glass jar filled with an oil-based paint — there's a little brush built into the cap, and the monochromatic label glued to it sports the old Apple Computer Inc logotype and the title "Apple Beige Touch-Up Paint".
Bernt Offerings
Edible Bernie. Kale, cauliflower, and new potatoes. pic.twitter.com/8d91vLwylC

— Stephen King (@StephenKing) January 25, 2021
These Are the Stamps You're Looking for
If you're a fan of both Star Wars and physical mail (and that would be an interesting Venn diagram), this spring, the USPS is launching a series of Droid Postage Stamps to help promote STEM learning.
These set of droids are a nod to Lucasfilm's, as well as its parent company, Disney's, commitment to science, technology, engineering, and math (STEM) learning and the continued collaboration between "Star Wars: Force for Change" and global pre-K-12 nonprofit organization "FIRST" (For Inspiration and Recognition of Science and Technology).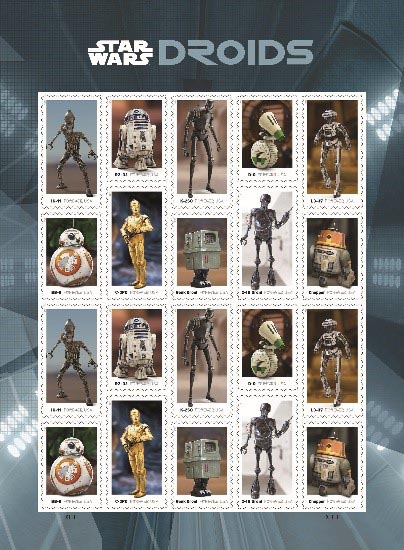 Word of the
Word of the Day: CUNCTATIOUS - addicted to delay or procrastination

— Quite Interesting (@qikipedia) January 18, 2021
Code Comfort
Here's one for Heidi Tolliver-Walker. Says the BBC: "How Covid turbocharged the QR revolution."
QR codes are enjoying their moment in the spotlight thanks to their ability to connect the digital world to the physical.
Since the outbreak of the pandemic, many pubs and restaurants moved quickly to install QR code systems.
"We saw how five years of a future technology was accelerating at a pace of five months," says Mr Schatzberg.
Pharmacies are also using QR codes. In the US, CVS is offering touch-free payments through a partnership with PayPal and Venmo at 8,200 stores.
The story goes on:
Several start-ups are using the QR code for retail storefronts. Stockholm-based Ombori invented its Grid technology, which allows retailers to have a digital screen displaying QR codes, and offers passers-by the opportunity to purchase items right from the street after viewing photos and videos of them.
The system is used by firms in more than 24 countries, including clothes store H&M, Danish furniture chain BoConcept and hotel group Radisson Blu.
The story also links to a report that Apple's forthcoming Gobi AR app will also include Apple-branded QR codes:
What appears to be a flashy new QR code format that uses colored cones of varying sizes instead of a matrix of dots. One of the files was labeled "Cosmic" while there were also 100 "tags" with different alphanumeric codes.
Apple-branded traditional QR codes that show its interest in camera-triggered commerce. Files in Gobi included QRs that opened the Mac Pro and Apple Watch websites, the Star Wars: Rogue One movie in the iTunes Store, and one that opens the Starbucks Card sign-up flow (Update: tweeted the Starbucks QR a week ago).
Ruined
An interesting way to help people visualize what a ruin used to be. pic.twitter.com/s6HVidqigp

— Jason Thorne (@JasonThorne_RPP) January 28, 2021
Train in Vain
Loyal AtW reader JerrytheMacGuy points us to this story at Jalopnik about the sudden demise of Adobe Flash and its impact on a Chinese railroad:
Adobe's Flash, the web browser plug-in that powered so very many crappy games, confusing interfaces, and animated icons of the early web like Homestar Runner is now finally gone, after a long, slow, protracted death. For most of us, this just means that some goofy webgame you searched for out of misplaced nostalgia will no longer run. For a select few in China, though, the death of Flash meant being late to work, because the city of Dalian in northern China was running their railroad system on it. Yes, a railroad, run on Flash, the same thing used to run "free online casinos" and knockoff Breakout games in mortgage re-fi ads.
The train was down for 20 hours, but have no fear: they got the trains running again…in probably the worst possible way:
The railroad's technicians did get everything back up and running, but the way they did this is fascinating, too. They didn't switch the rail management system to some other, more modern codebase or software installation; instead, they installed a pirated version of Flash that was still operational. The knockoff version seems to be known as "Ghost Version."
It could be worse: rumor has it Amtrak runs on Hypercard.
Vandals Took the Handles
Don't follow leaders... pic.twitter.com/S1fDB5Jhnu

— Bob Malone (@pianomalone) January 27, 2021
Tracking Fashion
Seeing this headline, we began to wonder if we had discovered how Dr. Joe is spending his retirement. From Boing Boing: "Man does data-analysis on every piece of clothing he's worn for three years." With some trepidation, we clicked through to the linked essay.
I have kept a continuous daily log of the use of all my clothes for the past three years.
What started out as a simple question of whether it makes sense to buy expensive clothes has now turned into a rather deep discovery into the cost performance of clothes. You can explore my continuously updated wardrobe performance here.
Y'know, admittedly, we can get a little bored during quarantining, but it's never been that bad.
Sure, we make our little jokes, but in this era of fast fashion, when consumers, textile producers, and everyone else in the supply chain needs to be conscious of the environmental footprint of clothing, maybe it does make sense to find out what it is that we actually wear. Probably, 2020–2021 isn't going to yield much real-world data, but once we start going out and about again maybe it's not such a bad idea to quantify our clothing.
Don't be Late
Great, cryptic death threats from the Economist now pic.twitter.com/qB56yBJRY5

— Mark O'Connell (@mrkocnnll) January 26, 2021
To a Tea
Artist Ruby Silvious is widely known for miniature painting and her canvas of choice is the used tea bag. Her assorted tea bag series include 9 Days of Tea in Spain (2018), 26 Days of Tea in France (2017), 26 Days of Tea in Japan (2016), 52 Weeks of Tea (2016), 363 Days of Tea (2015), and Tea Bag Aquarium (2018).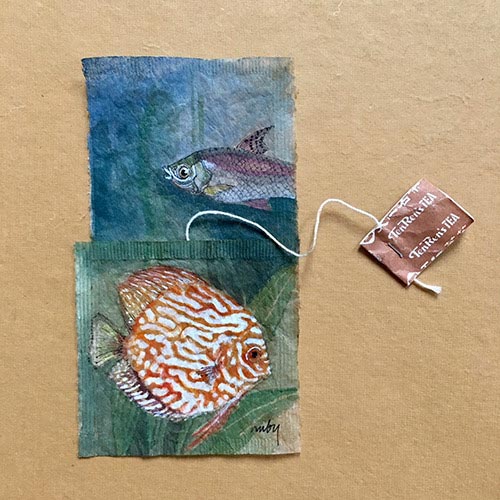 During COVID and her COVID Blues series, she expanded her canvas to other kinds of found objects, such as rocks, junk mail, candy wrappers, and soup can labels.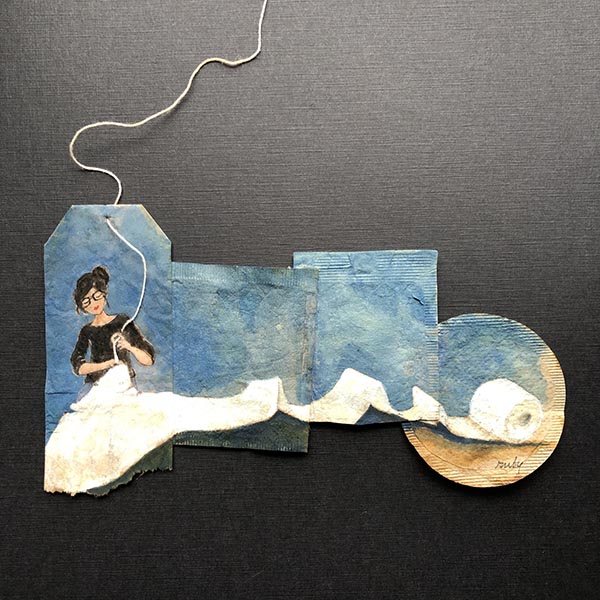 Pitch Black
pitching a story writing the story
to my editor i pitched pic.twitter.com/TEo0UHsmRJ

— Kimeko M. (@KimekoM) January 23, 2021
Sleepless in…Virtually Everywhere
Sure, now they tell us, now that we have nowhere to go and this is no longer an issue, at least for the foreseeable future. Says Discover:
Surely comfort can be an issue in confined, unconventional spaces, like a rigid airport chair. But even the most comfortable and cozy hotel rooms present a battle to humans worldwide. Many of us struggle to get a good night of rest in any new place. This phenomenon, known as the First Night Effect (FNE), impacts numerous humans and some animals. But what's happening inside our brains during these troubled first nights?...
A 2016 study published in Current Biology revealed that during a first night sleeping somewhere new, brain hemispheres don't fall asleep equally. Usually, in familiar places, both the left and the right side of the brain fall asleep the same way. However, during FNE there's an asymmetry between the hemispheres, with the right side sleeping regularly and the left hemisphere staying vigilant to monitor unfamiliar surroundings during the night. Basically, your brain isn't entirely comfortable with the new scenario just yet. Hence, it remains somewhat alert throughout the night — maintaining this survival posture, even when you're asleep.
Studies have also found that dogs, birds, and dolphins—to name three other species—also have this problem.
Your brain won't let you entirely rest in a new place due to FNE, yet consecutive nights shouldn't typically propose a problem: Brain asymmetry wasn't visible anymore during the following sleep sessions in the study published in Current Biology. According to the researchers, this possibly happened because people got used to their surroundings and the brain could relax and rest. However, other studies have reported that FNE can continue to disrupt people's sleep for up to four nights in a new place.
Out on a Limb
Not interested in Human leg pic.twitter.com/PLmbhxiECh

— the goat of all time (@bobby) January 24, 2021
Calms Like a Knife
Call us skeptical, but we wonder if the idea of "Chinese knife massage" can be as relaxing and stress-relieving as normal massage. From Boing Boing:
I ran across this video on Reddit and at first it looks like this woman has entered a torture chamber. After the camera zooms in on an assortment of mallets and a huge blade, the woman lies down on a table to get pounded with said mallets and blade, as well as a hammer, sticks, and some kind of vice.
The creepy background music doesn't make it any less terrifying.
The Three Stages of Tweet
At word 3 you're bored at word 6 your ears perk up at word 11 your mind is blown https://t.co/KRW9Qsg8nf

— ryan teague beckwith (@ryanbeckwith) January 26, 2021
A Not-So-Wicked Pack of Cards
Says Boing Boing:
Indy Mellink, a Dutch woman who loves card games, always found the gendered ranking of the face cards kind of weird — the king above the queen, the queen above the jack.
So she designed a gender-neutral deck, replacing the personalities on the face cards with metals — gold, silver and bronze.
You can pick up a deck here.
Parts Is Parts
In 1986 Michael Foot MP was made the chair of a disarmament committee. The Times headline ran: 'Foot Heads Arms Body'

— Quite Interesting (@qikipedia) January 25, 2021
But not interested in human leg.
Good Tip
It's not always easy to find good news these days, but every once in a while we come across a nice story about a COVID hero. From CNN:
After a big breakfast at a Colorado restaurant, a generous customer left employees a $1,400 tip and a message that said "COVID Sucks!"
Notchtop Bakery & Cafe owner Nailya Khametvalieva says the patron, who she only identified as David, came into her Estes Park eatery on Wednesday for some eggs, bacon, sausage and biscuits and gravy.
When it came time to pay the $20.04 check, David asked his server how many people were working that day.
He ended up leaving the $1,400 tip with instructions to give each of the seven employees $200.
Quantum Leap
Schrödinger's Kit-Kat. https://t.co/bZhc12fe29

— Richard Osman (@richardosman) January 26, 2021
Is Nothing Sacred?
No. Just no. From Eater. The background:
In 2019, Eater Young Gun Christina Nguyen ('14) of Hai Hai in Minneapolis espoused on the glory of Everything But the Bagel seasoning from Trader Joe's, a combination of sesame seeds, garlic, onion, salt, and poppy seeds
Sounds intriguing. We continue:
"I think that any opportunity to make anything into an everything bagel is always good," she said.
We can think of a few caveats, but so far, so good:
everything she's put it on so far — hummus, avocado, roasted vegetables, pita.
Now we're getting into a whole weird area:
By the time she praised it, Everything Bagel "spice" was a bonafide trend, lacing pastries, pizza, and wings at restaurants around the country, and plenty of other things in the privacy of homes.
And now they've jumped the shark:
It's probably not surprising then that Jeni's Ice Cream is rolling out an Everything Bagel flavor.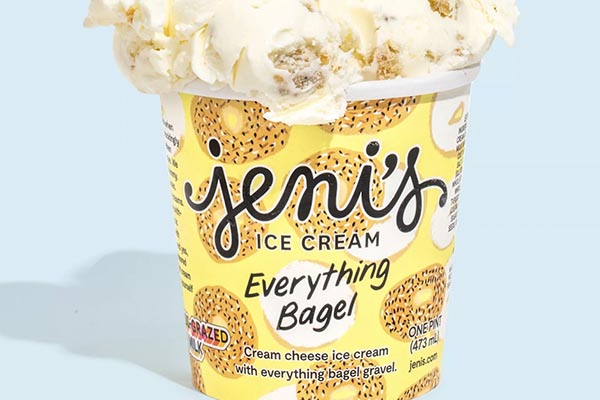 "Cream cheese ice cream with everything bagel gravel." That doesn't make it better! It's enough to envy the lactose-intolerant.
Egad!
Des Moines Tribune, Iowa, December 22, 1928 pic.twitter.com/9JfTFugtJR

— Yesterday's Print (@yesterdaysprint) January 24, 2021
Say it with Pasta
Valentine's Day is coming, and because we are hopeless romantics, we naturally can't think of a more appropriate gift than candy-flavored pink Kraft Mac & Cheese. Says Business Wire:
Forget heart-shaped chocolate and bouquets of overpriced roses, celebrate this Valentine's Day with a classic – Kraft Mac & Cheese. Today, Kraft Mac & Cheese is launching a limited-edition Candy Kraft Mac & Cheese for Valentine's Day. Candy Kraft Mac & Cheese is made with the same cheesy Kraft Mac & Cheese Americans know and love, but includes a candy flavor packet to turn the mac & cheese pink and add hints of sweet candy flavor.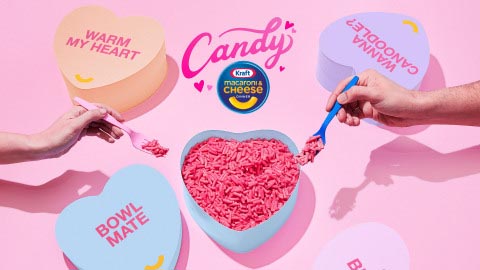 There is no truth to the rumor that selected packages include a 10% off coupon for a divorce attorney.
A Fair Point
Dropbox is also a good nickname for a casket.

— Dana Gould (@danagould) December 16, 2020
This Week in Printing, Publishing, and Media History
January 25
1507: Swiss printer Johannes Oporinus born.
1759: Scottish poet Robert Burns born.
1783: English-American businessman and philanthropist and founder of Colgate-Palmolive William Colgate born.
1858: The Wedding March by Felix Mendelssohn is played at the marriage of Queen Victoria's daughter, Victoria, and Friedrich of Prussia, and becomes a popular wedding processional.
1881: Thomas Edison and Alexander Graham Bell form the Oriental Telephone Company.
1882: English novelist, essayist, short story writer, and critic Virginia Woolf born. Who's afraid?
1915: Alexander Graham Bell inaugurates U.S. transcontinental telephone service, speaking from New York to Thomas Watson in San Francisco.
1937: The Guiding Light debuts on NBC radio from Chicago. In 1952 it moves to CBS television, where it remains until September 18, 2009.
1947: Thomas Goldsmith Jr. files a patent for a "Cathode Ray Tube Amusement Device," the first ever electronic game.
1949: The first Emmy Awards are presented; the venue is the Hollywood Athletic Club.
1960: The National Association of Broadcasters reacts to the "payola" scandal by threatening fines for any disc jockeys who accept money for playing particular records.
1961: In Washington, D.C., President John F. Kennedy delivers the first live presidential television news conference.
1961: 101 Dalmatians premieres from Walt Disney Productions.
1964: Blue Ribbon Sports is founded by University of Oregon track and field athletes, which would later become Nike.
Nah. Not interested in human leg.
1996: American playwright and composer Jonathan Larson dies, far too young (b. 1960).
January 26
1918: American author Philip José Farmer born.
1926: The first demonstration of the television by John Logie Baird.
January 27
1785: The University of Georgia is founded, the first public university in the United States.
1832: English novelist, poet, and mathematician Lewis Carroll (né Charles Dodgson) born.
1851: French-American ornithologist and painter John James Audubon dies (b. 1789).
1880: Thomas Edison receives the patent for the incandescent lamp.
1908: American journalist and publisher William Randolph Hearst, Jr., born.
1922: American journalist and author Nellie Bly dies (b. 1864).
1944: English drummer, songwriter, and producer Nick Mason born. In the flesh.
2009: American novelist, short story writer, and critic John Updike dies (b. 1932).
2010: American soldier and author J. D. Salinger dies (b. 1919).
January 28
1613: English diplomat and scholar, founder of the Bodleian Library Thomas Bodley dies (b. 1545).
1706: English printer and typographer John Baskerville born.
1754: Sir Horace Walpole coins the word "serendipity" in a letter to a friend. What a stroke of luck.
1813: Jane Austen's Pride and Prejudice is first published in the United Kingdom.
1873: French novelist and journalist Colette (née Sidonie-Gabrielle Colette) born.
1878: Yale Daily News becomes the first daily college newspaper in the United States.
1939: Irish poet and playwright, Nobel Prize laureate W. B. Yeats dies (b. 1865).
1956: Elvis Presley makes his first national television appearance.
1958: The Lego company patents the design of its Lego bricks, still compatible with bricks produced today.
1965: The current design of the Flag of Canada is chosen by an act of Parliament.
January 29
1737: American revolutionary and pamphleteer Thomas Paine (Common Sense, et al.) born.
1845: "The Raven" is published in The Evening Mirror in New York, the first publication with the name of the author, Edgar Allan Poe.
1860: Russian playwright and short story writer Anton Chekhov born.
1886: Karl Benz patents the first successful gasoline-driven automobile.
1888: English poet and illustrator Edward Lear dies (b. 1812).
1923: American author and screenwriter Paddy Chayefsky born.
1963: American poet and playwright Robert Frost dies (b. 1874).
1980: The Rubik's Cube makes its international debut at the Ideal Toy Corp. in Earl's Court, London.
January 30
1969: The Beatles' last public performance, on the roof of Apple Records in London. The impromptu concert is broken up by the police.
January 31
1930: 3M begins marketing Scotch Tape.
1949: These Are My Children, the first television daytime soap opera, is broadcast by the NBC station in Chicago.
1956: English author, poet, and playwright, creator of Winnie-the-Pooh A. A. Milne dies (b. 1882).
2020: The United Kingdom's membership within the European Union ceases in accordance with Article 50, after 47 years of being a member state.
Anything catch your eye "around the Web"? Share it with us at [email protected].