By John Nelson
Smithers latest analysis shows that 2020, and the global coronavirus pandemic, have profoundly disrupted the global printing industry. Total value fell from $814.7 billion in 2019, to reach a projected $743.4 billion in 2020. With the impact greatest in graphics and publications work, total volume declined from 47.8 trillion A4 prints (2019) to 41.4 trillion A4 prints (2020), according to exclusive data from its study The Future of Print to 2030.
The challenge of operating during lockdown (shelter-in-place) orders has been severe, and the nature of these restrictions has had a deep effect on print purchases. Some of these will recede as the COVID-19 restrictions do; others will have a lasting impact, either unanticipated or accelerating existing market trends for the 2020s.
Graphics, Publications, and Packaging
Smithers' data show the impact has been most severe on publications print—especially newspapers and magazines. Lockdown orders and widespread homeworking has stopped sales to commuters, and many more readers have switched to more instant online media channels. Advertising budgets are following, lowering output from coldset and heatset litho presses. It is likely that most of this lost volume will never return as titles move to online only or are discontinued. IKEA has announced that it will stop publishing its catalog—once the largest print job in the world—after the 2021 edition.
Graphics, too, have been badly affected. Wide-format display and point of sale (PoS) printers were very badly impacted by lockdowns as visits to shops, restaurants, bars, and hotels stopped. Commercial print—business forms, newsletters, manuals, etc.—suffered severely in Q2-Q3 2020. The radical fall in demand will see many service providers close. Post-COVID, a more open environment will create great opportunities for surviving companies in the medium to long term. As this happens, there will be fewer low-value items printed with an emphasis on higher quality and embellishment effects that add value—and interest—to products.
Packaging and labels have been affected least by COVID-19. There has been a drop in use of transit and industrial packaging, but these carry limited printing. Food, beverages, and pharmaceuticals have and will continue to be prioritized by governments and consumers. The short-term boost in Q2 2020 linked to "panic buying" and consumer stockpiling has been more muted in Q4 2020; even as the emergence new virus strains has seen a re-imposition of lockdown orders.
Substrates
The decline in graphics and publication jobs will be reflected in the market for print substrates. Newsprint, coated and uncoated woodfree, and coated and uncoated mechanical have all seen a fall in volumes, much of which will be permanent. Board and packaging film volumes have been more resilient and are forecast to return to positive growth through to 2025 and beyond.
Even in H2 2020, paper and pulp companies are closing or repurposing their existing paper machines. Equilibrium has yet to be re-established in the market. In the short term, there has been disruption to supply of recovered pulp, and brand owner and new environmental regulations will further disrupt the market over the next decade.
E-Commerce
To protect revenue during lockdown, many retailers have opened new e-commerce direct-to-consumer service lines. E-commerce packaging volumes are up 40% compared to 2019, with each purchase requiring additional packaging and delivery labels.
This is creating a need for dedicated e-commerce packs. PSPs can provide value-added options with variable-data options that the e-retailer can add after the order is received electronically—creating a personal connection in a sales channel where normal queues to impress brand values are missing.
One option is to collaborate and install presses in the e-commerce seller's distribution center with a through-the-wall agreement. For smaller e-retailers, there is also scope to take production in-house, by investing in a small digital label press. In both these instances, press manufacturers can find new revenue with post-sales support services enabling new users to get the most out of their machines.
Virtual Print Sales and SaaS
Much normal business activity has been suspended due to COVID-19. From a machine sales perspective, the biggest casualty was drupa 2020. Attempts to reschedule in June 2021 were crippled by the withdrawal of most major OEMs, and the largest event in the print calendar will now not happen until 2024.
In response, many OEMs hosted online launch events and virtual showcases to publicize their latest products. This aligns with the wider trend to provide greater support services and move beyond simple sales of equipment to a more solution-based approach, and include support and software as a service (SaaS) products to PSPs.
Many OEMs report positive experiences from these—even in an environment where uncertainty limits budgets for capital investment. These events will continue to provide more options for demonstrating products and provide a route to build integrated relationships with machine operators.
Online Print Orders and the Platform Economy
E-commerce and the wider use of web-to-print will not just reshape direct-to-consumer sales. There will be less need for intermediates or the conventional sales contact relationship in packaging and print ordering in the 2020s. By 2030, online specification and ordering will be the norm for print and printed packaging.
This creates an impetus to invest in online ordering and web-to-print systems. As print buying moves towards a platform economy model, first seen in segments like ride-hailing apps, it will be much easier for buyers to make price and service comparisons. Customer loyalty will be diminished, placing a new emphasis on service. A complementary trend from e-commerce is that orders will be shorter, but there will be a greater expectation of fast turnaround—in many instances requiring next-day delivery. This will push the wider adoption of slicker workflows and efficient, automated print, finishing, and distribution.
This will accelerate the ongoing transition from analog to digital print in several applications, especially as the quality improves on the latest inkjet presses. Web-to-print ordering will further commoditize print products. Besides adding new pressures on companies not using the technology, it may penalize smaller print shops.
Diversification
The strategies followed by remaining PSPs will change as they struggle to replace volume lost in the pandemic. Some print suppliers will move from doing all of the manufacturing and increasingly collaborate with other companies against whom they previously competed. Others will broaden the range of products and services they provide, handling more activities previously outside the realm of print companies.
The market potential for customized printed décor has already been shown, but the share for newer inkjet print systems is still small.
There are natural synergies with e-commerce and web-to-print. One of the highlight investments of 2020 was Amazon's commitment to buy $400 million of inkjet equipment for its new Merch business line. Customized print of direct-to-consumer products—like mugs, calendars, or other photo products—will see genuine growth for PSPs that can diversify into this area, including installing direct-to-object systems.
The impact of COVID-19 on all print segments and how it will reform the global print landscape over the next decade is examined in depth in the Smithers report The Future of Print to 2030. Available to purchase now, it includes comprehensive market forecasts and recovery scenario modelling for all major print technologies, end-use applications, geographic, and national markets for 2015–2030.
Global print and printed packaging market volume 2015–30, by category (trillion A4 prints)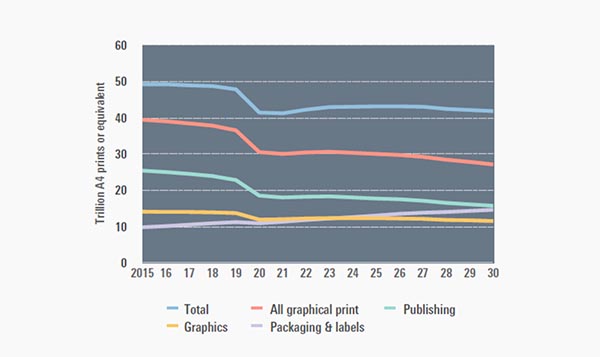 Source: Smithers