Your Friday Synthesizer-Playing Mushrooms
It's probably safe to say that, in the 1970s, mushrooms were involved in a fair amount of synthesizer playing.
I'm not exactly young, but I'm not old enough to get a coronavirus shot yet. I'm a vaccine-tween.

— Frank Conniff (@FrankConniff) January 12, 2021
A Fungus Among Us
Speaking of mushrooms, apparently, says The Face, 2020 was the "year of the mushroom." (2020 was the year of many things, but we'd put mushrooms pretty far down the list.)
Shroom-inspired pieces have sprung up across fashion houses everywhere, like JW Anderson's toadstool-printed T?shirt and Fiorucci's mushroom phone case, shirt dress and fungi-inspired hoodie. Stüssy nearly sold out most of its spore-ish SS20 collection in a matter of days, while LA artist Alake Shilling has been painting giant gelatinous frogs and neon mushrooms for Marc Jacob's Heaven, and Gucci's 2020 collection even includes fungi bum bags for kids.
The appeal of the mycelium hasn't gone unnoticed in the beauty industry, either. Coveteur, Stylist, Bustle and Dazed have all named fungi as skincare's hottest new ingredient in the last couple of years. The trend has even made its mark on home decor, like Supreme's recent FLOS Bellhop Lamp drop, with Google searches for ?"mushroom lamp" up 110 per cent last year, too.
By the way, they are referring to images of mushrooms being a fashion trend, not, as Cary Sherburne wrote about last week, fashions made from mushrooms.
London's Somerset House launched an exhibition last year called Mushrooms: The Art, Design and Future of Fungi.
Eighteen months in the making and swinging its doors open in January 2020, it was a big hit despite coronavirus forcing the show to close early, though it did later reopen its doors in July for a few months. ?"We were having 2,000 people a day coming before lockdown," she tells THE FACE, ?"which was wild for a small three-room exhibition."
Even "magic mushrooms" increased in popularity, even before the pandemic. Why all the interest in 'shrooms, be they wearable or edible?
We're scouring the forest floor because of a renewed interest in being outside in the first place, according to [Francesca Gavin, curator of the Somerset House exhibition]. ?"I think it's really resonating [at the moment] because of climate change and a real desire to connect with nature." This was also a driving force behind the exhibition – an opportunity to draw attention to how critical the environment is to our survival. ?"Mushrooms are this kind of beautiful, strange, really accessible, even childish way of tapping into our relationship with nature," Gavin adds. ?"That's the thing with mushrooms, they can be metaphors for whatever you're interested in."
Furthermore…
When the wrath of Coronavirus meant cancelling public events and separating physical communities, the pace of life inevitably slowed. With no external social outlet, we all turned inwards. Gavin thinks that this enforced self-reflection brought psychedelics to a new generation. ?"It's not about clubbing," she says. ?"It's more about what's going on in [your] head."
Buh-Bye
Waving at the end of every Zoom call like it's the 1800's and a big steam ship is leaving the harbor.

— PJ Vogt (@PJVogt) January 4, 2021
Hello, Dalí
It's not just mushrooms that are fashionable. According to CNN, apparently crustaceans are big in fashion, as well.
It's the kind of print you could easily find now, [lobsters] adorning everything from loafers to smocks. Henrik Vibskov's Spring-Summer 2020 collection featured plenty of pink and red crustaceans, for example, and Louis Vuitton's Autumn-Winter 2020 menswear show saw models stride down the catwalk wearing white fluffy coats decorated with oversized, similarly plush lobsters.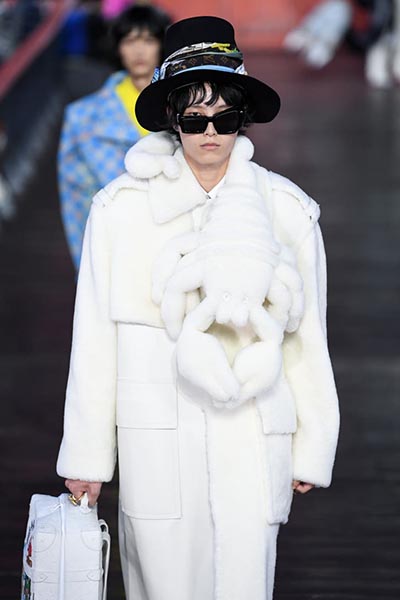 Yanshan Zhang/Getty Images
If that sounds/looks surreal, it kind of is, as it was a fashion trend introduced some years earlier by Salvador Dalí—and it caused a sensation.
His 1937 collaboration with boundary pushing fashion designer Elsa Schiaparelli caused consternation. The silk organza A-line gown they created together, subsequently worn by Wallis Simpson in the pages of Vogue, elicited shock, head scratching, and plenty of voluble conversation from the fashion world. Apparently Dalí was disappointed though. He felt that the dress was missing one final touch: a dash of mayonnaise.
Interestingly, Surrealism and fashion have often walked hand in veiny hand.
Plenty of Surrealism's key proponents turned to design, creating extraordinary, often startling objects. A select few embraced fashion too. Schiaparelli collaborated with both Dalí and fellow artist Méret Oppenheim, who would go on to incorporate clothes to unnerving ends in her own work, such as gloves adorned with fur and veins. Joan Miró designed bright, brash costumes for the Ballet Russes. Eileen Agar devised playful designs like her 1936 "Ceremonial Hat for Eating Bouillabaisse," which featured seashore detritus including a lobster's tail and a fishing net.
Silver Linings
Remember a year ago at this exact time when everyone thought the movie version of CATS was one of the worst things that could happen to us? Now, in the wake of covid, we can look back with perspective and be grateful we were right about at least one thing.

— Frank Conniff (@FrankConniff) December 20, 2020
Manual Transmission
Think lockdowns, social distancing, and avoiding handshaking were new things to come out of 2020? Actually, via BBC Future, a doctor named Quinto Tiberio Angelerio published a booklet called Ectypa Pestilentis Status Algheriae Sardiniae, detailing 57 rules he had imposed upon the city of Alghero, Sardinia, to help contain a deadly disease—430 years ago. At the time, the disease in question was the bubonic plague, the first victim of which arrived in Alghero in 1582. It was a sailor, fresh from plague-ravaged Marseille, and even though he was already displaying symptoms, he somehow managed to get past the Morbers, "plague guardians" whose job it was to keep anyone with symptoms from getting into the city. The sailor didn't live much longer, but long enough to trigger the start of an outbreak.
Enter Angelerio, who had been abroad and knew what he was dealing with.
His first instinct was to ask for permission to quarantine the patients, but he was thwarted again and again – first by indecisive magistrates, then by a senate which rejected his report and put his concerns down to apocalyptic visions.
Plus ça change, plus c 'est la même chose. Fortunately, he was able to convince the viceroy of the need for preventive measures, including lockdowns and the suspension of trading with outsiders.
Initially, the measures were extremely unpopular, and the public wanted to lynch him. But as more people died, they came round – and he was fully entrusted with the task of containing the outbreak.
His measures included preventing people from leaving their houses, stipulating that only one household member was allowed to venture out and do the shopping. And they were strict. One woman chased after a chicken that had fled her house and run into the street and fell afowl (ahem) of a member of the Health Board and was arrested.
Social distancing was also one of Angelerio's measures, as he wrote, "People allowed to go out must bear with them a cane measuring six feet long. It is mandatory that people keep this distance from one another."
And Angelerio went further. He also specified that a large rail, or parabonda, should be added to the counters at shops in which foods are sold, to encourage people to keep their distance – and recommended that, during mass, people should be careful when shaking hands.
Did any of this work?
The outbreak lasted for eight months, and then the city didn't see another plague epidemic for 60 years – but when it did, the first thing they did was turn to Angelerio's manual. The Protomedicus [doctor] during the 1652 outbreak followed his instructions to the letter, introducing quarantine, isolation, the disinfection of goods and houses, and establishing sanitary cordons around the city.
Stat
Anyone else rip their mask off when they get in to the car like they've just finished a disappointing surgery on Grey's Anatomy

— Zach (@zachnm) December 20, 2020
Suitable for E-Framing
After the advent of the iPad and related tablets, it was tempting to write off E Ink e-paper, the electrophoretic display technology used in the earliest ebook readers, but it appears to be having a bit of a renaissance. Are you looking for a digital picture frame that never needs charging (well, unless you want to change the image)? Try Frame Labs' ArtFrame e-ink photo frame. They are monochromatic (but black-and-white photography often looks classy) and available in two sizes: 6 inches and 9.7 inches.
If you want an e-paper-based watch and have that DIY spirit, The Verge points us to Squarofumi, which offers a kit for hacking your own open-source, Arduino-powered smartwatch. Having the unfortunate name of Watchy, it offers a 1.54-inch e-paper screen as well as "Wi-Fi, Bluetooth, a 3-axis accelerometer and four buttons that can be used for navigation, or whatever other functions you can dream up."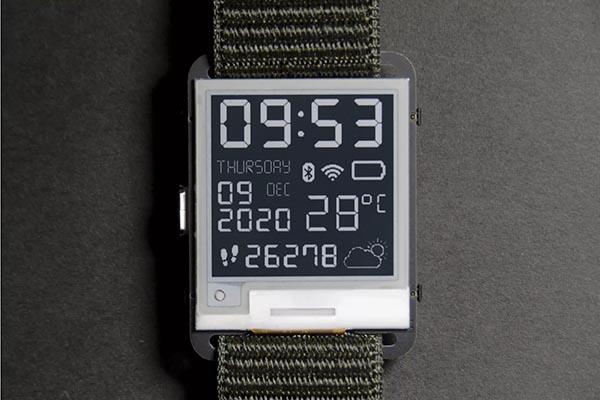 SQFMI
Not Yet Out with the Old
I'm still writing 2020 on my complaints about last year.

— J. Elvis Weinstein (@JElvisWeinstein) January 2, 2021
That Can-Do Spirit
Last fall, Core77 had a post about metal packaging, pointing out that it is less likely to end up in landfills than plastic:
Metal is recycled often, although the rates admittedly vary according to what the product was. The Aluminum Association, a lobbying group, reports that "More than 90 percent of the aluminum in building and automotive parts is recycled at the end of use," whereas the EPA reports that aluminum containers and packaging came in at just 32.8%.
That's still way better than the dismal 8.4% of plastic that was recycled in 2017, as reported by the EPA. As a result, "Nearly 75 percent of all aluminum produced in the U.S. is still in use today," according to the Aluminum Association. Steel also does well: The Steel Recycling Institute cites an overall recycling rate of 86% (though their stats are from 2014).
They then introduce Verity, a California-based packaging supplier that is on a mission to replace much plastic packaging with metal.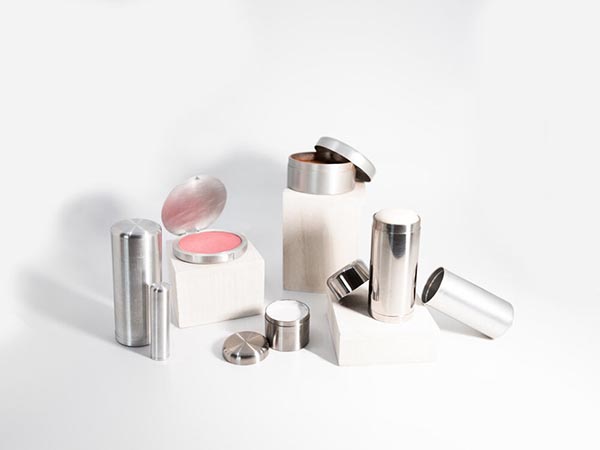 "The long term vision for Verity is to make reusable packaging approachable for any brand size because in the end they know that reuse is the gold standard for a more sustainable future," the company writes. "Offering metal packaging elevates a brand and user experience through aesthetics, form, and function and will actually get recycled at the end of its life. Verity's packaging solutions can be integrated seamlessly in any product portfolio and the options to customize their solutions are endless."
Catty Coauthor
In 1975, a cat was listed as the co-author of a prestigious physics paper because the author had accidentally written 'we' instead of 'I' throughout and couldn't be bothered changing it.

— Quite Interesting (@qikipedia) January 12, 2021
Specialty Printing
Over at Core77, a gallery of some of the bizarre swag that pharmaceutical sales reps used to give to doctors. (It's still fairly common to see pharmaceutical-emblazoned pens, prescription pads, etc.—although the oddest we ever saw in a medical center was a Viagra wall clock; it was weird that it always seemed to be 12:00. We digress.) Many of the items are still available on eBay, such as a Fentanyl pen and stapler set, a liquid-filled tape dispenser to promote lidocaine patches, refrigerator magnet clips to promote opioid tablets, a liquid-filled paperweight/business card holder snow globe to promote opioid tablets, and, disturbingly, a Vicodin candy jar.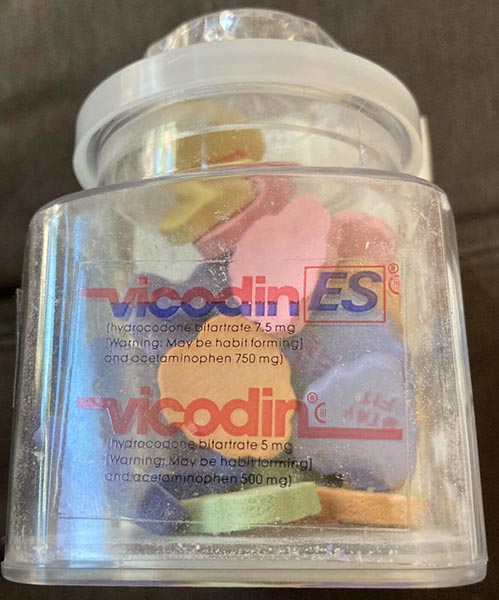 Zoom's...Out...for...Summer
Child Weirded Out After Bumping Into Teacher Outside Laptop https://t.co/xalqkumF0F pic.twitter.com/rIhfqMUtEa

— The Onion (@TheOnion) January 12, 2021
Oinkjet Insight
Via Gizmodo, a team of researchers from Griffith University in Brisbane, Australia, recently discovered a painting of a pig painting inside an Indonesian cave, which has been dated to 43,900 years old. This makes it "the oldest—if not the oldest—known figurative art piece in the archaeological record." The team "also found a pig painting at the nearby Leang Balangajia site, which was dated to 32,000 years old A new paper describing these findings is published today in Science Advances."
Drifting in Their Orbits
Glad they worked their shit out https://t.co/xb1AyoTu6c

— Ed Solomon (@ed_solomon) December 22, 2020
A Pizza the Action
Laughing Squid informs us that Vinnie's Pizzeria in Brooklyn announced that it was open on New Year's Day by showcasing a new drone-like pizza delivery service based on helium balloons: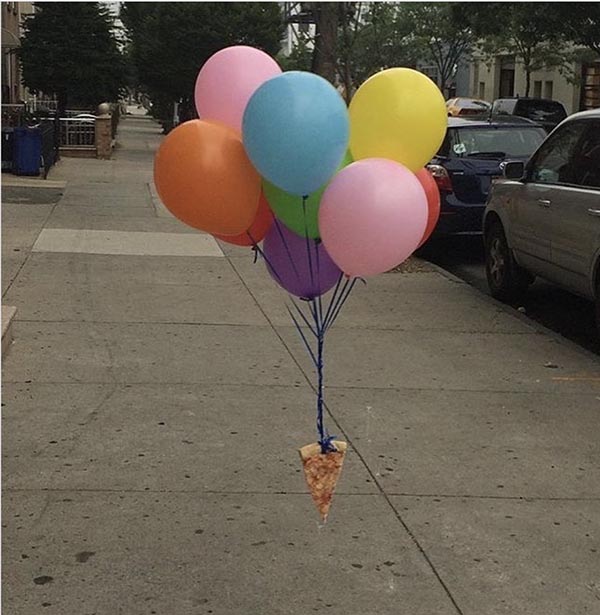 Obviously, this was just a promotion given the obvious flaw that it only delivers a slice at a time and the less obvious flaw, if you click through and watch the video, that it would be suitable if you like the taste of sidewalk on your pizza.
Back Talk
in england, they don't say i'll kick your ass, they say i'll see you on the pic.twitter.com/pgzMSWiLK9

— reni (@reniadeb) January 2, 2021
The Chips Are Down
Speaking of comfort food, Mental Floss gives us a "brief history of nachos."
In the 1940s, Ignacio "Nacho" Anaya was working at Club Victoria in the border town of Piedras Negras, Mexico, when a group from the neighboring Texas town of Eagle Pass came in looking for something to eat. As the restaurant's maître d, Anaya's job was normally limited to attending to guests, but on this particular occasion, the cook was nowhere to be found.
Instead of turning the customers away, Anaya ducked into the kitchen to whip up a quick dish using the few ingredients he could find. The resulting plate of tortilla chips topped with grated cheese and sliced jalapeños was a hit. It needed a name, and Nachos Especiales—an homage to its creator—stuck. Or at least the first half of it did.
They then run through a history of maize cultivation and processing, the advent of the tortilla, and then the fried tortilla.
the modern, bite-sized version of the fried tortilla didn't really begin to emerge as a distinct category until the 1900s. Tortilla-making was becoming commercialized around the turn of the century, and factory owners were looking for ways to repurpose the excess tortillas that would otherwise go to waste. These scraps were often fried, cut into chips, and distributed to restaurants in the area.
So how did the chips go from tortilla factory afterthought to snack aisle staple? Credit is often given to Rebecca Webb Carranza. In the late 1940s, Carranza was president of El Zarape Tortilla Factory in Los Angeles. She fried tortilla scraps into chips, and after serving them at a family party, she saw that people couldn't get enough of them. "Tort Chips," as she called them, were initially sold for 10 cents a bag from the factory delicatessen. By the 1960s, the chips had replaced regular tortillas as the business's main product.
Now we're hungry…
Thin White Duke
A day in the life..

'You drive like a demon from station to station..' pic.twitter.com/4k3gzrqfsC

— Vinny M (@MVinny69) January 8, 2021
Mantis the Season
Like everyone else, we have long been plagued by the ever-burning question, what do praying mantises like to watch on TV? Episodes of the 1990s TV series M.A.N.T.I.S.? The old 1950s giant bug movie The Deadly Mantis? Actually, they prefer butterfly videos. Go figure. Enjoy this video of mantises watching TV.
Sure, Laugh Now
Jan. 1, 2021: We did it, guys! That awful year is behind us!

Aug. 4, 2021: The snake wolves have taken Illinois. Here's what that means for Ohio volcano refugees.

— J.P. McDade (@jp_mcdade) December 20, 2020
This Week in Printing, Publishing, and Media History
January 11
1927: Louis B. Mayer, head of film studio Metro-Goldwyn-Mayer (MGM), announces the creation of the Academy of Motion Picture Arts and Sciences, at a banquet in Los Angeles, California.
1928: English novelist and poet Thomas Hardy dies (b. 1840).
1949: The first "networked" television broadcasts took place as KDKA-TV in Pittsburgh, Pa., goes on the air connecting the east coast and mid-west programming.
1964: Surgeon General of the United States Dr. Luther Terry, M.D., publishes the landmark report Smoking and Health: Report of the Advisory Committee to the Surgeon General of the United States saying that smoking may be hazardous to health, sparking national and worldwide anti-smoking efforts.
1755: General, economist, and politician, 1st United States Secretary of the Treasury, "Ten-Dollar Founding Father" Alexander Hamilton born.
1807: American businessman and philanthropist, founder of Western Union and Cornell University Ezra Cornell born.
January 12
1908: A long-distance radio message is sent from the Eiffel Tower for the first time.
1949: Japanese novelist, short-story writer, and essayist Haruki Murakami born.
1976: English crime novelist, short story writer, and playwright Agatha Christie dies (b. 1890).
January 13
1888: The National Geographic Society is founded in Washington, D.C.
1898: Émile Zola's J'accuse…! exposes the Dreyfus affair.
1910: The first public radio broadcast takes place; a live performance of the operas Cavalleria rusticana and Pagliacciare sent out over the airwaves from the Metropolitan Opera House in New York.
1941: Irish novelist, short story writer, and poet James Joyce dies (b. 1882).
2009: Irish-American actor, director, and producer Patrick McGoohan dies (b. 1928). Be seeing you.
January 14
1896: American novelist, poet, essayist, and playwright John Dos Passos born.
1898: English novelist, poet, and mathematician Lewis Carroll (né Charles Dodgson) dies (b. 1832).
1952: NBC's long-running morning news program Today debuts, with host Dave Garroway.
1967: The Human Be-In takes place in San Francisco, California's Golden Gate Park, launching the Summer of Love.
1973: Elvis Presley's concert Aloha from Hawaii is broadcast live via satellite, and sets the record as the most watched broadcast by an individual entertainer in television history.
January 15
1759: The British Museum opens.
1876: The first newspaper in Afrikaans, Die Afrikaanse Patriot, is published in Paarl.
1892: James Naismith publishes the rules of basketball.
1936: The first building to be completely covered in glass, built for the Owens-Illinois Glass Company, is completed in Toledo, Ohio.
1941: American singer-songwriter, musician, and artist Captain Beefheart (né Don Van Vliet) born.
1962: The Derveni papyrus, Europe's oldest surviving manuscript dating to 340 BC, is found in northern Greece.
1967: The first Super Bowl is played in Los Angeles. The Green Bay Packers defeat the Kansas City Chiefs 35–10.
2001: Wikipedia, a free wiki content encyclopedia, debuts online.
January 16
27 BC: Gaius Julius Caesar Octavianus is granted the title Augustus by the Roman Senate, marking the beginning of the Roman Empire.
1492: The first grammar of the Spanish language (Gramática de la lengua castellana) is presented to Queen Isabella I.
1605: The first edition of El ingenioso hidalgo Don Quijote de la Mancha (Book One of Don Quixote) by Miguel de Cervantes is published in Madrid, Spain.
January 17
1706: Benjamin Franklin born.
(Warning: NSFW)
1867: German-born American film producer and co-founder of Universal Studios Carl Laemmle born.
1904: Anton Chekhov's The Cherry Orchard receives its premiere performance at the Moscow Art Theatre.
1929: Popeye the Sailor Man, a cartoon character created by E. C. Segar, first appears in the Thimble Theatre comic strip.
Anything catch your eye "around the Web"? Share it with us at [email protected].