Your Friday Pakistani Orchestra Rendition of "Take Five"
My neighbor's J fell down but this way is better. #2020 pic.twitter.com/eU9Zl9wiAi

— Monica Hesse (@MonicaHesse) December 7, 2020
2021: Another Gray Area?
It's that time of year...time for Pantone to pick the Color of the Year for 2021. Via CNN, it appears that anticipation for 2021 is so high that that it deserves not one but two colors: Ultimate Gray and Illuminating yellow.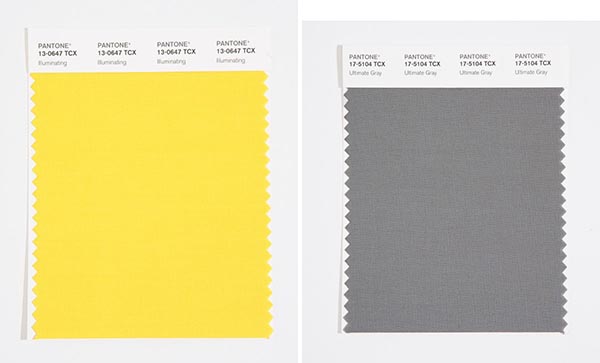 "It's a combination that speaks to the resilience, the optimism and hope and positivity that we need, as we reset, renew, reimagine and reinvent," said Laurie Pressman, vice president of the Pantone Color Institute.
How prescient are the Color of the Year choices?
Last year's choice, Classic Blue, offered a sense of reassurance as the world moved into a new decade, as well as a balm to feelings of instability and unrest. It was selected just before COVID-19 became an international crisis.
Well, spot on, then.
Rat Card
This actually seems like a pretty apt holiday card for 2020 https://t.co/QORRAuLqyH

— Stacey Vanek Smith (@svaneksmith) December 9, 2020
Choice Words
This is a little too on the nose for us. From CNN: "'Pandemic' is, unsurprisingly, the Word of the Year for Merriam-Webster and Dictionary.com."
One of our choices would be "pivot," but this is our admitted favorite:
Macquarie Dictionary's Word of the Year for 2020 is "doomscrolling".

— Quite Interesting (@qikipedia) December 7, 2020
Best to Pay for It
Free Version Of Meditation App Plays Panicked Shrieks Every 15 Minutes https://t.co/KeR4owlq30 pic.twitter.com/dT0j9XWYkG

— The Onion (@TheOnion) December 9, 2020
Vox Humaning
Have you ever heard the word "humaning"? "Phygital"? "Solutioning"? No, nor have we, and for very good reason. Marketing loves buzzwords, and the more ludicrous and loathsome, the better it seems. The NY Times offers a lexicon of current marketing buzzwords that no human should ever use. Like "humaning."
"Humaning" was coined by Mondelez International, the company that makes Oreo cookies, Ritz crackers and Philadelphia cream cheese, with the help of the Ogilvy advertising agency. It set off a social-media backlash when it entered the lexicon this month, shortly after Mondelez declared that the word captured its approach to marketing snack foods around the world.
"Humaning is a unique, consumer-centric approach to marketing that creates real, human connections with purpose, moving Mondelez beyond cautious, data-driven tactics, and uncovering what unites us all," the company announced in a news release. "We are no longer marketing to consumers, but creating connections with humans."
Not everyone is a fan.
Robert Sutton, a Stanford University professor, described it as "corporate jargon monoxide." Bob Hoffman, an advertising industry veteran behind the Ad Contrarian newsletter, was also less than pleased by the linguistic innovation. "In any sober industry," he wrote, "the perpetrators of this nonsense would be taken out back by grown-ups and beaten to a pulp. Then they'd beat up on the pulp." Gareth Cartman, a novelist and client services director at the British ad firm CLD, wrote on Twitter: "Humaning. Someone must pay for this crime."
You can click through to document the atrocities, but here's one that is especially cringe-worthy:
TLA: The ad industry loves acronyms and initialisms. OTT stands for "over-the-top" streaming content delivered over the internet. PDOOH is short for "programmatic digital out-of-home" (that is, ads placed through an automated bidding process on digital billboards and other signs). And TLA? It stands for a type of acronym. Specifically, "three-letter acronyms."
The End of the Customer Journey
Cheers to the local funeral home that figured this was the perfect holiday season to send out a mass mailing about cremation and burial services. Merry Pandemicmas, everyone! pic.twitter.com/4Q3wUVzO5r

— Ken Plume (@KenPlume) December 9, 2020
Deflated Reality
Alas, says Gizmodo: "On Monday, IKEA announced that it will cease publication of its beloved catalog after 70 years of annual editions."
In a statement, IKEA Managing Director Konrad Grüss said that the decision was "emotional but rational" as customer interest in the print catalog has declined and shoppers seek out digital alternatives for inspiration. Grüss said that the just-released 2021 catalog will be the final edition of what has been the furniture giant's primary marketing tool for a generation
Perhaps the biggest impact is that print industry analyst types will no longer be able to use it as an example of augmented reality.
A Game of Pool
You just never know when you are going to have to wager your soul on a game of pool with a dead hustler who bears a striking resemblance to Jonathan Winters. Should you ever find yourself in that situation, you'll need Pool Live Aid, an augmented reality system for lining up pool shots.
You can handily vanquish your rival, and then take on living with a compulsive neatnik, shortly before becoming a high-profile LA coroner.
A Bridge too Far
This is why the #VerrazanoBridge was closed yesterday during the high winds. pic.twitter.com/QrefTGHVom

— NYCFireWire (@NYCFireWire) December 1, 2020
Olympics 2024: Electric Boogaloo
Are you good at breakdancing? Has anyone been since 1983? Apparently yes, and we'll find out who at the 2024 Summer Olympics, as the International Olympic Committee has announced that breakdancing—or "breaking," in today's lingo) will be added as an event to the Paris Olympics in 2024. It is, says The Guardian, "part of plans by the president, Thomas Bach, to make the Games 'more gender balanced, more youthful and more urban.' Surfing, skateboarding and sport climbing, which are part of next year's Tokyo Games, will also be included at Paris 2024."
To make way for the newer sports, the IOC is cutting the number of weightlifting and boxing categories and rejected requests for other new events, such as mixed relay cross-country athletics and coastal rowing. The overall athlete quota will also be reduced to 10,500, down around 500 from those expected in Tokyo.
(So if Walter White entered the breaking contest and did really poorly, he'd be said to be—oh, you know....)
The actual games at the Olympics have always been in flux—and in fact at one time printmaking was an Olympic event. When the ancient games were revived in the late 19th century, the inspiration of its reviver, Pierre de Coubertin, was the Hellenic idea of the combination of both physical andintellectual fitness and in 1908 artistic competitions were added to the Olympic Games. The IOC identified five areas of artistic competition: architecture, literature, music, painting, and sculpture. Unfortunately they were not very popular and did not last long. Nor did town planning, added briefly as an event in 1928.
Press Your Luck
Extreme ironing is a sport where one irons in dangerous situations - such as while skiing, while parachuting or underwater. The Extreme Ironing Bureau claims it "combines the danger and excitement of an "extreme" sport with the satisfaction of a well-pressed shirt". ?? Phil Shaw pic.twitter.com/jRHfaBnUTa

— Quite Interesting (@qikipedia) December 4, 2020
Door Dash
Think Amazon is fast at delivering books? Well, you have not had books delivered by Milan, Italy's "bicycling bookseller," Luca Ambrogio Santini, aka the "Don Quixote of booksellers." Says The Guardian:
"Quixote went to fight against the windmills," Santini said of the protagonist in the classic novel by Miguel de Cervantes. "My windmills are the online retailers from those monster multinationals … which for us independent booksellers are unnameable."
The former bookstore owner sighs before uttering a name: "Obviously, Amazon … I practically do what they do, and often I'm faster than them."
Santini has been waging his battle against the online giants since 2015, when he became the first bookseller in Italy to start home deliveries.
Called LibriSottoCasa (books on the doorstep), Santini fits his wares into a 2-sq-metre box on the front of his bike before delivering them to customers in the southern districts of Milan. Until the coronavirus pandemic struck, he participated in book fairs and other events. Now with those events cancelled, he is surviving solely on home deliveries. But the pandemic has proved to be a bit of a boon, as people spending more time at home rediscover the joy of books.
We suspect he does not deliver overseas.
What the Cluck?
Mark your calendars because Lifetime and @KFC have partnered for a Lifetime Original Mini-Movie you don't want to miss! "A Recipe For Seduction" starring @MarioLopezviva premieres Sunday at 12PM. pic.twitter.com/nZJ2PXUR6G

— Lifetime (@lifetimetv) December 7, 2020
(Actually it is "a 15-minute branded content collaboration from Lifetime, KFC and agency Wieden+Kennedy Portland.")
I think it's an appropriate time to remind you that KFC only follows 11 accounts and if you can't figure out what the theme is....I don't know what to do with you. pic.twitter.com/hAVRaKQMqF

— jax ?? (@jaxbra) December 7, 2020
States of Mind
Here's a fun little geography game via xkcd, based on the premise that folks in Alaska and Hawaii are tired of being left off US maps. Heck, what if we left off otherstates at random? How long will it take you to determine which states have been left off this map: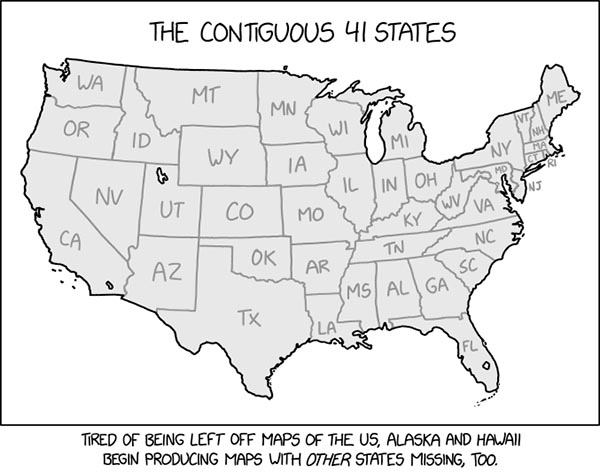 Reasonable Precautions
December 5, 2020
Go Tell It on the Mountain
How high is Mount Everest? Until this week it was generally accepted that it was 29,029 feet—or a least that's what the country of Nepal had maintained. China, however, didn't count the snow cap and insisted that it was really 29,017 feet. (The mountain sits on the border of both countries.) On the list of World's Most Tedious Conflicts, this has to be in the top 10 but, via USA Today, this most pressing of all issues has finally been resolved: "On Tuesday, the two governments announced the new official height: 8,848.86 meters, about 29,032 feet." So...bigger than either one had maintained. OK.
Both countries sent surveyors, Nepal in 2019 and China in 2020, who agreed on the height. Their measurements were made official Tuesday when the countries' foreign ministers, Wang Yi of China and Pradeep Gyawali of Nepal, pressed buttons at the same time during a news conference to reveal what each side had calculated.
We've seen weirder game show ideas.
Actually, the height of Everest has changed a couple of times. In a 2007 episode of the British quiz show Q.I. (Quite Interesting), host Stephen Fry asked "Who was the first person to put two feet on top of Mount Everest?" The answer to this trick question was not Sir Edmund Hillary, but rather a 19-year-old Indian mathematician named Radhanath Sikdar, who had been part of the Great Trigonometrical Survey, a project launched by the British in 1803 to measure the entire Indian subcontinent. Sikdar had been promoted to Chief Computer and was tasked to calculate the height of one particular mountain, variously called Peak XV, Sagarm?th? (in Nepal) and Chomolungma (in Tibet)—or what we know of as Mount Everest. Using theodolites located 150 miles away from his target, and laboring and ?crunching data for years, Sikdar finally announced not only the height of this peak, but also that it was the highest in the world: 29,002 feet.
Here's the thing, though. After all the measurements and number crunching, what Sikdar really came up with was 29,000 feet exactly. Well, he must have thought, no one is going to believe that. They'll think I fudged it. So to avoid the illusion that he just merely came up with a rounded guesstimate, he added an arbitrary two feet, so as not to, as they say, make a mountain out of a molehill.
One Man's Meat...
What's fun about that?

— Stephen King (@StephenKing) December 7, 2020
The Two Gentlemen of Corona
Says Business Insider:
One of the first people injected with Pfizer and BioNTech's coronavirus vaccine outside trials in England was called William Shakespeare.
The UK became the first country to approve the vaccine on Wednesday last week, and began administering it to vulnerable people on Tuesday morning.
The first recipient was Margaret Keenan, a 90-year-old grandmother, who was injected at 6:31 a.m. local time at University Hospital in Coventry, Warwickshire.
And the crowd goes wild.
A lot of people are saying that Francis Bacon is actually one of the first people to receive the Covid vaccine in the UK.

— (((Joshua Malina))) (@JoshMalina) December 8, 2020
Treed
2021 can't come soon enough.#SeasonsGrievings2020 pic.twitter.com/BGhmbsS8wJ

— Mark Hamill (@HamillHimself) December 3, 2020
This Week in Printing, Publishing, and Media History
December 7
1923: American actor and comedian Ted Knight born.
1930: W1XAV in Boston, Massachusetts telecasts video from the CBS radio orchestra program, The Fox Trappers. The telecast also includes the first television commercial in the United States, an advertisement for I.J. Fox Furriers, who sponsored the radio show.
December 8
1861: American businessman, and founder of General Motors and Chevrolet, William C. Durant born.
1894: American humorist and cartoonist James Thurber born.
1951: American essayist, travel and science writer Bill Bryson born.
1962: Workers at four New York City newspapers (this later increases to nine) go on strike for 114 days.
1980: John Lennon is murdered by Mark David Chapman in front of The Dakota in New York City.
A sad sad day but remembering my friend John with the great joy he brought to the world. I will always be proud and happy to have known and worked with this incredible Scouser! X love Paul#JohnLennon

?? by Linda McCartney pic.twitter.com/oNL0ihzhvl

— Paul McCartney (@PaulMcCartney) December 8, 2020
2013: Metallica performs a show in Antarctica, making them the first band to perform on all seven continents. (Master of Penguins?)
December 9
1608: English poet and philosopher John Milton born. ("There goes paradise," said his mother.)
1793: New York City's first daily newspaper, the American Minerva, is established by Noah Webster.
1897: Activist Marguerite Durand founds the feminist daily newspaper La Fronde in Paris.
1906: American admiral, computer scientist, and designer of COBOL Grace Hopper born.
1960: The first episode of Coronation Street, the world's longest-running television soap opera, is broadcast in the United Kingdom.
1965: A Charlie Brown Christmas, first in a series of Peanuts television specials, debuts on CBS.
1968: Douglas Engelbart gives what became known as "The Mother of All Demos," publicly debuting the computer mouse, hypertext, and the bit-mapped graphical user interface using the oN-Line System (NLS) at the Association for Computing Machinery/Institute of Electrical and Electronics Engineers (ACM/IEEE)—Computer Society's Fall Joint Computer Conference in San Francisco.
1979: The eradication of the smallpox virus is certified, making smallpox the first of only two diseases that have been driven to extinction (rinderpest in 2011 being the other).
December 10
1520: Martin Luther burns his copy of the papal bull Exsurge Domine outside Wittenberg's Elster Gate.
1768: The first edition of the Encyclopædia Britannica is published.
1815: English mathematician and computer scientist Ada Lovelace born. Working on Charles Babbage's Analytical Engine, she s often considered the first computer programmer. (She was also the only legitimate daughter of Lord Byron.)
1884: Mark Twain's Adventures of Huckleberry Finn is published.
1909: Selma Lagerlöf becomes the first female writer to win the Nobel Prize in Literature.
December 11
1918: Russian novelist, historian, short story writer, and Nobel Prize laureate Aleksandr Solzhenitsyn born.
1972: Apollo 17 becomes the sixth and final Apollo mission to land on the Moon.
December 12
1821: French novelist Gustave Flaubert born.
1901: Guglielmo Marconi receives the first transatlantic radio signal (the letter "S" [***] in Morse Code), at Signal Hill in St John's, Newfoundland.
December 13
1962: NASA launches Relay 1, the first active repeater communications satellite in orbit.
1972: Apollo 17 astronauts Eugene Cernan and Harrison Schmitt become the last humans to set foot on the Moon.
Anything catch your eye "around the Web"? Share it with us at [email protected].