Your Friday Swedish Jazz Bagpipes
(Three words that have probably never appeared together before.)
Leeds is stuck in tier 3 and I'm starting to think I should have had more hobbies than eating in restaurants.

— Kate Lister (@k8_lister) December 2, 2020
Skin Crawling
Researchers at the University of Colorado Boulder have developed "electronic skin" that could eliminate the need for bulky smart watches and other electronic gadgets that ultimately contribute to landfills. Wear it on your wrist or neck—but maybe not on your face unless you want to look like Arnold Schwarzenegger peeling his face off in the Terminator series.
Ducky
A new HanesBrand single-use surgical mask has received Emergency Authorization Approval from the USDA. In this collaborative effort, HanesBrand goes beyond stockings and intimates to bring more safety in a difficult time. Says BusinessWire:
The two-ply, single-use surgical mask features a unique fabric developed by NC State's Nonwovens Institute combined with a fit design created in collaboration with UNC-Chapel Hill and NC State biomedical engineers and UNC Health infection prevention experts.
The Hanes mask uses a duckbill shape for better breathability, a wire nosepiece and foam insert to enhance a contoured fit, and placement of stretchable straps for a secure fit. UNC Health tested the masks to assure they meet FDA particulate filtration standards and OSHA respiratory protection program requirements.
Alien Nation
Would a Xenomorph wear a mask

Like or Like
This This pic.twitter.com/5sHUAVgDGi

— Robert Manchild ???‍?? (@RobertManchild) November 28, 2020
Fashion Don't
McKinsey's calculations, based on the changes in market capitalizations over time in its index of global fashion, suggest that the industry's economic profit will fall by 93 percent in 2020 after rising 4 percent in 2019. Not a pretty picture. Yet many executives still see silver linings. Full report available here.
Cookie Doh!
I accept all cookies.

— Richard Osman (@richardosman) December 1, 2020
Is it okay to accept cookies from the Girl Scouts' website?

— (((Joshua Malina))) (@JoshMalina) November 24, 2020
Photo Finishes
Over at The Atlantic, some highlights of this year's International Landscape Photographer of the Year contest. The winner was Hong Kong's Kelvin Yuen, who won "for his images of Norway, Scotland, and the American Southwest."
Check out this video which covers the contest and looks at some of the winning entries. There is some truly amazing imagery here.
And of course where are landscape images displayed? In a landscape gallery which, per one of our favorite cartoons, is different from a portrait gallery.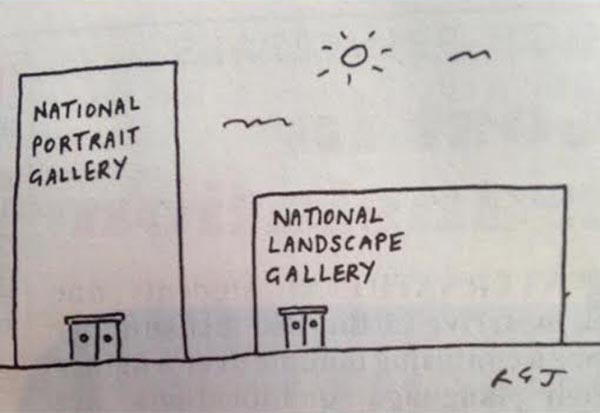 Find Strength in What Remains Behind
stopped dead in my tracks to take this photo. Have waited my whole life for this. pic.twitter.com/7nWvQf91Fv

— Sophia Benoit (@1followernodad) November 23, 2020
Monolith Mania
The story so far:
Last week: "Workers with Utah's Department of Public Safety discovered a giant hunk of metal in the Utah desert. They don't know where it came from."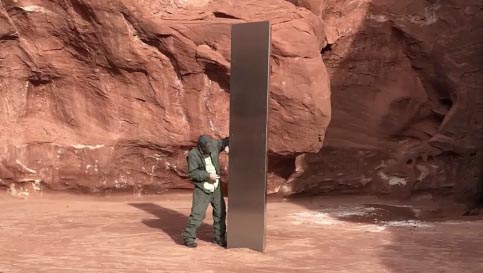 Later, That Same Week: "Metallic Monolith In Utah Vanishes Just As Mysteriously As It Appeared"
The Next Day: "Another Mysterious Monolith Suddenly Appears — This Time In Romania"
This Week: "A photographer said four men dismantled the mysterious shiny object that has captivated the country. Two Utah residents said they took part in the removal."
The Internet does its thing:
Of course it did. https://t.co/kWsdYl5GsD pic.twitter.com/h1O0iaA6LB

— Charles P. Pierce (@CharlesPPierce) November 29, 2020
Sorry y'all, we needed it back. https://t.co/tuOKj1igF7 pic.twitter.com/d3SOF4GeMS

— Southwest Airlines (@SouthwestAir) November 29, 2020
Monolith mystery solved: it's a beer fridge pic.twitter.com/AD7SQwDe6g

— Budweiser (@budweiserusa) December 1, 2020
Ah sh*t the monolith is at Hilltop now pic.twitter.com/I06Xa00GsS

— The Walking Dead (@TheWalkingDead) December 1, 2020
The mysterious monolith has appeared on the TED stage. pic.twitter.com/2jrp0Ml4tE

— TED Talks (@TEDTalks) December 1, 2020
And so on, and so on, and so on.
Stan the Man
And now, for your NSFW watching pleasure, a rather well-done animation of Stan Lee swearing.
It's a 2020 Thing—You Wouldn't Understand
Denmark's Culled Minks Rise From Mass Grave https://t.co/S5Jf9q55GI

— Courthouse News (@CourthouseNews) November 25, 2020
Turn Back the Cluck
Do you have chickens? Well, why not—and none of your poultry excuses! Anyway, if you do, do you suspect that they have a secret longing to reclaim the glory lost when their evolutionary forebears went extinct? Well, now you can spice up your next hen party by letting them try to recreate the days when dinosaurs walked the earth with, via Boing Boing, these 3D-printed T. Rex arms: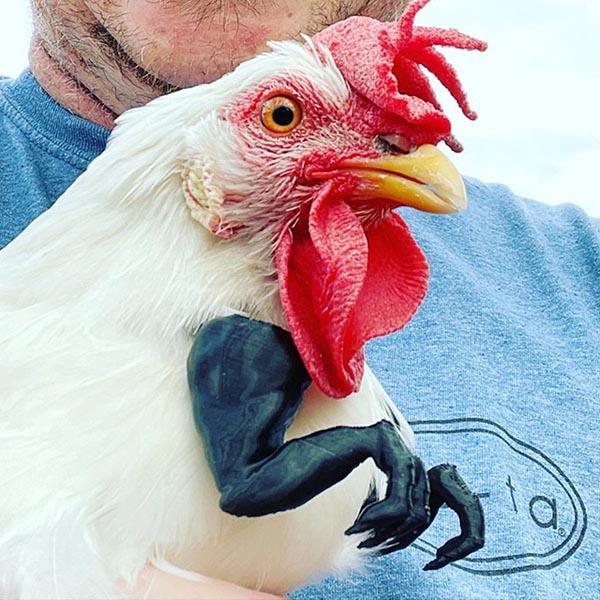 In fact, if you have a 3D printer, you can print them yourself. Really quite hendy.
As the World Kerns
Trying to watch Dr Fauci, but I keep getting distracted by the bad kerning on the "N" in WASHINGTON behind him. Yes, I know I have a problem. pic.twitter.com/KmM7l1x5Yu

— Hrishikesh Hirway (@HrishiHirway) December 1, 2020
Marley and Me
In a year in which live theater was adversely affected by cancelled performances, the Christmas season is dealing perhaps the biggest blow of all: the inability to stage "A Christmas Carol," which for many theaters and troupes, is the one performance of the year that funds many, most, or all of the others. So, via the New York Times, some theaters are getting creative. And is Zoom involved? Not always, so that's good.
Gone are the large-cast extravaganzas playing before cheery crowds in packed venues. Instead, theaters are using every contagion-reduction strategy they have honed during the coronavirus pandemic: outdoor stagings, drive-in productions, street theater, streaming video, radio plays and even a do-it-yourself kit sent by mail.
Many of them are doing the stagings for free.
The financial implications are enormous, especially for those that have opted not to charge at all. Ford's Theater in Washington last year sold $2.5 million worth of tickets to "A Christmas Carol." This year, it is releasing a free audio version on its website and on public radio, paid for by corporate sponsorships and donations. "Hopefully it will come back to us in other ways," said Paul R. Tetreault, Ford's director.
When they are performing with a more or less full cast, some have tried to avoid casting children, lest they be exposed by an asymptomatic fellow cast member.
To portray Tiny Tim, the disabled child whose fate plays a key role in Scrooge's awakening, some are now turning to the shortest adult members of their casts. The Lyric Theater of Oklahoma, staging an outdoor production at which patrons walk from musical scene to musical scene across the 10-acre Harn Homestead, is using a puppet so Tiny Tim can be hugged and hoisted without fear.
"God bless us, every puppet." Some other ideas:
The Alliance Theater in Atlanta is opting for a drive-in "live radio play" in a parking lot across from a college football stadium. Four performers will be ensconced in separate shipping containers, with attendees encouraged to honk their horns, flash lights and sing along with Christmas carols.
And the St. Louis Shakespeare Festival has enlisted PaintedBlack STL, a coalition of local Black artists, to create scenes from "A Christmas Carol" in 21 storefronts around that city's Central West End; as patrons wander from window to window, scanning a QR code will allow them to listen to the story as sung by the hip-hop Q Brothers Collective. On weekend nights, there will be live performers along the route.
Here's one...unique version:
From its warehouse home in Chicago, Manual Cinema will livestream an original adaptation featuring shadow puppets and murder hornets and a new character, the contrarian Aunt Trudy.
Murder hornets? And since this involves print, we're enthusiastic:
New Jersey's McCarter Theater Center is offering $40 gift-wrapped boxes with abridged staves (Dickens-speak for the novella's sections) as well as cards to prompt conversation, or just to color. Sarah Rasmussen, the theater's artistic director, hopes families will perform and explore the tale themselves. "Storytelling can happen anywhere," she said.
At any rate, if a live production of "A Christmas Carol" is part of your holiday tradition, no doubt you can find a way to keep Scrooge in your plans.
Presents of Mind
Wondering what to get the design and/or typography lovers on your Christmas list? No, nor were we, but for those of you who, via the previous story, have already been visited by the three ghosts, over at I Love Typography, check out 100 hundred ideas. How about a gift subscription to the Font of the Month Club? Want fonts more often? How about a font-of-the day tear-off desk calendar? A pair of Footnotes socks? Something for everyone.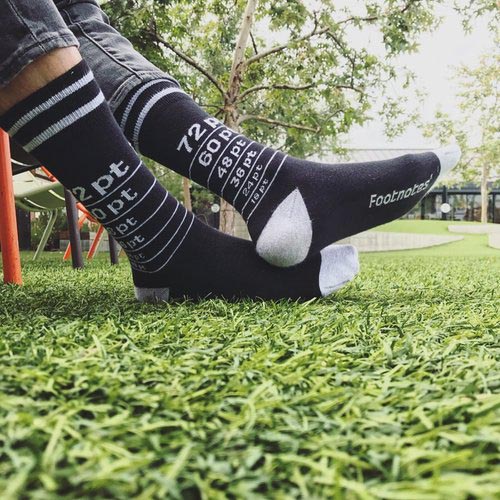 We Want This
Not really a printing press but a keyboard waffle iron, #bookhistory nerds. pic.twitter.com/0X55IMf6pz

— Daniel Bellingradt (@dbellingradt) November 30, 2020
Advent-ures in Banking
One fun Christmas tradition is the Advent calendar—standalone or wall- or fridge-mounted calendars by which you count down the days until Christmas by opening a little door each day. Sometimes there is a treat behind each door like candy or chocolate, a toy, or, especially this year, some kind of potent potable.
In Crowley, La., however, via CNN, the First National Bank of Louisiana is taking the Advent calendar to new heights, transforming their entire building—a skyscraper built in 1920—into a giant Advent calendar, using window graphics and blinds to count down to Christmas.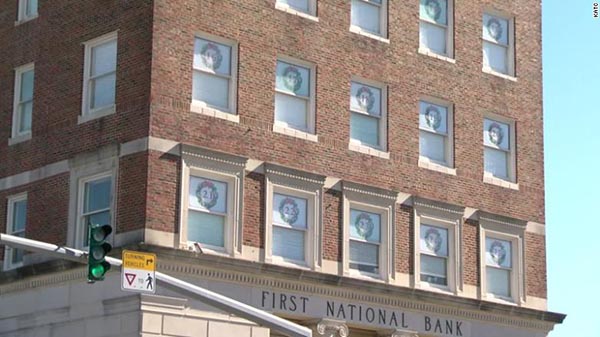 We're not sure if there is any gift involved—maybe as each day is opened, a different bank employee can be revealed. "Look, Mommy, today I got a loan officer!"
Hmm...do digital textile printers have an Advent calender?
Easy Misunderstanding
me: Hi, I can't seem to find the bread, eggs, flour, and milk.

Staples employee: Oh you've badly misunderstood.

— Jeremy Woodcock (@jwPencilAndPad) November 30, 2020
Miracle on
34th Street

Zoom

Do you (or, hopefully more specifically, your children) miss getting the chance to sit on Santa's lap this year? Well, that's obviously not going to happen, but as the demoralizing dystopia that is 2020 marches inexorably on, this Christmas we get...Santa on Zoom. Via Gizmodo:
Macy's, which has hosted Santa at its store in New York City for nearly 160 years, has scrapped in-person visits this year....Instead, it will offer virtual visits through its "Macy's Santaland at Home"experience, which will allow kids to take a tour of Santa's workshop and take a selfie with him. Santaland will offer other activities, including helping the elves pack his sleigh, and is now live.
On Comet! On COVID!
One thing you don't want to either give or receive this holiday season is a deadly virus. But that doesn't mean you can't be safe and festive. We give you, via Joopzy, the Santa Beard face mask: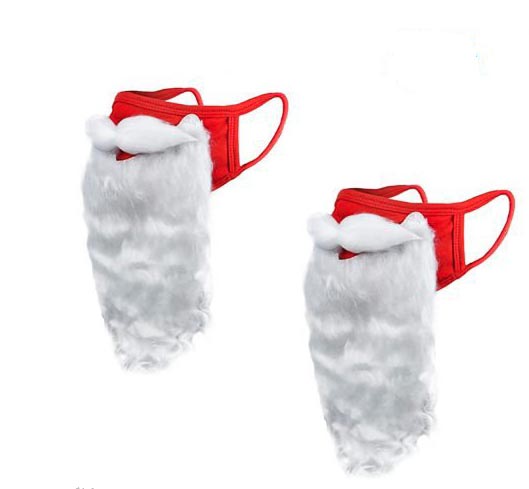 Get two for $15.95.
Small Favors
Couple Thankfully Not Well-Liked Enough To Have Superspreader Wedding https://t.co/ezvEsyaZMk pic.twitter.com/KjFtXhDARw

— The Onion (@TheOnion) November 21, 2020
This Week in Printing, Publishing, and Media History
November 30
1835: American novelist, humorist, and critic Mark Twain (né Samuel Clemens) born.
1947: American playwright, screenwriter, and director David Mamet born.
1979: Pink Floyd's The Wall is released.
1982: Michael Jackson's Thriller is released. It will become the best-selling record album in history.
December 1
1913: Ford Motor Company introduces the first moving assembly line.
December 2
1939: New York City's LaGuardia Airport opens. Has not been upgraded since.
1971: The Soviet space program's Mars 3 orbiter releases a descent module. It lands successfully but loses contact. It is the first man-made object to land softly on the surface of Mars.
December 3
1857: Polish-born British novelist Joseph Conrad (né Józef Teodor Konrad Korzeniowski) born.
1910: Modern neon lighting is first demonstrated by Georges Claude at the Paris Motor Show.
1994: The PlayStation developed and marketed by Sony Computer Entertainment is released in Japan.
December 4
1791: The first edition of The Observer, the world's first Sunday newspaper, is published in the U.K.
1875: Austrian-Swiss poet and author Rainer Maria Rilke born.
1881: The first edition of the Los Angeles Times is published.
1965: The Grateful Dead makes its first concert performance under that name (they had been founded as The Warlocks).
December 5
1901: American animator, director, producer, and screenwriter Walt Disney born.
1901: German physicist and Nobel Prize laureate Werner Heisenberg born. Of that there is no uncertainty.
December 6
1877: The first edition of The Washington Post is published.
1953: Vladimir Nabokov completes his controversial novel Lolita.
1955: American actor, comedian, and screenwriter Steven Wright born.
Anything catch your eye "around the Web"? Share it with us at [email protected].