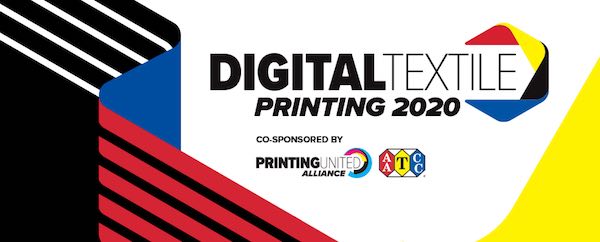 One of the high points for me of 2019 was the Digital Textile Printing Conference co-sponsored by AATCC and PRINTING United Alliance in Raleigh, N.C. At the time, I didn't know it would be one of the last in-person events I would attend! This year, of course, it won't be in-person, but it looks like it will be just as educational and well worth attending.
The conference will be held over two days—December 9 and 10—via GoToWebinar, and both organizations have been working hard to put together a stellar agenda. On Day One, the morning will focus on Automation, with Color Management in the afternoon. Day Two starts off with Sustainability in the morning and The New Normal in the afternoon. All of these are important topics as the textiles and apparel industry undergoes its digital transformation, and both brands and producers in North America leverage these technologies to restructure supply chains and reshore more of their activities.
A highlight last year were panels where all of the presenters in each topic area are available to answer questions and provide additional insight. Last year, these were very interactive, and even though it's virtual this year, I would expect the same. It still surprises me a little how many questions there still are about digital textile printing. But the good news is this platform is a great place to get those questions answered by the experts. Panels will conclude morning and afternoon sessions both days.
I'm really looking forward to the morning of Day One, when we'll hear from Frank Henderson about Automation in Sewing—the last mile to achieve a totally digital workflow. Frank has lived with sewing his whole life and has his fingers and toes dipped into many of the sewing automation initiatives underway. There is also a session on digital cutting with Andy Arkin of Zünd. Cutting can be almost completely automated but is often a nearline step. We can expect more productivity when roll-to-cut integration becomes more common.
In the afternoon, we'll hear from Dan Gillespie of Alder Technology and Ron Ciccone of Roysons, bringing us the latest color management tips and techniques.
Day Two is not to be missed either! David Clark from Huntsman will speak about coatings for enhanced digital print performance, and Chad Bolick of Unifi Manufacturing will talk about recycled textiles. Reducing waste is one of the key benefits of digital textile printing, and the ability to print on recycled textiles is also an important sustainability factor.
In the afternoon, Andy Paparozzi, Chief Economist of PRINTING United Alliance, will present the State of the Industry, while Will Duncan will talk about the US manufacturing supply chain for digital printing.
Interspersed throughout will be informative vendor presentations on a variety of topics. That part of the agenda is still being finalized, but you can check the status here.
While we'll certainly miss the hugs, handshakes, and in-person networking that have been highlights of previous conferences, AATCC and PRINTING United Alliance have put together a terrific virtual conference that will help us get ready for what we hope will be a less exhausting and healthier 2021.
I hope you will join me in registering for this important conference! Digital technologies are the tools that will enable us to bring back our textiles industry and be competitive on a global scale. It won't happen overnight, but conferences such as this give us the information and insight we need to accelerate the process.
See you there!