Keith Jaworski founded North Coast Litho in February of 1993 with eight employees in a 12.000-square-foot facility. Bob Strohmeyer joined the company in 1995 when the Nestlé in-plant print division was closing down. "Today we have about 35 full-time employees," he says, "and operate out of a 48,000-square-foot facility. Our revenues last year were $9 million. Over the years, we have been on a continual growth path that continues through today."
One thing North Coast's customers have come to expect from the company is the extremely high level of quality that has been delivered with the company's production platform consisting of two Heidelberg six-color 40-inch perfecting presses with tower coaters, two 40-inch Heidelberg two-color perfecting presses, and several analog color envelope presses. "We had been talking about getting into digital for some time," Strohmeyer says, "but what we saw wasn't what we felt was high enough quality that we could feel comfortable with and confident we could sell. Nine years ago, we dipped our toes in the digital color market with the acquisition of a Xerox Color 1000 press, which met some but not all of our quality requirements. We acquired a Xerox iGen5 in 2016 that matches our offset quality color-for-color, giving us the ability to do short run and versioned work as well as a fast and accurate way to create proofs on any stock."
Strohmeyer reports that the company has been very successful with its iGen5, including doing variable work. "One project in particular that stands out to me," he says, "used 140,000 different photos with each piece having a different photo. Obviously, that's not the type of work we could do with offset."
With its sheetfed digital platform established, the company next turned its attention to the available digital envelope presses. "At least a third of everything we print goes in the mail," Strohmeyer says. "We were producing close to 10 million envelopes per month; and for three years, we had been looking at options for variable color printing on envelopes. We talked to several players, large and small, and ultimately determined that our best bet was the iJetColor Pro from Printware. Between the equipment price point and its running costs, economically it has fit into our operation well and can literally take the place of one of our offset jet presses."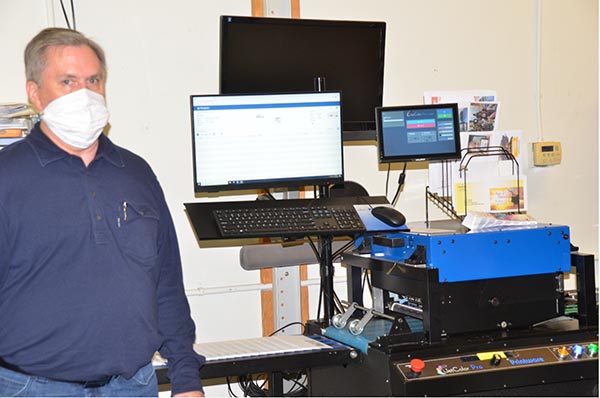 Bob Strohmeyer with the Company's iJetColor Pro envelope press.
Strohmeyer explains that the iJetColor Pro can print on an extremely wide range of substrates up to 11x17 inches with a maximum image area of 10.5x11.7 inches. "We can now print on so many substrates that we couldn't offer before," he says. "We can even print on bubble-wrap envelopes and cardboard. Another huge advantage of this technology as compared to toner-based printing is the ability to print directly on window envelopes, which we couldn't do before because of the fusing heat of a toner press. We even were able to recently run a 9x12-inch envelope job with a full-face window for an annual report, with printing on the back side, and it was perfect."
What really sold the company on the press, though, was its quality. "The quality of the color matches the iGen5," Strohmeyer notes. "We print four-color envelopes on the iJetColor Pro and letterhead on the iGen5, and they match perfectly. That was a big thing for us."
The iJetColor Pro is also very easy to use and does not require a highly skilled operator. "We obviously have a lot of color expertise here," Strohmeyer says, "and operators have the ability to consult with color experts if there is any question about the color quality, and we have a full prepress department as well. But the iJetColor Pro operators don't require much training and they are not pressmen; they were working in the mailing department before. Printware was here for a day or so of training, and our operators took to the equipment quickly."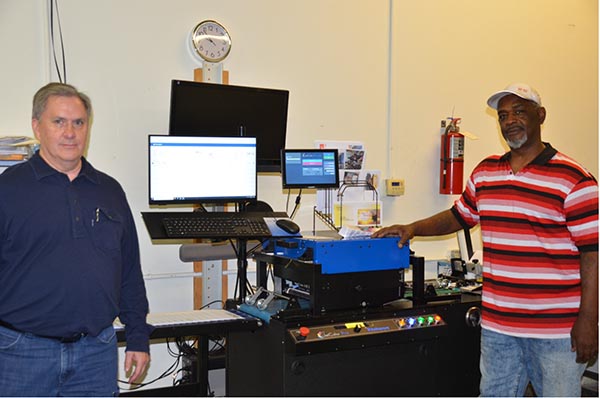 Bob Strohmeyer with iJetColor Pro operator Daryl James.
While the iJetColor Pro is not yet at full capacity, it currently runs for four to five hours per day and can produce 3,000 to 4,000 high quality envelopes per hour, but has the capacity to produce 10,000 envelopes per hour. "It has a very small footprint as well," Strohmeyer explains. "You can put it just about anywhere. And we routinely produce runs of as much as 10,000 to 12,000 envelopes on it, printing addresses and art at the same time. I think the breakeven point is easily 25,000 before you even consider going to an analog press."
Strohmeyer also points out that running costs are very affordable. "The iJetColor Pro has a costing module that gives you the cost of what you are printing, minus the substrate, of course. The highest cost we have seen is a full-bleed 9x12-inch four-color envelope that cost about 16 cents each. The value to the customer is huge, and the margins are good. But the biggest thing for us was quality—if the customers don't like the quality, they won't come back."
North Coast Litho has been able to maintain its business growth through the pandemic. "When it first hit back in March," Strohmeyer says, "most of the retail POP printing disappeared. But it has come back with a vengeance as stores are opening up and wanting to draw people back into the stores. We haven't seen so much of a slowdown; but rather, a transition of what is being printed. And the mailing portion of our business has stayed pretty steady. Our clientele maneuvered a little in terms of what they were mailing, but they didn't slow down."
North Coast does a large volume of printing of letterhead and envelopes for universities around the country through a broker, as well as POP for retail and mailing for non-profits, three segments that comprise the majority of its work.