Smart photo books are the next major trend in the photo products market. Printbox CEO Michal Czaicki talks about this new product area, and Printbox's new Smart Creation photo book designer.
Recently, Printbox announced the launch of Smart Creation which is an automatic photo book designer. Why was it developed?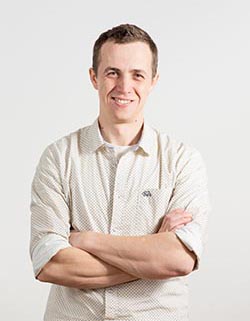 Because it is the future of photo books. Time is one of the most valued commodities out there. The standard photo book creation process is too lengthy for today's very busy people. Our goal was to eliminate all the long and boring tasks from photo book design. Smart Creation significantly reduces the time needed for users to finish the project. It provides them with a beautiful photo book and frees up their time to do something more interesting than photo selection or distributing photos on pages. The emotions users feel when they interact with the final product and recreate their memories are the same.
But can algorithms really reflect human behavior in things as subtle as individual taste?
In 2018, an algorithm-generated painting sold for $433,000, and the painting was really good. Maybe because the software that produced it was fed 15,000 portraits from various periods. Online recommendation engines use finely tuned algorithms analyzing our individual tastes to show us what we should buy. The technology which is able to mirror human creativity or preferences is already there and it's getting better all the time.
And this is exactly what we do. Smart Creation's algorithm-based rating system chooses the best photos out of the uploaded ones. When the back end of our editor receives information about what photos to include, it starts building a photo book, using a theme and other product parameters chosen by the user earlier.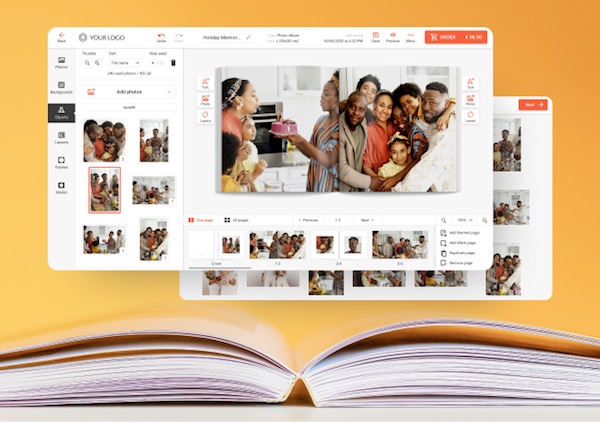 But similar solutions are already on the market, and they did not conquer the top store yet.
Smart Creation is bound to be a success because it is the most complete tool to automate photo book design. As I mentioned before, time is crucial here. Our goal was to create a solution that will work fast. The second important factor was proper photo selection. Smart Creation is able to pick the best photos. It removes duplicates and irrelevant photos so that the final selection is the closest to what users would make themselves. And the photo book creation process works differently than in other solutions—Smart Creation uses collages so the user can have more photos than just one or two per page. Our algorithms are also able to choose elements of store themes such as clip arts or backgrounds. This has a huge impact on the final product's look and the emotions it brings to the users.
And since this is a built-in solution, users can take the same path they would in a regular process and finish creation in an editor that is super easy to work with in case they need any improvements or changes. All other solutions miss at least one element from the puzzle. Printbox Smart Creation simply ticks all the boxes. This is a solution crafted for great conversion. It will not only help top-level companies gain more market share but also make the photo product market bigger.
So you think market leaders will have to tap into smart technologies?
We expect both standard photo books and smart photo books to function alongside one another on the market very soon. And at some point smart photo books will outsell the traditional ones the way smartphones literally obliterated feature phones sales. The fate of brands like Nokia who were caught off-guard by the technology shift should be a warning sign to anyone dismissing the concept of a smart photo book. As building such a technology in-house can be difficult and expensive, technology outsourcing will be another trend on photo products market.
In your opinion, going into technology outsourcing is the next step for photo products market?
This is already happeningfor large e-commerce stores. Decathlon, the largest sporting goods retailer in the world, is using Shopify, Woolrich, the famous American-Italian outdoor clothing company, is selling online via BigCommerce, and so on.
Some time ago there was this prevalent feeling among corporate e-commerce managers that ready-made solutions are way too limited to build large successful e-commerce companies. They preferred to accept all the downsides of a bespoke solution—long time to market, big price, hosting issues, taking care of maintenance—to have that sense of being in full control. But the situation has changed; many e-commerce enterprises realized that good ready-made platforms eliminate many business problems, optimize work of various departments and offer features powerful enough for them to scale and grow.
Photo product stores will follow this trend. The market will demandan even bigger shake-up, as e-commerce companies using technology outsourcing will be faster and more cost-efficient and this will put loads of pressure on others.
But selling photo products is different to selling, let's say, clothes or sport equipment.
It's true, but the main idea behind what every e-commerce does is the same: sell online. Every online store needs a shopping cart, a product management panel, and so on.
The difference lies in the complexity of photo products which must influence software product development from scratch. Photo products are super configurable; they're not like stock keeping units stored in a warehouse waiting to be sent. This means lots of different challenges and tech requirements that have to be met. A standard e-commerce platform won't be able to swiftly handle a bulk change in photo product pricing because of all the possible configurations. Our product management panel has to be able to cover millions of combinations but at the same time it is very easy to add new products to or reconfigure them without any help from technical teams. And all of that is reinforced by our flexibility when it comes to customization or integration with customers' software. We built a system perfectly optimized for photo products.
That is why photo product stores are making a move and opt for very good ready-made systems.
Any future plans for Printbox?
Keeping its position as the most modern photo product solution on the market! This means investing in smart solutions and never ending product development—technology will be absolutely key for photo commerce to thrive in upcoming years. As an Enterprise Photo Product Software provider we want to accelerate growth of photo commerce stores by introducing a solution which vastly improves their processes and is wonderful for end users to interact with.