Your Friday Listening to the Stars
And we mean that literally. This is from Astronify, where astrophysicists convert space data into sound. Specifically, light-curve data. "Light-curves are records of a star's energy changing over time. They may be recordings of the star's visible light brightening and darkening, or the amount of invisible energy, like ultra violet light, released. When our data is sonified, we represent changes in brightness as a change of pitch." The clip above (and there are more at the link) is a "sonified" exoplanet transit (when a planet passes in front of a star, blocking some of the light coming from the star). They ask "how many transits did you count?"
This year, replace 'Trick or Treat' with 'Track and Trace' https://t.co/m2QYHdGy3S

— Richard Osman (@richardosman) October 7, 2020
Playing Our Toon
If you're looking for a good virtual museum experience for this weekend, Rochester Institute of Technology Libraries' Archives Collections this week launched an online exhibit "Epidemics, Economics and Elections: The Editorial Cartoons of John Scott Clubb and Elmer Messner," which rounds up political cartoons from Rochester, N.Y., newspapers from the early 20th century. The topics highlighted are voting rights, epidemics, and economic uncertainty. (Plus ça change, plus c'est la même chose.)
The exhibit...features the work of two prominent Rochester artists who were active during an era that favored newspapers. Clubb and Messner produced volumes of editorial cartoons about everyday life, many of which are held in the RIT Archives and represent the exhibit's three major themes.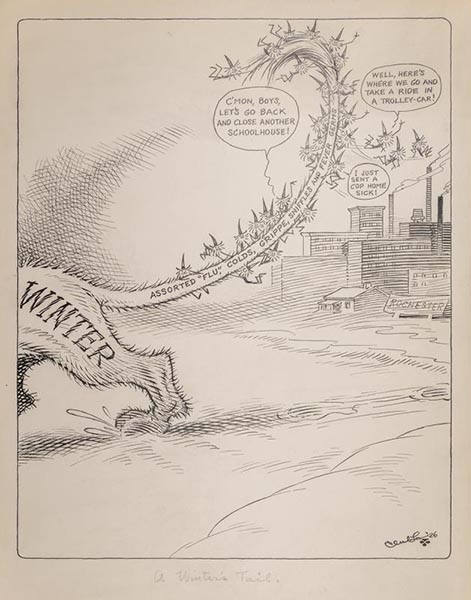 We Have a New Favorite Twitter Feed
Map of Roman Air Bases in 2nd Century AD pic.twitter.com/FV75E1keCX

— Terrible Maps (@TerribleMaps) October 6, 2020
Scale Models
If something smells fishy in the world of fashion, it might not be your imagination (or an idiom). Lux Research analyst Cecilia Gee talks about describes the tanning process of discarded fish skins to create apparel.
Brand owners consistently search for new textile developments to differentiate themselves against competitors and offer sustainable options for growing consumer demand. French startup Ictyos has created a luxury material that has strong potential to be adopted into niche products, despite the concept being very traditional. It has been careful to limit its environmental footprint by tanning otherwise discarded fish skins with vegetable extracts. This process decreases waste for both food and apparel industries without contributing to deforestation or harmful wastewater, creating an opportunity for alternative textile sources. Clients should similarly use a holistic approach toward sustainability in apparel to ensure benefits at each step.

"Brands and designers like Dior, Prada, Nike, and Rick Owen have all gotten their feet wet by adopting the exotic-looking fish skin into select launches and products. However, fish leather remains niche, accounting for 1% of global leather sales, despite high demand for leather.
You know what they say, If looks could gill... Fin-ally, the industry is confronting sustainability, putting their heart and sole into it. Sure, they'll flounder a bit at first, and fish leather will cost a few more clams, but only until they can scale up production. There's a whale of an opportunity!
Imagine an Imaginary Menagerie
A thread of medieval paintings of animals that look nothing like real animals because the artist had never seen them.
Starting with - The Oyster pic.twitter.com/gzUIGs96AP

— Daniel Holland (@DannyDutch) October 5, 2020
Zip or Treat
We're coming up on the holiday season, starting with Halloween (not really a "holiday" but you know what we mean). Trick or treating in the age of COVID is going to be a challenge, but, via Core77, Michigan's Matt Thompson of Thompson Woodart has devised a social-distancing candy delivery solution.
Interesting thing about Halloween this year. The ones without masks will be the scary ones.
Make No Bones About It
So what is the number one Halloween decoration this year? Apparently it is Home Depot's $300 12-foot-tall skeleton with "LifeEyes." They are in fact so popular that they have been sold out since the beginning of the month. However, the big bags of bones are insinuating themselves into other brands' social media feeds. Says Adage:
On social media, Budweiser, Slim Jim, Natty Light and others are either sharing their own images of their own skeletons holding their items or creating memes out of individual's posts. Sour Patch Kids couldn't get its hands on the real deal so opted for the next best thing, while The Home Depot even used the fact that it ran out of the item to comment on the trend.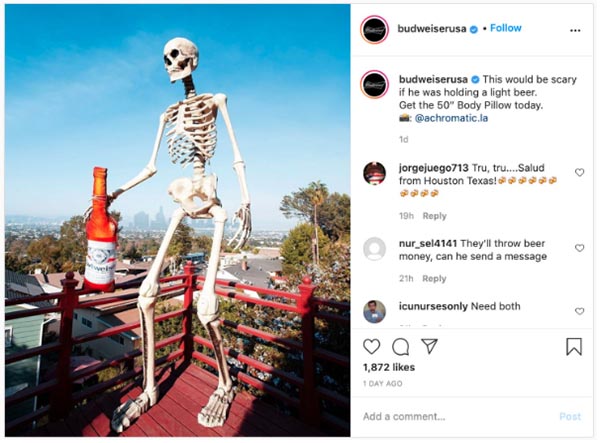 Slack Off
Every few weeks, Slack goes down in order to show you a vision of a better world. Credit to the team — very few other companies would do this

— Casey Newton (@CaseyNewton) October 5, 2020
Pennywise and Pound Foolish
Do you have someone in your life that you'd like to utterly terrify? Of course, we all do. So why not spend a cool $50 and send a "Screaming Telegram." Says Boing Boing:
For $50, you can put a scary clown local, underemployed performer to work by sending a "Screaming Telegram" to the 18+ friend or foe of your choice. The service, provided by San Francisco-based Into the Dark Productions, includes a COVID-safe surprise visit by a scary clown who will sing, bring some balloons and, yes, deliver a "nightmare-inducing" scream. Offer only good in San Francisco city limits.
"Scary clown" is of course a redundant phrase.
Black Hole Sun
Awarding the physics Nobel Prize for a supermassive chasm of infinite darkness is so 2020

— Paul Coxon (@paulcoxon) October 6, 2020
Don't Be Tarotfied
It seems that our current situation has led many to seek solace and perhaps a sense of order in all sorts of New Agey hokum phenomena, such as astrology and Tarot cards. We've seen at least two new Tarot deck designs in the past couple of weeks , and we weren't even looking very hard (or at all). The first, via Boing Boing, is from Cuban-American illustrator Cristy Road who "has created a tarot deck that embraces diverse representation by modeling the cards after her friends, comrades, and heroes: queer couples, the disabled, punks, BIPOC artists and activists, fat bodies, all defiantly populating a dystopian landscape."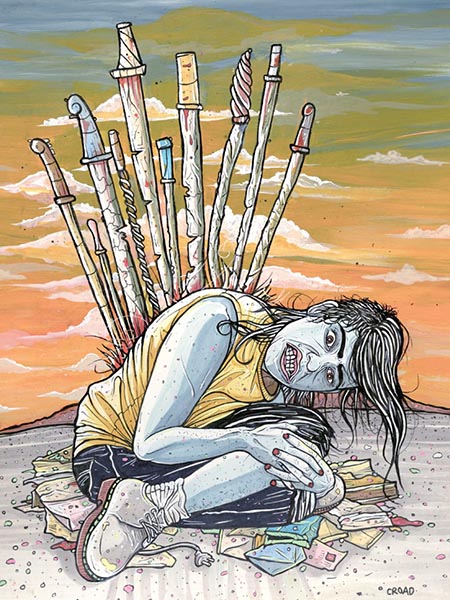 For those who want to bypass the 21st century entirely, you can now pre-order a Star Trek Tarot deck.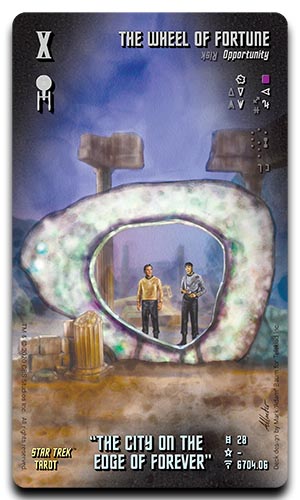 Still, when we do our annual printing industry forecast, we rely on the Hello Kitty Tarot Deck.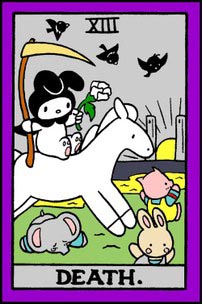 Cut That Out
Cardboard Cutout Fired For Skipping Work At Armed Forces Recruitment Stand After Getting Caught On NFL Broadcast https://t.co/3ecxowpD1r pic.twitter.com/PWOiXDx8Zb

— The Onion (@TheOnion) October 4, 2020
To Helvetica with Arial
Any designer worth his or her salt knows that when a client specifies Arial they really mean Helvetica. Swiss Miss offers a handy guide that points out the differences. (By the way, Swiss 721, a version of Helvetica released by Bitstream in the 1980s, is also a vast improvement over Arial.)
F Word
The lute makes an excellent substitute instrument for when there's no effin flute.

— Paul Eggleston (@pauleggleston) October 6, 2020
This Is No Place for a Convertible!
Slight design flaw. Says The Verge: "Tesla convertible? Model Y roof flies off while owners drive down California highway."
Chien said the incident occurred hours after he and his parents picked up the new Model Y from the Tesla dealership in Dublin, California. Right off the bat, they noticed some minor "fit and finish" problems, such as "spacing issues and unevenness in the gaps that are pretty well-known issues with new Teslas." But they didn't expect any problems with the crossover's mammoth panoramic glass roof, and certainly not on the same day they drove it off the dealer's lot.
No word on whether the touchscreen display will let you track its trajectory.
No, It Really Couldn't
This extremely slippery VR treadmill could be your next home gymhttps://t.co/2vmIyG4agn pic.twitter.com/Zyo85ezm0h

— The Verge (@verge) October 7, 2020
It Bites
The only thing more terrifying than a dentist could very well be this malfunctioning dental school robot.
Close But No Cigar
Math Teachers! It's our time!!! pic.twitter.com/7w3CBtwwXv

— Annie Perkins (@anniek_p) October 2, 2020
Pyramid Scheme
You know how it is, and we've all been in this position at one time or another. You come into possession of an ancient Egyptian sarcophagus and your big worry is: is it cursed? Is a shambling mound of rags going to emerge from it and start chasing you through dark and deserted boiler rooms? Will a wrathful Anubis inflict grisly demises on friends and family? You just never know, and Egyptology is fraught with these kinds of problems. Since you can't decipher the hieroglyphs engraved on the sarcophagus, you have no idea what preternatural forces you will unwittingly unleash if you open it. Well, worry no longer! Enter Fabricius, a Google Arts & Culture Lab Experiment featuring a machine learning-based hieroglyphs translator.
We joke, but it's kind of cool, and could prove to be a useful tool for deciphering dead languages, and it's aimed in part toward academics.
Head Over Heel
Not knowing enough about Greek mythology is my Achilles knee.

— David Stokes (@scottywrotem) October 6, 2020
A Very COVID Christmas
First Halloween, now Christmas. Yes, this is going to be a weird Christmas, especially in shopping malls, where Santa will have to social distance. Says CNN:
That means no sitting on Santa's lap, said Viniard.
Santa will also wear a mask in states with a mask mandate, and guests will be required to do the same. In states with no mask requirement, Santa can wear a mask if he wants to, she said.
Brookfield said it is not requiring Santa or mall visitors to sign waivers in locations where masks are not a local or state requirement. Social distancing stickers will show people where to stand, and many properties will have special decor that keeps people six feet away from Santa.
"Every [visit] will be contactless. So kids can sit on wrapped packages near Santa, or across the table from Santa and have a conversation. We can still capture the memory for family photos," said Viniard.
"Kids can sit...across the table from Santa and have a conversation." Sounds like a holiday version of My Dinner with André.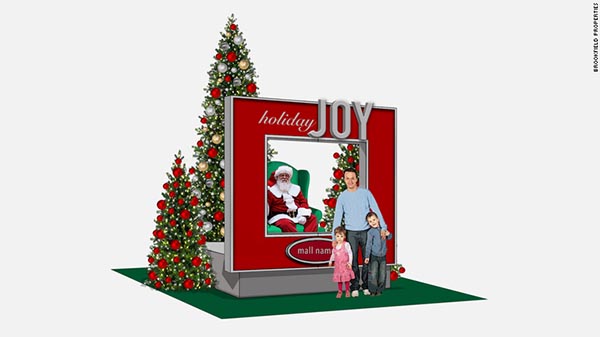 An Ounce of Prevention, a Pound of Obscure
The following is a pop culture observation that grows more obscure with each passing day. You have been warned.
I want 2021 to begin with Bob Newhart waking up beside Suzanne Pleschette. #2020

— John S. Boles (@JohnSBoles) October 3, 2020
Because of Course They Do
The "murder hornets" were in the news this week, and if you are a beekeeper located in the Northwest, keep an eye out because it would probably not surprise anyone to learn that the murder hornets have what entomologists call a "slaughter phase." And, well, why wouldn't they? It just seems like such a murder hornet kind of thing. In this "slaughter phase," says CNN, "they decapitate and kill all the bees in a hive and take it over." Charming. Whatever happened to "all things bright and beautiful"?
It's Not Just Jamie Who's Crying
Eddie Van Halen has died. Many more eloquent than me will discuss his musical achievements, so I'll just note that he was owner and inventor of the patent with the baddest-ass diagram in the history of the U.S. Patent & Trademark Office https://t.co/R1ueaXNEsw pic.twitter.com/svLbBs3qK8

— Timothy Burke (@bubbaprog) October 6, 2020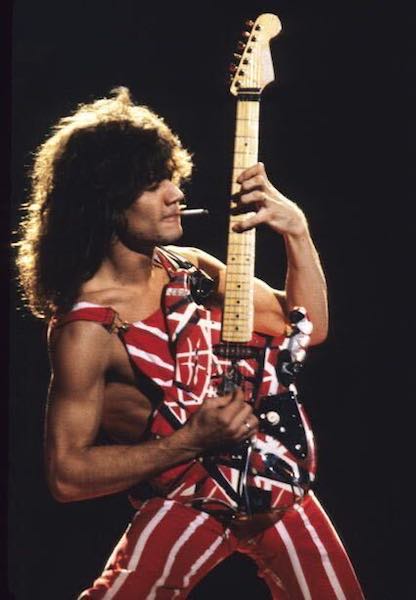 Rock in peace, Eddie.
This Week in Printing, Publishing, and Media History
October 5
1947: In the first televised Oval Office address, President Truman asks Americans to reduce their consumption of grain in order to help starving Europeans.
1970: The Public Broadcasting Service (PBS) is founded.
October 6
1723: Benjamin Franklin arrives in Philadelphia at the age of 17.
1927: Opening of The Jazz Singer, the first significant "talkie" movie.
2010: Instagram is founded by Kevin Systrom and Mike Krieger.
October 7
1777: The Americans defeat the British in the Second Battle of Saratoga, also known as the Battle of Bemis Heights.
1885: Danish physicist and philosopher and Nobel Prize laureate Niels Bohr born.
October 8
1921: KDKA in Pittsburgh's Forbes Field conducts the first live broadcast of a football game.
1962: Der Spiegel publishes an article disclosing the sorry state of the Bundeswehr, and is soon accused of treason.
1982: Cats opens on Broadway and runs for nearly 18 years before closing on September 10, 2000.
October 9
1446: The hangul alphabet is published in Korea.
1874: The Universal Postal Union is created by the Treaty of Bern.
1907: French actor, director, and screenwriter Jacques Tati born.
1940: John Lennon born.
1986: The Phantom of the Opera, eventually the second longest running musical in London, opens at Her Majesty's Theatre.
October 10
1924: "Actor," "director," and "screenwriter" Ed Wood born.
October 11
1910: Former President Theodore Roosevelt becomes the first U.S. president to fly in an airplane.
1950: CBS's mechanical color system is the first to be licensed for broadcast by the U.S. Federal Communications Commission.
Anything catch your eye "around the Web"? Share it with us at [email protected].