By Kristin Gallucci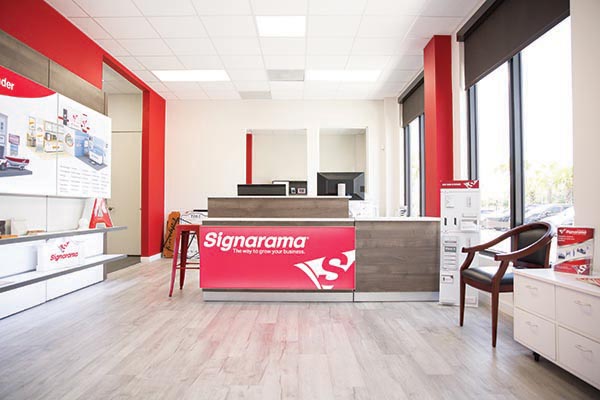 The past few months have presented unique opportunities as well as challenges for our over 700 Signarama locations around the world. Our franchise owners have continued to re-imagine their production, re-envision their offerings, and re-invent their marketing to create new and unique products to answer the needs of communities as they continue to evolve through the pandemic. This also had a significant impact on how we market to our current customers and how we captured new customers along the way.
Signarama has served the business-to-business community for the past 34 years providing expert design services and creative signage. Each day, our owners work with their customers to grow their small to large businesses with custom signage solutions, and the last few months have provided many opportunities for collaborations and innovation.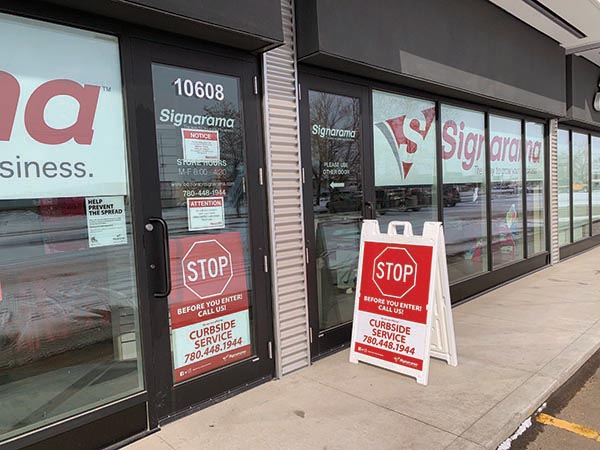 At the onset of COVID-19, the messaging and signage was focused on the needs of essential businesses as well as gratitude signs for healthcare workers and those serving the community. The next phase was focused on change—this messaging needed to serve communities in a new way and communicate important information like changing business hours, curbside pick-up, delivery, contactless transactions and products to-go. The subsequent phase was geared toward personal protection equipment (PPE), which included innovative new products and re-purposing equipment to create face shields, guards and custom CDC signage, and even intubation boxes to protect surgeons when faced with new challenges.
While we have always been focused on business-to-business, COVID-19 brought about a shift in our customer, too. Many of our stores helped consumers—families and entire communities—celebrate milestones with graduation signs, birthday banners, and hopeful murals and wall graphics.
In recent weeks we have shifted the narrative again to help companies get back to business with messages of "reopening" as states move forward in the post-COVID world. As many states reopen and recover from COVID-19, Signarama and the United Franchise Group family of brands took an active role in helping small businesses by launching the "Reopening America Together" initiative. We wanted to lead the pack and support businesses across the country as they get back to business and help re-energize our communities. The initiative was widely embraced by our owners and many were prompted to give forward by offering free signs or services to local businesses, a show of community support and encouragement at a time when it was needed most.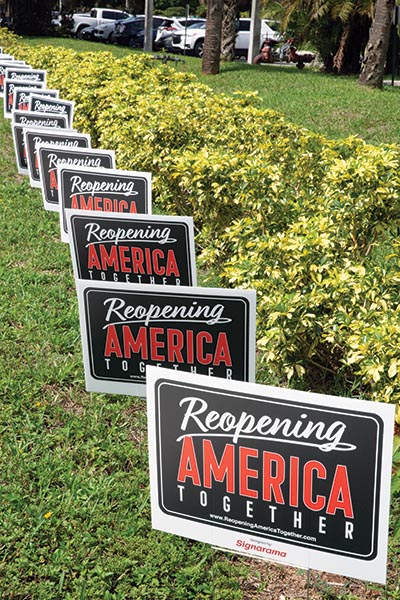 As part of the initiative, United Franchise Group and its brands asked business owners to visit the site, download a free "Reopening America Together" sign, and hang it in their window as a show of support. Additionally, "Reopening America Together" products are available for purchase on the website including a branded T-shirt, bracelet, and signage. Proceeds from the sale of these products will be given to the Small Business Relief Fund, part of the Small Business Relief Initiative, a program supported by GoFundMe and partners. The Small Business Relief Initiative will provide micro-grants to qualifying small businesses negatively impacted by the coronavirus pandemic.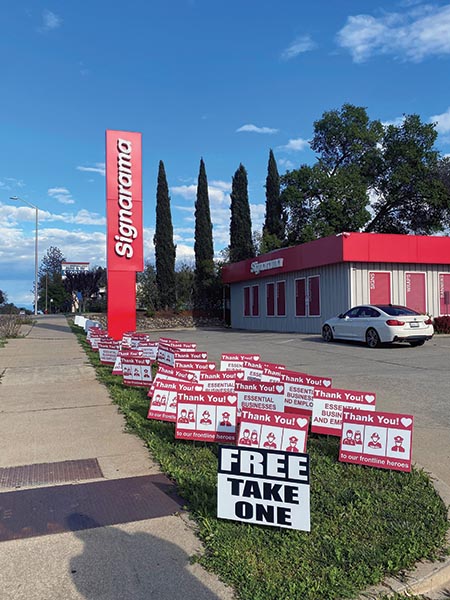 The Way Forward
Yes, the sun will come out. The bans will be lifted. Business will resume. But things have shifted and will never be the way they were before. Each of us is changed. Our businesses are changed. Given that, there is no chance that your old offerings are going to meet the needs, hopes and desires of your customers without changes.
Those approaching problems with a marketing perspective, start with potential customers' needs, hopes and desires and then figure out ways to create, deliver and communicate offerings that satisfy those potential customers.
Here are a few tips that we have shared with our owners (and they have shared with us) on the best way to navigate the months ahead when it comes to marketing and promoting your business.
Redefine the sales and marketing process. Take the time to assess your current strategies and redirect efforts accordingly. Walk through the sales process and the customer journey from the customer's perspective. Embrace the new reality that projects are going to take longer. First conversations will not necessarily lead to a sale. Show up consistently and build your personal brand. Set a new plan for the remaining months of 2020, because what may have worked before might not work now.
You have to start moving forward and take action. Waiting to see what the future will hold means that you are likely missing out on opportunities that might be right in front of you. Be proactive when it comes to providing for your customers. They are focused on how to manage their business, so it's our job to think ahead for them. If it is a school, how can we help them prepare to open? If it is a restaurant, how do we help them serve their customers in a new way? What type of "done-for-you" signs and packages can we provide before they think of it? Task your team with creating and thinking outside of the typical sign products.
Don't try to sell. Try to understand. This is not a time to put on your sales hat and do business the way it has always been done. Pick up the phone and check in on your customers just to see how they are doing. Lead with empathy and kindness and show your customers that you are a resource for them. Ask them for advice on how you can best serve them.
Seek out the next trend and get ahead. All industries have been impacted in some way, but the events, meeting, and travel industries might have been hit the hardest. The industry is desperate to find ways to reignite. How can we be there and ready to help when they are ready to get back to business? How do we help them prepare for what future events will look like?
With minimal research (look to industry websites and articles), surveys show that people are looking more toward the outdoors and areas of relaxation. How can signs serve them best outside? What products and inventory will be important as you move into the next phase of opening?
Utilize the time to help customers build their brand. Very often companies don't take the time to update and refresh their brand. Take an audit of their signs and their brand identity and offer up a consultation to enhance their look. Conduct a brand awareness study on their brand and their competitors to jumpstart a conversation with your customer. Our expertise goes beyond just signs.
It will take time to find the new norm for marketing after COVID-19, but each of the points above will prepare your marketing strategy efforts for shifts that are expected. Though it may seem counter-intuitive, now is the time to hold steady to ensure a strong comeback within your marketing after COVID-19. As businesses withdraw themselves, great opportunities will surface if your business can maintain a long-term marketing strategy.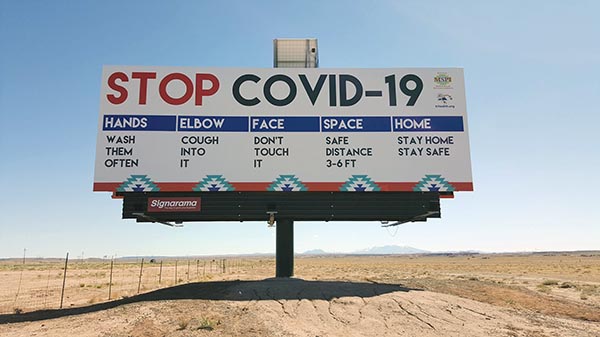 Kristin Gallucci has over 20 years of experience leading strategic digital marketing, social media, influencer engagement, and analytics initiatives.