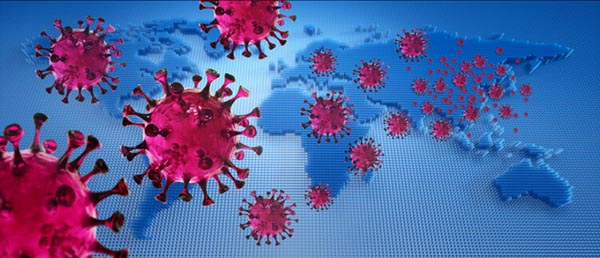 Image courtesy Texintel.
"Antiviral and antimicrobial textiles are a specialist field, but nevertheless a sector which we must now all explore to maximize newopportunities for the print industry."
Antiviral fabrics are in demand. As we emerge from the current global health pandemic, the fabrics that once typically adorned medical environments and care homes are now required in order to protect the workplace, leisure industries, and all public spaces.
Textiles with inherent woven antimicrobial fibers or surface treatments offer varying degrees of protection and seek to reduce the possibility of cross-contamination. With a wide variety of end uses, these fabrics—which were once only specified for medical and healthcare interiors—are now in demand and becoming multi-disciplinary. Whether you are looking for fabrics for home furnishings, interior products, or even apparel, many of the substrates and fabric coatings used in the contract space can be utilized beyond their original purpose.
Contract furnishings is a sector ahead of the curve for antimicrobial and antiviral textiles and offers myriad fabric choices for potential new applications. Typically, these fabrics are often also fire-resistant, as is specified for contract use. Fabrics are also durable and built for heavy use and wear and tear. These textiles are now in demand for residential and even apparel use.
Here's a snapshot of UK textile suppliers and specialist coating companies that supply bases and/or coating services to the digital print sector. Many of these suppliers also ship internationally and to the US.
Edmund Bell (Contract Textile Supply and Printing)
Edmund Bell is a leading global supplier of fabrics and accessories to the commercial, institutional and domestic interiors markets offering design-led technical expertise, support, and service to designers, specifiers, and contractors in the hospitality, leisure, healthcare, and education sectors.
Carrington Textiles (Apparel Textile Supply)
Carrington, based in Lancashire and with more than 125 years' experience of textile processing and finishing, is the largest producer of workwear fabrics in the UK, exporting to more than 80 countries worldwide, with over 60% of their products going to new markets. They produce more than 55 million meters of fabric annually.
This is supported by massive investments in one of Europe's largest fully integrated textile processing and finishing operations, specializing in the development of fabrics and finishes with exceptional performance in the most demanding workplace environments.
Panaz (Textile Supply and Shield Plus Topical Spray Coating)
As global suppliers of antimicrobial fabrics for the healthcare industry, Panaz is acutely aware of the need for textiles which effectively prevent the spread of infectious diseases in hospitals, care homes, and other environments where vulnerable individuals may be exposed to potentially harmful pathogens. As such, they have taken the proactive measure of independently testing Shield Plus™ Anti-Microbial technology against the spread of the coronavirus strain, to reassure customers of the effectiveness of Panaz products against the rise of new contagious diseases.
Whaleys (Textile Supply and Coating)
Whaleys Bradford offers a wide range of more than 450 fabrics, which include natural (loom-state) cottons, silks, linens, jutes, and wools, many of which are specially prepared for dyeing and/or printing.
They also stock a large selection of colored Silesia cottons, mixed fibers, synthetics, and even specialty fabrics manufactured from bamboo, banana, pineapple, or soybean fibers and offer a specialist coating service tailored to a customer's requirements.
Alltex (Coating)
Alltex Ltd. is a small company located in Tottington, Bury, Lancashire. Their main core business is commission bleaching and dyeing. However, they also pre-coat fabrics for digital textile printing. Alltex also bleaches, raises, emerizes, calenders, and finishes cloth for customers, adding specialist coatings when required.
Euroflam (Coating)
With 40+ years of experience in textile treatments, and with a capacity now in excess of 1 million meters a year, Euroflam offers a very wide range of treatments for both domestic and contract uses, including flame retarding, waterproofing, soil and stain prevention, and antimicrobial, as well as several others as required.
Antiviral fabrics are in demand and offer the print community new opportunities.