A customer has just bought a 2021 calendar.
Sir, we admire your optimism.

— Waterstones Piccadilly ?? (@WaterstonesPicc) August 12, 2020
Out of Fashion
Is the practice of putting fashion in a retail store and waiting for customers to show up dead? Yes. Says Just-Style:
The new fashion retail landscape emerging in the wake of the COVID-19 pandemic is already leading to dramatic and permanent changes in the way brands and fashion retailers plan and work. Here, Malcolm Newbery shares his views on some of the practical steps that surviving businesses should consider as online becomes the dominant way of doing business.
Everyone's a Critic
We will communicate this comment to the electrons. pic.twitter.com/mnjB9RTDSC

— Letters of Note (@LettersOfNote) July 31, 2020
Changing Times
It had to happen eventually, but in Q2 2020 the New York Times reported that its digital revenues surpassed print revenues for the first time ever. From Axios:
The Times made $185.5 million in revenue from digital products — both digital subscriptions and ads — during the second quarter, compared to $175.4 million in print revenue.

It also added 669,000 net new digital subscribers, its largest quarterly subscriber gain ever. The Times now has over 6.5 million subscribers, the vast majority of which are digital-only subscribers.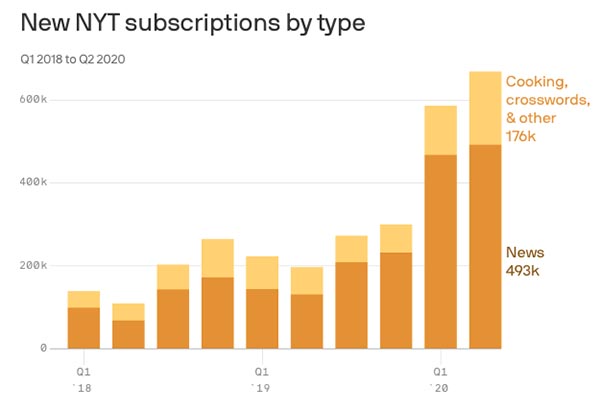 Data: NYT earnings reports; Chart: Axios Visuals
10 Years After
In their mid-thirties. https://t.co/tg8jFBWNfs

— Richard Osman (@richardosman) August 12, 2020
Must-Read
WTIN is making its Digital Textile eMag available for free. This issue is chock-full of great information, including a focus on the trends and opportunities in direct-to-garment (DTG) and roll-to-roll digital textile printing. Must read!
Hey, the 737s Still Use Paper Tape
Boeing 747s still get critical updates via floppy disks https://t.co/47EBIOGSoz pic.twitter.com/FXswDADHyd

— The Verge (@verge) August 11, 2020
Strictly Business
Over at Institutional Investor, a paean to the most essential element of modern professional life: the business card. With its roots in 15th-century China, the business card has survived well into the Internet age.
Indeed, at the start of this year, business cards seemed more popular than ever. A Wall Street Journal story published in January incredulously marveled at their "extraordinary staying power." Executives from DIY business-card printing companies MOO and Vistaprint told the paper that sales growth for their card-printing divisions was strong and growing.
But that was in the Before Times. Will the business card survive the pandemic?
Consultant, author, entrepreneur, and design professor Nathan Shedroff agrees that they are in trouble — "Given what's going on now, it's certainly a more reasonable, rational time to be questioning business cards than in the past," he says — but he thinks they will pull through.

"I don't actually think business cards are going to go away," says Shedroff, who teaches at the California College of the Arts. "They've survived this long miraculously already, in the face of technology trying to kill them and social convention trying to kill them. I think that's mostly because it's a nice ritual. It's this moment of gift-giving back and forth, hopefully reciprocally, that there's no replacement for."
Shadow Play
Drymation! https://t.co/L0EJfNVkT8

— J. Elvis Weinstein (@JElvisWeinstein) August 12, 2020
Wish You Were Here
At the New York Times, artist Aidan Koch offers a pictorial celebration of the postcard, which, even in this hyper-connected age of social media, we should be sending more of. "A postcard functions outside the language of chats, emails, calls and letters."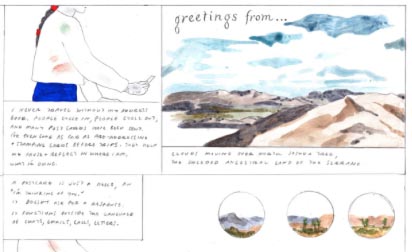 Fold Factory
E Ink demos a folding e-reader that can also take notes https://t.co/oCInJJUaJ0 pic.twitter.com/58k61OyYtY

— The Verge (@verge) August 10, 2020
Burning Man
Once upon a time, before Spotify and even before CDs, the vinyl album cover was a 12x12-inch canvas for some of the most creative artwork and visuals ever designed. The best album covers perfectly complemented the music—and many covers were actually better than the records themselves. Sometimes they were too creative for their own good; the release of Led Zeppelin's Houses of the Holy was delayed because the printer couldn't get the colors right.
One of the most famous design houses was Hipgnosis, helmed by Storm Thorgerson and Aubrey Powell, which designed some of the most iconic album covers of all time, including several Zeppelin records (including Houses of the Holy), as well as most of Pink Floyd's covers. At The Guardian this week, Aubrey Powell went behind the scenes of the cover shoot for Pink Floyd's 1975 Wish You Were Here:
We were talking late one night with our friend George Hardie, kicking around ideas. Storm said: "Have a Cigar [the album's third track], is about insincerity in the music business. What about an image of two businessmen, and one of them is getting burned in a deal?" We all thought the image was a good idea, and I remember saying to Storm: "How are we going to do that?" He replied: "Set a man on fire."

I went to Los Angeles to find a Hollywood stuntman. The photograph was taken on the Warner Bros back lot in Burbank with Ronnie Rondell, the guy on fire, shaking hands with another stuntman, Danny Rogers.

...

I had a suit and wig made that were soaked in flame retardant, Ronnie was covered in this gel – it was like napalm – and his team set him on fire. We repeated the process 14 times, took the shot, and then on the 15th a gust of wind blew up and wrapped the fire around his face and burnt him. He threw himself to the ground and his whole team piled on blankets to put him out. He said: "That's it! I'm done!" However, I had captured the shot successfully on that last take. Ronnie was very gracious about it considering he had lost an eyebrow and some of his moustache, but as far as he was concerned as a professional in the movie industry it was all in a day's work.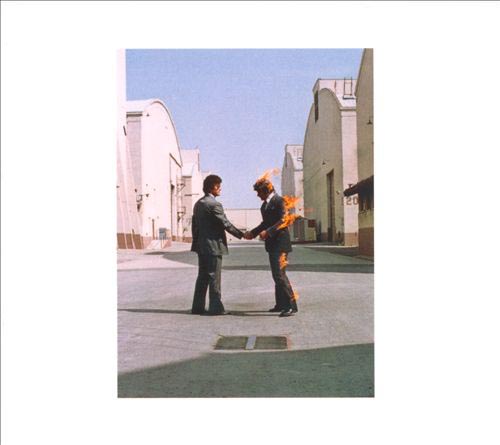 Not in Your Heart, Though
The word for mobile phone in the Zulu language translates into English as 'screaming in your pocket'.

— Quite Interesting (@qikipedia) August 10, 2020
iCrawl
This is potentially useful, but creepy as all get-out. (We'd be inclined to scream out of our pockets.) From Gizmodo: "a team of researchers have developed a new smartphone case with a set of tiny robotic legs that allow a phone to crawl to a wireless charging pad whenever it's set down on your desk."
Of course, since you're standing right there, why not just put the phone on the charging pad?
This would be great if it could crawl great distances to get to the charging pad. Say you lose your phone on vacation (should you be able to one day go on one). It would be great if it could somehow make its way home. We can even envision a very weird remake of The Incredible Journey.
You Caption It
August 9, 2020
Bed'n'Blockbuster
Some of you may remember video stores, and those of you who do may remember Blockbuster Video, which was the top video rental chain. Netflix killed them off, but the last physical Blockbuster store—in Bend, Ore.—is now a 90s-themed Airbnb rental:
When you call dibs on this stay, you're booking a night back in the 90s, but this time you won't have to beg your parents to rent the latest horror flick–we'll give you the keys to the entire store!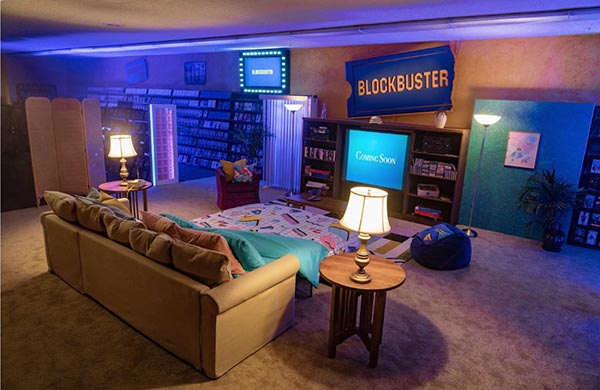 And if you forget to mentally rewind to the 90s, you're fined 25¢.
The Many Faces of 2020
???? pic.twitter.com/eQVuAjREhf

— Eric Bauza (@bauzilla) August 6, 2020
A Lamp Unto My Feet
OK, we think this is brilliant, in more ways than one: electrical outlet covers that double as motion-sensitive lights. From Core77:
Called ConnectLights, they don't need to be wired in, just placed over the outlets and screwed on. Two prongs inside the ConnectLights tap the juice from the outlets. Up front is a motion detector and an LED light, and you can choose whether to "network" them to nearby ConnectLights or have them act as standalones. And the benefit of these over plug-in nightlights is that they leave the outlet free.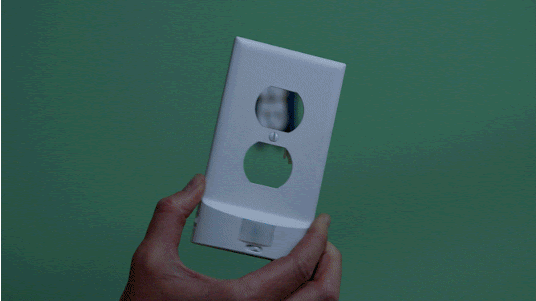 We're not the only ones who think this is a great idea:
ConnectLights are currently killing it on Kickstarter. The campaign's only been live for a few hours, and at press time they'd landed $95,706 in pledges on a $30,000 goal, with 29 days left to pledge.
Of Thee Icing
Tired of getting mean comments on the internet?

There is a combination bakery/detective agency in New York that will track down who left the comment and send them a cake with the comment across it.

(Image: @Troll_Cakes / @thekfast.) pic.twitter.com/efBlECfkuu

— Quite Interesting (@qikipedia) August 3, 2020
Escape from New York
New York City is a very surreal place these days—empty streets and sidewalks, no tourists. A colleague who lives in Manhattan this week described it as "like the closing scene in On the Beach." So it should come as no surprise that retailers—who had been flocking into the city in the Before Times—are now fleeing. Says the New York Times:
Even as the city has contained the virus and slowly reopens, there are ominous signs that some national brands are starting to abandon New York. The city is home to many flagship stores, chains and high-profile restaurants that tolerated astronomical rents and other costs because of New York's global cachet and the reliable onslaught of tourists and commuters.

But New York today looks nothing like it did just a few months ago.

In Manhattan's major retail corridors, from SoHo to Fifth Avenue to Madison Avenue, once packed sidewalks are now nearly empty. A fraction of the usual army of office workers goes into work every day, and many wealthy residents have left the city for second homes.
The Very Long Pause that Refreshes
wow the nightly maintenance of this soda fountain takes 58 HOURS?? https://t.co/SmbIVYtlRX

— Internet of Shit (@internetofshit) August 8, 2020
Man Machine
Here's a band you may not have heard of, and for probably good reason. Satanic Puppeteer Orchestra is a duo whose frontman is a robot (named SPO-20), backed by a mad scientist (Professor B. Miller). They kind of sound like Kraftwerk gone horribly wrong.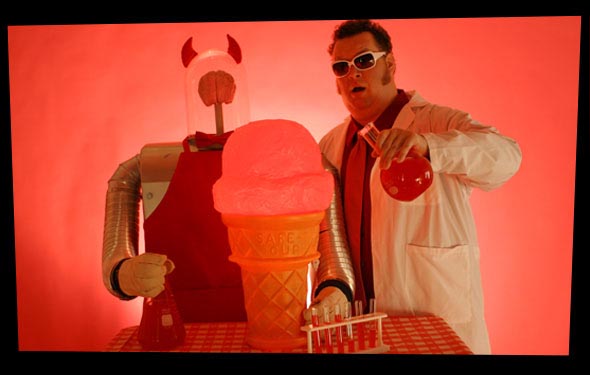 Boing Boing previewed their latest video "Sea Anemones (aka Shark Wigs)."
Things Are Bad Enough
First murder hornets now this? WE DON'T NEED C PLOTS! pic.twitter.com/zGORu8S9W6

— Ben Acker (@bnacker) August 11, 2020
Rolling Along
We leave you this week with a video from the YouTube channel Warped Perceptions that answers the age-old question, what would it look like if you placed a GoPro camera inside a car tire and then went for a drive? Well, wonder no longer!
Bird Trolling
Sometimes it's ok to have a little fun. Am I right, @HamillHimself ? ?????? pic.twitter.com/7Sy0XdyXgM

— I ?? Mark Hamill (@InLoveWithMarkH) August 3, 2020
This Week in Printing, Publishing, and Media History
August 10
1793: The Musée du Louvre is officially opened in Paris, France.
Happy Fortsas Day! (the anniversary of the greatest biblio-hoax ever pulled off): http://t.co/Z5uk1PLzFR cf. http://t.co/NoTkJwUXwO from '08

— Jeremy Dibbell (@JBD1) August 10, 2013
1846: The Smithsonian Institution is chartered by the United States Congress after James Smithson donates $500,000.
1889: American game designer and creator of Monopoly Charles Darrow born.
1948: Smile! Candid Camera makes its television debut after being on radio for a year as Candid Microphone.
August 11
1942: Actress Hedy Lamarr (not Hedley) and composer George Antheil receive a patent for a frequency-hopping spread spectrum communication system that later became the basis for modern technologies in wireless telephones and Wi-Fi.
1946: American journalist and author Marilyn vos Savant born.
1950: Apple co-founder Steve Wozniak born.
August 12
1865: Joseph Lister, British surgeon and scientist, performs the first antiseptic surgery.
1887: Austrian physicist and Nobel Prize laureate Erwin Schrödinger born.
1949: Scottish-English singer-songwriter, guitarist, and producer Mark Knopfler born.
1960: Echo 1A, NASA's first successful communications satellite, is launched.
1981: The IBM Personal Computer is released.
August 13
1756: English caricaturist and printmaker James Gillray born.
1888: Scottish engineer and inventor of the television, John Logie Baird, born.
1889: William Gray of Hartford, Connecticut is granted United States Patent Number 408,709 for "Coin-controlled apparatus for telephones."
1899: Director Alfred Hitchcock born.
Remembering The Master of Suspense, Sir Alfred Hitchcock, born today in 1899. ?? ??
"Film your murders like love scenes and your love scenes like murders." pic.twitter.com/fV60J8EsEg

— Marshall Julius (@MarshallJulius) August 13, 2020
August 14
1457: Publication of the Mainz Psalter, the first book to feature a printed date of publication and printed colophon.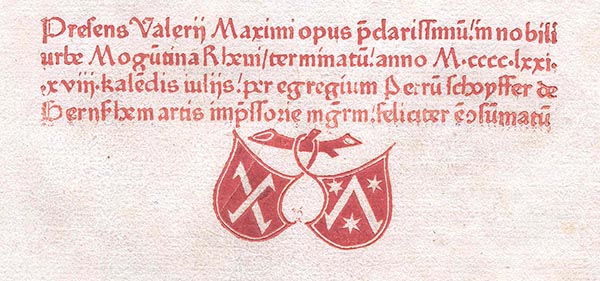 1885: Japan's first patent is issued to the inventor of a rust-proof paint.
1888: An audio recording of English composer Arthur Sullivan's "The Lost Chord," one of the first recordings of music ever made, is played during a press conference introducing Thomas Edison's phonograph in London. (Now available on iTunes.)
1945: American actor, comedian, musician, producer, and screenwriter Steve Martin born.
1950: Cartoonist Gary Larson (The Far Side) born.
1965: American producer, director, and screenwriter Brannon Braga born.
1975: The Rocky Horror Picture Show, the longest-running release in film history, opens in London.
August 15
1843: Tivoli Gardens, one of the oldest still intact amusement parks in the world, opens in Copenhagen, Denmark.
1912: American chef and author Julia Child born.
1914: The Panama Canal opens to traffic with the transit of the cargo ship SS Ancon.
1915: A story in the New York World reveals that the Imperial German government had purchased excess phenol from Thomas Edison that could be used to make explosives for the war effort and diverted it to Bayer for aspirin production.
1939: The Wizard of Oz premieres at Grauman's Chinese Theater in Los Angeles, Calif.
1965: The Beatles play to nearly 60,000 fans at Shea Stadium in New York City, an event later regarded as the birth of stadium rock. This would lead to...
1969: The Woodstock Music & Art Fair opens in upstate New York.
August 16
1858: U.S. President James Buchanan inaugurates the new transatlantic telegraph cable by exchanging greetings with Queen Victoria of the United Kingdom. However, a weak signal forces a shutdown of the service in a few weeks.
1930: The first color sound cartoon, called Fiddlesticks, is made by Ub Iwerks.
1954: The first issue of Sports Illustratedis published.