U.S. Requires Hurricanes To Quarantine For 2 Weeks Before Traveling To Other States Along Coastline https://t.co/9hwbT0uv2Y pic.twitter.com/GO5HX46opU

— The Onion (@TheOnion) July 28, 2020
Why Oh WY
Wyoming is about to earn the honor—if that's what you want to call it—of being the first state that will not have a Monday newspaper edition in any city or town. Says Nieman Lab: "The Casper Star-Tribune announced yesterday that it would no longer be a true 'daily' paper, eliminating its Monday and Tuesday print editions next month."
Still:
The Star-Tribune will continue publishing online news while offering electronic editions of its print newspaper — the e-edition — seven days a week, said President Michelle Robinson. Print editions will be published Wednesdays through Sundays, with plans for an enhanced Sunday newspaper.

The change is a reflection of reader demand, Robinson said, with an increasing percentage of readers, in Wyoming and elsewhere, choosing to consume their news digitally.
Long Bomb
When your dog photobombs a panorama pic??
?? FB Kimberly Krohlow pic.twitter.com/OtYF09hc3u

— Aussies Doing Things (@aussiesdointhgs) August 2, 2020
Creature Comfort
A question that has never before been asked, perhaps, is "how many kangaroos is 1.5m?" At The Guardian, some examples of how, in the face of increasing infections, places in Australia are getting creative and fun with social distancing signage.
At the University of Sydney's veterinary teaching hospital, as Guardian Australia revealed in May, they use the motto: "Keep four koalas of space between you and others".

In Queensland, the cassowary – whose claws are 12.5cm long – is the reminder of choice at Cairns airport. A few hundred kilometres south, at the Townsville campus of James Cook University, you need two of the smaller, and as far as we know non-lethal, bush turkey.

At the Hotel Hollywood in Sydney, a large yellow sign proclaims patrons should stay at least one adult kangaroo apart.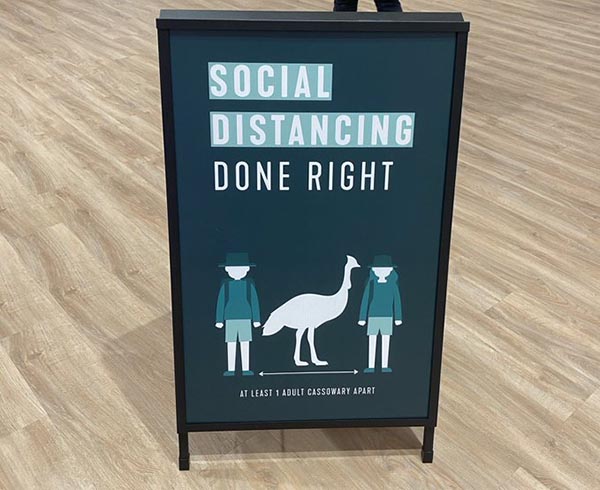 Choose your own preferred avifauna.
Grammer Lessons
Every once in a while I still have to ask: pic.twitter.com/BUZPiCoIG1

— Brandon Bird (@Brandon_Bird) July 22, 2020
My Building Has Every Convenience
There are few aspects of life that haven't been affected by COVID-19 and it's a safe bet that many changes the virus has brought will persist—perhaps even once it is a thing of the past, should that ever happen. The New Yorker recently had an article on how coronavirus will likely reshape architecture. After all, it's happened before; the modernist architecture that emerged in the first half of the 20th century was inspired by the fear of tuberculosis, which was the number one killer at the time.
Much of modernist architecture can be understood as a consequence of the fear of disease, a desire to eradicate dark rooms and dusty corners where bacteria lurk. Le Corbusier lifted his houses off the humid ground to avoid contamination. Adolf Loos's ultra-boxy Villa Müller in Prague, from 1930, included a separate space in which to quarantine sick children. Architects collaborated with progressive doctors to build other sanatoriums across Europe. "Tuberculosis helped make modern architecture modern," the Princeton professor Beatriz Colomina writes in her revisionary history "X-Ray Architecture." The industrialized austerity of Ludwig Mies van der Rohe or Marcel Breuer "is unambiguously that of the hospital," the empty white walls, bare floors, and clean metal fixtures are all "surfaces that, as it were, demonstrate their cleanliness."
And here we are again, with fear of disease determining how our public and private spaces will be designed.
Unlike the airy, pristine emptiness of modernism, the space needed for quarantine is primarily defensive, with taped lines and plexiglass walls segmenting the outside world into zones of socially distanced safety. Wide-open spaces are best avoided. Barriers are our friends. Stores and offices will have to be reformatted in order to reopen, our spatial routines fundamentally changed. And, at home, we might find ourselves longing for a few more walls and dark corners.
It's a Mystery
FRIEND: what r u watching

ME: unsolved mysteries

FRIEND: so just mysteries?

ME: [taking bite of edible food] i'm not sure what u mean

— tatum (@50FirstTates) August 1, 2020
Fogged Up
Masks are going to be a part of our lives for a while, so we may as well have fun with them.
Those of us who wear glasses have a particular problem with the lenses fogging up when wearing a mask—but, via Boing Boing, "Animator Takahiro Shibata made this delightful facemask that turns fogged-up eyeglasses into a fun feature of the design."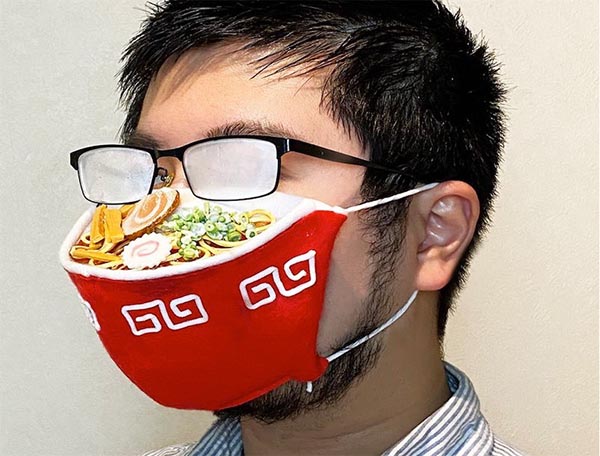 "I made a mask for people with glasses," reads Shibata's translated tweet. "The more clouded your glasses are, the hotter you can see the ramen."
Roadside Attraction
L.A. Designates Open-Air Dining Areas Along 101 Freeway Median https://t.co/xCwYqExKSu pic.twitter.com/uF6p9G3cHJ

— The Onion (@TheOnion) July 28, 2020
Foxy
We seem to have found a vulpine Imelda Marcos. From the BBC:
For weeks residents of Zehlendorf were baffled that a thief was stealing their flip flops and sports shoes from their gardens at night.

Finally a man spotted the culprit on a patch of wasteland, "in flagrante, carrying two blue flip flops in its mouth", the daily Tagesspiegel reports.

The fox had a hoard of over 100 shoes...
Fuchs, Du hast die Schuh gestohlen...??In #Zehlendorf wurden mehr als 100 Schuhe von einem Fuchs gemopst. Die ganze Geschichte morgen @TspCheckpoint. (??: Christian Meyer) pic.twitter.com/pjnKhvobOa

— Felix Hackenbruch (@FHackenbruch) July 26, 2020
This, That, and the Other
The namers of this neighbourhood in Porters Lake, Nova Scotia appear to have run out of ideas. pic.twitter.com/1u59LoUUEF

— Quite Interesting (@qikipedia) July 26, 2020
Sinister Footwear
We've looked at clouds from both sides...and we're pretty done with clouds, especially after seeing this 3D printed footwear apparently inspired by different kinds of clouds. Even the fox would avoid these. From Core77:
Digital modeling and 3D printing have enabled today's designers to create novel objects of previously near-impossible form. Elaborate shapes have become a hallmark of the medium but thankfully form-giving as a practice has pulled back from a complete embrace of the aesthetic and now finds success with a restrained mix of those digital flourishes with classic surfaces. Japanese brand MAGARIMONO manages this trick in their new line of shoes. What makes it an interesting launch is that they've taken some of the creative strangeness cut from the formal resolution, and found a place for it elsewhere in their overall creative package. It counteracts the seriousness and sterility that can build up in tight digitally-enabled product development loops.

This footwear will be made to order, taking about 2 - 4 weeks for production and delivery. The collection drops June 19 online and in Tokyo. The four models, are available in sizes 22-28 cm at a price of $1,100 each.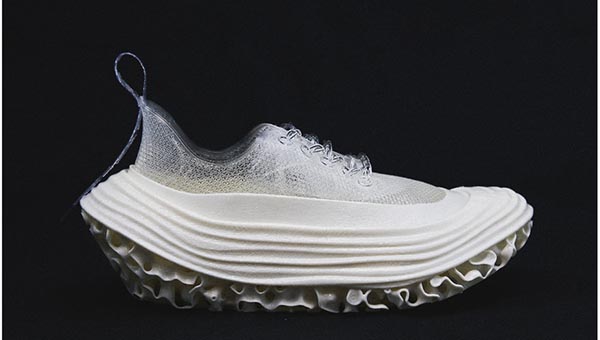 Let's hope that price includes a podiatrist on retainer.
Say No to This
Opened up a kitchen drawer and found this ?? My kid has been watching too much "Hamilton"! pic.twitter.com/idOkLc1k4B

— Sarah Kendzior (@sarahkendzior) July 24, 2020
This Is No Place for a Convertible
If you can't make it to the water but miss the boat (as it were), why not tool around in this 1973 Volkswagen Boatswagon—a yellow Volkswagen Beetle that was converted into a car-boat hybrid using the hull of a 1977 Chrysler Conqueror. (According to Core77, the owner built it for his daughter, "who thought it would be cool to have a carboat like the one in Sponge Bob.")

It is up for auction, but caveat emptor: it is not even remotely seaworthy.
Love in Black and White
Kyoto Aquarium has a flowchart showing visitors the romantic relationships and breakups between their penguins. (Photo credit: @OliverJia1014) pic.twitter.com/KKLsqOzimL

— Quite Interesting (@qikipedia) July 23, 2020
A Wicked Pack of Cards
Do you miss 1980s-era computer graphics? Do you want a set of playing cards that simulates the experience of having cataracts? If so, then troll your lenses with the 8Bit Card Deck.
My name is Michael B. Myers Jr. (drawsgood) and I am a huge fan of pixel art and retro gaming. In 2019, I began designing a few face cards for what, at the time, might have been an 8-Bit solitaire game or something similar. As the process continued, the idea of making these pixel art cards in to actual high-quality playing cards came to mind, and thus the 8Bit Deck was born. Each card has been crafted pixel by pixel, and the color palette was heavily inspired by the Pico-8 fantasy console, developed by Lexaloffle.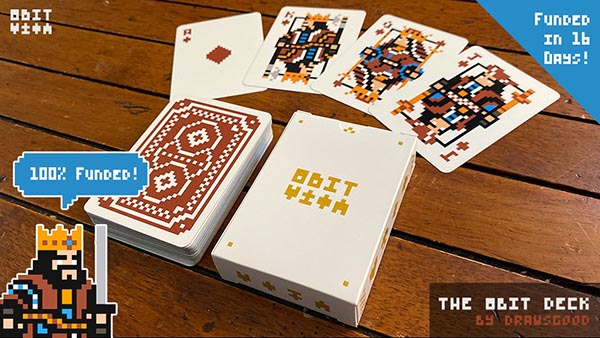 Silly Goose
I don't think any other fact will ever beat it. https://t.co/4fhyqgGhVc

— Caitlin Moran (@caitlinmoran) June 25, 2020
What Goes Around
Those of us who had low- or no-tech childhoods were endlessly entertained by the classic Etch a Sketch. The one limitation of it, though, was that you couldn't draw circles or curves (well, you could, but it wasn't easy). However, via Gizmodo, the Etch a Sketch is celebrating its 60th anniversary this year, and has launched a few limited edition variations, including the Etch a Sketch Revolution:
The Etch a Sketch Revolution is a tad smaller than your typical Etch a Sketch, but it does feature the two signature knobs at the bottom. The main difference is it features a spinning screen that makes drawing circles magnitudes easier. As in, all you have to do is manipulate the knobs on the spinning rim, and that's it. It's simple, but pretty neat when you consider just how torturous trying to draw anything circular, rounded, or curvy on a traditional Etch a Sketch is.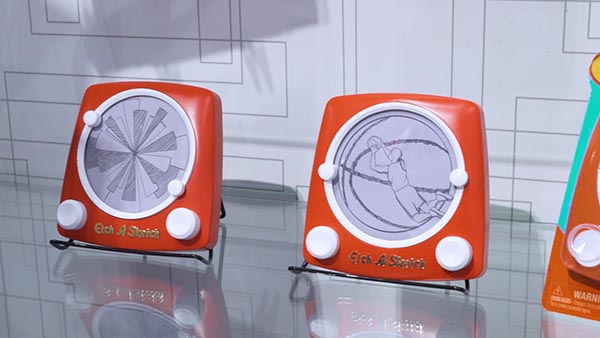 Calm Before the Storm
People said I wasn't qualified to teach an assertiveness training course, but I haven't had any complaints so far.

— Gary Delaney (@GaryDelaney) July 1, 2020
Monkey Business
I wonder what the infinite number of monkeys on typewriters have gotten done during quarantine?

— J. Elvis Weinstein (@JElvisWeinstein) August 3, 2020
The University of Plymouth tested the claim that monkeys given infinite time would write Shakespeare by placing a typewriter in a macaque enclosure. The monkeys mostly used the keyboard as a lavatory, but you can read what they wrote here: https://t.co/50f1CRIIZv

— Quite Interesting (@qikipedia) March 19, 2020
This Week in Printing, Publishing, and Media History
August 3
1527: The first known letter from North America is sent by John Rut while at St. John's, Newfoundland.
1778: The theatre La Scala in Milan is inaugurated with the première of Antonio Salieri's Europa riconosciuta.
1811: American businessman and founder of the Otis Elevator Company Elisha Otis born.
1859: The American Dental Association is founded in Niagara Falls, New York. (Was their theme song "Bridge Over Troubled Water"?)
1920: English author P. D. James born.
1926: American singer and actor Tony Bennett born.
Pretty impressive for a guy who misplaced his heart in 1962. https://t.co/xDNmIXMWjM

— J. Elvis Weinstein (@JElvisWeinstein) August 3, 2020
1946: Santa Claus Land, the world's first theme park, opens in Santa Claus, Ind.
1977: Tandy Corporation announces the TRS-80, one of the world's first mass-produced personal computers.
August 4
1693: Date traditionally ascribed to Dom Perignon's invention of champagne.
1792: English poet and playwright Percy Bysshe Shelley born.
1821: The Saturday Evening Post is published for the first time as a weekly newspaper.
1834: English mathematician and philosopher John Venn, inventor of the Venn diagram, born.
August 5
1735: New York Weekly Journal writer John Peter Zenger is acquitted of seditious libel against the royal governor of New York, on the basis that what he had published was true.
1850: French short story writer, novelist, and poet Guy de Maupassant born.
1914: In Cleveland, Ohio, the first electric traffic light is installed.
1930: American pilot, engineer, and astronaut Neil Armstrong born.
1957: American Bandstand, a show dedicated to the teenage "baby-boomers" by playing the songs and showing popular dances of the time, debuts on the ABC television network.
August 6
1809: English poet Alfred, Lord Tennyson, born.
1926: In New York City, the Warner Bros.' Vitaphone system premieres with the movie Don Juan starring John Barrymore.
1956: After going bankrupt in 1955, the American broadcaster DuMont Television Network makes its final broadcast, a boxing match from St. Nicholas Arena in New York in the Boxing from St. Nicholas Arena series.
1991: Tim Berners-Lee releases files describing his idea for the World Wide Web. WWW debuts as a publicly available service on the Internet. (Too bad it never caught on.)
August 7
1926: American puppeteer, voice actor, and singer Stan Freberg, born.
1928: Canadian-American magician and author James Randi born.
1944: IBM dedicates the first program-controlled calculator, the Automatic Sequence Controlled Calculator (known best as the Harvard Mark I).
1959: The Lincoln Memorial design on the U.S. penny goes into circulation. It replaces the "sheaves of wheat" design, and was minted until 2008.
1981: The Washington Star ceases all operations after 128 years of publication.
August 8
1876: Thomas Edison receives a patent for his mimeograph.
1969: At a crosswalk in London, photographer Iain Macmillan takes the photo that becomes the cover image of the Beatles' album Abbey Road, leading to nearly five decades of Beatles fans nearly being run down on that same crosswalk trying to imitate it.
August 9
1776: Italian physicist and chemist Amedeo Avogadro born. (We've got his number.)
1854: Henry David Thoreau publishes Walden.
1892: Thomas Edison receives a patent for a two-way telegraph.
1930: Betty Boop makes her cartoon debut in Dizzy Dishes.
1944: The United States Forest Service and the Wartime Advertising Council release posters featuring Smokey Bear for the first time.