By Neenah Paper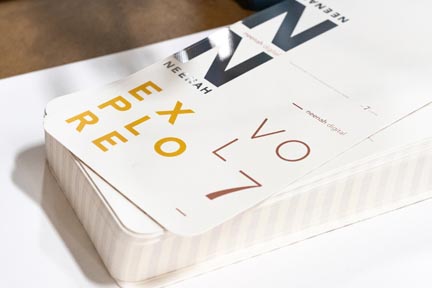 It is no secret that the world is moving faster by the day. Advances in technology are primarily responsible for creating an on-demand society where people spend more and more time in front of the screen trying to keep up. In recent years, companies have invested heavily in online advertising and marketing campaigns as an essential way to reach consumers.
However, consumers might be looking for ways to disconnect from technology and ground themselves in a different reality. With an unprecedented number of people working from home, days are now filled with virtual meetings, online schooling, online fitness, and well, online everything. As a result, consumers are experiencing an unforeseen phenomenon known as screen fatigue. For brands, the time to pivot, or return, to a more multi-faceted omni-channel marketing strategy is now.
Changing for
Innovative
Strategies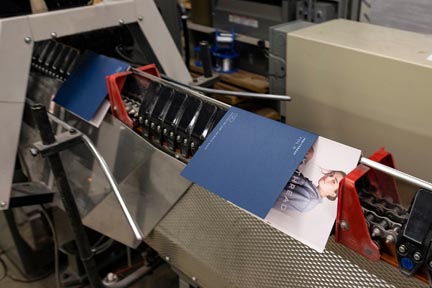 Integrating and coordinating print and digital marketing strategies allows brands to reach audiences across both channels. Employing direct mail and email campaigns in tandem is proven to boost performance and lower cost per acquisition of new customers. And during this work-at-home time, it's pointless to send direct mail marketing into the void of empty offices. Use email or social media to encourage audiences to update contact information so they can be reached in multiple locations.
A recent MIT Sloan Management Review study "identified new patterns in consumer shopping behavior and mindset." Their findings show that there is a real opportunity for small and mid-tier companies to leverage omnichannel communications strategies to acquire new customers. Because small businesses are agile and can make adjustments faster than larger corporations, they can experiment with marketing strategies for audience retention and reach. It's essential to use all of the tools in the marketing toolbox to accomplish this goal most efficiently and least expensively. Competing for online attention requires innovative and advanced offline connections.
Old-World Marketing with New Age Technology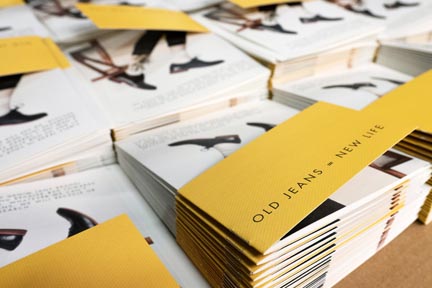 The offline solution is not found in something new but a state-of-the-art twist on a tried and true marketing tool. Companies have been reliant on print marketing since the 1400s when the first press allowed large quantities of printed books and leaflets to reach the masses. Relative to the period, it changed everything. In the 1990s, when digital printing came about, it was used primarily for mass mailings. The print quality was low, but the output and the opportunity massive. It likewise changed everything, especially with the ability to introduce more personalization and customization into marketing communications than was feasible before.
Today, the advancing technology of digital printing is responsible for a new revolution in the printing industry. It's fast, flexible, and versatile. Imagine high-fidelity, four-color images on colored papers, metallic inks on textured surfaces complete with targeted personalization, and that's just scratching the surface. A growing number of certified substrates from a variety of paper companies use toner and inkjet digital printing in popular colors, textures, and weights. This broadens marketers' choices in creating high-impact, cost-effective campaigns for their businesses or brands.
Because digital printing uses digital files instead of printing plates, producing high-quality results with minimal setup costs is the new norm. Digital files also allow for customization of individual graphics or text a print by print basis, making it the ideal choice for personalized marketing materials like direct mail. It's perfect for small business marketing requiring small print-runs or start-ups looking for initial quantities of print materials like labels, in-store signage, brochures, business cards, letterhead, and more.
More businesses and brands embrace digital print as an efficient and cost-effective way to reach their audiences, and why not? Scott Gasch of Fey Printing says, "Digital printing allows us to be more flexible and help take out some of the guesswork common in print production. Consider the time and cost savings that come with the ability to cost-effectively run one-off comps or press proofs. With digital printing, we can implement immediate changes and continue proofing throughout the printing process. Our customers are happy that the final result looks amazing but didn't break the bank or result in production delays."
Explore Design for Digital Printing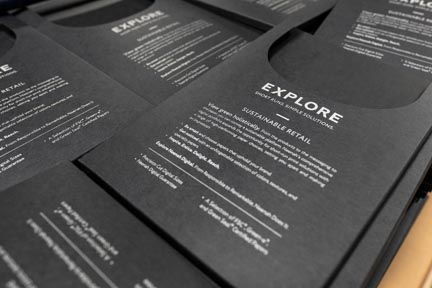 Beyond the obvious benefits to companies in producing short-run print projects, digital printing also allows designers to get more creative and take more risks. Ellie McKenzie of Farmhouse Design advises, "You can design by trial and error since your commitment is not as big. Changes can be made throughout the process."
Ask your printer to run things on different papers with different inks. Don't underestimate your printer's creativity. They are the experts, and odds are they've seen and done just about everything. Before you start designing, ask what's new in digital printing and how you can take advantage of the technology, inks, and substrates to create even more stunning and effective pieces."
One such example of ultra-creative design for digital printing is found in Explore 7, an inspirational sample kit from Neenah designed by Farmhouse Design and produced by Fey Printing. Of the piece, Gasch remarks, "This promotional print piece contained several different designs and had us using the full capabilities of our HP Indigo® 7900. This was our first opportunity to use the new HP Indigo ElectroInk Silver. We used it on both the outside and inside cover, and it surpassed our expectations."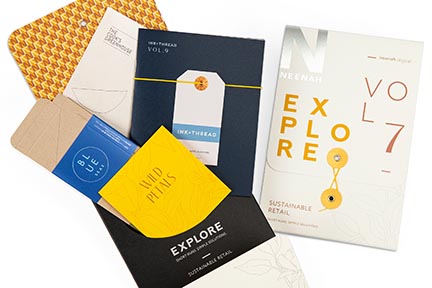 "The samples in this piece will make you rethink everything you know about digital printing. We produced holographic foils, handwritten variable data, and an authentic-looking brass rivet on all number of combinations of colored and textured digital papers from Neenah. Whatever Ellie could dream up, we brought to life using digital printing technology with advanced inks and substrates."
Yogev Barak, Head of Strategy and Business Development for HP Indigo, said of seeing the Explore project, "Neenah has once again produced a significant tool that will advance HP Indigo customers' abilities to grow their business. Explore 7 provides a tactile and inspirational resource to showcase the capabilities of HP Indigo to support the groundswell of businesses reopening and answering the call of this new emerging market. Neenah's beautiful and sustainable papers combined with HP Indigo's technology and unique inks enables growth in packaging, display, direct mail, and all things necessary to get a business back up and running to meet the new normal,"
The latest in the popular Explore series by Neenah uses creatively designed print samples to educate designers about the business retail vertical and inspire ideas for working within this niche market for digital printing. With a little creative know-how, the pieces featured in the promotion can be used or adapted to any business or vertical. Neenah even gifts designers the dielines for each created sample the promotion.
For more information about products and services from Neenah, visit www.neenahpaper.com/digital.