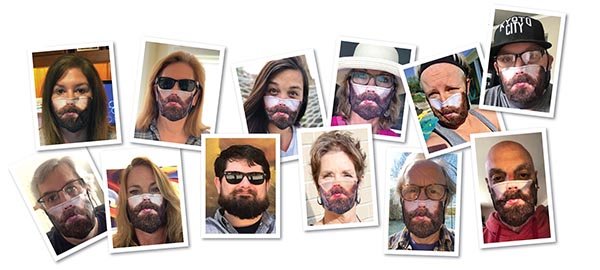 (See the accompanying video feature to this story.)
Six months ago, if someone told me that there was a shortage of masks, I would have guessed that they were talking about a particular Halloween costume for their kid, or maybe ski apparel. Of course, everyone is looking for Personal Protective Equipment (PPE) which, in 2019 I thought referred to my firearms. In 2020, the general public got a crash-course in masks and mask wearing and the fragile supply chain that was strained to the breaking point by the novel coronavirus COVID-19.
We learned N95 masks are different from the rectangular surgical masks (as seen on every medical TV show ever) and provide a higher level of protection and filtration. After initial guidance that masks were not needed by the general public, regular cloth masks are now recommended for the general public, grocery, and pharmacy workers, and even for healthcare workers who are not providing direct patient care. By June, many businesses, retail and otherwise, were requiring anyone entering the premises to wear a mask.
While manufacturers are trying to ramp up production of masks, N95 masks are in particularly short supply. These masks include a filter made through a process called melt blown extrusion that fuses thousands of ultra-fine, nonwoven fibers. It is a complex process using specialized machinery and specialized training, so ramping up is a challenge. This means that output is being reserved for the healthcare industry, but there is still not enough inventory to keep front-line workers protected.
Face Masks as a Cottage Industry
Homemade face masks have become critical to the supply of PPEs for hospitals, nursing homes, first responders and the general public. There are many patterns found on the internet which completely cover required facial area from ear to ear. People are wearing homemade masks sewn from bandannas and random fabric.
The few times I've been out of quarantine, I noticed most of the masks were boring, solid color fabric or just white medical looking. Everyone looks like zombies, not the frightening brain eating ones, but skittish zombies, slowly moving without looking up, tired and burnt out and not smiling under their sterile masks.
Since protective masks have become part of our daily lives, it seems like social distancing is creating an atmosphere where everyone is afraid of each other. In a time when the world needs caring and empathy, our EQ (emotional intelligence) has plummeted because we cannot see the expression on a person's face. I miss smiles, don't you?
This challenge also occurred to many nurses and doctors. When fully decked out in protective gear they look more suited to walk on the moon than to give patient care. Imagine what this looks like to the patient—particularly children. To create a less stressful and more personal experience for the patient, some first responders and medical staff have taken pictures of themselves smiling and pinned the picture to their shirt.
If masks are to become the new normal, let's make them represent who we are underneath (or secretly want to be), what we enjoy or just something entirely goofy. With a little imagination, printers can use masks to bring smiles instead of fear while slowing the spread of coovies (COVID cooties.)
Repurposing Hardware to Print Smiles
I have a wide-format Canon printer with aqueous dye inks that I usually use for demos, proofing, and testing RIP configurations for ColorGate and print customers. In April, this great resource got a new purpose. Normally I print on paper roll stock, but figured I could try some printable fabric to use for face masks.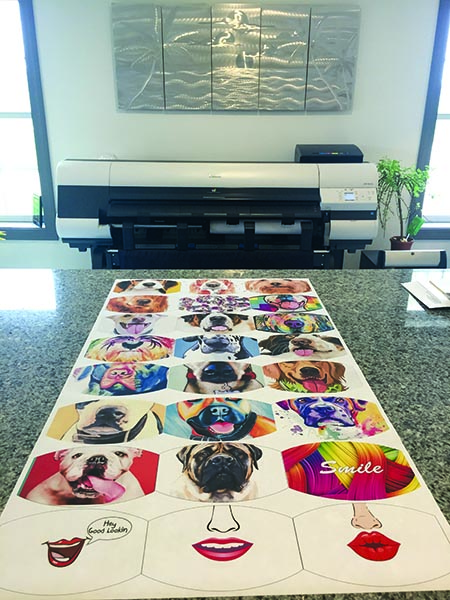 After testing several fabrics and thicknesses, I discovered a compatible 6mil, machine washable (hand wash preserves colors longer), water-resistant polyester which is a lightweight, wicking, wrinkle- and tear-resistant cloth from Aaron Graphics. This cloth produces excellent quality with a low-ink synthetic setting on the Canon.
Once the perfect print fabric was found, it was time to search the Internet for mask patterns. Those with a folded or a flat pattern did not provide the shape to show the depth and imagery I was envisioning. I wanted to make the graphics look as lifelike and 3D as possible. As funny as it sounds, the process started with measuring faces of quarantined household family members and taking an average for a finished size.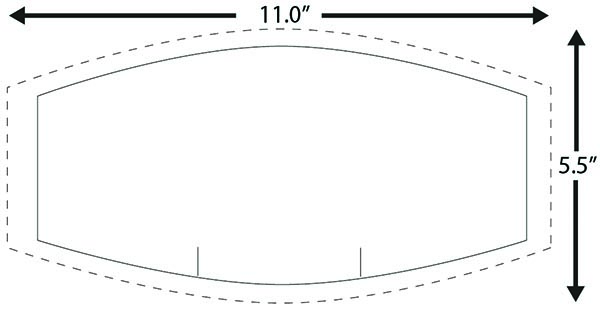 The drawing shows a wider pattern for those making medical type masks. This expands the actual mask to cover ear to ear and allows the printed fabric ends to fold back over the elastic and backing. But if you are making these for the general public and you need to save printable fabric, as you can imagine this printable fabric is expensive, there are different ways you can finish the sides of the mask and use less fabric.
Who Let the Dogs Out?
At Inkjet Insight and our partners, WhatTheyThink, we have some pretty creative people. We put our heads together and started designing different graphics, taking photographs and searching stock photography sites for cool and colorful graphics.
Knowing everyone smiles when they see a dog, the process started with dog face designs as they could create a 3D effect when sewn properly. Then added some fun smiling faces and sayings. From Basset Hounds and Saint Bernards to smiles and funny faces, the artwork began to form.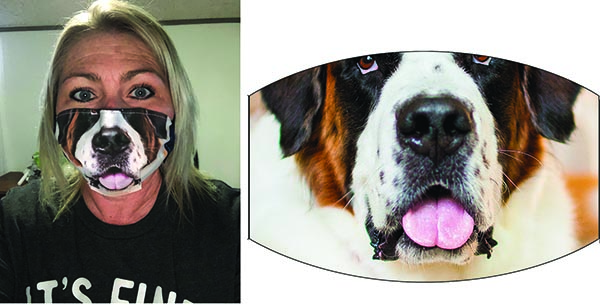 (Left) Amanda modified the pattern to create the life like effect. (Right) Smaller width pattern shown.
Small Problem: I Don't Sew
Lucky for me, I know some incredibly talented seamstresses who were extremely excited about the project. They customized the normal pleats in the mask to accentuate the jaw line making the dogs come to life. This change also gave the masks a more comfortable customized fit to the face.
A handmade mask will not offer the same protection as a N95 hospital mask, you say? Not so fast. Those on the frontlines working directly with the virus, can place the mask over an N95 to prolong its useful life. Everyday people need face masks to help protect them from catching and passing on the virus and these will more than do the trick.
I am excited to say, this mask project has grown to production at three sites sewing all types of animals and graphics onto the masks. What started as a quarantine project of my own is now spreading smiles to our heroes in the medical profession and adventurous shoppers across two states, and now even the Dominican Republic.
Smiling Inside and Out
If you can't decide on a certain mask style, then just be yourself. I'm not a big fan of selfies, but I make an exception for taking a smiling picture of yourself to use for a mask. Be a cat, dog, duck or maybe your bearded co-worker (Hi, Adam).
After a couple of months in quarantine, we can now all relate to why our dogs are so excited to go outside for car rides. Wearing our custom masks help us by protecting ourselves and others while bringing smiles in these challenging times.
To order a stock or custom mask, see Mary's Facebook pageor Etsy shop.