As the country continues to reopen their businesses while the pandemic is still raging, certain safeguards will need to be put in place to not only reassure a skittish public that it's safe to venture into retail and other kinds of business locations, but also, more importantly, to help prevent a massive resurgence of the coronavirus. I've written recently about things like distancing signage and other display graphics, but a new application called "Protection as a Service" (PaaS) works in conjunction with dynamic digital signage (DDS).
22Miles is a developer of digital signage and wayfinding systems offering customizable, easy-to-use content management systems for dynamic digital signage (DDS) used in such end use markets as hospitality, retail, education, and transportation. In response to the current pandemic, the company has launched TempDefend, a system in which infrared cameras are integrated with digital signage. Essentially, TempDefend combines advanced camera hardware, facial and body temperature detection software, integrated sensors, and machine learning in a DDS solution that can be installed at business entrances or other checkpoints to measure the temperatures of people looking to enter a location. (Read the original press release here.)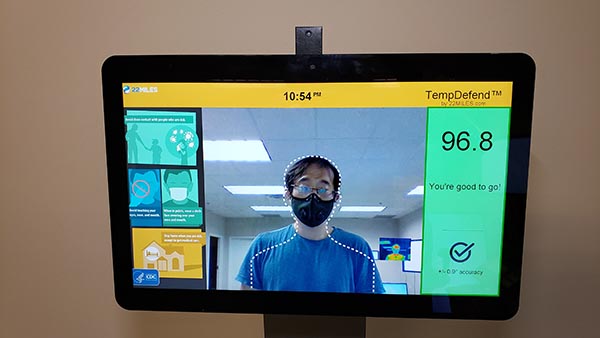 People having a normal temperature are approved, and if the system encounters anyone above-normal (higher than 99.5°), it will trigger a "response sequence," which can be determined by the user. That response could be barred access to the building, a video call to security or other authority, a request to don a facemask, or some other action.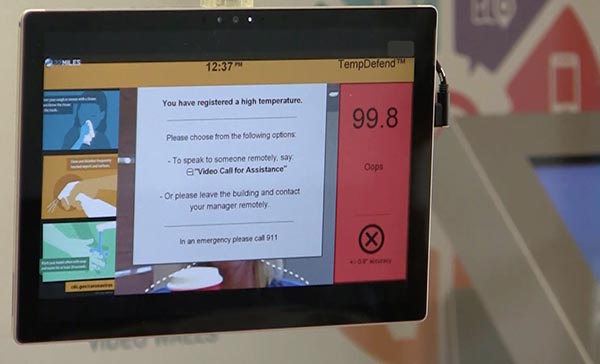 Building authorities can also view the TempDefend data on-site or remotely in a live, thermal, or LED format if a human decision needs to be made. There are also configurations of TempDefend that can perform multi-person scanning for high-traffic locations.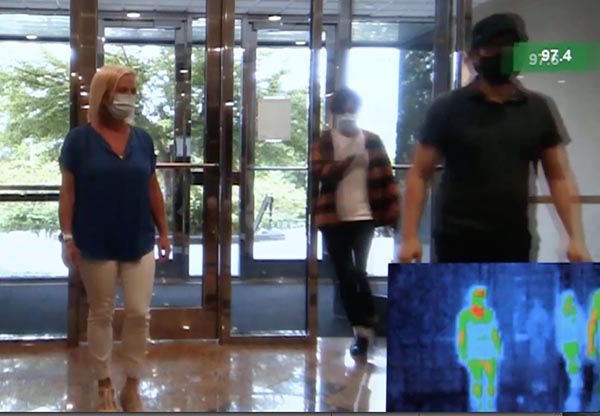 Obviously, this—or any temperature-taking measure—doesn't catch infected people who are asymptomatic, but it's a good safeguard to catch those who do manifest symptoms, helping prevent further COVID-19 infections.
TempDefend can be integrated into a establishment's existing digital signage or purchased as a complete standalone kiosk. 22Miles is known primarily for its content management system, and the Publisher Pro Content Management System allows users to customize TempDefend as well as use third-party API extensions.
There are other systems on the market for temperature detection, but 22Miles is offering a lot more features than simple facial view and temperature detection. "One of the things that we've done is create extra features around this application," says Tomer Mann, SVP of Sales & Operation for 22Miles. "We added our voice command capabilities, which is part of the 'protection-as-a-service' model, so users don't have to touch anything and they can call for assistance. We've added virtual receptionist solutions, and now you can engage with someone without having to be face-to-face, especially if you have an elevated temperature. These are just some of the extras that we were able to integrate into a full platform."
The 22Miles CMS is drag-and-drop, so it's easy to customize. "You can create your own branding design around it and maybe add some CDC or other information," says Mann, "and, again, you've got the data and analysis capabilities and we will continue to update the system using our cloud system cloud hosting solutions."
TempDefend is also designed to be a low-cost option, starting at $2,000. There's also a very short lead time to get the system deployed. "We've already stocked up on a lot of these solutions, so we can get one unit, two units, five units probably within two weeks for an individual," says Mann. "If we're working with any of our system integrators and they want to leverage their own hardware and they just want to our sensor and software, we can probably get them a solution in one week."
There are four different TempDefend packages that offer an increasing number of features and capabilities. Protection Basic simply shows the facial view and temperature readings, and sends an email alert to HR, security, or other monitor if it encounters someone with an elevated temperature.
Premium "Protection as a Service" plans add ID badge recognition or even facial recognition. Voice command recognition is also part of premium packages. The Receptionist plan includes a virtual receptionist, and a fourth plan includes multi-user tracking, where it can scan a group of people within a 15-foot radius.
The Basic plan is a flat fee, but in keeping with other "aaS" solutions, the premium TempDefend packages are more or less subscription-based, or at least have reoccurring costs.
22Miles sells direct to customer, but prefers to work with partners on the sales side. "We've always been a partner-centric organization because we like to look at ourselves as an R&D shop," says Mann. "So we prefer to work primarily through systems integrators."
And sign shops, specifically franchises. "FASTSIGNS is a big partner of 22Miles—we are the wayfinding platform that they've been reselling for a few years now," says Mann. "And a lot of digital signage and video wall solutions that they get from their clients they come to us for."
22Miles is also prepared for the day—someday—when temperature tracking and social distancing are behind us, although it may be a long time away. "I think the temperature sensors are going to be definitely relevant for a long time," says Mann. "But the good part with our software is that if someone decides they don't want the sensors anymore, leveraging our CMS, they can turn it into an interactive menu, infotainment experience, or digital signage so they can evolve the display. We also have the voice control, which can be leveraged for any digital non-touch or interactive display of ours."
Temperature detection signage may very well be a permanent fixture in our post-pandemic "new normal."