Not a good time. Call back later. https://t.co/8jEuyeXXjq

— Charles P. Pierce (@CharlesPPierce) June 13, 2020
Bottle Rocket
We have made our share of typos over the years, but to the best of our knowledge, none of them has ever caused mass rioting and cost $32 billion. Unfortunately, that's exactly what happened when Pepsi tried to break into the Philippines market with a bottle cap contest. It was a not unusual event: each Pepsi bottle cap had a number printed in it, a winning number was announced, and whoever had that cap won $40,000. The contest was a big deal for a low-income population, which snatched up these bottles such that, says Medium, "Pepsi's market share [increased] from 4% to 24.9% in just two months."
Fast Forward. The big day arrives. All the Filipinos have their TV's on. Pepsi goes on to announce the winning bottlecap number, 349, and across the Philippines, crowds of people are cheering. They've won enough money to buy a large house.
Here's the thing. There were only supposed to be two bottles with caps numbered 342. Unfortunately, "a computer glitch with one of Pepsi's vendors caused them to manufacture 800,000 bottles with the number '349' on the bottle cap." Oopsie. That meant that $32 billion in winning bottle caps were sent to the Philippines. Then the back-pedaling began.
Pepsi realizes they can't just walk away without paying anything. They make an offer of $18 to each patron. It came out to $8.7M in total payouts, versus their original budget of $2M. The people don't find this offer very appetizing.

...

The optics of the situation aren't pretty. You have this first world multibillion-dollar business that has made this huge monetary promise to these poor people, only to backpedal and blame it on a system error. One could see how it wouldn't sit well with a rice farmer.
This led to protests, then full-scale riots in which more than 30 Pepsi trucks were firebombed. Then it got even worse,
The fighting continues on throughout the day. By the end of all the carnage, five people die and dozens more are wounded. All because of a marketing promotion went wrong.
Uneasy Lies the Head That Wears the Clown
Please stop misusing the word 'clown' https://t.co/haZFTWKG3q pic.twitter.com/8Q7KApXAHm

— Letters of Note (@LettersOfNote) June 15, 2020
Fence Me In
We have been highlighting in these Around the Web features some of the wacky schemes people and businesses have been coming up with to enforce social distancing, but Core77 highlights a rather nice consequence of the social distancing phenomenon: more neighborly fence designs.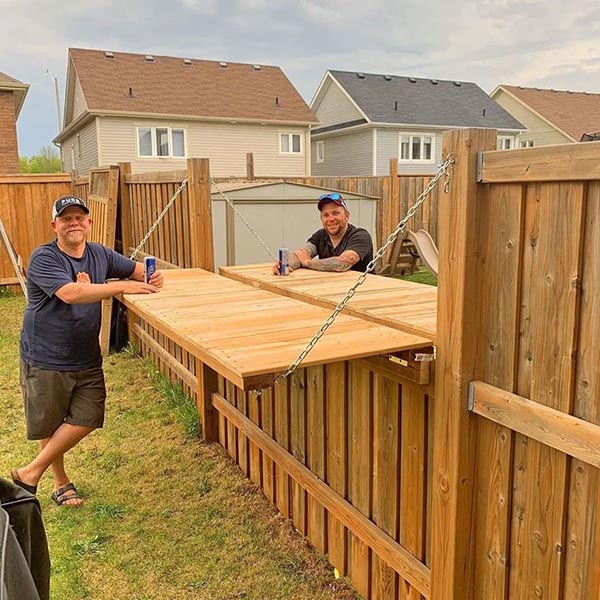 Of course, this will probably depend on how well you like your neighbors.
Spineless
The history of magazine publishing in one photo. pic.twitter.com/eGkQuTghwx

— John Colapinto (@JohnColapinto) June 12, 2020
Eyes without a Facemask
The facemask is quickly becoming a way of making a fashion statement, the design on the mask itself being the way people express their individuality or personality. However, sometimes it's nice to be able to see someone's face, or show one's own, if only to flash a smile or reassure someone you don't have murderous intent (or perhaps indicate that you do). But, also from Core77, "researchers at Switzerland's EPFL (École Polytechnique Fédérale de Lausanne, a/k/a the Swiss Federal Institute of Technology Lausanne) and Empa (the Swiss federal materials-science center)" have solved the problem of transparent facemasks.
"Looking online you can find prototypes of masks that are partly transparent, but they're just normal masks with some of the fabric replaced by clear plastic," says Pelet. Since that plastic isn't porous, however, it makes it hard for the wearer to breathe and fogs up easily. The EPFL and Empa researchers spent two years finding the right combination of transparency, resistance and porosity. They eventually came up with a membrane made from a polymer developed specifically for this application. The polymer fibers are just 100 nm apart, which is the same spacing used in conventional masks – small enough to filter out viruses and bacteria but large enough to let air through.
They Mint Well
If it's not one thing it's another. One unforeseen consequence of the lockdown is that there is apparently a shortage of coins. Says Reuters:
Banks across the United States are facing a shortage of coins during coronavirus crisis, prompting the U.S. Federal Reserve to ration distribution and work with the U.S. Mint to boost supply.

With the partial closure of the economy due to the coronavirus crisis, "the flow of coins through the economy has kind of stopped," Federal Reserve Chair Jerome Powell told the House Financial Services Committee.

Making matters worse, the U.S. Mint has decreased production of coin due to measures put in place to protect its employees.

...

The Fed on Monday told here banks it is working with the Mint to increase supply, but that until the shortage can be cured would limit the number of pennies, nickels, dimes and quarters it sends to them.
If you see someone trying to buy a pack of gum with a 1913 Liberty Head Nickel, call your nearest numismatist immediately.
Hair Today
'And What Do We Want To Do About This Nest Full Of Baby Sparrows?' Asks Barber Giving Man His First Haircut In 6 Months https://t.co/RYT8LuwYIA pic.twitter.com/3YyMPmmMlF

— The Onion (@TheOnion) June 18, 2020
Snack Pad
Has working from home made you addicted to snacking? After all, it's pretty easy to attend a Zoom meeting with a bag of Doritos, the Mute button concealing a multitude of sins. But as people start to go back to work, what if they feel compelled to take their newfound snacking tendencies with them? Well, says Gizmodo, a Japanese printing company seems to have solved this perhaps non-existent problem: edible notepads.
Ainz Co., Ltd. created the notepads as a way to recycle and reuse scrap materials left over from the printing process, although what those materials are, and what exactly goes into the paper to make it safe to eat, are apparently trade secrets the printing company isn't ready to divulge just yet.
Being familiar with the printing process, we find that a little worrying. Still, who amongst us has not had to eat the odd incriminating note or document at some point in their life? So we don't need to convince anyone that even 100% virgin fiber paper isn't the choicest comestible on the planet. Well, Ainz has that covered as well: "along with the Kamihime notepads you'll find an included marker with ink that's been flavored like coffee; the more diligent a note-taker (or doodler) you are, the better your paper snack will presumably taste."
So...coffee-flavored paper? Or you could just suck on a Sharpie.
It May Come to That
Instead of working from home, Pliny the Younger recommended doing paperwork while boar hunting.

— Quite Interesting (@qikipedia) May 14, 2020
"Open the Refrigerator Door, HAL"
As smart devices and the Internet of Things proliferate, we suspect that at some point we are going to have to contend with appliances and other devices that are downright stubborn. A portent of our future vying with ornery objects may possibly be found in one man's struggle with an obstinate GE refrigerator. Says Boing Boing:
An anonymous hero created a website called GE Filtergate. The website describes how his GE refrigerator issued an ominous warning that he had seven days to install a new GE water filter before the refrigerator "disabled its own ice and water system.

...

What gives? Well some a----e at GE thought it would be a good idea to include a f-----g RFID DRM module in select refrigerators.

From the patents [US10040009B1, US9366388B2 ]it looks like I can thank inventors Mr. Krause and Mr. Chernov for their freedom sucking, major appliance disabling, communist, 1984-esque idea. From what I am reading -- with every press of the dispense switch the control board asks the DRM board, "Please sir, may I dispense some water for my loving owners."
He eventually removed the RFID chip.
We don't believe that the phrase "obstinate GE refrigerator" has ever been written before.
Grills Just Want to Have Fun
I just wanted a burger. pic.twitter.com/vYTOqtakf8

— David J. Peck ™? (@davidpeck) May 21, 2020
Cooped Up
You may or may have ever noticed the seeming ubiquity of the typeface Cooper Black, used everywhere from signage, to Tootsie Roll wrappers, to the cover of The Beach Boys' Pet SoundsLP. Vox has an interesting video that traces the history of this face and how its versatility has made it the go-to font for all kinds of purposes.
Bottleneck
Coworkers On Zoom Trapped In Infinite Loop Of Telling Each Other 'Oh Sorry, No, Go Ahead' https://t.co/exLHR4oDxC pic.twitter.com/9KPPZwV8xv

— The Onion (@TheOnion) June 14, 2020
Tweeting Out Loud
Yeah, this will go well. From the Verge:
Twitter is rolling out the ability to record audio snippets and attach them to your tweets. The new feature is available first on iOS and launching today for "a limited group of people," according to the company.
This sounds absolutely terrifying.
Nom de Plume
"Toilet plumes." You're just not giving up, are you 2020? https://t.co/rRrWWQ5Rml

— Patton Oswalt (@pattonoswalt) June 17, 2020
Small Prints
This may not be the best time to take an interest in microbiology art, but Etsy does have some quite lovely black, white, and red watercolor paintings of various kinds of microbes.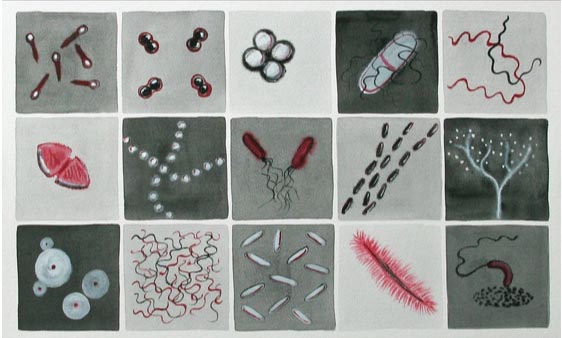 Hey You
Are you eager to change your email address and adopt a whole new email platform? No, nor were we, not by any stretch of the imagination. But for those who love to complicate their lives, there is a new approach to email. From The Verge:
Basecamp isn't an email service? Oh, but we kid....
It's a genuinely original take on messaging that feels like the first interesting thing to happen to email since clever apps like Mailbox and Sparrow repurposed your Gmail account, and it's available in an open beta starting today. With a $99-a-year price tag and some pungent opinions about how email should work, Hey is not for all or even most people. But if you find yourself chafing at the stagnation of Gmail and Outlook, or are just looking for a way to screen out most people who would ever send you a message, Hey is well worth considering.
Hmm...
in Hey's view, email is basically three things. It's things you need to respond to, things you want to read, and receipts. Each gets their own home within the app, and basically nothing else is welcome.
Does that include emails from Basecamp?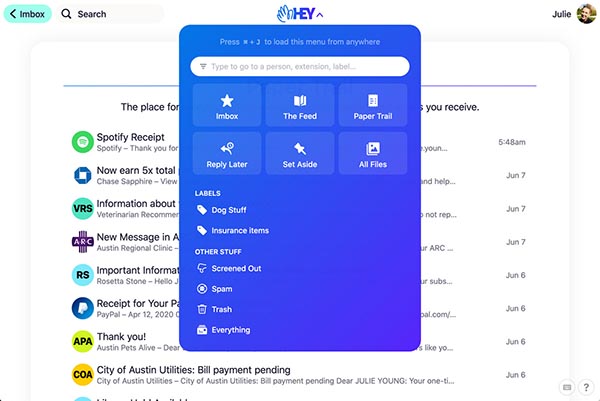 Love Me Tender
Fav Presley karate fact: There's a stone marker in Wisconsin that commemorates the spot where Presley, after spotting some guys fighting in the street, jumped out of a limo, pulled some karate moves & threatened to kick ass. They were so excited to see him they stopped fighting. pic.twitter.com/7yIE1Nsvie

— Dan Schreiber (@Schreiberland) June 17, 2020
Turn and Face the Strain
How often have you heard the phrase "this changes everything"? Lately, quite a bit. It seems like our lives now are vastly different than they were six months ago and in some ways that is true, at least for now. But post-pandemic, how much is going to be radically different from what things were like in the Before Times? Well, Big Picture's Barry Ritholtz argues, not all that much.
what you should expect to experience post-pandemic will look remarkably similar to what it was like pre-lockdown — perhaps with more hand washing.

This will be especially true once there is a treatment and vaccine for Covid-19. The biggest change will be the rapid acceleration of trends that were already in place. The future is coming, just a little quicker than previously scheduled. Huge events can have that effect.
He bases this on three fundamental premises about human nature:
Past claims of "change" failed to pan out.
Incremental change is more likely.
We lack the imagination to recognize genuine change.
Lots will change, but change was already underway before the Coronavirus. Assume these trends will accelerate.

Just don't pretend these are anything new…
Save the Date
Effective immediately, all datelines should now be "THESE UNPRECEDENTED TIMES —".

— Fake AP Stylebook (@FakeAPStylebook) June 11, 2020
Dangerous Curves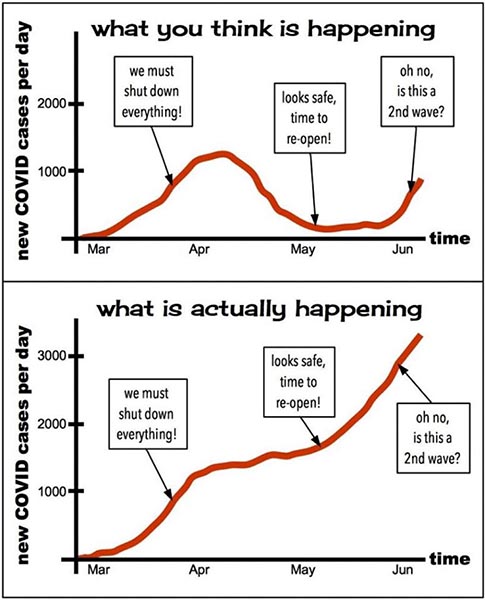 Source: @TBPInvictus via The Big Picture
Captcha Conundrum
I'm still stumped why a robot can't find a bicycle in a picture.

— J. Elvis Weinstein (@JElvisWeinstein) April 7, 2020
This Week in Printing, Publishing, and Media History
June 15
1752: Benjamin Franklin proves that lightning is electricity.
1878: To settle a bet, Eadweard Muybridge takes a series of photographs to prove that all four of a horse's hooves leave the ground when it runs. The results become the basis of motion pictures.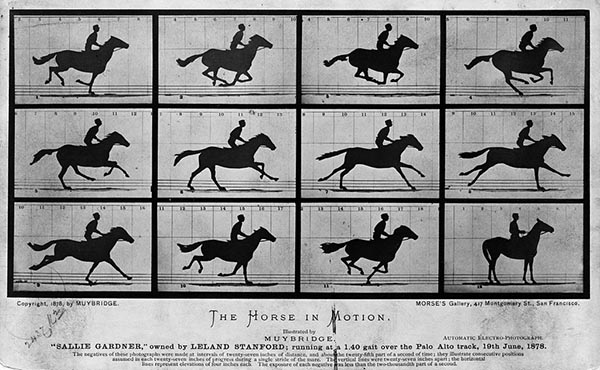 June 16
1903: The Ford Motor Company is incorporated.
1904: Irish author James Joyce begins a relationship with Nora Barnacle and subsequently uses the date to set the actions for his novel Ulysses; this date is now traditionally celebrated as "Bloomsday."
1911: IBM is founded as the Computing-Tabulating-Recording Company in Endicott, N.Y.
1917: American publisher Katharine Graham born.
June 17
1882: Russian pianist, composer, and conductor Igor Stravinsky born.
1898: Dutch illustrator M. C. Escher born.
1901: The College Board introduces its first standardized test, the forerunner to the SAT.
June 18
1854: American publisher and founder of the E. W. Scripps Company E. W. Scripps born.
1858: Charles Darwin receives a paper from Alfred Russel Wallace that draws eerily identical conclusions about evolution as Darwin had been developing. Darwin thus races to publish his own conclusions.
1942: Paul McCartney born.
1948: Columbia Records introduces the long-playing (LP) record, which, curiously, is seeing a bit of a renaissance today as a medium for delivering music.
June 19
1623: French mathematician and physicist Blaise Pascal born.
1846: The first officially recorded, organized baseball game is played under Alexander Cartwright's rules on Hoboken, N.J.'s Elysian Fields with the New York Base Ball Club defeating the Knickerbockers 23–1.
1897: American comedian Moe Howard born.
1934: The Communications Act of 1934 establishes the Federal Communications Commission (FCC).
1947: Indian-English novelist and essayist Salman Rushdie born.
1948: English singer-songwriter Nick Drake born.
1978: Garfield, holder of the Guinness World Record for the world's most widely syndicated comic strip, makes its debut.
2018: The 10,000,000th United States Patent is issued ("Coherent Ladar Using Intra-Pixel Quadrature Detection," assigned to Raytheon Company).
June 20
1840: Samuel Morse receives the patent for the telegraph, which becomes the dominant communication method. Until...
...1877: Alexander Graham Bell installs the world's first commercial telephone service in Hamilton, Ontario.
1928: American saxophonist, flute player, and composer Eric Dolphy born.
[year withheld]: Frank Romano born. Shortly thereafter, was visited by three "iMagi" bearing gold from Gutenberg's goldsmith shop, a line of type from Ottmar Myrrh-genthaler, and he'll be Frank-incensed if he reads this.
1975: The film Jaws is released in the United States, becoming the highest-grossing film of that time and starting the trend of films known as "summer blockbusters."
2003: The Wikimedia Foundation is founded. The Wikimedia Foundation is a nonprofit charitable organization dedicated to encouraging the growth, development, and distribution of free, multilingual, educational content, and to providing the full content of these wiki-based projects to the public free of charge. Most notably, it operates Wikipedia.
June 21
1903: American caricaturist, painter and illustrator Al Hirschfeld is born.
1905: French philosopher and author Jean-Paul Sartre born.
1944: English singer-songwriter and guitarist Ray Davies born.
1957: American author, illustrator, and creator of the Bloom Countycomic strip Berkeley Breathed born.
1973: WTF: the Supreme Court hands down the decision in Miller v. California 413 US 15, establishing the Miller test for obscenity in U.S. law.
1978: The original production of Tim Rice and Andrew Lloyd Webber's musical Evita, based on the life of Eva Perón, opens at the Prince Edward Theatre, London.