Imagine at the start of 2020 if someone had told you to invest in hipster face masks, Zoom and statue salvage.

— Richard Osman (@richardosman) June 10, 2020
Cruel Shoes
We have linked in the past to social distancing headwear, but a cobbler in Romania has developed "social distancing footwear." From Insider: "After noticing that individuals were not observing social distancing guidelines, Grigore Lup, a Transylvanian cobbler, developed long-nosed shoes. The largest pairs go up to a European size 75."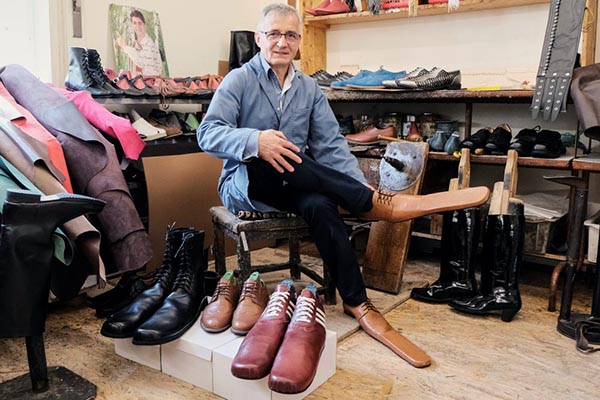 Little Tich was way ahead of his time.
The New Boss
adding, "Dammit, we DID get fooled again." https://t.co/V1jTU7FlQW

— John Moe (@johnmoe) June 8, 2020
Shopping Maul
Here's a potential fashion trend no one saw coming: lion-mauled jeans. Say what? Lots of businesses and other kinds of institutions—like zoos—have been hard hit during the coronavirus crisis, and some have come up with creative ways to mboost funding. North Safari Sapporo, a zoo in Hokkaido, Japan, took to crowdfunding to help develop some unique products they can sell.
Those who contribute 70,000 yen (US$639) will receive a pair of jeans that has been mauled by the claws and teeth of the zoo's lions. If you're a fan of ripped jeans, it probably doesn't get any cooler than having a pair that's literally been torn at by giant cats. Contributors can choose which size pair of pants they'd like to have produced for them.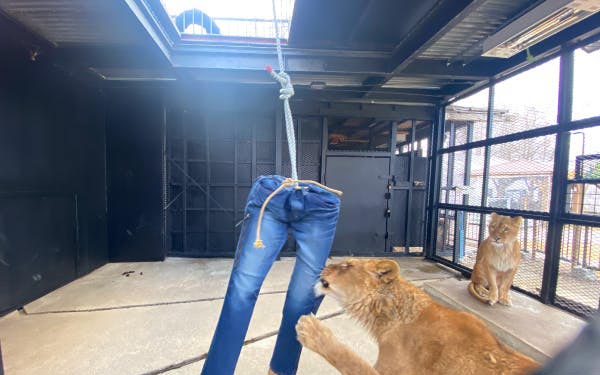 If this catches on, we could have a feline labor problem. Other items the zoo is offering include:
A coaster made from beaver-gnawed wood (¥3,000)
Shedded-snakeskin earrings and other jewelry (¥5,000)
A painting made by a monkey, seal or goat (¥7,000)
We've seen the goat's work. We prefer its earlier, romantic period than its later abstract expressionist works.
Norman, Coordinate
I bought a 3D printer, made a 3D printer and returned the original.

— Mike Wells (@mikewtfwells) June 11, 2020
Ripping Yarns
Luigi Boccia and Jared Flood, owners of a 10-year-old online yarn business called Brooklyn Tweed (they're actually based in Oregon but the company was founded in Brooklyn), wanted to help their community of retailers and suppliers—"from sheep breeders to knitters"—who found themselves struggling when the coronavirus hit in March. Says Bloomberg:
From March 18 through May 15, Brooklyn Tweed pumped more than $300,000 in store credit to more than 100 retailers, mostly in the U.S., through what it called its Apart Together program. "We wanted to give out the maximum amount without starting to lose money," says Boccia. Some shops called the initiative "a lifesaver," he says. "They told us: 'We wouldn't have been able to make it without you.'"
Brooklyn Tweed also helped out with various logistics issues, such as arranging curbside pickups and helping with customers who don't have online ordering capabilities.
Despite the tightening of already squeezed margins by pandemic realities, businesses that care about the fabric of their communities "have the ability to act like people, not just as businesses that worry about the bottom line," says Boccia.
Fountain Solution
June 8, 1826: William Lyon Mackenzie's printing press is trashed and thrown into Lake Ontario by prominent Tory/Family Compact members in retaliation for his newspaper publishing articles against them. pic.twitter.com/Rkdu1gDjNY

— Toronto History (@torontohistory) June 8, 2020
Ladies and Gentlemen, The Bats
There have been albums of whale songs, bird songs, and now...bat songs? Why, yes. Stuart Hyatt issues recordings under the name Field Works, and his most recent album is Ultrasonic, 14 pieces based on his recording of bats. Which raises one immediate question: how can anyone hear them? Says the New York Times:
He has recorded their sounds — so high in frequency that humans typically cannot hear them — and made them audible, then dispatched the material to a team of improvisers and composers, like Kelly Moran, who makes prismatic works for prepared piano, and the drowsy-drone master Jefre Cantu-Ledesma.

...

"Bat noises are like bird songs, just in a register no one can hear," Mr. Hyatt said. "I wanted to bring out the musicality in their voices."
Perfect for you next party, particularly if you're trying to get people to leave.
Coincidence?
it's so crazy — 5G continues to roll out across new zealand, and yet we have zero new cases of covid-19. this is blowing my mind! almost like there's no link at all

— David Farrier (@davidfarrier) June 8, 2020
Psycho Chicken
If it's not one thing...
"New Zealand suburb terrorised by feral chickens in 'Stephen King-like scenes'"
...it's another...
"A Deadly Mosquito-Borne Illness Is Brewing in the Northeast"
Bugged
You have made me unhappy. pic.twitter.com/cKt4JideR8

— Letters of Note (@LettersOfNote) June 9, 2020
Auto Immunity
It's a safe bet that COVID-19 will fundamentally change all aspects of life and society, definitely in the short term, perhaps even in the long term.. Over at Core77, a potential impact on car design:
Hyundai--which was already using antimicrobial paints and materials on their interiors prior to the pandemic--revealed that they're "developing self-sterilizing materials to maintain clean, antiviral, and antibacterial cabins," and also "about to use UV light sterilization technology on their vehicles."
Driving experts had also been detecting a greater trend toward ridesharing, hiring out self-driving cars (should they ever become a thing), and all that. Probably not so much anymore.
Bridging the Gap
To put it another way: dentist offices account for a full 10 percent of the jobs gained last month across the entire American economy. https://t.co/26xq1G9VrF

— Sarah Kliff (@sarahkliff) June 5, 2020
Ginned Up
It's cool that companies in vastly different industries have shifted at least some production to manufacture needed supplies in this pandemic age. One gin distillery in Australia, for example, had started manufacturing hand sanitizer. However, if one is going to do this, better inventory management is in order. From Gizmodo:
A gin distillery in Australia has issued a recall after it accidentally shipped gin bottles containing hand sanitizer, according to the Apollo Bay Distillery outside Melbourne. The gin distillery had previously converted some of its facility to hand sanitizer production to help combat the coronavirus pandemic.

"The product is labelled as gin, however it is not gin," the company said in a statement published to Facebook. "The bottles are not correctly sealed, they can be identified as having no shrink wrap seal."
WFW
The Royal Navy's nuclear submarines run a variant of Windows XP known as "Windows for Warships". pic.twitter.com/UUDCwVKWi1

— Quite Interesting (@qikipedia) June 7, 2020
Life Imitates Art...Sort of
Diego Velázquez's 1635 painting The Surrender of Breda commemorated a major event of the Eighty Years War. The Siege of Breda, a Dutch fortified city, ended on June 5, 1625, with Justinus van Nassau, the Dutch governor, handing over the key to the city to Spanish general Ambrogio Spinola. (As it happened, Velázquez's birthday was also June 5.)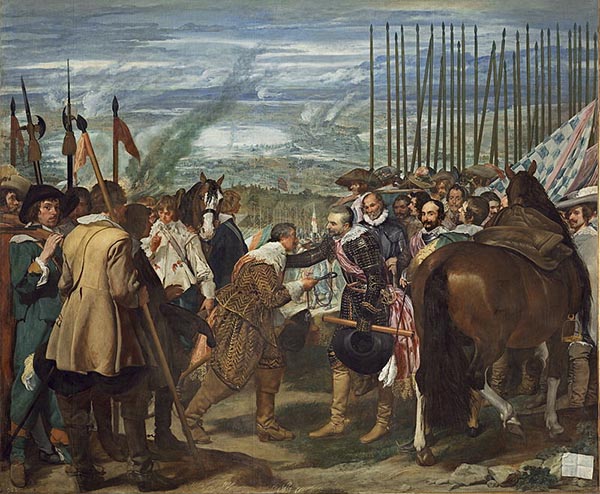 Last week, in Seville, a historical reenactment group brought the painting to life on the streets of the city. However, as you can imagine, there were some complications. Says The Guardian, "Enrique Bocanegra, the man behind the museum project, said: 'We did it for the first time last year but we wanted to make it a bit bigger this year, with two horses and a little cannon. We couldn't get a lot of people along otherwise it would have been cancelled, so we just did a small recreation.'
That, and the participants had to wear masks.
Data Dump
When I watch the news and they talk about "bad actors", I'm always afraid they're talking about me.

— Brent Spiner (@BrentSpiner) June 6, 2020
Octobrianafest
Those who grew up in the 1970s likely had bedroom walls adorned with blacklight posters, probably purchased at the late lamented Spencer Gifts. The 1970s also saw the publication of a series of cult comic books featuring Octobriana, an outlaw Russian superhero. Octobriana is back in a new comic called Mtsyry: Octobriana 1976 by Jim Rugg. As befits its 1970s setting, the comic book will be printed using fluorescent blacklight inks by AdHouse Books. Via Boing Boing: "It should look incredible and appeal to fans of weird comics, printed matter, unique zines, 70s counter-culture."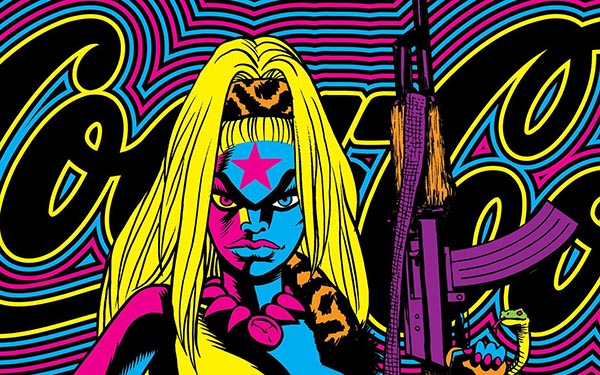 Sage Advice
Yep pic.twitter.com/OR9tUd9lvw

— Josh Gad (@joshgad) May 6, 2020
Bee Careful What You Link To
This weekly Around the Web miscellany is intended to be fairly eclectic and some of the things that catch our eyes can be far afield of WhatTheyThink's usual subject matter. (Often they are included for no other reason than to make a joke.) As a result, we occasionally get press releases or other announcements that wouldn't be appropriate for our proper Newsfeed (which is itself pretty far-ranging and eclectic). So we were bemused to receive, after we had mentioned the "murder hornets" a few weeks ago, a link to a blogpost about declining honeybee populations. Now, unless a beehive installs a digital press and starts printing its own honey jar labels, we're probably not going to pay it much mind, at least during business hours, but here we can concur that, yes, declining honeybee populations has the potential to negatively impact the economy; after all, many agricultural crops only exist because their plants are pollinated by bees. No bees, no crops.
This Week in Printing, Publishing, and Media History
June 8
1867: American architect Frank Lloyd Wright born.
1887: Herman Hollerith applies for US patent #395,781 for the "Art of Compiling Statistics," which was his punched card calculator.
1912: Carl Laemmle incorporates Universal Pictures.
1949: George Orwell's Nineteen Eighty-Four is published, initially as fiction...for a while
1916: English biologist, biophysicist, neuroscientist, and Nobel Prize laureate Francis Crick is born.
June 9
1523: The Parisian Faculty of Theology fines Simon de Colines for publishing the Biblical commentary Commentarii initiatorii in quatuor Evangelia by Jacques Lefèvre d'Étaples.
1891: American composer and songwriter Cole Porter born.
1930: A Chicago Tribune reporter, Jake Lingle, is killed during rush hour at the Illinois Central train station by Leo Vincent Brothers, allegedly over a $100,000 gambling debt owed to Al Capone.
1934: Donald Duck makes his debut in The Wise Little Hen.
1961: American screenwriter, producer, and playwright Aaron Sorkin born, and walking and talking in no time.
1973: Secretariat wins the U.S. Triple Crown.
June 10
1793: The Jardin des Plantes museum opens in Paris. A year later, it becomes the first public zoo.
June 11
1572: English poet, playwright, and critic Ben Jonson born.
1892: The Limelight Department, one of the world's first film studios, is officially established in Melbourne, Australia.
1910: French biologist, author, inventor, and co-developer of the aqua-lung Jacques Cousteau born.
1935: Edwin Armstrong gives the first public demonstration of FM broadcasting in the United States.
1936: The London International Surrealist Exhibition opens.
1998: Compaq Computer pays US$9 billion for Digital Equipment Corporation in the largest high-tech acquisition.
2002: Antonio Meucci is acknowledged as the first inventor of the telephone by the United States Congress.
June 12
1817: The earliest form of bicycle, the dandy horse, is driven by Karl von Drais.
1916: American director and producer Irwin Allen born.
1920: American cartoonist Dave Berg born.
1939: Shooting begins on Paramount Pictures' Dr. Cyclops, the first horror film photographed in three-strip Technicolor.
1939: The Baseball Hall of Fame opens in Cooperstown, N.Y.
1949: English singer-songwriter, bass player, and producer John Wetton born.
1959: American singer-songwriter and musician John Linnell born.
1985: American computer programmer and co-creator of Mozilla Firefox Blake Ross born.
June 13
1865: Irish poet and playwright W. B. Yeats born.
1971: The New York Times begins publication of The Pentagon Papers.
1983: Pioneer 10 becomes the first man-made object to leave the central Solar System when it passes beyond the orbit of Neptune.
June 14
1618: Joris Veseler prints the first Dutch newspaper Courante uyt Italien, Duytslandt, &c.in Amsterdam (approximate date).
1822: Charles Babbage proposes a difference engine in a paper to the Royal Astronomical Society.
1933: Polish-American novelist and screenwriter Jerzy Kosinski born.
1951: UNIVAC I is dedicated by the U.S. Census Bureau.
1966: The Vatican announces the abolition of the Index Librorum Prohibitorum ("index of prohibited books"), which was originally instituted in 1557.