One of the great things we have seen in the textiles industry, in North America and around the world, is the response to the COVID-19 pandemic. In particular, digitally enabled companies have been able to quickly and nimbly move significant production capacity to the manufacture of PPE for both front-line workers and consumers. This is especially true for masks, which are likely to be an important wardrobe element for the foreseeable future.
With its large community of DIY makers and professional designers, Spoonflower, an ecommerce company dedicated to inspiring individuals to make, buy, and sell unique products built around color and pattern, was uniquely positioned to provide tools and materials for its communities to assist in this important effort. In fact, the company reports that its communities have produced more than 150,000 non-medical-grade fabric masks leveraging Spoonflower's more than 1.8 million design options and its easy-to-use mask kits.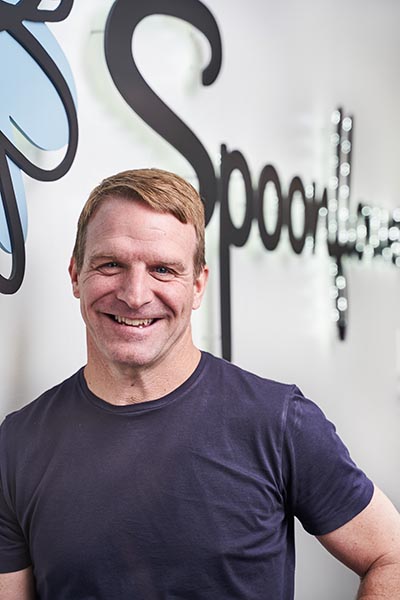 Spoonflower CEO Michael Jones.
"As the world became aware of the urgent nature of the pandemic," CEO Michael Jones said, "I was going through the factory, and one of our sewists said she felt there was something we could do to help. That moved us to quickly launch a multi-phase approach. First, we put the word out that we would donate $10,000 worth of fabric and masks, and we were inundated with requests fairly quickly, mainly from healthcare workers. And our community jumped in to help. For example, we received an urgent request from the Beverly ICU for 400 masks, and we couldn't produce them that fast. We turned to the Facebook group Sew We Care, whose members made the masks and sent them out. In addition, we had a basic cotton we were no longer making available on the site which we sold to our current customers that were making masks at cost—we sold enough of that to make 150,000 masks. And I'm pretty sure that Spoonflower had a hand in a pretty significant share of the hundreds of millions of masks that our maker community has sold on sites such as Etsy. Based on the amount of fabric we sold that was potentially made into masks, we estimate that more than a million masks have been created through the power of the Spoonflower platform/supply chain."
Jones notes that the point wasn't for Spoonflower to profit off of masks, but rather to make it easier for its communities to manufacture them. "One thing we learned," he added, "is that some people were having difficulty making the masks. So we created a DIY mask kit with everything you need to make a pair of masks with a fabric sample for $10. Users can choose from a wide variety of fabric prints and easily order more fabric once they have mask creation down pat.

With the ability to choose from more than 1.8 million fabric designs in the Spoonflower library, there's something for everyone!
These images show a very small sample of the many styles available. And Spoonflower makes it easy for users to apply the same print to a wide variety of other items, including wallpaper, home décor, and a wide variety of fabric types for apparel.
Spoonflower will be adding additional mask styles, including a gaiter-type mask, curved masks, and masks that are already made up.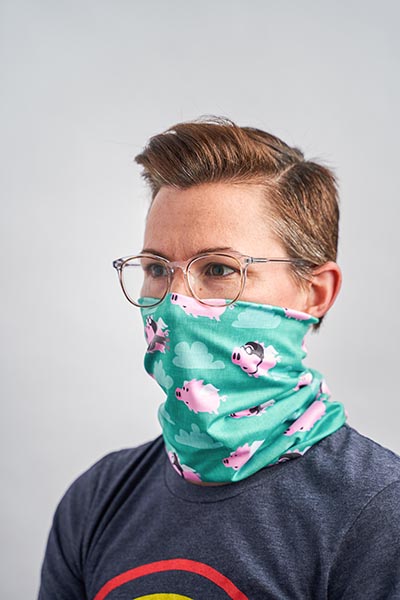 Example of a gaiter mask.
"We started with 'let's donate masks and fabric,'" Jones stated, "and the project quickly developed a life of its own. We went where our customers wanted us to go. The first week or so of the pandemic, people would pick up anything to use as a face covering. But as time went on, they wanted a design they loved. I give a lot of credit to our designers around the world that continue to come up with new designs to add to the 1.8 million we already have available. And for every one of their designs we sell, they continue to make commissions, helping them, if even in a small way, get through this crisis while also delivering a needed product to the market."
Jones also noted that he feels overwhelmed by the number of requests the company has received from outside of the healthcare industry, including construction companies, cleaning supply companies, corporate environments, and more, citing a construction company that donated all of its N95 masks to healthcare workers and was looking for a replacement solution for its workers. "I have friends who are doctors and nurses," he says, "and you think to yourself, 'they need masks and there is a PPE shortage,' but it really hits home when someone you know contacts you and says they need 100 masks for their clinic. Those types of requests haven't slowed down at all."
Although the Spoonflower masks are not medical grade, Jones explains that many healthcare workers are using them to put over medical grade masks to preserve their longevity. "Plus they use them to give to patients that are coming in or leaving," he said.
Some members of the Spoonflower community are also making gowns, headwear, and other fabric-based PPE.
While all this is going on, Spoonflower is also continuing to invest in the business, including increasing operational facilities by 25,000 square feet—5,000 square feet of new construction and converting 20,000 square feet of office space to manufacturing since most office employees are working from home. The company has already added 35 people and will be adding more, primarily in customer service and operations. Spoonflower is also adding employees to its Berlin, Germany, operation. Spoonflower job opportunities can be found here.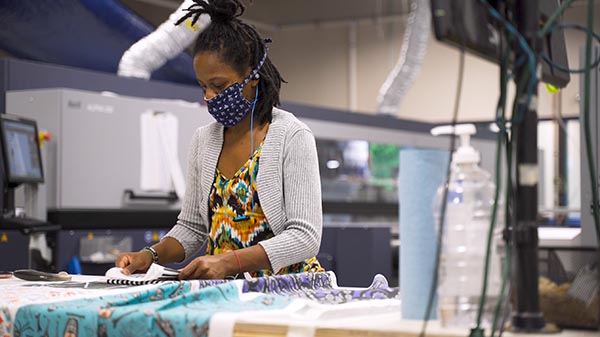 Spoonflower's Britni Kimber preparing mask kits for distribution.