"If the lower two thirds of your face are anything like the upper third, you're the most beautiful woman I've ever seen." #Covidpickuplines

— J. Elvis Weinstein (@JElvisWeinstein) May 7, 2020
Ask Jeeves
Looking for something to cheer you up in this time of overwhelming awfulness? The BBC has atribute to P.G. Wodehouse, one of the funniest and most prolific authors (he wrote 96 books) of all time. You may be familiar with his work via the early 1990s TV adaption Jeeves & Wooster, starring Stephen Fry and Hugh Laurie, but Wodehouse created many memorable and satiric characters, and his books were always written with the express purpose of cheering up the reader.
"Wodehouse, in his words, preferred to spread 'sweetness and light'. Just look at those titles: Nothing Serious, Laughing Gas, Joy in the Morning. With every sparkling joke, every well-meaning and innocent character, every farcical tussle with angry swans and pet Pekingese, every utopian description of a stroll around the grounds of a pal's stately home or a flutter on the choir boys' hundred yards handicap at a summer village fete, he wanted to whisk us far away from our worries. Writing about being a humourist in his autobiography Over Seventy, Wodehouse quoted two people in the Talmud who had earnt their place in Heaven: "We are merrymakers. When we see a person who is downhearted, we cheer him up."
...
"'What Wodehouse writes is pure word music,' said Douglas Adams, the author of The Hitchhikers' Guide to the Galaxy. 'It matters not one whit that he writes endless variations on a theme of pig kidnappings, lofty butlers, and ludicrous impostures. He is the greatest musician of the English language, and exploring variations of familiar material is what musicians do all day.'"
And how can one fail to love lines like "The drowsy stillness of the afternoon was shattered by what sounded to his strained senses like GK Chesterton falling on a sheet of tin." Or "It isn't often that Aunt Dahlia lets her angry passions rise, but when she does, strong men climb trees and pull them up after them." Or perhaps "Like so many substantial citizens of America, he had married young and kept on marrying, springing from blonde to blonde like the chamois of the Alps leaping from crag to crag."
Fed Up
Fed Chairman Downloads Budgeting App To Help Manage Nation's Economy https://t.co/cOV19ysy5i pic.twitter.com/kGMXlXvFNX

— The Onion (@TheOnion) June 1, 2020
Location.Location.Location.
Do you find postal addresses unwieldy, if you even use them at all? Do you have difficulty rendezvousing with people or showing up at the right place? No, we don't either, but Chris Sheldrick, a former music event organizer, found that "people struggle with poor addressing every day" and "Getting lost trying to find events was pretty common." Was it? Anyway, as a result, he launched a new geolocation system called What3Words: "We have assigned each 3m square in the world a unique 3 word address that will never change."
It works like this: enter a place name or address and it will give you the three-word name that has been assigned to that location, a combo that is ostensibly easy to remember. So if you type in, say, "Museum of Printing," it finds the location in Haverhill, Mass., and its three-word identifier is: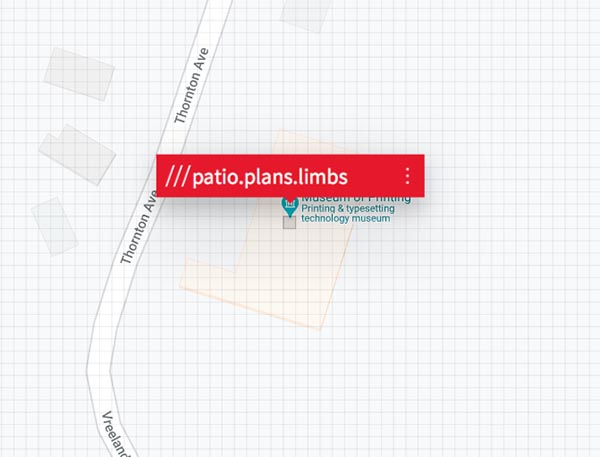 OK, then. (Sounds like someone had a rough time building a patio.)
So how is this useful? Well, you put those three words on a sign, in an ad, on a direct mail piece, business card, etc., and when people want to find the physical location, they enter them on the W3W site or smartphone app and...ah...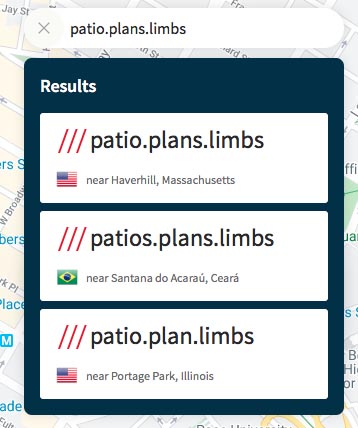 If this is to catch on, there is going to have to be some careful proofing going on, otherwise someone is going to end up traveling to Cearà, Brazil, to check out a Linotype demonstration.
Or you could just use Google Maps.
Dial "M" for Mobile
Today's modern smartphones can perform a bewildering variety of functions, such tracking physical activity, filming and editing feature-length movies, making bank deposits, to all the cool augmented reality stuff. But sometimes, you really just want to make a g-----n phone call without having to climb on the roof, face due west, stand on one leg, and sacrifice a goat in the pale moonlight.
At the same time, a lot of people are starting to rebel against all the distractions of the modern smartphone. One such rebel is Justine Haupt who earlier this year created a mobile phone that replaced the touchscreen with an old-fashioned rotary dial. Says Gizmodo: "while it looked antiquated, there were apparently enough people as fed up with the state of modern smartphones that Haupt has created a new version that she will actually build and sell." And the substantial-looking antenna makes us think that it may actually be possible to call someone and not sound like Thomas Edison's recording of "Mary Had a Little Lamb."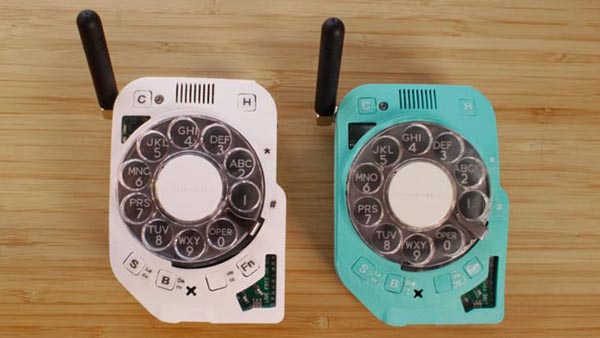 Hosed
Home Depot Releases New Bluetooth Cordless Hose https://t.co/9rsKpRsa45 pic.twitter.com/wYt2H4cMq9

— The Onion (@TheOnion) May 28, 2020
There's No "I" in AI...Oh, Wait...
A BBC article on artificial intelligence (AI) begins thusly: "Collaborating usually makes our work better," which immediately conjured up memories of one of our favorite demotivational posters from Despair.com: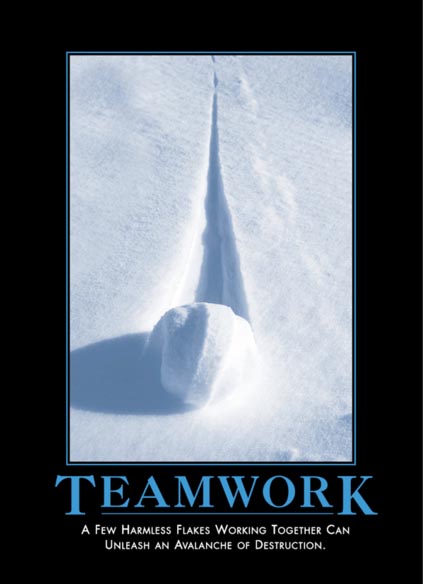 But we digress.
The thrust of the BBC story was that "artificial intelligence (AI) could make harnessing this collective wisdom much easier, making us more effective at our jobs and better able to solve pressing social challenges." (We'd better hurry.)
"'The roles these [AI] tools can play are virtually endless,' says Woolley. 'Fostering communication among the different components, reminding people of stuff they might have forgotten, being a repository of information, helping the group coordinate its decision making.'"
...
"[The] Swarm AI platform presents groups with a question and places potential answers in different corners of their screen. Users control a virtual magnet with their mouse and engage in a tug of war to drag an ice hockey puck to the answer they think is correct. The system's algorithm analyses how each user interacts with the puck – for instance, how much conviction they drag it with or how quickly they waver when they're in the minority – and uses this information to determine where the puck moves. That creates feedback loops in which each user is influenced by the choice and conviction of the others allowing the puck to end up at the answer best reflecting the collective wisdom of the group."
Sounds downright puckish.
Be Prepared
Speaking of Despair.com, we honestly had not visited or heard from them in ages, although perhaps we need them now more than ever, if only for their brand-new shirt: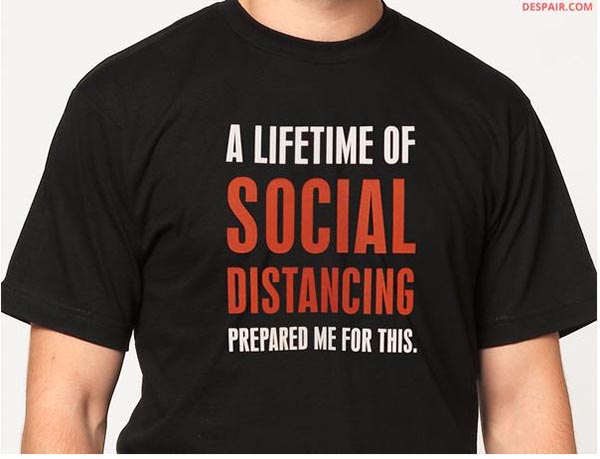 Imponderables
If there is a scandal involving Christina Applegate, what would they call it?

— Conan O'Brien (@ConanOBrien) May 22, 2020
Johnny, Get Your Gun
We have linked several times over the past few months to photos of social distancing Catholic priests using holy water guns to baptize babies or otherwise anoint the faithful. (We suspect a fair number of these have been staged. Still, it would have made The Exorcist a much more amusing movie.) Anyway, via Core 77, to riff on this probably-not-a-real-trend, industrial designer Joshua Skirtich designed the 3:16 Magnum: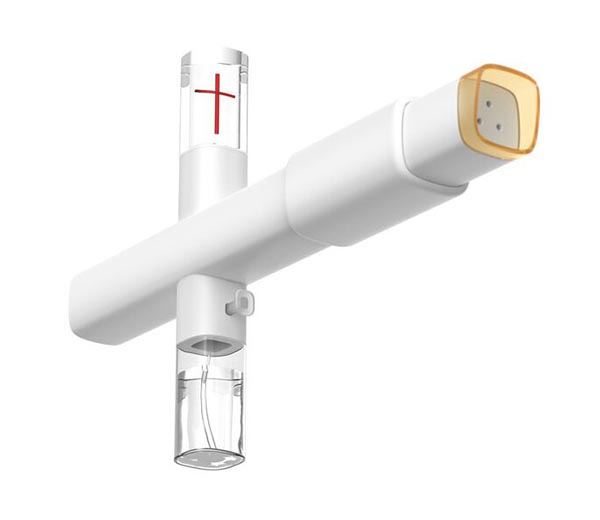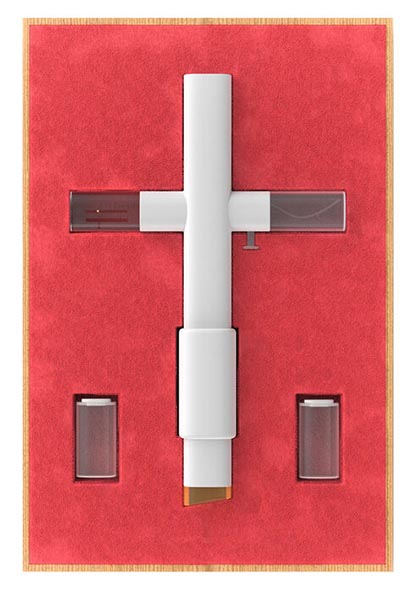 "Three holes in the barrel signify 'the father, the son, and the holy spirit,' a doctrine used to explain the complex structure of God being three entities at once. During a baptism, the priest will say 'I baptize you in the name of the Father, the Son, and the Holy Spirit.'"
It may not be a real thing, but we are amused nonetheless.
Unmasked
Ask people to wear masks for a bit & they'll reveal to you their true faces.

— Shane Leonard (@Shane_Leonard) May 31, 2020
Black & White Sabbath
We may not be forced to remain indoors much longer, but for those who do still want to minimize their time outdoors or are in a high-risk group, why not pick up some Kerrang! magazine cover coloring pages. (Kerrang! is a classic British weekly rock and metal music magazine that has been around since 1981.)
"We have turned seven Kerrang! magazine covers (plus a bonus My Chemical Romance photo) into elaborate colouring-in pages for you to turn into Technicolor masterpieces. We've got Slipknot, Lemmy, BABYMETAL and Ozzy Osbourne to choose from."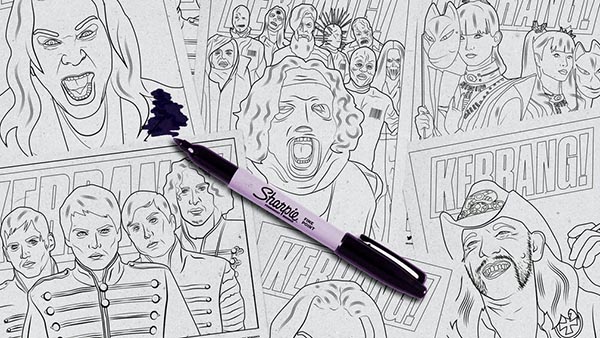 Monkey Business
Wait...this sounds familiar. What movie was this? From CBS News: "Monkeys snatch COVID-19 blood samples after attacking lab worker in India."
If it's not one thing it's another.
Submitted for Your Approval
I always feel like I'm five seconds away from hearing Rod Serling's closing narration.

— Louis Virtel (@louisvirtel) April 28, 2020
Head Trip
Sometimes we're happy for an utterly bizarre, off-the-charts nutso headline, which is a welcome distraction from those that are depressing and/or terrifying. From Boing Boing: "Porn star who makes penis candles arrested for murder after psychedelic toad venom ritual." The only disappointment is that the story couldn't possibly live up to the headline.
Virtual Graduation
All sorts of once-public events are going virtual these days, and at this time of year, the challenge is what to do about graduations. (We recently "attended" an online-streamed grammar school graduation that was held in the school's car park, with a limited number of family members sitting in lawn chairs discrete distances from each other. The event was abruptly canceled mid-way through when it started to rain torrentially. If it's not one thing it's another.)
Anyway, New York University came up with a unique approach that sounds like it would be a fun idea, although maybe more for grammar or middle school graduations than college. From The Verge:
"NYU officials instead ushered thousands of students into a virtual space dubbed 'VR Grad Alley,' a blocky, low-res re-creation of places associated with the school."
...
"But for some students who attended, Grad Alley wasn't just a letdown. It was a puzzling experience to send them off into the world. Those who spoke to The Verge describe it as surreal or even downright bleak. 'It had tremendous DashCon vibes,' says student Chris Kindred, referring to Tumblr's infamous failed con. 'Somebody really tried to make a slice of New York, seemingly based on no reference of New York.'"
...
"For two hours, [New York University student John DiLillo] and a few friends went to places like 'Pictionary Island' and peered into the (surprisingly hollow) rubbery inside of a dolphin. He got stuck underground. He ran into exactly six people, including 'a mysterious panda avatar who flew several virtual yards away from us and claimed to be a moderator trying to make sure we were having fun.' Eventually, he logged off with a headache."
At least a Pokémon didn't give the commencement address.
I'll Be There For...Hey!
Everyone under 30: Five friends isn't enough!

Everyone over 30: Where the hell am I supposed to get FIVE friends from?

— Richard Osman (@richardosman) May 28, 2020
School's Out Forever
This year is bad enough, but what does the post-pandemic future hold for higher education? (There is a forthcoming study from Library Journal in which they asked academic libraries about the present and potential impact of COVID-19 on the institution and the library—and the consensus is that academia is going to be very different, and largely print-free. We'll be reporting on this study when it is released.)
Anyway, New York magazine had a feature last month in which tech guru Scott Galloway predicts (and it doesn't require Nostradamus to see this coming) that the future of colleges and universities will be a very-high-tech one.
"The post-pandemic future, he says, will entail partnerships between the largest tech companies in the world and elite universities. [email protected] iStanford. HarvardxFacebook. According to Galloway, these partnerships will allow universities to expand enrollment dramatically by offering hybrid online-offline degrees, the affordability and value of which will seismically alter the landscape of higher education. Galloway, who also founded his own virtual classroom start-up, predicts hundreds, if not thousands, of brick-and-mortar universities will go out of business and those that remain will have student bodies composed primarily of the children of the one percent."
Bain of Their Existence
Protestors Criticized For Looting Businesses Without Forming Private Equity Firm First https://t.co/rbdfMJOiQ8 pic.twitter.com/YHY3sZaxAU

— The Onion (@TheOnion) May 28, 2020
This Week in Printing, Publishing, and Media History
June 1
1495: John Cor, a Scottish monk and servant at the court of James IV, records the first known batch of Scotch whisky.
1857: Charles Baudelaire's Les Fleurs du mal is published.
1890: The United States Census Bureau begins using Herman Hollerith's tabulating machine—the first "computer"—to count census results. They may still be using it.
1936: English illustrator and animator Gerald Scarfe born.
1980: Cable News Network (CNN) begins broadcasting.
June 2
1840: English novelist and poet Thomas Hardy born.
1896: Guglielmo Marconi applies for a patent for his wireless telegraph.
June 3
1140: The French scholar Peter Abelard is found guilty of heresy.
1889: The first long-distance electric power transmission line in the United States is completed, running 14 miles (23 km) between a generator at Willamette Falls and downtown Portland, Ore.
1929: American game show host and producer Chuck Barris born.
1961: American lawyer, academic, author, and founder of the Creative Commons Lawrence Lessig born.
1965: The launch of Gemini 4, the first multi-day space mission by a NASA crew. Ed White, a crew member, performs the first American spacewalk.
June 4
1783: The Montgolfier brothers publicly demonstrate their montgolfière (hot air balloon).
1876: An express train called the Transcontinental Express arrives in San Francisco, via the First Transcontinental Railroad only 83 hours and 39 minutes after leaving New York City. (Insert your own Amtrak joke here.)
1907: American actress Rosalind Russell born. Russell starred with Cary Grant in His Girl Friday, one of the best—and funniest—newspaper movies ever made.
1917: The first Pulitzer Prizes are awarded. Laura E. Richards, Maude H. Elliott, and Florence Hall win the first Pulitzer for biography (for Julia Ward Howe); Jean Jules Jusserand wins the first Pulitzer for history for his work With Americans of Past and Present Days; and Herbert B. Swope receives the first Pulitzer for journalism for his work for the New York World.
June 5
1851: Harriet Beecher Stowe's anti-slavery serial, Uncle Tom's Cabin, or Life Among the Lowly, starts a ten-month run in the National Era abolitionist newspaper.
1919: American-Swiss author and illustrator Richard Scarry born.
1947: American singer-songwriter and violinist Laurie Anderson born.
1956: Elvis Presley introduces his new single, "Hound Dog," on The Milton Berle Show, scandalizing the audience with his suggestive hip movements.
June 6
1756: American soldier and painter John Trumbull born.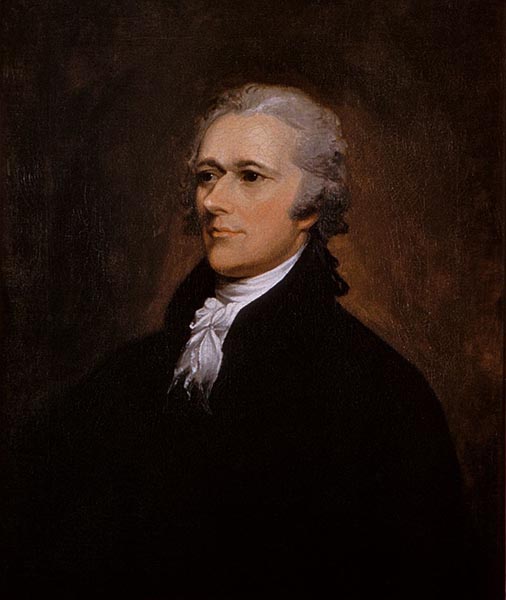 Portrait of Alexander Hamilton by John Trumbull, 1806.
1799: Russian author and poet Alexander Pushkin born.
1875: German author, critic, and Nobel Prize laureate Thomas Mann born.
1892: The Chicago "L" elevated rail system begins operation.
1933: The first drive-in theater opens in Camden, N.J.
1946: American bass player and songwriter Tony Levin born.
June 7
1810: The newspaper Gazeta de Buenos Ayres is first published in Argentina.
1848: French painter and sculptor Paul Gauguin born.
1911: American engineer and designer Brooks Stevens born, most famous for designing the Wienermobile.
1955: Lux Radio Theatre signs off the air permanently. The show launched in New York in 1934, and featured radio adaptations of Broadway shows and popular films.
1958: American singer-songwriter, multi-instrumentalist, producer, and actor Prince (né Prince Rogers Nelson) born.
1971: The United States Supreme Court overturns the conviction of Paul Cohen for disturbing the peace, setting the precedent that vulgar writing is protected under the First Amendment to the United States Constitution.
1975: Sony introduces the Betamax videocassette recorder. Alas, the "videotape war" of the late 70s and early 80s would result in VHS becoming the dominant format...for a while.