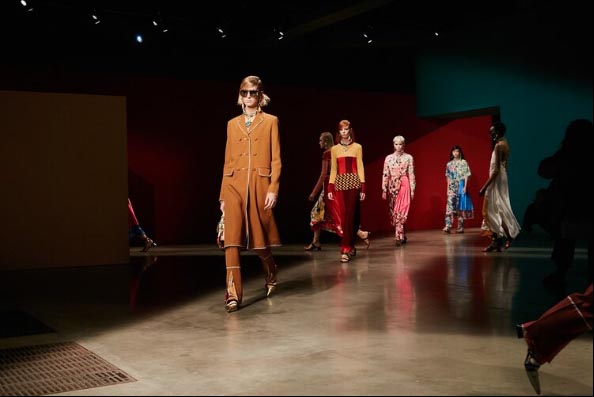 Image credit: British Fashion Council
As the lockdowns across the world wind down, the impact of COVID-19 becomes a reality for us all, forcing each and every one of us to change both business practices and our commercial behavior. Visibility is key, and online is the new forum for conversation and commerce.
The fashion industry has been hit hard and needs to reset. The British Fashion Council and the Council of Fashion Designers of America (CFDA) both call for the industry to slow down, adopt sustainable practices, and reject overconsumption. It's a big ask, but I believe that many in the industry want this change. However, the reality may be that "fast fashion" has created a consumer neurosis within retail and that will take some undoing.
The impact on the creative community has been heartbreaking. Freelance work has dried up, and while design studios have continued to create (as creatives must), the future is uncertain for us all. My thoughts this week, though, are for this year's graduates.
May and June are usually show time, the season of inspiration and joy as the crop of 2020 graduates emerges from universities across the globe, full of hope and joy (usually) and the energy is (normally) exhilarating. It's my favorite time of year, an opportunity to celebrate creative talent and watch the next generation flourish. However, this year is very different. There are no shows, and the universities and the catwalks are closed.
The difference between design events (for profit) and industry associations becomes apparent. Recently, New Designers, an exhibition and forum for the textile design community, was canceled until 2021. This is usually a launchpad for the industry, offering essential networking opportunities and collaboration for the class of 2020. The event has moved online and offers an awards program instead. For many, this is a heartbreaking disappointment, and now relegates this year's graduates to no man's land. We can only hope that the individual universities can collaborate to offer essential visibility to all students, regardless of awards, so that they can make that critical first step into their creative careers. I welcome your collective thoughts on this, and here at Texintel [and WhatTheyThink] we will do whatever we can to help in support of such initiatives. What can we all do, how can we all collaborate, to help this year's textile students?
Meanwhile, the graduate fashion foundation has gone much further, thankfully. Graduate Fashion Week is the largest worldwide showcase of the summer for BA graduates entering the fashion industry, and it hasn't been canceled but postponed. Importantly, even with postponement, the event has added numerous initiatives to support this year's graduates with online solutions to address their needs. This is the first time in 29 years that the event hasn't run as planned, but this challenge will be overcome…the charity is determined to support the next generation, and all activities and events within the new plan will deliver the charity's mission statement and objectives.
So, as the summer season begins for this year's graduates, as an industry, let's do whatever it takes to support this year's talented creatives.
Promoting and showcasing talent, rewarding and celebrating the best...[drumroll] congratulations, Class of 2020!