The Gray Lady
Last Sunday, theNew York Times published a somber but striking list of 1,000 Americans who have lost their lives to the COVID-19 pandemic. It is destined to become an iconic front page, because, like most iconic front pages and covers, it features well-executed typography. Nick Sherman at FontsInUse delves into some of the background of how that front page was developed and the typographic elements that made it work so well.
"It's a combination of typographic emphasis reserved only for very unique occasions by The Times – something approaching 'second coming' type, especially for a paper that is typically more restrained with its headline typography."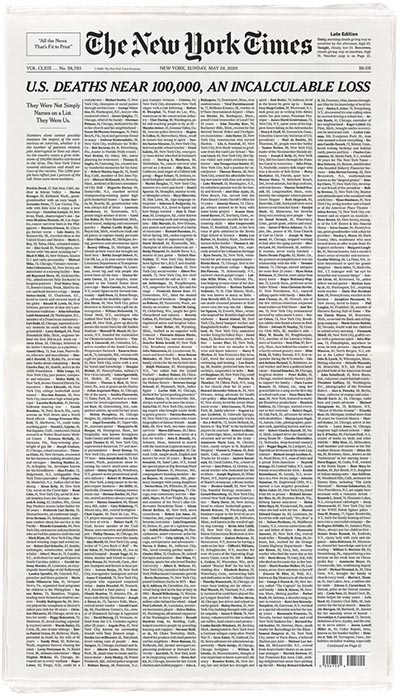 Metaphorical Signage
2020 pic.twitter.com/GRO45gDivC

— aaron. ??? (@_fluoreszent) May 23, 2020
Uneasy Lies the Head...
Well, now they're just getting silly. Via Core 77, Burger King Germany is giving away sombrero-sized social distancing crowns. "A Burger King representative told Business Insider, 'The do-it-yourself social-distance crown was a fun and playful way to remind our guests to practice social distancing while they are enjoying food in the restaurants.'"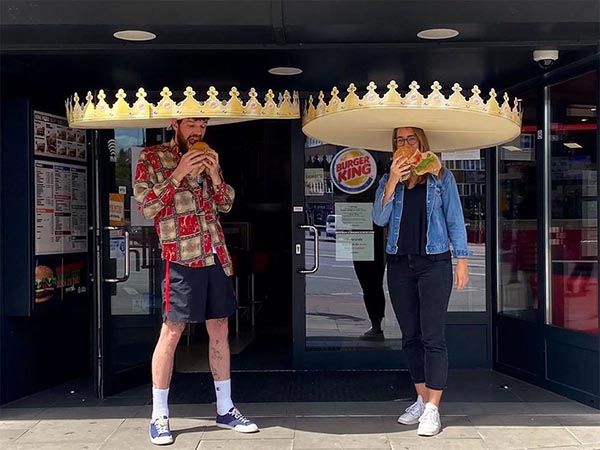 Other...unique ways of enforcing social distancing are on the rise. In Italy, BK is selling "Social Distancing Whoppers," with three times the normal amount of raw onions. That may taking social distancing too far (as it were).
But then there is Café & Konditorei Rothe in Germany that has patrons wear pool noodle hats.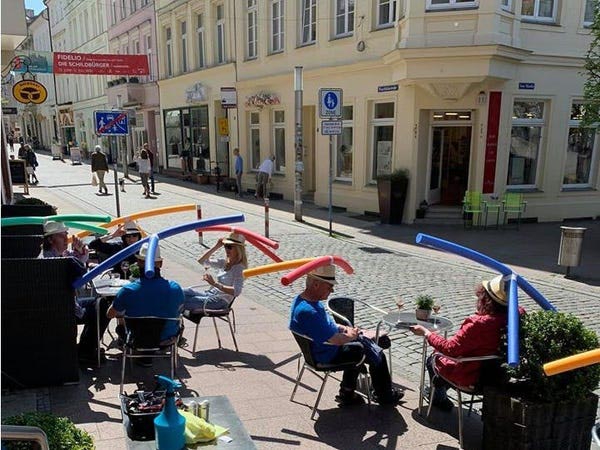 It'd be an amusing experiment to try to get the folks who won't even wear masks to go for those.
Slack Off
No One Aware Coworker Stormed Out Of Slack Meeting https://t.co/sInRAOqxqj pic.twitter.com/ybcqDqyM3g

— The Onion (@TheOnion) May 15, 2020
Supper for One
Via Boing Boing, the Zoom Last Supper: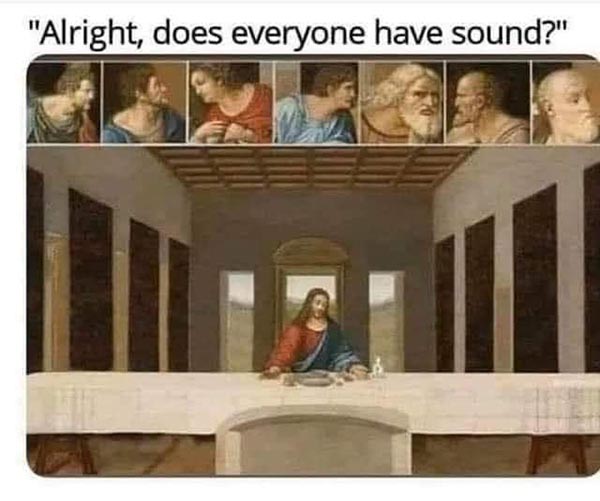 Looks like a few of the apostles had connectivity problems and couldn't log on.
Old Emojis
Public transportation emojis, 1910. (St. Louis Post Dispatch, via @_newspapers) pic.twitter.com/ywgDLDbn7C

— Undine (@HorribleSanity) May 24, 2020
Proto-Zoom
These days, video chatting has become fairly ubiquitous, even before the lockdown. But a video chat device was actually conceived more than 100 years ago.
Science-fiction author Hugo Gernsback was the owner and publisher of the magazine Electrical Experimenter, in which he wrote about his futuristic and often outré ideas. In the May 1918 issue, he wrote about a theoretical device called the "Television and Telephot," which is kind of a combination telephone and hand mirror.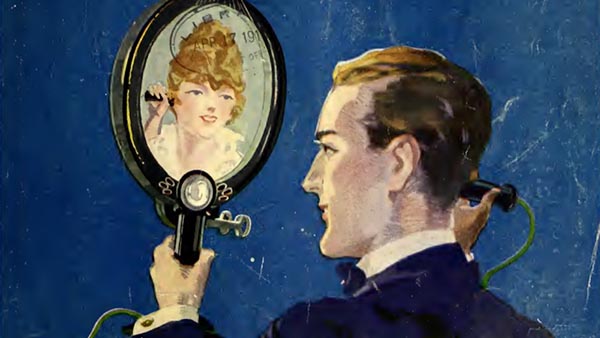 Wrote Gernsbach: "[The Telkephot] is supposedly an apparatus attachable to our present telephone system, so that when we speak to our distant friend, we may see his likeness not only as an immovable picture, but we will see his image exactly as we see our own image when looking into a mirror. In other words, the apparatus must faithfully follow every movement of our distant friend whether he is only five blocks away or one thousand miles. That such an invention is urgently required is needless to say."
We're not convinced of the urgency of such a device, but then in 1918, no one could have predicted the phenomenon of "Zoom fatigue." Gizmodo has more on The Telephot, Gernsbach, and TV, and find an archive of the Electrical Experimenter here.
Yours, Mine, and Hours
Pre-quarantine Me: I wish there were more hours in a day.

Quarantine: You sure?

— Akilah Green (@akilahgreen) May 27, 2020
Going Down
This sounds like a good idea regardless of COVID: a shopping mall in Bangkok, Thailand, has redesigned its elevators, taking out germy buttons and replacing them with foot pedals.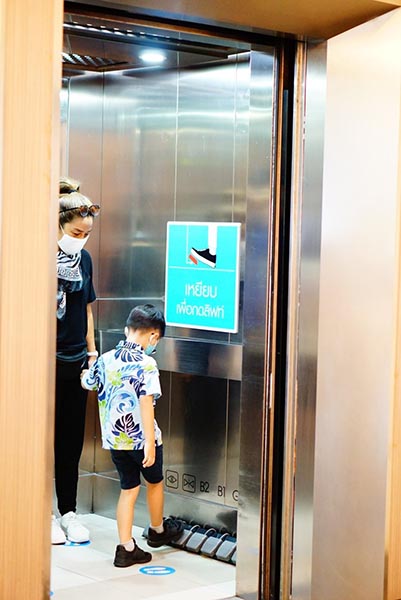 Obviously, this becomes impractical beyond a certain number of floors—and you just know that kid is in the process of stepping on all of them.
Contactless
I chose contactless delivery and the Grubhub guy showed up in glasses.

— (((Josh Malina))) (@JoshMalina) May 26, 2020
Spritz the Cat
Do you like hand sanitizer but wish you could spray it from your wrist like Spiderman slinging webs? No, we don't either, but for those who do, we give you the PumPix: a wearable sanitizer dispenser that straps to your wrist and from which you can jet sanitizer on your hand or on a desired surface, object, person, or perhaps even pet.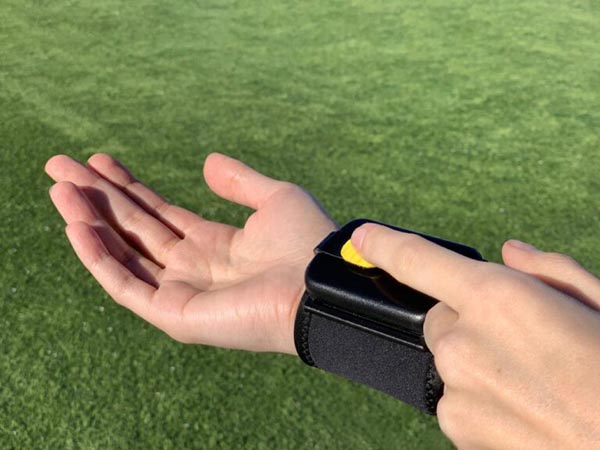 Holy Spritz
if we only keep one thing from this pandemic, i hope it's priests with water pistols pic.twitter.com/2LNCjqEFtc

— beth (@bethbourdon) May 24, 2020
On the House
Because we're rather fond of our vertebrae, we are not into skateboarding, but the quarantine has been especially difficult on skateboarders. So what to do when the urge to ollie (no idea what that means) strikes? Of course: turn the house into a skatepark, which is exactly what two teenagers did. (Well, you didn't think it was going to be a couple of middle-aged guys, did you?) To enter—and win—a contest called "Murder Your House" (!), sponsored by beverage company Liquid Death (!!) and The Berrics, "The Dern Bros not only went through the contest of skating in and on the house, but also built elaborate ramps, fixtures, additions and more into a 'bust-free spot' in Apopka, Florida."
And then mom came home...
Manking Movies
Unexpected upside of making television at home for @tcm - the opportunity to spend an afternoon gazing into my own eyes. pic.twitter.com/yk7vrdzGYe

— Ben Mankiewicz (@BenMank77) May 26, 2020
Rowling Along
Everything old is new again. Back in the 19th century, novels used to appear in monthly or weekly installments before appearing in book form. Charles Dickens in particular serialized most of his novels. More contemporary authors have experimented with the idea of a serialized novel; in the 1990s, Stephen King published The Green Mile in six monthly installments.
Now, J.K. Rowling is launching a new children's book called The Ickabog which will be released chapter-by-chapter online—and for free. "It isn't Harry Potter and it doesn't include magic," Rowling stressed. Check out the first couple of chapters here.
Horse Signs
Looks like the horse has learnt to make signs. Your move, alpacas. pic.twitter.com/IIrYfsiKbq

— John Finnemore (@JohnFinnemore) May 25, 2020
Silent Scream
Via The Guardian, it turns out that Edvard Munch's oft-stolen painting The Scream could benefit from a bit of physical distancing: it is fading due to exposure to the breath of museumgoers. In a way, it was Munch's fault: "Munch accidentally used an impure tube of cadmium yellow which can fade and flake even in relatively low humidity, including when breathed upon by crowds of art lovers." Hmmm...we wonder what Munch's reaction was when he realized that?
Now We Know It's Bad
Can't believe it - even the typewriter shop has closed down. pic.twitter.com/KTDl1YQmq2

— John O'Farrell (@mrjohnofarrell) May 27, 2020
The Write Stuff
We were admittedly a bit bemused to hear of "Write-Only," a "web typewriter" that doesn't allow deleting or any other kind of editing, bringing to the Internet age a return to the halcyon days when you had no choice but to write first and edit later. But there is apparently a method to this seeming madness: "Type your words in the little box. Don't edit them because you can't. When you're done, copy them from the big box and paste them into your normal editor. Then turn the Critic loose on that manuscript. But first you have to just write."
Cross Words
I was really looking forward to taking a 'Beginners Wordplay' class. I was gutted to find out it was actually 'Beginner Swordplay'.

— Richard Osman (@richardosman) May 27, 2020
Write Only
The lockdown era has also, says the BBC, rekindled an interest in another old-fashioned medium: letter-writing. "As the lockdown was introduced in the Republic of Ireland in late March, the postal service, An Post, sent each household two free stamps and postcards to encourage people to write to each other. It has since reported an increase in non-business, person-to-person mail. Riona Nolan, a 17-year-old student from County Carlow, used the opportunity to cut back on social media and instead put pen to paper."
Hiyo, Silver!
I'm old enough to remember when Americans said of one of their biggest heroes, "Who was that masked man?" pic.twitter.com/quaMuDbTnm

— glennwsmith (@glennwsmith) May 27, 2020
A-ha!
For many of us who came of age in the 1980s, there are few things more iconic than the music videos of that era. The Treble is a contemporary Winnipeg-based alt-rock band and recently released a video for their song "No Secrets (There for You)." In the video, they restage several of those old video moments. A fun game to play (and, yes, that may be a definition of "fun" with which you are unfamiliar) is to see how many you can spot.
Games People Play
ruin a protein by changing one amino acid

— ImmunoGoogling, Leukocyte Acolyte (@ImmunoGoogling) May 23, 2020
RUIN A CITY OF ANCIENT PHOENICIA BY CHANGING 4-17 LETTERS

— Bill Corbett (@BillCorbett) May 23, 2020
The Endless Enigma
Carl Palmer of prog rock giants ELP proudly displaying a home grown radish. It's what lock-down is all about. I wonder if any other great rock star has brandished the radish? @RobynHitchcock? https://t.co/UxuW8K34ls

— David White ?????? ?? (@KrasnyiDJW) May 28, 2020
This Week in Printing, Publishing, and Media History
May 25
1803: American poet and philosopher Ralph Waldo Emerson born.
1878: Gilbert and Sullivan's comic opera H.M.S. Pinafore opens at the Opera Comique in London.
1895: Playwright, poet, novelist and aesthete Oscar Wilde is convicted of "committing acts of gross indecency with other male persons" and sentenced to serve two years in prison.
1898: American publisher, television game show panelist, and co-founder of Random House Bennett Cerf born.
1927: American soldier and author Robert Ludlum born.
1938: American short story writer and poet Raymond Carver born.
1953: The first public television station in the United States officially begins broadcasting as KUHT from the campus of the University of Houston.
1958: English singer, songwriter and musician Paul Weller born.
1977: May the 25th be with you: Star Wars is released in theaters.
2019: Towel Day 2019, annual celebration of the life and work of Douglas Adams and The Hitchhiker's Guide to the Galaxy.
May 26
1897: Dracula, a novel by Irish author Bram Stoker, is published.
1897: The original manuscript of William Bradford's history, "Of Plymouth Plantation" is returned to the Governor of Massachusetts by the Bishop of London after being taken during the American Revolutionary War.
1904: English singer-songwriter and actor George Formby born.
1926: American trumpet player, composer, and bandleader Miles Davis born.
1967: It was 53 years ago today: The Beatles' Sgt. Pepper's Lonely Hearts Club Band is released.
May 27
1911: American actor Vincent Price born.
1912: American novelist and short story writer John Cheever born.
1925: American journalist and author Tony Hillerman born.
1930: The 1,046 feet (319 m) Chrysler Building in New York City, the tallest man-made structure at the time, opens to the public.
1933: The U.S. Federal Securities Act is signed into law requiring the registration of securities with the Federal Trade Commission.
1933: The Walt Disney Company releases the cartoon Three Little Pigs, with its hit song "Who's Afraid of the Big Bad Wolf?"
1934: American author and screenwriter Harlan Ellison born.
May 28
1883: English-Welsh architect and designer of the Portmeirion Village Clough Williams-Ellis born. Be seeing you.
1908: English journalist, author, and creator of James Bond Ian Fleming born.
1936: Alan Turing submits On Computable Numbers for publication.
1945: American singer-songwriter, guitarist, and producer John Fogerty born, not on the bayou.
1961: Peter Benenson's article "The Forgotten Prisoners" is published in several internationally read newspapers. This will later be thought of as the founding of the human rights organization Amnesty International.
May 29
1886: Pharmacist John Pemberton, inventor of Coca-Cola, places the first advertisement for his product in The Atlanta Journal. It would not be the last.
1913: Igor Stravinsky's ballet score The Rite of Spring receives its premiere performance in Paris, France, provoking a riot.
May 30
1631: The first French newspaper, Gazette de France, makes its début.
May 31
1669: Samuel Pepys records the last event in his famous diary, due to failing eyesight.
1790: The United States enacts the Copyright Act of 1790, the country's first copyright statute.
1819: American poet, essayist, and journalist Walt Whitman born.
1894: American comedian, radio host, game show panelist, and author Fred Allen (néJohn Florence Sullivan) born.
2005: Vanity Fair reveals that Mark Felt was "Deep Throat."