As Time Goes By
For Today's Happy, just a meme that made me chuckle... pic.twitter.com/h7raT7swfT

— TJ Creamer (@Astro_TJ) May 21, 2020
Outfoxed
Anyone who has ever learned to write or type is familiar with a pangram—a sentence that contains each letter of the alphabet at least once. The most famous, of course, is "The quick brown fox jumps over the lazy dog." There are others, a favorite of ours being the almost Dylanesque "jackdaws love my big sphinx of quartz" (once you sing it like Dylan, you will never hear it another way again). Pangrams are also useful for proofing fonts—you never know what havoc a rogue ascender or descender will wreak. However, using pangrams to select type is not without its issues, as Jonathan Hoefler explains. "The far more pernicious issue with pangrams, as a means for evaluating typefaces, is how poorly they portray what text actually looks like. Every language has a natural distribution of letters, from most to least common, English famously beginning with the E that accounts for one eighth of what we read, and ending with the Z that appears just once every 1,111 letters." He suggests some alternatives.
When Typesetters Drink
a friend of mine recently rediscovered this news story from the Peterborough Standard in the 70s where some kind of printing malfunction happened, and it remains one of the funniest things I've ever read pic.twitter.com/7dtDNIeRTe

— Imogen West-Knights (@ImogenWK) May 20, 2020
O Caption, My Caption!
If you have Disney+, you may not have discovered that unlike other streaming services—and DVDs before them—you actually have a great deal of control over how subtitles are displayed, including typeface. That even includes, says Gizmodo, Comic Sans.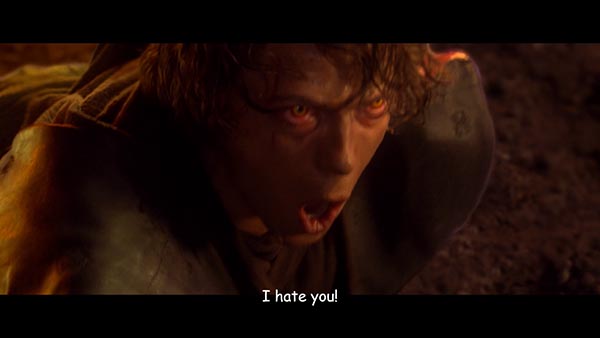 Granted, Disney+ would probably never show Scarface, but how funny would that be closed-captioned in Comic Sans?
The Pits
In this drive to recruit thousands of people to pick fruit, I bet the cherry picking industry ends up with the best candidates.

— Richard Osman (@richardosman) May 19, 2020
Masking
Ecofibre and Texinnovate collaborate to produce Hemp Black masks for frontline workers. The multi-layer 3D knitted masks are not intended for clinical use but will fill a need in the healthcare and other frontline industries. Reusable and washable up to 25 times. Manufacturing capacity for the Hemp Black fusion facemask will be set at c.160,000 units per month by August 1, 2020.
No Is...No!
Friend: Listen, I think you may have a problem with overusing contractions.

Me: It's what it's.

— Jo (@writeden) May 15, 2020
Going Antiviral
Swiss firm Livinguard has an antiviral treatment that can make face masks even safer. "[T]extiles treated with Livinguard's breakthrough technology can destroy pathogens of all kinds upon contact, including Human coronavirus 229e. This protection is sustained through multiple uses and washes."
Good Question
Does anybody else not like question marks.

— Tim Vine (@RealTimVine) May 16, 2020
Q: Are These Not Masks? A: They Are Devo
There's no traditionalist like a new traditionalist: Devo is selling PPE face shields based on their "Energy Dome":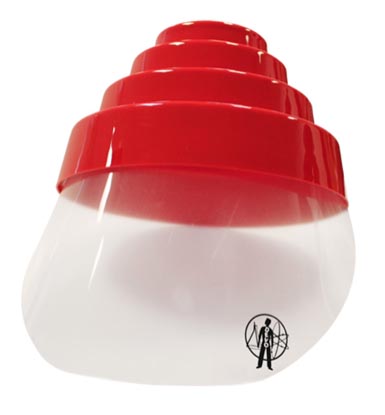 Pre-order yours now!
No One's Gone to the Movies
When this is over, we're going to need independent movie theaters more than ever. Until then, they need us. ??? THREAD ??? pic.twitter.com/OYdT4YKqQV

— Kino Lorber (@KinoLorber) May 19, 2020
Clothing Alterations
From Forbes: How the fashion industry will change in a post COVID-19 world. "COVID-19 has exposed a fundamental weakness in the traditional fashion system: matching supply and demand. Industry leaders have long known that the old way of doing things – i.e. seasonally manufacturing items abroad without any advance customer feedback and then, months later, hoping that these items sell in retail stores around the world – doesn't work."
Mug Shot
You paid for a mug that needs software upgrades https://t.co/QGZrafONq8

— Internet of Stay Home (@internetofshit) May 16, 2020
For Gorn Conclusion
Need a reminder about social distancing? A Star Trek: TOS mug from Tom Edwards Pottery provides a perfect analogy.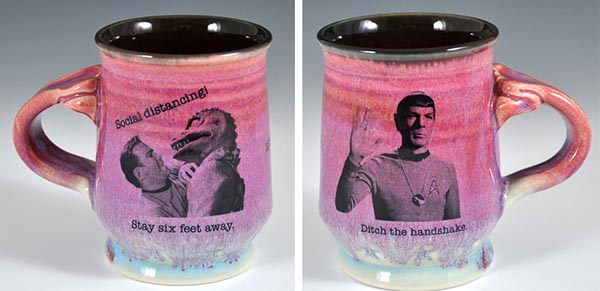 A Touch of Frost
Two roads diverged in a yellow wood
I took the one less travelled
Because it was strongly suggested by health experts! pic.twitter.com/HGsu0DvV4e

— Jeremy Woodcock (@jwPencilAndPad) May 20, 2020
Would You Believe...
Kudos for designers for coming up with ways to help with social distancing while still allowing people to be social...but we're with Core77 that this restaurant table design is not especially practical.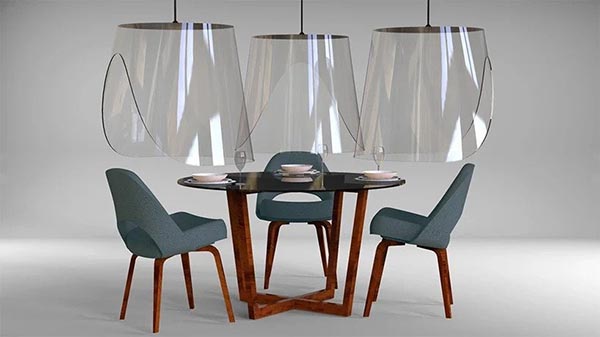 Or about as practical as...
Bright Future in Sales
Zoom Crasher Becomes Too Engrossed In Sales Meeting To Scream Obscenities https://t.co/8Gfl8nktni pic.twitter.com/NOHRsf4Y0s

— The Onion (@TheOnion) May 17, 2020
All's Well That Ends...Well, Maybe Not
Now the pandemic is serious: Shakespeare's Globe Theater in London is shut down and feeling the financial strain of the pandemic. From the BBC:
Shakespeare's Globe Theatre has called for urgent funding to avoid going out of business due to the "devastating" impact of the coronavirus pandemic.
The London venue has been shut since 20 March and has warned MPs it is "critically vulnerable and at risk of closure in the wake of Covid-19".
It said it would need at least £5m to get back up and running.
If you're a fan of the Bard, you can donate to help save the Globe here.
Nobody Knows Who They Were or What They Were Doing
The summer solstice—on or around June 21—draws masses of people to Stonehenge to watch the sunrise. Alas, this year, English Heritage, which manages the site, is canceling the event and replacing it with—wait for it—a livestream. "For the first time, the annual solar-and-stone alignment will be broadcast live online."
"If you want to join the virtual celebration of the changing of the seasons, you can check out English Heritage's Summer Solstice 2020 event page, which includes a city-by-city list of exact times to view the perfect sunrise and sunset moments."
Throw in the Towel
Read A Hitchhiker's guide to the Galaxy? On 25 May, we're celebrating the late Douglas Adams, the book's author & one of our founder patrons, by teaming up with @TowelDay2020 for an afternoon of comedy, poetry & more: https://t.co/z3O8f2o0Wh #douglasadams #stayinfortowelday pic.twitter.com/iqMUbAiYB9

— Save the Rhino (@savetherhino) April 30, 2020
Melon Crazy
The infamous "Gallagher Gang" strikes in Virginia: "Watermelon-head shoplifters rob convenience store: A pair of shoplifters stood out from the masked throng when they robbed a Virginia convenience store while wearing hollowed-out watermelons with eyeholes." It apparently was not a foolproof disguise: "Justin Rogers, 20, faces charges of misdemeanor larceny of alcohol, misdemeanor possession of alcohol by an underage person, and felony prohibition of wearing a face covering in public." We're guessing that last law will probably be coming off the books.
High Times
Marijuana is legal and haircuts are against the law. It took half a century but Hippies finally won.

— RUTH BUZZI (@Ruth_A_Buzzi) May 16, 2020
This Week in Printing, Publishing, and Media History
May 18
1048: Persian mathematician, astronomer, and poet Omar Khayyám born.
1593: Playwright Thomas Kyd's accusations of heresy lead to an arrest warrant for Christopher Marlowe.
1822: American photographer and journalist Mathew Brady born.
1872: British mathematician, historian, philosopher, and Nobel Prize laureate Bertrand Russell born.
1912: The first Indian film, Shree Pundalik by Dadasaheb Torne, is released in Mumbai.
1931: American cartoonist Don Martin born. (Splork!)
1949: English progressive rock keyboardist and songwriter Rick Wakeman born.
May 19
1743: Jean-Pierre Christin developed the centigrade temperature scale.
1941: American director, producer, and screenwriter Nora Ephron born.
Happy 45th Anniversary of the first time someone made a "Hope I die before I get old" joke to Pete Townshend on his birthday.

— J. Elvis Weinstein (@JElvisWeinstein) May 19, 2020
1963: The New York Post Sunday Magazine publishes Martin Luther King Jr.'s Letter from Birmingham Jail.
May 20
1570: Cartographer Abraham Ortelius issues Theatrum Orbis Terrarum, the first modern atlas.
1609: Shakespeare's sonnets are first published in London, perhaps illicitly, by the publisher Thomas Thorpe.
1799: French novelist and playwright Honoré de Balzac born.
1806: English economist, civil servant, and philosopher John Stuart Mill born.
1851: German-American inventor, and inventor of the Gramophone record, Emile Berliner born.
1873: Levi Strauss and Jacob Davis receive a U.S. patent for blue jeans with copper rivets.
1891: The first public display of Thomas Edison's prototype kinetoscope.
1908: American actor James Stewart born.
1983: First publications of the discovery of the HIV virus that causes AIDS in the journal Science by Luc Montagnier.
1985: Radio Martí, part of the Voice of America service, begins broadcasting to Cuba.
May 21
1471: German painter, engraver, and mathematician Albrecht Dürer born.
1688: English poet, essayist, and translator Alexander Pope born.
1703: Daniel Defoe is imprisoned on charges of seditious libel.
1927: Charles Lindbergh touches down at Le Bourget Field in Paris, completing the world's first solo nonstop flight across the Atlantic Ocean.
1932: Bad weather forces Amelia Earhart to land in a pasture in Derry, Northern Ireland, and she thereby becomes the first woman to fly solo across the Atlantic Ocean.
1981: Transamerica Corporation agrees to sell United Artists to Metro-Goldwyn-Mayer for $380 million after the box office failure of the 1980 film Heaven's Gate.
1992: After 30 seasons Johnny Carson hosted his penultimate episode and last featuring guests (Robin Williams and Bette Midler) of The Tonight Show.
May 22
1783: English physicist and inventor (the electromagnet and electric motor) William Sturgeon born.
1804: The Lewis and Clark Expedition officially begins as the Corps of Discovery departs from St. Charles, Mo.
1813: German composer Richard Wagner born.
1859: British writer Arthur Conan Doyle born.
1900: The Associated Press is formed in New York City as a non-profit news cooperative.
1906: The Wright brothers are granted U.S. patent number 821,393 for their "Flying-Machine."
1907: English actor, director, and producer Laurence Olivier born.
1927: American novelist, short story writer, editor, and co-founder of The Paris Review Peter Matthiessen born.
The 20th anniversary of the death of Barbara Cartland. She wrote 723 novels, was Princess Diana's step grandmother, and in the 30s invented the long-distance glider-tow, which was to play an important part in the Allied action in the Second World War. pic.twitter.com/IBJehlsdAO

— Richard Coles (@RevRichardColes) May 21, 2020
May 23
1829: Accordion patent granted to Cyrill Demian in Vienna, Austrian Empire.
1911: The New York Public Library is dedicated.
1934: Electronic engineer and inventor of the Moog synthesizer Robert Moog born.
1995: The first version of the Java programming language is released.
May 24
1595: Nomenclator of Leiden University Library appears, the first printed catalog of an institutional library.
1683: The Ashmolean Museum in Oxford, England, opens as the world's first university museum.
1686: Polish-German physicist, engineer, and developer of the Fahrenheit scale Daniel Gabriel Fahrenheit born.
1830: "Mary Had a Little Lamb" by Sarah Josepha Hale is published.
1844: Samuel Morse sends the message "What hath God wrought" (a biblical quotation, Numbers 23:23) from a committee room in the United States Capitol to his assistant, Alfred Vail, in Baltimore, Md,, to inaugurate a commercial telegraph line between Baltimore and Washington D.C.
1895: American publisher and founder of Advance Publications Samuel Irving Newhouse Sr. born.
1941: American singer-songwriter, guitarist, artist, writer, producer, and Nobel Prize laureate Bob Dylan born.
1956: The first Eurovision Song Contest is held in Lugano, Switzerland.
1958: United Press International is formed through a merger of the United Press and the International News Service.
1963: American novelist, short story writer, and screenwriter Michael Chabon born.