VIDEO: Cast Members From RENT Around the World Create 'No Day But Today' Video in Honor of Frontline Workers
Get Back (Six Feet)
"John, you're on mute. John. Mute. You have to unmute." pic.twitter.com/4N6kd0816m

— SIVA VAIDHYANATHAN?????? (@sivavaid) May 3, 2020
2020 Just Jumped the Shark
NY Times headline: "'Murder Hornets' in the U.S.: The Rush to Stop the Asian Giant Hornet."
Can we just end this year now, please?
If It's Not One Thing...
CNN headline: "Police are looking for an 'aggressive chicken' terrorizing bank customers in Louisiana."
At least it's not a "Murder Chicken."
Down at the Eel
It's good to know there's at least one species not out to get us—and in fact is forgetting about us humans entirely, which probably isn't the worst idea in the world. That would be the garden eel, and the Sumida Aquarium in Japan is encouraging people to FaceTime with the eels since, with a lack of visitors, they have started hiding when keepers walk past.
Fence Me In
Who's taking up fencing with me? pic.twitter.com/suuQH5ymmb

— M. Pamplemousse (@Gooner_Lopez) May 3, 2020
Love Letters
Everything may be awful right now, but this long Twitter thread, about one 11-year-old's love of writing letters, is worth reading in its entirety.
Emerson, my 11 year old, is on a bit of a wild ride with the @USPS and our local mail carrier, Doug.

And, I think there's a deeper message to it all.

First, the backstory...

— Hugh Weber (@hughweber) May 2, 2020
Pant-Based Diet
How your clothes end up on your dinner plate and the big plastic soup the planet is becoming.
SCOTUS Disrobed
Elena Kagan Mutes Microphone So She Can Listen To Supreme Court Arguments While Washing Dishes https://t.co/52WX3KRFGf pic.twitter.com/hiYMtQeKs8

— The Onion (@TheOnion) May 4, 2020
Cheap Clothes Are Expensive
The world is paying a high price for cheap clothes, says CNN: "The global fashion industry generates a huge amount of waste—one full garbage truck of clothes is burned or sent to a landfill every second, according to the a report by the Ellen MacArthur Foundation, a leading non-profit working to improve the industry's sustainability record."
Another One for the Gen Xers
The original, when they still used steam-powered boogaloo. https://t.co/i1h59dkyaf

— J. Elvis Weinstein (@JElvisWeinstein) May 4, 2020
Chintz Music
Did you know that the first known use of the word "chintzy" was in a letter written by author George Eliot to her sister? "[I]n 1851, the novelist George Eliot gave her opinion on some muslin fabrics. 'The quality of the spotted one is best,' she said, 'but the effect is chintzy'" said the BBC in a feature all about the fabric known as "chintz." It actually has a complicated history that dates back a thousand years to India and Pakistan. "Over time, the word 'chintz' came to be used to refer to a variety of fabrics. 'The term was appropriated in [the] English-speaking world in the 18th Century to reference industrially printed cottons.'" Click through for a tale of "armed trade, colonialism, slavery, and the dispossession of native peoples."
Darth of Time
I'm going to watch the #SkywalkerSaga exactly the same way I watched it the first time - spread out over 42 years.

— J. Elvis Weinstein (@JElvisWeinstein) May 4, 2020
Space Invaders
Finally some good news in the world. From The Verge: "Microsoft...has started to update Microsoft Word to highlight two spaces after a period (a full stop for you Brits) as an error, and to offer a correction to one space."
They have the thanks of a grateful nation.
The Wook of Love
I bet they're chewy. https://t.co/5zbDVcC4vE

— Richard Osman (@richardosman) May 4, 2020
Time Keeps On Slipping
If you felt that March lasted 30 years and April lasted 30 seconds, you are not alone. Over at Vox, a chat with a Dr. Adrian Bardon, a professor of philosophy and an expert in "the philosophy of time." What the heck is going on?
We feel that time is dragging, but it's also flying by. That comes out of the same situation. We're out of our routine. We're out of our structure. We're out of doing tasks that we would normally feel productive and good about. It's more like we're treading water or trying to deal with situations we don't want to deal with. And then in our retrospective judgment of the passage of time, it seems like things went by really quickly because we didn't really accomplish anything.
Dystopia
We are living in a 1977 sci fi novel on a sidewalk bargain rack in front of a used bookstore in a depressed coastal town. A faded sticker price reads $0.35 https://t.co/IJ42XRSYEK

— colin meloy (@colinmeloy) May 5, 2020
Andesbodies?
The NY Times says: "Scientists have long turned to llamas for antibody research."
Llamas? Who knew? Well, scientists, apparently. Turns out llamas could be our pandemic heroes.
Winter was simply the lucky llama chosen by researchers in Belgium, where she lives, to participate in a series of virus studies involving both SARS and MERS. Finding that her antibodies staved off those infections, the scientists posited that those same antibodies could also neutralize the new virus that causes Covid-19. They were right, and published their results Tuesday in the journal Cell.
This is why I've given up making predictions. Come on, how many of you saw 'Humanity saved by llamas' as the next development in this story? https://t.co/q8bOmYjzHN

— Jonathan Coe (@jonathancoe) May 1, 2020
OOH! Billboards!
Once states reopen and people start going out again, says Adweek, out-of-home (OOH) billboards are poised to become "prime real estate."
When the federal government told the country to stay home during the coronavirus pandemic, it was inevitable that out-of-home advertising would take it on the chin, as 40% of out-of-home advertisements lost their usual audiences, according to the industry's trade group.
As the U.S. begins to slowly open back up and consumers crawl away from their self-quarantines, advertisers will respond. And as they do, the billboard may become more valuable than ever.
Capital Idea
Apparently it's #PasswordDay so today's poem is about passwords.

It's called 'ee cummings attempts online banking'. pic.twitter.com/SDTkjpVmg5

— Brian Bilston (@brian_bilston) May 7, 2020
Variable Novel Printing
Percival Everett's new novel Telephone was published in a unique way: there are three different versions. From the NY Times: "The differences between the editions, which begin with the colophon, include extended or altered scenes and three distinct endings. The cover designs are nearly identical, but if you look closely, you can spot the differences."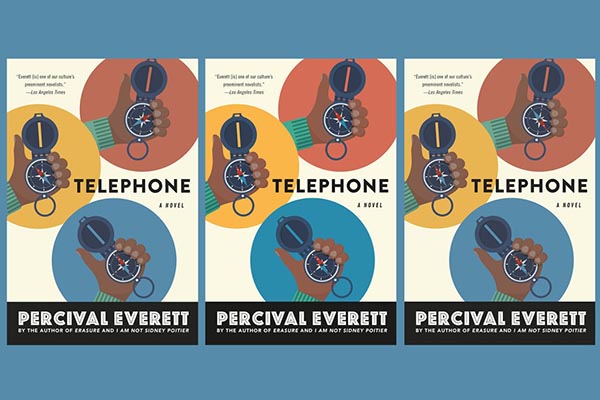 He considers the book an experiment that plays with the idea of who's in charge when reading. "I'm interested not in the authority of the artist, but the authority of the reader," he said, enunciating in a deep, slightly gravelly voice. "I certainly know that many people will not see what I saw. And many people will see different things from each other. That's the thrilling thing about making it. If somebody says, 'Did you mean this something?' I always say, 'Yes.'"
Muggling Through
Daniel Radcliffe and other stars are reading chapters of the first Harry Potter book on video with the audio available on Spotify https://t.co/AuujYUBx3x pic.twitter.com/kOjTrL8Mix

— The Verge (@verge) May 5, 2020
And You Don't Even Have to Shush
Just because you are (hopefully) self-quarantining doesn't mean you can't visit some of the world's most beautiful libraries. Atlas Obscura identifies seven libraries that offer online virtual tours. "These simulations can offer more than inspiring views of literary sanctuaries; often, they serve as interactive platforms that provide information about the library's history and resources." Some even allow virtual visitors to access online collections.
For example, Austria's Admont Abbey houses the world's largest monastic library: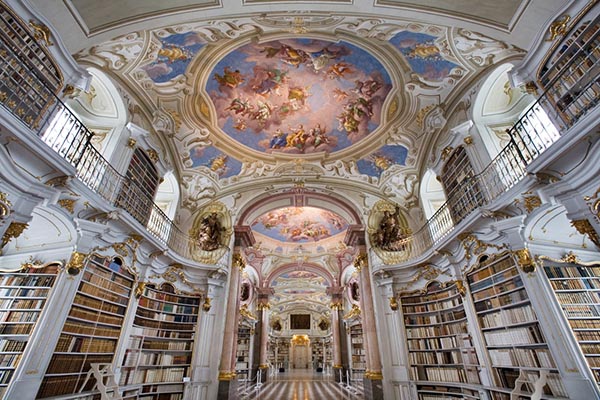 You can even take a virtual tour of the Puratos Sourdough Library. The what? Yes:
Founded in 2013 by the Belgian bakery supply company Puratos, this collection of sourdough starters in St. Vith is the largest of its kind. Although it is not open for public visits, you can virtually venture into its refrigerators, which collectively hold more than 100 blobs of yeast- and bacteria- laden flour in jars. After hearing a brief introduction from its sole curator, Karl De Smedt—who globetrots to acquire these glorious globs—check out short videos that spotlight varieties of yeast cultivated by bakers around the world, from Altamura to San Francisco.
It may even give you some ideas for bread baking, which is apparently a self-quaratining thing.
Bear with Us
I'm proud to live in California where the Governor listens to the realities of science and also a large bear whispering in his ear pic.twitter.com/qw7e1j1RxP

— Joseph Scrimshaw (@JosephScrimshaw) April 15, 2020
This Week in Printing, Publishing, and Media History
May 4
1939: Israeli journalist and author Amos Oz born.
1953: Ernest Hemingway wins the Pulitzer Prize for The Old Man and the Sea.
1959: The 1st Grammy Awards are held.
Released #OTD 1967 Waterloo Sunset - The Kinks

Still a wonderful record all these years later..

'Every day I look at the world from my window..' pic.twitter.com/IAAziiwpp8

— Vinny M (@MVinny69) May 5, 2020
1972: The Don't Make A Wave Committee, a fledgling environmental organization founded in Canada in 1971, officially changes its name to "Greenpeace Foundation."
May 5
1809: Mary Kies becomes the first woman awarded a U.S. patent, for a technique of weaving straw with silk and thread.
1813: Danish philosopher and author Søren Kierkegaard born.
1835: The first railway in continental Europe opens between Brussels and Mechelen.
1864: American journalist and author Nellie Bly born.
1866: Memorial Day first celebrated in United States at Waterloo, N.Y.
1891: The Music Hall in New York City (later known as Carnegie Hall) has its grand opening and first public performance, with Tchaikovsky as the guest conductor.
1905: The trial in the Stratton Brothers case begins in London, England; it marks the first time that fingerprint evidence is used to gain a conviction for murder.
1912: Pravda, the "voice" of the Communist Party of the Soviet Union, begins publication in Saint Petersburg.
1927: Semi-colon lovers' national holiday—To the Lighthouse by Virginia Woolf is first published.
1943: English actor and screenwriter Michael Palin born.
I wish to register a complaint. #johncleese #montypython #deadparrot pic.twitter.com/DZDpe28ifO

— John Cleese (@JohnCleese) May 1, 2020
1959: English singer-songwriter and guitarist Ian McCulloch born.
May 6
1536: King Henry VIII orders English-language Bibles be placed in every church. In 1539, the Great Bible would be provided for this purpose.
1835: James Gordon Bennett, Sr. publishes the first issue of the New York Herald.
1840: The Penny Black postage stamp becomes valid for use in the United Kingdom of Great Britain and Ireland.
1915: American actor, director, producer, and screenwriter Orson Welles born.
1940: John Steinbeck is awarded the Pulitzer Prize for his novel The Grapes of Wrath.
1949: EDSAC, the first practical electronic digital stored-program computer, runs its first operation.
1960: American singer-songwriter and guitarist (They Might Be Giants) John Flansburgh born.
May 7
1711: Scottish economist, historian, and philosopher David Hume born.
1812: English poet and playwright Robert Browning born.
1824: World premiere of Ludwig van Beethoven's Ninth Symphony in Vienna, Austria.
1840: Russian composer and educator Pyotr Ilyich Tchaikovsky born.
1846: The Cambridge Chronicle, America's oldest surviving weekly newspaper, is published for the first time in Cambridge, Mass.
1952: The concept of the integrated circuit, the basis for all modern computers, is first published by Geoffrey Dummer.
May 8
1886: Pharmacist John Pemberton first sells a carbonated beverage named "Coca-Cola" as a patent medicine.
1912: Paramount Pictures is founded.
1920: American graphic designer and director Saul Bass born.
1926: English environmentalist and television host David Attenborough born.
1926: American comedian and actor Don Rickles born.
1937: American novelist Thomas Pynchon born.
1980: The World Health Organization confirms the eradication of smallpox. (Those were the days.)
May 9
1911: The works of Gabriele D'Annunzio are placed in the Index of Forbidden Books by the Vatican.
1958: Alfred Hitchcock's film Vertigo has world premiere in San Francisco.
May 10
1824: The National Gallery in London opens to the public.
1869: The First Transcontinental Railroad, linking the eastern and western United States, is completed at Promontory Summit, Utah with the golden spike.
1902: American director and producer David O. Selznick born.
1954: Bill Haley & His Comets release "Rock Around the Clock," the first rock and roll record to reach number one on the Billboard charts.
1962: Marvel Comics publishes the first issue of The Incredible Hulk.
1975: Sony introduces the Betamax videocassette recorder in Japan.