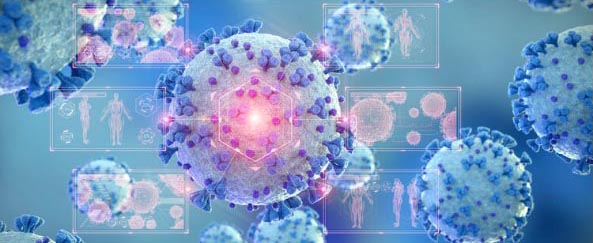 Image courtesy Textintel.
Offering inherently protective garments and accessories within the fashion industry makes perfect sense, as do antiviral textiles and surfaces for the decor industry.
Textiles are the fabrics of our lives, literally, offering protection from extreme cold, excessive heat, and moisture; but in the COVID age, the urgent need for antiviral fabrics opens up a whole new chapter for the development of antimicrobial surfaces that now take center stage in the ongoing armory of PPE, a term that we are now all-too-familiar with.
As we emerge in unity from a global viral attack on our very species and seek to reduce the risk of contamination by changing everything that was once "normal," how do we protect our freedom?
Could PPE apparel, smart textiles, wearables, and protective clothing for the fashion, sportswear, interiors, and hospitality industries offer the solution?
What was once a requirement predominantly for the medical profession is now set to cross into the general apparel sector—and beyond. Offering protective garments and accessories within the fashion sector makes perfect sense, as it does for the décor industry. Traction is growing, and it is about to become big business. As such, it offers the print industry a whole host of new opportunities.
Deep within the textile industry, scientists and textile technologists are working in unison and via corporate collaboration to develop innovative, groundbreaking technologies that, when deployed within the wider textile sectors, will nurture new commercial partnerships that will undoubtedly change the landscape of common textiles, moving forward to provide a solution that offers both scientific assurance and comfort to the global community, enhancing the fabrics we are all familiar with. It's these invisible coatings and new fibers that offer us protection from an equally invisible enemy.
Using new, patented technologies alongside existing processes and developments, scientists in collaboration with textile technologists and the finishing industry are powering ahead, with several stand-out processes, worthy of note:
HeiQ Viroblock
In Switzerland, in the last month, HeiQ launched HeiQ Viroblock NPJ03, an antiviral and antibacterial textile chemical compound that is added to the fabric during the final stage of the textile manufacturing process. This patent pending formulation claims to have strong antimicrobial effects against bacteria and enveloped viruses.
It is also suitable for washable fabrics, because the treatment remains effective for up to 30 gentle washes. It has been tested to ISO 20743 for rapid antiviral effect.
In a much-admired move, HeiQ has offered FOC licenses for this product to the textile finishing industry to help fight COVID-19 via antiviral fabrics.
Sonovia Non-Contact Coating
In Israel, the Sonovia Group, has developed patents both for chemicals and finishing processes. Last June, it received patents for its non-contact process that uses a sustainable and safe ultrasonic antibacterial coating method, which can treat any type of fabric.
The technique uses a binderless formulation in a unique application process called "cavitation," which imparts a greatly improved performance to the fabric, which is now able to withstand up to 100 hard washes before the coating deteriorates.
Wearwell Virustatic® Shield
In England, the British workwear manufacturer Wearwell in association with researchers at Manchester University, using a patented antiviral fabric supplied by Pincroft, have started production of antiviral PPE for the National Health Service. The fabric uses a unique germ-trapping technology which is proven to offer 96% protection against viruses, including COVID-19.
Comprehensively tested by UK laboratories, the fabric will also protect against other viruses such as influenza, because the protein layer embedded within the fabric actively attacks the source of the infection.
Hong Kong University of Science and Technology-MAP 1 Coating
Researchers at a Hong Kong University have developed an antiviral coating which could provide 90 days of "significant" protection against bacteria and viruses such as the one causing COVID-19. The coating, called MAP-1, took 10 years to develop and can be sprayed on surfaces that are frequently used by the public, such as elevator buttons and handrails. The treatment is boosted by heat-sensitive polymers that, upon human contact, encapsulate and release disinfectants from the nano capsules that contain the antiviral chemicals. The coating is claimed to be non-toxic and safe for human use.
Promethean Particles Nano-Copper
In the UK, the trailblazing Promethean Particles company is cooperating with textile companies to explore the antiviral effect of its copper nanoparticles technology. Promethean Particles participated with UK and Mexican textile companies to develop durable antimicrobial textiles for the healthcare sector. They found that by embedding nano-copper in the fiber extrusion process, the fabrics formed lasted much longer than surface-coated products which lost their effect after multiple washes.
With this research, the way is now open for non-woven fabrics to be formed using the nano-copper technology, giving a much higher degree of virus resistance to face masks and other PPE equipment.
IIT Guhwati Spray Coating for PPE
In India, the IIT at Guhwati have filed for a patent for their metal-based chemical spray which they say is cheap and effective. Silver and copper nanoparticles are combined in an antiviral cocktail to limit viral penetration and reduce the risk of secondary transmission and infection. The compound can be sprayed or dip-coated onto textiles and provides a dynamic and consistent protection against coronavirus transmission.
A Silver Lining?
They say that every cloud has a silver lining…interesting then that silver too is antibacterial.
"Evolution" has played a hand in the very existence of COVID and the devastating consequences that will now play out across the globe. Science predicted the pandemic, and yet we stood by and failed to prepare for the inevitable.
The term "2020 hindsight" will carry new meaning as we build to protect against the next invisible enemy.
The combined innovations produced by science and the experience of the textile industry are seen by many to be vital components in the quest for the protection of the human species and, crucially, to arm ourselves against COVID-19—and the next viral challenge we face.