Out of the gate in 2020, X-Rite Pantone releases a number of revolutionary color products for designers and printers—a new Pantone plugin for Adobe Creative Cloud, the latest Color Bridge fan deck, now aligned with GRACoL, and a next-generation i1Pro 3 measuring instrument. X-Rite Pantone has begun 2020 with an ambitious product line-up that is very relevant and beneficial to the color community.
Pantone Connect Extension
The Pantone Connect Extension for Illustrator (and Photoshop, etc.) has a number of features not found in Illustrator's native Swatches palette. There are "nice to have" features, such as color harmonies, and there are "must have" features, such as the automatic updating of the digital libraries.
Adobe automatically updates all its Creative Cloud applications, but for some reason Adobe and Pantone had not been able to agree on a way to automatically update the spot color digital libraries. This year, there are 294 new spot colors, so users will need to keep their digital libraries up-to-date—otherwise, content files that contain one of the new spot colors may not be correctly managed. The new Pantone Connect Extension ensures that the spot color libraries are kept current.
The plug-in requires a $29 annual subscription and, confusingly, via an online user account that is completely separate from other accounts such as myPANTONE or X-Rite device registration. In testing, the plug-in worked seamlessly, even from behind my organization's firewall security nightmare! Soon, the Connect Extension will integrate with smartphones and measurement devices. This is a cool new "plug-in on steroids" for spot colors.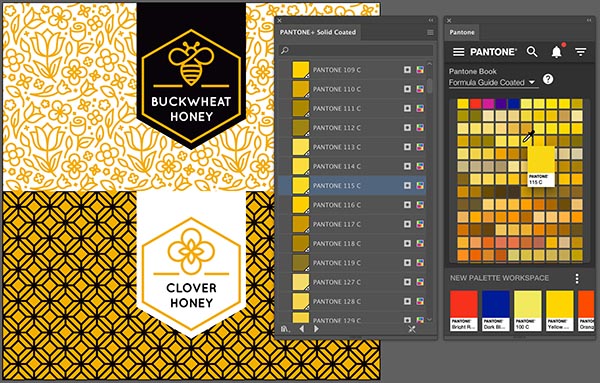 Pantone's new Connect Extension is a plugin to Illustrator that offers automatic updating of spot color digital libraries.
Pantone Swatch Books
The best-known part of the The Pantone Matching System (PMS) are the fan books or swatch books, called Guides. As a refresher, the basic set of guides comprise the Formula Guide, Color Bridge Guide, and Extended Gamut Guide.
The Formula Guide is the basic fan book that shows a color swatch and the Pantone number for that swatch. The Formula Guide has been updated with 294 new colors and now contains 2,161 swatches. The Color Bridge is a swatch book that shows which spot colors can be accurately simulated by a CMYK print process. The Color Bridge guide is split into two columns: on the left is a spot color printed with a single spot-color ink, and on the right is a simulation of that color printed using a four-color CMYK process. If a color looks the same in both the left and right columns of the Color Bridge, then, in terms of color, it doesn't matter how the job is printed, whether using a single spot-color ink or created more economically using a CMYK print process.
Up until 2020, the CMYK values indicated in the Color Bridge had been largely irrelevant as they would not create the required swatch color with any accuracy on your or my printing process, since the CMYK values were based on a particular Pantone printing press in Carlstadt, N.J. A very significant development is that the swatch book is now printed according to GRACoL (CRPC 6), so if you have a print process that is in accordance with GRACoL, then the CMYK numbers will directly create the required color. The CMYK values shown in the swatch book have suddenly become relevant and useful!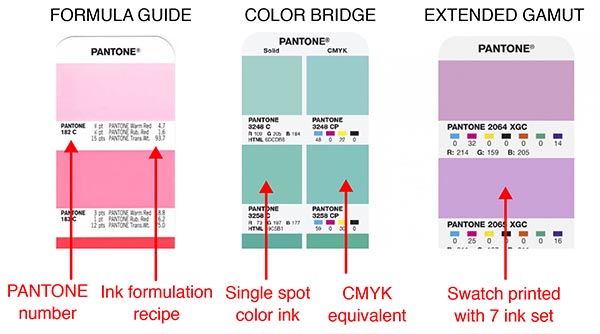 The PMS swatch books have undergone a revolution. In particular, the Color Bridge is now printed according to GRACoL—highly relevant useful for CMYK emulation of spot colors.
Color management users (which is—or should be—every user) will note that the RGB values in the Color Bridge have always been relevant, because their color was fully speci?ed, since the RGB values are associated with the sRGB color space. Now the CMYK values have also become relevant, since they are now associated with the GRACoL ICC profile/printing condition. This is a huge step in the right direction—well done, Pantone!
The final guide in the series is the Extended Gamut Guide, printed using seven inks—CMYK + Orange, Green, and Violet. The guide was printed at a North American package printer on an offset lithographic printing press.
The basic premise of the Extended Gamut Guide is that by adding those three additional inks to the traditional CMYK ink set, it is possible to accurately simulate many more Formula Guide colors than could be simulated by CMYK alone. Brand owners and designers can use the guide to make an informed decision on how a spot color will reproduce if sent to a seven-color, extended gamut print process. It is expected that, compared to reproduction of a spot color in the Color Bridge (which uses CMYK), many more of the Formula Guide colors can be matched by the Extended Gamut Guide. It may be counterintuitive, but the Extended Gamut Guide does not seek to extend the gamut of the spot color set; rather, it seeks to show the reproduction of existing spot colors in a printing process with more inks. It is relevant to note that there is never the need to use all seven colors at any one time—in fact each color in the Extended Gamut Guide has been created using a maximum of three inks at any one time.
X-Rite i1Pro 3 and i1Pro 3 Plus
The X-Rite i1Pro spectrophotometer is a widely used color measurement instrument that has become a household name in color management. The i1Pro is the flagship member of X-Rite's extended family of i1 (Eye-One) hardware and software products. The i1Pro device started life as a Gretag-Macbeth instrument manufactured in a small town outside Zurich, Switzerland. The original i1Pro came in UV-included and UV-excluded models. The first generation i1Pro is being phased out and X-Rite's popular profiling software—i1Profiler—will no longer support it. The i1Pro was re-designed to become the i1Pro 2 that uses a dual light source—tungsten and UV LED—to support M1 and M2 measurement modes within the same instrument, but with two passes.
The newly released i1Pro 3 now uses a single, full-spectrum LED and does M1 and M2 measurements in a single pass. The recommended patch size is now smaller, reduced from 7x8 mm to 7x7 mm and the instrument requires a new i1iO3 table. The device still comes in its familiar James Bond black briefcase with all the same accoutrements.
The i1Pro 3 is available in two configurations—i1Pro 3 and i1Pro 3 Plus. The Plus version supports the M3 measurement mode (for metallics, fabrics, and also to estimate ink dry back). The price is very reasonable starting at $1,700 (i1Pro 3) and $2,000 (i1Pro 3 Plus).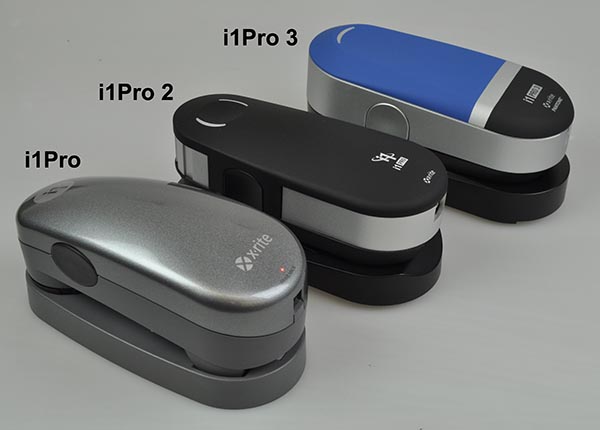 The i1Pro 3 (shown here in limited edition Color of the Year 2020—PANTONE Classic Blue) is the latest iteration of X-Rite's workhorse spectro, well-loved by color professionals throughout the modern world!
The year ahead promises to be colorful and exciting with these new developments and initiatives from the X-Rite Pantone group. Well done, X-Rite Pantone, in serving the color community. Watch this space for more exciting announcements.