It was only a matter of time before I did one of these #sorrynotsorry pic.twitter.com/bMu23N4iFr

— Samara Ginsberg (@samaracello) April 28, 2020
Print Now, Pay Later
FedEx Office has implemented a Print Preferred program that lets customers get print today and pay later. It eases (perhaps) the financial burden, helps businesses get flyers, posters, etc., produced during a difficult time, but also, since you have to register, it boosts the FedEx Office customer database.
It's a Steal
Many people have accused me of plagiarism, but those are their words not mine.#JNN

— Jenda @ Home (@allthingsnoisy) April 30, 2020
Who's Zoomin' Who?
We've all spent more time on Zoom in the last six weeks than in the previous six years and while it can give us the illusion of staying connected (or at least feeling like we're on The Hollywood Squares), as per the NY Times, it might be having a more negative effect than we think. "Psychologists, computer scientists and neuroscientists say the distortions and delays inherent in video communication can end up making you feel isolated, anxious and disconnected (or more than you were already). You might be better off just talking on the phone."
if you want to really communicate with someone in a meaningful way, video can be vexing.
This is foremost because human beings are exquisitely sensitive to one another's facial expressions. Authentic expressions of emotion are an intricate array of minute muscle contractions, particularly around the eyes and mouth, often subconsciously perceived, and essential to our understanding of one another. But those telling twitches all but disappear on pixelated video or, worse, are frozen, smoothed over or delayed to preserve bandwidth.
A Very Brady Quarantine
Say what you will about the Brady's, but they've been "zoom-in" since the 60's! pic.twitter.com/D4cya7MgYB

— Irene Bremis "cynically optimistic" she ??Y (@irenebremis13) April 17, 2020
Thrown for a Loss
We don't claim to be the experts on best practices for Zoom meetings, but we can safely offer this bit of advice: don't throw cats...well, ever, but certainly not while online live. From the Vallejo Times Herald: "[Vallejo Planning Commission member Chris] Platzer was seen drinking a beer and throwing his cat through the air during a commission meeting held via teleconference on April 20. He was also heard by city staff making derogatory remarks after the online meeting had ended. 'I'm going to call bull— on you little b—s,' according to the original commission meeting video released by the city on Saturday."
He subsequently resigned. The cat could not be reached for comment.
A Nice Walk Ruined
Nothing improves a golf course like the absence of golfers.

— Jonathan Coe (@jonathancoe) April 25, 2020
"I'm Not Wearing Any Pants, Film at 11"
Last week, we linked to a story about a California reporter who broadcast live from her bathroom, complete with showering partner in the background. This week, we cite the story of an ABC News reporter broadcasting a Good Morning America segment from home, clearly not wearing trousers.
Reeve was speaking with Good Morning America hosts Michael Strahan and Amy Robach about the ways that pharmacies like CVS are exploring strategies to deliver prescriptions via drone. But it's safe to say that viewers were probably distracted by the fact that Reeve was just chilling on a chair wearing a suit jacket and no pants.
One would have thought a production manager, director, or whoever is coordinating the program would have mentioned it to him before going live, but maybe they decided to prank him instead.
Mute Witness
Teleconferencing Pastor Requests Any Worshipper Currently Speaking In Tongues Go On Mute https://t.co/M9QjV8azG5 pic.twitter.com/ckgy1FJ2Ad

— The Onion (@TheOnion) April 28, 2020
(Old) Spicing Up P&G's Packaging
From Packaging World: "Procter & Gamble Beauty has announced that beginning this May at 500 Walmart stores in the U.S., both Old Spice and Secret brand deodorants will be introduced in all-paper, plastic-free, tube packaging."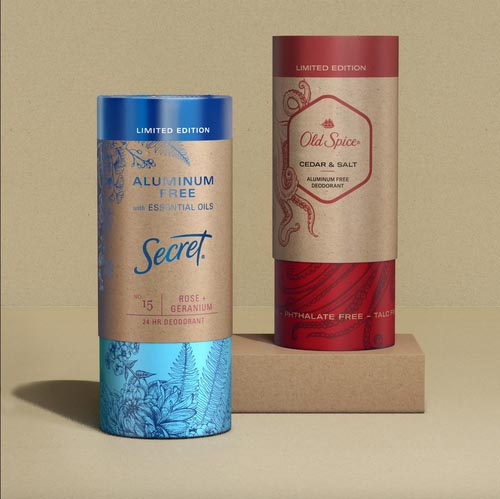 "This paper tube uses 90 percent recycled content and is certified by the FSC. The paperboard tube does not contain wax, plastics, BPA, or PFA. The paperboard has an interior coating that is made from an FDA-approved fluorochemical and corn-derived starch to make the paperboard grease-proof and water-proof. New paper fibers are added to the post-consumer recycled paperboard pulp to strengthen the base material."
Relativity
We all agree that March was six years long and April has lasted six minutes, right? Can we get some sort of explanation on that. Genuinely baffled by how elastic time is right now, but more by how we seem to be experiencing it in similar ways.

— Louis Peitzman (@LouisPeitzman) April 29, 2020
Net Loss
There is no doubt that discarded plastic is taking a toll on the oceans and endangering marine life and ecosystems. But a small fishing village in Chile could be pointing the way to at least making a tiny inroad into solving the problem. From The Guardian:
Until recently, most discarded fishing nets in this coastal fishing village were dumped straight into the sea – contributing to the massive plastic pollution crisis that's choking the planet's oceans....
But a startup called Bureo – founded by three North American surfers – is collaborating with fishermen like Maldonado to keep hundreds of tonnes of discarded nets out of the ocean each year.
Nets are sorted, cleaned, and cut in Bureo's warehouse in Concepción, a city a few miles from Tumbes. Here they are turned into 100% recycled polyester and nylon pellets, called NetPlus, which are sold to companies as a sustainable alternative to first-use plastics.
Today NetPlus is used in Patagonia's hat brims, Trek bike parts, Humanscale office chairs – and even sustainable Jenga sets.
Bosom Bloodies
Can't wait to become a WereHanks https://t.co/FDpo6bWtxV

— Bill Corbett (@BillCorbett) April 26, 2020
Strong Suit
Do you miss going out to nightclubs, concerts, or other events? Us, too, but it will probably be a while before people feel safe enough to gather in such close proximity. For those who do want to go out on the town and are more afraid of getting sick than looking ridiculous, a creative consultancy called Production Club has—and we're not making this up—"unveiled the Micrashell, their concept design for a personal protective suit that would allow the music, live event and nightlife communities to get going again. Covered from head to toe, wearers needn't worry about transmitting or receiving COVID-19, though they could transmit and receive audio via the onboard sound system."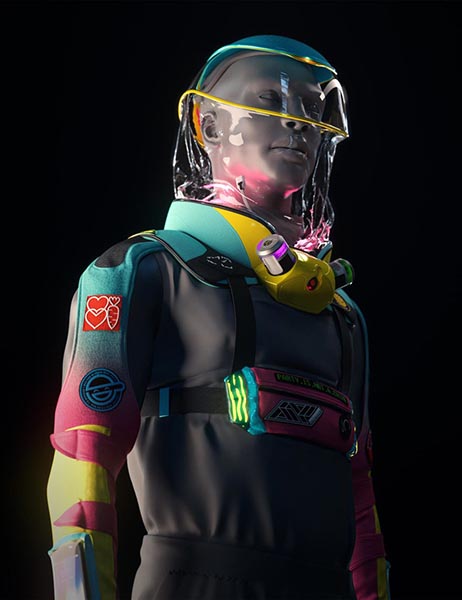 (Yeah, we did a spit take when we first saw that.)
And have no fear, booze and vape cartridges can be snap-fit into the mouthpiece. Dignity be damned! But then, we've seen sillier get-ups in nightclubs.
Cabin Fever
Well, the Washington Post's story about how droplets spread on airplanes wins the award for "gif most likely to give me nightmares FOREVER" https://t.co/vwW3w1Ti3v pic.twitter.com/tQSLMRufN1

— ?? damned sinker ?? (@dansinker) April 28, 2020
Gone to the Dogs
The woes afflicting the USPS have been well-covered (don't get us started on the ridiculous requirement passed in 2006 that the USPS prefund its long-term pension and healthcare liabilities), but fans of the Postal Service have started a Save the Post Office movement, largely consisting of a stamp-buying spree. But the USPS sells other things as well, and they are not above goofy gift items, such as this U.S Mail Carrier Dog Costume, a steal at $17.99.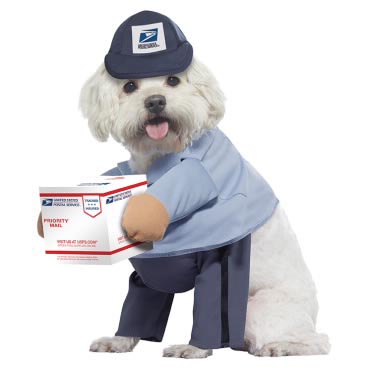 Going Postal
Dear European economists:
If you're going to say the USPS should be shut down, try remembering our corn fields are bigger than your entire country and people live in the middle of them.

— SwiftOnSecurity (@SwiftOnSecurity) April 27, 2020
Animal Antics
David Zwang mentioned this in his AR feature yesterday, but here is a fun way to keep yourself or your kids entertained. If you type an animal's name into Google on an iPhone or Android, scroll down to where it says "Meet a Life Size...," and press "View in 3D," it accesses your camera and then, a few seconds later, you have that animal in your home. You can take a photo of the kids with them and they can walk around it. We've tried tiger, horse, and cheetah. (Thank you Krystin Friling for discovering this!) You can also find:
Lion
Shark
Hedgehog
Duck
Emperor penguin
Wolf
Angler fish
Goat
Rottweiler
Snakes
Eagle
Brown bear
Alligator
Horse
Shetland pony
Macaw
Pug
Turtle
Cat
Octopus
Dog
Golden Retriever
Octopus (but not squid)
Get Your Mind Into the Sewer
If a virtual home menagerie isn't quite your thing, you may instead want to check out Drain Addict, a popular YouTube channel dedicated to—again, we swear we're not making this up—unclogging drains. It's no pipe dream: more than 200,000 people subscribe to it, and there are more than 400 videos uploaded, covering the waterfront of residential drains as well as municipal sewage systems. It is not for the squeamish or easily grossed out.
Melon Crazy
This is simply remarkable work. pic.twitter.com/rbK4lCgmqB

— George Takei (@GeorgeTakei) April 24, 2020
Sic Transit Gloria
Via Boing Boing, astrophotographer Andrew McCarthy shot this pretty cool photo of the International Space Station transiting the sun earlier this week.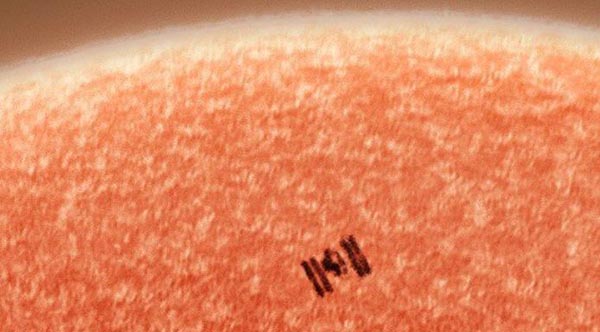 TIE One On
That's no UFO... that's a TIE fighter.#IdentifiedFlyingObject https://t.co/OVgvJ1ij24

— Mark Hamill (@HamillHimself) April 28, 2020
Going for the One
If you're a fan of 1970s progressive rock, Roger Dean is probably a household name, being the artist who painted all the iconic Yes album covers, among other artists of the period. He also designed the famous Yes "bubble" logo which is still being used by the band today—and, yes, they are still around, and are on their 800th lineup (guitarist Steve Howe and drummer Alan White are the only classic era members who remain after the death of Chris Squire a couple years ago).
Anyway, Yes have a new live album coming out and Dean will be creating the cover for it live on Facebook. "The finished artwork will appear on The Royal Affair: Live packaging, with the first online session scheduled for later today (April 22) at 7pm GMT on the artist's Facebook page....Dean is planning 30-minute sessions on Mondays, Wednesdays and Fridays."
Agenda Items
8:00am: no way I'm drinking today
10:00am: yeah, I definitely need a day or 2 off the sauce
1:00pm: I should go for a walk.
2:00pm: I should go for a walk.
3:00pm: at least I'm not drinking today
5:00pm: going to bed early tonight FOR SURE
6:08pm: honey, do you want wine?

— Jack McFadden (@tigermountainbk) April 20, 2020
This Week in Printing, Publishing, and Media History
April 27
1667: Blind and impoverished, John Milton sells the copyright of Paradise Lost for £10. (He never regained it.)
1791: American painter and inventor Samuel Morse born.
1896: American chemist and inventor of nylon Wallace Carothers born.
1981: Xerox PARC introduces the computer mouse.
April 28
1926: American novelist Harper Lee born.
1948: Igor Stravinsky conducted the premiere of his American ballet Orpheus at the New York City Center.
1973: The Dark Side of the Moon by Pink Floyd, recorded in Abbey Road Studios, goes to number one on the US charts, beginning a record-breaking 741-week chart run.
April 29
1863: American publisher and politician William Randolph Hearst born.
1953: The first U.S. experimental 3D television broadcast showed an episode of Space Patrol on Los Angeles ABC affiliate KECA-TV.
1968: The musical Hair opens at the Biltmore Theatre on Broadway.
1986: A fire at the Central library of the City of Los Angeles Public Library damages or destroys 400,000 books and other items.
1996: The off-Broadway musical Rent opens on Broadway at the Nederlander Theatre. No day but today.
April 30
1897: J. J. Thomson of the Cavendish Laboratory announces his discovery of the electron as a subatomic particle, over 1,800 times smaller than a proton, at a lecture at the Royal Institution in London.
1927: Douglas Fairbanks and Mary Pickford become the first celebrities to leave their footprints in concrete at Grauman's Chinese Theater in Hollywood.
1938: The animated cartoon short Porky's Hare Hunt debuts in movie theaters, introducing Happy Rabbit, an early version of Bugs Bunny.
1939: NBC inaugurates its regularly scheduled television service in New York City, broadcasting President Franklin D. Roosevelt's N.Y. World's Fair opening day ceremonial address.
1993: CERN announces World Wide Web protocols will be free.
May 1
1753: Publication of Species Plantarum by Linnaeus, and the formal start date of plant taxonomy adopted by the International Code of Botanical Nomenclature.
1786: In Vienna, Austria, Mozart's opera The Marriage of Figaro is performed for the first time.
1840: The Penny Black, the first official adhesive postage stamp, is issued in the United Kingdom.
1971: Frank Romano's national holiday—Amtrak (the National Railroad Passenger Corporation) takes over operation of U.S. passenger rail service.
1999: SpongeBob SquarePants premieres on Nickelodeon after the 1999 Kids' Choice Awards.
2002: Dr. Joe Webb's national holiday—OpenOffice.org releases version 1.0, the first stable version of the software.
May 2
1611: The King James Version of the Bible is published for the first time in London, England, by printer Robert Barker.
1885: American actress and gossip columnist Hedda Hopper born.
1895: American playwright and lyricist Lorenz Hart born.
1952: The world's first ever jet airliner, the De Havilland Comet 1 makes its maiden flight, from London to Johannesburg.
1955: Tennessee Williams wins the Pulitzer Prize for Drama for Cat on a Hot Tin Roof.
2000: Rand McNally's national nightmare—President Bill Clinton announces that accurate GPS access would no longer be restricted to the United States military.
2012: A pastel version of The Scream, by Norwegian painter Edvard Munch, sells for $120 million in a New York City auction, setting a new world record for a work of art at auction.
May 3
1469: Italian historian and philosopher Niccolò Machiavelli born.
1913: Raja Harishchandra, the first full-length Indian feature film is released, marking the beginning of the Indian film industry.
1935: American businessman and founder of the Ronco Company Ron Popeil born. But wait! There's more!
1952: The Kentucky Derby is televised nationally for the first time, on the CBS network.
1957: Walter O'Malley, the owner of the Brooklyn Dodgers, agrees to move the team from Brooklyn to Los Angeles.
1958: Danish-English comedian, author, and radio host Sandi Toksvig born.
1959: English actor, director, and screenwriter Ben Elton born.
1960: The Off-Broadway musical comedy The Fantasticks opens in New York City's Greenwich Village, eventually becoming the longest-running musical of all time.
1965: Welsh actor and comedian Rob Brydon born.
1973: The 108-story Sears Tower (now officially the Willis Tower) in Chicago is topped out at 1,451 feet as the world's tallest building.
1978: The first unsolicited bulk commercial email (which would later become known as "spam") is sent by a Digital Equipment Corporation marketing representative to every ARPANET address on the west coast of the United States.