By Erica Switzer, DirectMail2.0
There is no doubt that the novel coronavirus, COVID-19 pandemic has wreaked havoc on the economy both on a national and global scale. Businesses being ordered to abruptly close their doors for public safety created a waterfall of crashing statistics for many vendor and supply chains, including the print and mail industry. Now as we embark on the cautious and surgical reopening of America those same businesses are faced with another new set of challenges including "How do I get back to successfully running my business?"
More than 1.6 million small businesses in all 50 states were funded by the CARES Act government stimulus Paycheck Protection Program. With that financial relief comes the flexibility to prepare for the "new norm" including signage for safety precautions, internal workflow modifications to stay within the CDC guidelines, social distancing floor decals, and most importantly an "Open for Business" recovery marketing campaign. To assist marketers in making the best decisions for their business, DirectMail2.0 has aggregated and analyzed data from its direct mail marketing platform over the past 11 weeks to depict the current integrated marketing landscape.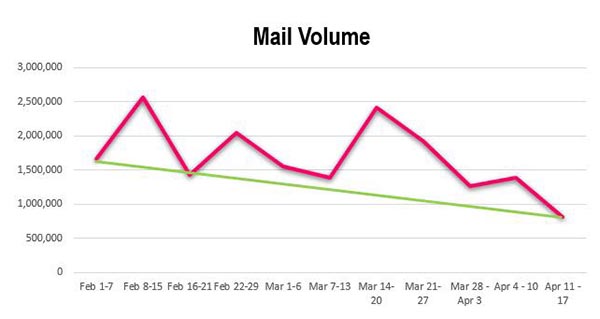 Mail volume trending down by 49.43% over 11 weeks.
In the second week of February, there was a surge of mail volume, up 64.68% from the first week in February. There is a cyclical trend between the first and second week of March which increases 57.39% respectively. However, the second week of April does not reflect the popular upward trend. Rather than rising, mail volume plummeted 59.17%. Over the 11-week landscape mail volume saw a decline of 49.43%.
Integrated marketing strategies like DirectMail2.0 provide the target audience impressions from multiple channels including Direct Mail, Informed Delivery, Social Media, and Google. According to the DMA Response Rate Report 80% of sales are made between the 8th and the 12th contact. Total Ad Displays represents the total impressions delivered to the target audience during a campaign across all channels. With a proper omnichannel marketing approach, marketers can see a 23-46% lift on campaign results versus the use of direct mail alone.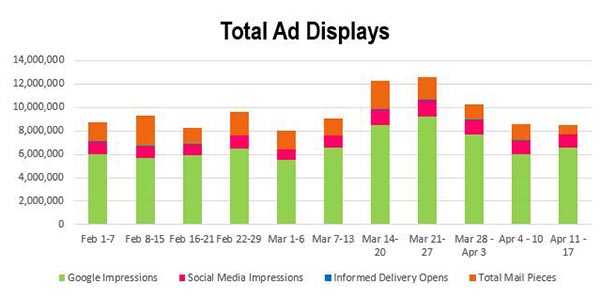 Total ad displays comprised of Google, Social Media, Informed Delivery and Direct Mail trend upward by 8.07%.
Despite the nearly 50% decline of physical mail pieces, overall ad displays to target audience maintained relatively consistent trends. During the 11-week span campaign impressions saw a marginal uptick of 8.07%, thus salvaging the integrity of active campaigns.
Since not every prospect or customer is ready to act right away, the re-engagement technology solution that DirectMail2.0 implements compounds campaign effectiveness and results over time. It tracks and engages based on target audience behaviors. Below is a progressive snapshot of a non-profit organization's statistics during the evaluated time period.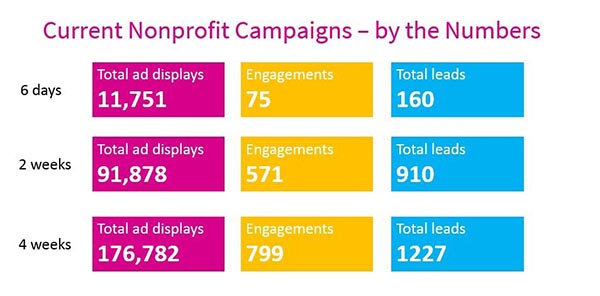 Non Profit Organization Progressive Statistics.
From six days to two weeks, there was a 782% increase in total ad displays. From week 2 to week 4 there was an additional increase of 192%. Leads increased by 767% from six days to four weeks.
According to research by Global WebIndex, 4.5 billion people are using the internet at the start of 2020. Nearly 90% of all internet searches take place through Google and its subsidiary company YouTube, making it the number one search engine globally. Search volume trends are up 115% over March of 2019 due primarily to COVID-19. Top search terms range from "How to buy crude oil stock" to "Where is my stimulus money?". A higher percentage of people browsing the internet increases the likelihood that the mailing target market is online as well, thus creating a perfect opportunity for multiple touches.
With the mail volume surge during the weeks of March 14th and March 21st Google impressions experienced the same peaks reaching over 9 million impressions to niche markets. Despite the physical mail downtrend, Google ads reverted in week 11 resulting in a slight uptick of 8.56% overall.
Google Impressions trend upward by 8.56% over 11 weeks.
In January 2020 active social media users reached 3.8 billion, up 9.2% over 2019 figures according to Hootsuite. Percentage of social media users accessing via mobile devices jumped from 84% to 99%, creating the perfect opportunity for marketers to utilize omni-channel marketing to be where their audiences are. Facebook remains the juggernaut of social media platforms with 2.449 billion monthly active users. Following Facebook is YouTube (owned by Google) with 2 billion monthly active users. Between Google, Facebook and Instagram, DirectMail2.0's integrated marketing strategy ensures maximum exposure to the target market.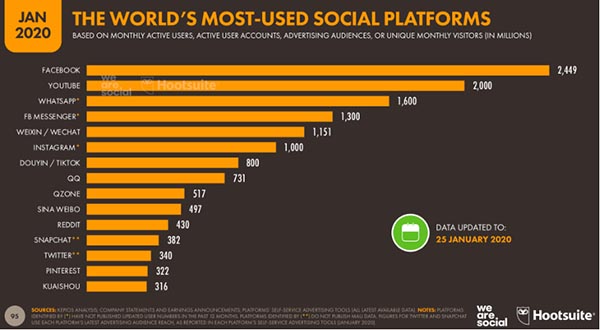 2.449 million active Facebook users as of January 25, 2020.
Social Media platforms Facebook and Instagram followed suit with Google's upward trends also showing peak impressions during the weeks of March 14th and 21st mimicking the respective spike in mail volume. Social Media Impressions maintained a consistent uptrend through the 11-week period and resulted in an overall 5.22% increase from February 1st to April 17th.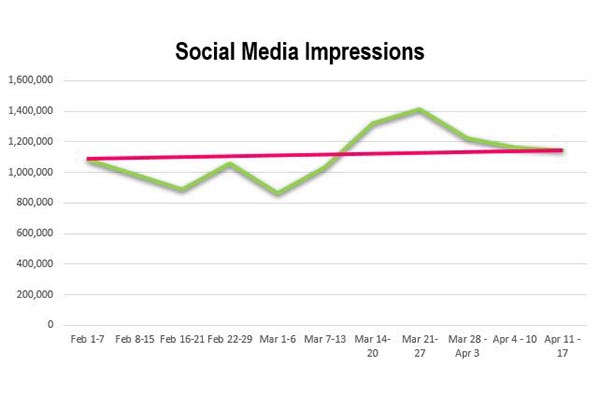 Social Media Impressions trend upward by 5.22% over 11-week span.
The technology integration strategy is meant to maintain presence with niche mail audiences to ensure maximum exposure when a prospect or customer is most likely to act. Engagements are tracked to understand the level of action the target market is taking and when. Like ad displays, engagements compound over time as individuals are groomed to make a purchasing decision.
According to DMA Response Rate Report a standalone social media ad campaign receives an average of .1% response. Likewise, a standalone display ad campaign receives a .002% response. Average click-through rates on both platforms combined is approximately .007%. With an integrated marketing campaign strategy, click-through rates are exponentially higher. Micro-targeting based on consumer behavior creates a more personal experience for the end user thus eliciting more action than a standard digital campaign. Through the 11-week evaluation Google click through rates averaged .26% and social media click through rates averaged .4%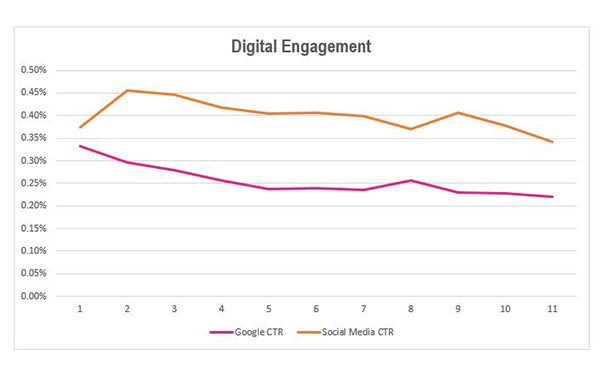 Integrated Campaign Digital Engagements hold higher click through rate ranges despite economic downturn.
Another opportunity for exposure is with the USPS Informed Delivery® interactive campaign. An email alert is sent to registered users with a gray scale image of their mail piece and a full color ride-along image. The full color ad is accompanied by a URL which will direct interested buyers to a designated page within the website. Nearly 24 million people have signed up with Informed Delivery® since its debut in 2017 and over 88% of registered users check their Informed Delivery® daily. In the first five weeks of the evaluation period, Informed Delivery® click through rates hovered between 10% and 15.8%; a huge increase from the historical average of 7-8%. However, due to the drop off of mail volume, Informed Delivery® stats plunged as well ending with a 95% drop in opens and a 6-week average of 3.8% click through rate.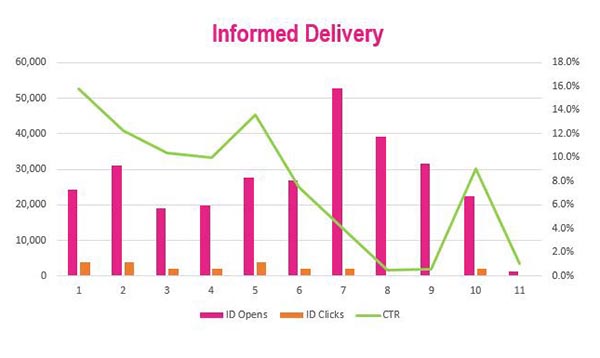 Informed Delivery® open, clicks, and click through rates suffer as mail volume takes a dive.
"With DirectMail2.0 we have 151 responses $10,447. Without 68 responses $4953. That is just the first-class mail, the bulk data does not represent a full response yet."
Although the print and mail industry has been largely affected by the economic downturn, integrated direct mail campaigns are proving to be successful. Exposure rates are up, engagements are maintaining a high level due to increased internet and social media activity. It is proven that with the micro-targeting formulas utilized by DirectMail2.0 marketers can cut through consumer's digital fatigue by getting in front of them at the appropriate moment. As businesses begin to prepare to reopen, they should highly consider the utilization of an omnichannel marketing approach powered by the effectiveness of direct mail and digital integration.
Erica Switzer, Senior Vice President of DirectMail2.0. Erica has been in the Direct Marketing Industry for over sixteen years and has helped tens of thousands of clients implement effective marketing strategies. Speaker at National Postal Forum, Print, MailCom, Postal Vision 2020, PCC, MarketEdge and several individual industry trade shows and association meetings. Erica enjoys innovation and creative out-of-the-box thinking. Always welcoming enhancements within the industry and is open to learning about how advances in technology can help streamline processes and increase overall revenue. Her current objectives consist of letting Direct Marketers know about a revolutionary technology that couples traditional offline marketing with cutting edge online marketing simultaneously to render proven results and increase return on investment for their clients. It is her mission to make DirectMail2.0 available to all business owners who are looking to effectively market their business.