Stir crazy. pic.twitter.com/lmWikmG7Wz

— Tim Vine (@RealTimVine) April 6, 2020
Cu Later
Could copper-infused fabric be an answer to protecting against COVID-19? Copper Clothing thinks so. Tests still need to be done, but early results with bovine testing show promise.
Relativity
Can you believe it's only been a month since a month ago?

— J. Elvis Weinstein (@JElvisWeinstein) April 9, 2020
Sad Signs
The New York Times has a pictorial feature of signs—mostly handmade—from retailers and other businesses around a closed New York City. "All along the empty streets of Manhattan, the messages reach out from the newly darkened storefronts. The notes express empathy, resolve, concern, even humor — a reflection of New York's spirit."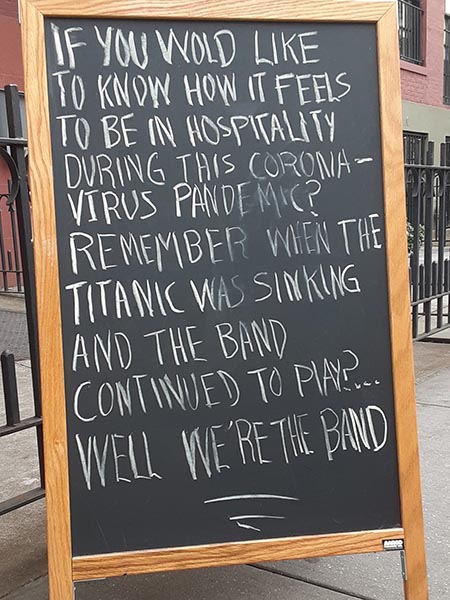 Order in the Lack of Court
If this works, it could completely change film and TV production. From People: "All Rise isn't letting the coronavirus (COVID-19) slow production down. The CBS courtroom drama is set to film a special episode addressing the global pandemic and how it impacts the criminal justice system. The episode is slated to air in May. In order to abide by social-distancing guidelines, the cast will not reunite to film. The entire episode will be shot using FaceTime, Zoom and other online video technology. Each actor will shoot scenes from their own home before new backgrounds are created in post-production."
They should bring back the old kids' show Zoom just to record it on Zoom.
Ladies and Gentlemen, Please Welcome...
Chag Pesach to all celebrating. Some day, when this is all behind us, Zoom Seder is going to be a great band name.

— Charles P. Pierce (@CharlesPPierce) April 8, 2020
The World Turned Upside-Down
Speaking of Zoom, the most heartwarming thing you will see all week is the original Broadway cast of Hamilton reuniting on Zoom (via John Krasinski's new online show Some Good News) to sing the opening number to a 9-year-old superfan of the show.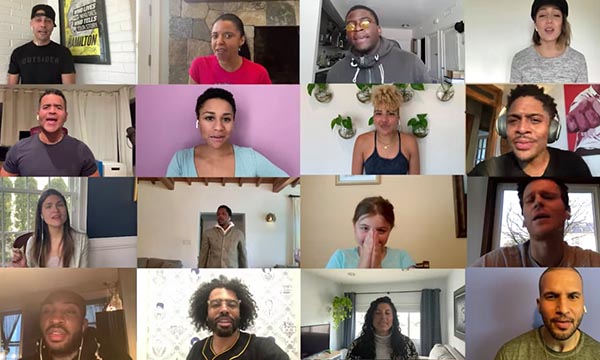 OK Computer
my favorite Radiohead lyrics pic.twitter.com/tRj4myPTTz

— david ehrlich (@davidehrlich) April 8, 2020
Green Queen
You would have thought by now that people would have learned (or would have savvier advisers who had learned) not to wear green on TV. Last Sunday, Queen Elizabeth II gave a lovely and reassuring speech about the coronavirus situation. However, she did it whilst wearing a green dress and the green-screening began almost immediately.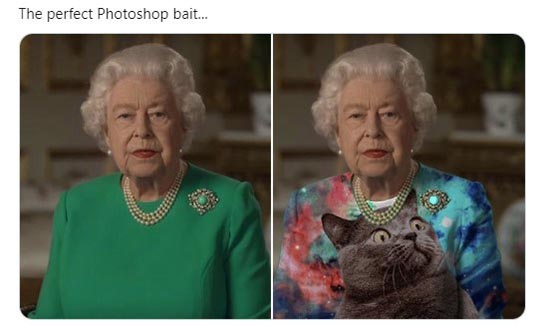 It Is a Puzzlement
The New York Times takes us inside the taken-completely-by-surprise jigsaw puzzle industry. "The rush to get hold of a jigsaw puzzle — and even stockpiling by regular enthusiasts — has transformed this quiet hobby and put companies under pressure as demand surges past Christmas levels." Here's an interesting bit of trivia: jigsaw puzzles are not made with jigsaws—and, in fact, they never were.
Each puzzle piece must be uniquely shaped, to avoid one accidentally fitting into the wrong place. That means 1,000 different shapes for a 1,000-piece puzzle, each drawn by hand by workers. Before a puzzle is cut for the first time, each piece is sketched on a sheet of paper draped over the finished image.
Pieces of metal are then shaped to form an elaborate cookie cutter made just for that jigsaw puzzle; it takes about four weeks to build one. The cutter can be used only a limited number of times before its edges are dulled. It can be resharpened once and must then be discarded. At busy times of the year, the company will go through several cutters a day.
Games People Play
And its not just puzzles. Board games, too, have soared in popularity—causing problems for their supply chains.
Because they're made of cardboard and plastic and paper, and because almost all of those components are made in China, board game studios and publishers were already behind on their release schedules in 2020 thanks to the combination of China's earlier Covid-19 shutdowns and the lengthening effect that had on the country's Lunar New Year's break.
Dog Days
I know Dogs can't wait for people to go back to work pic.twitter.com/ggLX6H6e75

— Lance ???? (@Kinglrg_) April 2, 2020
Weather Or Not
Here's an interesting consequence of the COVID-19 crisis: weather forecasts have become less accurate. Why, you may well ask? Are meteorologists social distancing? Nope: airplanes have been grounded. Explains Core77:
"The significant decrease in air traffic has had a clear impact [on forecast accuracy]. In-flight measurements of ambient temperature and wind speed and direction are a very important source of information for both weather prediction and climate monitoring.
"Commercial airliners contribute to the Aircraft Meteorological Data Relay programme (AMDAR), which uses onboard sensors, computers and communications systems to collect, process, format and transmit meteorological observations to ground stations via satellite or radio links."
Que Seurat Seurat
Took this photo at my local park this afternoon. Makes me livid ?? pic.twitter.com/qwc5TxmhSp

— Richard V. Hirst (@vivmondo) April 5, 2020
Nothing Like the Sun
If you're stuck inside and need a lift, what could be better than Patrick Stewart reading a Shakespeare sonnet a day?
Holy Soaker
Catholic humor ?? #SocialDistance #funny pic.twitter.com/nZZGmtfzzp

— Patricia Correll (@Author_PCorrell) April 3, 2020
Bottle Rocket
This is cool. From the Guardian: "A mutant bacterial enzyme that breaks down plastic bottles for recycling in hours has been created by scientists. The enzyme, originally discovered in a compost heap of leaves, reduced the bottles to chemical building blocks that were then used to make high-quality new bottles. Existing recycling technologies usually produce plastic only good enough for clothing and carpets."
Down the Drain
Um...no. "A smart toilet boasting pressure sensors, artificial intelligence and a camera has been unveiled by researchers who say it could provide a valuable way to keep tabs on our health." Wait until it gets hacked, then the s**t will hit the fan, among other things.
Oops
This fingerprint-verified smart lock can be foiled by a magnet https://t.co/Escq0uYAxw pic.twitter.com/wvi7cs8bby

— The Verge (@verge) March 30, 2020
Oh, FFS...
From The Verge: "British 5G towers are being set on fire because of coronavirus conspiracy theories."
Social Long Distancing
Someone in my running group ran a marathon in his driveway. All 26.2. I would literally go insane. pic.twitter.com/67a8L88zeN

— Mackenzie (@coffeeshopjihad) April 7, 2020
It's Always...Something in Philadelphia
And now for something completely different. From Boing Boing: "Download this free Danny DeVito as a merman coloring sheet."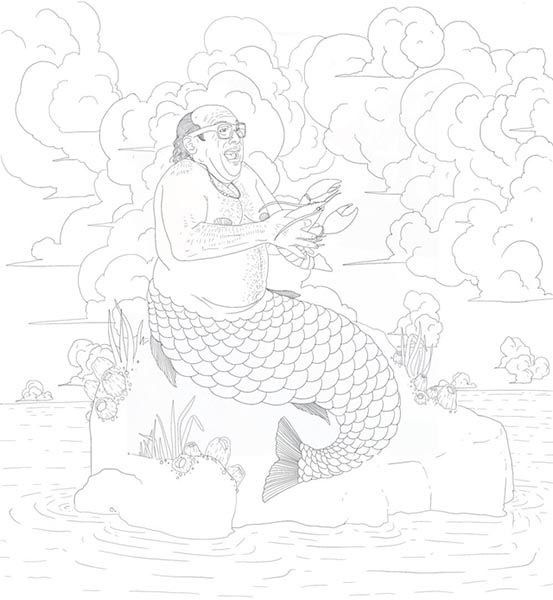 That'll haunt your dreams.
Evidence of Things Not Seen
Link? https://t.co/6CqSXp9I3u

— (((Josh Malina))) (@JoshMalina) April 5, 2020
This Week in Printing, Publishing, and Media History
April 6
1483: Italian painter and architect Raphael born.
1861: First performance of Arthur Sullivan's debut success, his suite of incidental music for The Tempest, leading to a career that included the famous Gilbert and Sullivan operettas.
1892: American journalist and author Lowell Thomas born.
1895: Oscar Wilde is arrested in the Cadogan Hotel, London, after losing a libel case against the Marquess of Queensberry.
1947: The first Tony Awards are presented for theatrical achievement.
That car was nowhere as fast as the 32 years. https://t.co/EleaXlAD2p

— J. Elvis Weinstein (@JElvisWeinstein) April 6, 2020
April 7
1770: English poet William Wordsworth born.
1805: German composer Ludwig van Beethoven premieres his Third Symphony at the Theater an der Wien in Vienna.
1927: The first long-distance public television broadcast (from Washington, D.C., to New York City, displaying the image of Commerce Secretary Herbert Hoover).
1949: The Rodgers and Hammerstein musical South Pacific opens on Broadway; it would run for 1,925 performances and win 10 Tony Awards.
1964: IBM announces the System/360.
1969: The Internet's symbolic birth date: Publication of RFC 1.
April 8
1820: The Venus de Milo is discovered on the Aegean island of Milos, which archaeologists found disarming.
1904: Longacre Square in Midtown Manhattan is renamed Times Square after The New York Times.
1942: American director, producer, and special effects artist Douglas Trumbull born.
1947: Mood for a day: English guitarist, songwriter, and producer Steve Howe born.
1959: A team of computer manufacturers, users, and university people led by Grace Hopper meets to discuss the creation of a new programming language that would be called COBOL.
April 9
1830: English photographer and cinematographer Eadweard Muybridge born.
1860: On his phonautograph machine, Édouard-Léon Scott de Martinville makes the oldest known recording of an audible human voice. In 2008, researchers at the Lawrence Berkeley National Laboratory in Berkeley, Calif., did successfully convert a "phonautogram"—"squiggles on paper," essentially—recorded in 1860 to a digital audio file. It was a 10-second clip of a singer, possibly female, warbling "Au clair de la lune." It is believed to be the earliest known sound recording, preceding Thomas Edison's attempts by almost two decades. (Poor Charlotte Green, BBC Radio 4's newsreader, who played the restored phonautogram on her broadcast, but was unable to get through the next story—alas, an obituary—without cracking up.)
1898: American singer, actor, and activist Paul Robeson born.
1928: American singer-songwriter, pianist, and mathematician Tom Lehrer born.
1959: NASA announces the selection of the United States' first seven astronauts, whom the news media quickly dub the "Mercury Seven."
1965: Astrodome opens; first indoor baseball game is played.
April 10
1710: The Statute of Anne, the first law regulating copyright, comes into force in Great Britain.
1847: Hungarian-American journalist, publisher, politician, and founder of Pulitzer, Inc. Joseph Pulitzer born.
1925: The Great Gatsby by F. Scott Fitzgerald is first published in New York City, by Charles Scribner's Sons.
1934: American journalist and author David Halberstam born.
April 11
1976: The Apple I is created.
April 12
1932: American singer and ukulele player Tiny Tim (né Herbert Khaury) born.
1981: The first launch of a Space Shuttle (Columbia) takes place: The STS-1 mission.
1990: Jim Gary's "Twentieth Century Dinosaurs" exhibition opens at the Smithsonian Institution National Museum of Natural History in Washington, D.C. He is the only sculptor ever invited to present a solo exhibition there.
1992: The Euro Disney Resort officially opens with its theme park Euro Disneyland; the resort and its park's name are subsequently changed to Disneyland Paris.