There is no doubt that COVID-19 has a profound impact on the printing industry right now. While many concerns are about the current impact, we need to look into the future to some extent, as well. With a new threat like this at hand, there is some disagreement as to how and for how long public and business life will be impacted. There is some consensus, however, that after the current emergency abates, measures will be loosened to some extent in the months to come. Still, virus experts expect restrictions to continue for another year.
Unsurprisingly, consumer behavior and media consumption have changed a lot in the last month or so, but it's not just Netflix reaping the rewards of the COVID-19 emergency. A current German consumer study by market research company Appinio showed some interesting results: TV and streaming consumption is up, obviously, but 26% of respondents read more books, while 19% increased newspaper and magazine consumption. Playing board games is also up by 20%. Buying behavior is impacted, as well. While interest in larger purchases is down, consumers spend more on books, games, household goods, and even office supplies. What does it mean for print?
Print applications set to gain from emergency measures
| | |
| --- | --- |
| Print Application | Driver |
| Books | Increased demand in books due to time spent home |
| Photo merchandise | Time to create photo books and other photo prints |
| Newspapers | Source of information and more time to read |
| Magazines | Source of information and more time to read |
| Office print | Print products to support home office work |
| Direct mail & catalogs | Prime advertising channel to reach consumer at home |
| Inserts | Can take advantage of newspaper/magazine/direct mail increases |
| Board games, puzzles | More available time indoors |
| Home furnishing | More time spent at home |
| Signage | Information requirements |
| Health related | Print on antibacterial papers, labels, info sheets |
With more time spent at home, reading books is increasing. Many kinds of fiction and non-fiction titles should do well. With restaurants being closed, cookbooks will be in particular demand. And with more time spent indoors, coloring books will also see increased demand. I would expect a lot of interest in self-help guides as well. Not all books will benefit, however; demand for travel guides is way down. Manuals could struggle as they are rather tied to larger investments. A related application should do quite well however: photo books. If you previously lacked the time to sift through these folders of pictures on your hard drive or phone, you probably have it now.
The bottleneck for an increasing book consumption is the distribution. Although I am a strong supporter of the corner bookshop, it is likely that online ordering will gain a lot, especially the big company starting with an A. My fear is somewhat that this company will use its strong market position to push ebooks, which are providing a better margin than printed books. We know that most consumers prefer printed books and ebook sales have been stagnating lately, but this exceptional situation could change buying patterns.
In volatile times, with a lot of news items directly impacting readers and more time to read at hand, it is no surprise that newspapers and magazines are experiencing a resurgence. The bottleneck they face in distribution is even bigger, however. While most countries still keep up distribution for subscription titles, newsstand sales will be way down. The ones making it on the shelves in the supermarket will benefit, however. Free magazines and newspapers, picked up during one's commute, will be in decline, although publishers in the UK resorted to distributing copies to homes already. Once in the hands of readers, newspapers and magazines should do well, even for embattled magazine categories. A large portion of the decline in magazine circulation was due to the demise of the traditional TV magazine. This decline could slow now and new titles on streaming media are set to grow. Demand for news magazines is likely to soar, while the more diverting titles could benefit as well, as readers have more time. New opportunities could arise in customer magazines as companies still want to inform and communicate with their customers.
There should be some opportunities in office print, as well. Business cards will suffer due to less personal contacts, but more working from home could mean more stationery, calendars, printed reports, notepads, and the like. The outlook is a bit unclear, however, as economic activities are decreasing now.
I would expect some increase in direct mail and catalogs for companies to advertise to consumers confined to their homes. More time spent at home should even increase the exposure for recipients and hence increase effectiveness. Again, an operating distribution network is crucial. Related are mailings of a more informational nature, designed to inform consumers and companies about new regulations, changes in services, notifications, and the like. With increases in direct mail, printed inserts for newspapers and magazines could benefit as well. The heightened parcel traffic will offer more opportunities for inserts on top. Of course, this will all be dependent upon how much companies are cutting back their advertising spending. Economic theory tells us that in times of slowing business, advertising spending should be increased, but in reality, this does not happen too often.
There are some specialty areas with good growth opportunities. Board games is one of them. If you hear board games and all comes to mind is Monopoly—think again. A well-stocked shop like the one close to where I live in Berlin has more than 4,000 games in stock. Every year hundreds are added and almost all require a lot of print and finishing. Closely related are puzzles, cut-out model sheets, and the like.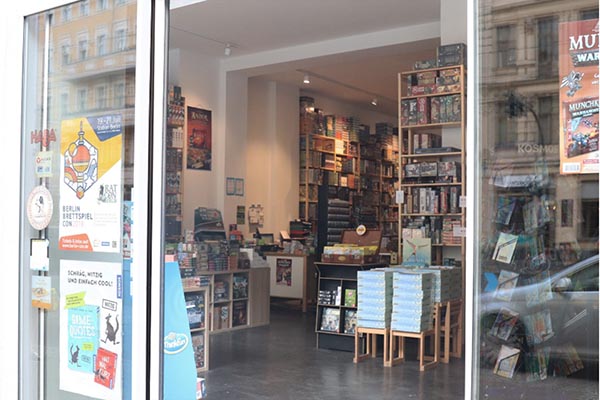 Board game shop "Brettspielgeschäft" in Berlin.
With more time spent at home, other products for home improvements and furnishing should do well. This is the realm for decorative print as in wallpaper, wallcoverings, and textiles, but can stretch into stickers, decals, and dimensional print as well.
While out-of-home advertising will suffer, there is heightened demand for signage and information banners. While these are more important in the current acute phase of the crisis, there should be an increased ongoing demand for these types of print. Even POS could play a bigger role for the quick dashes to the supermarket, but less so in all other types of shops.
Another area to look into is printing on antibacterial paper. This could become a pre-requisite for a range of print products in hospitals and public spaces. Anything related to public health should stay in high demand regardless.
There is no doubt that COVID-19 will negatively impact the global economy, and with it the printing industry. Marketing collateral, any event-related print, out-of-home advertising, and a lot of retail-related print will suffer greatly. Even packaging could be affected as quick dashes to the supermarket will curb the need for elaborate packaging designs—on top of slowing consumption. Still, there are opportunities arising in print for the ones that can grab the opportunity.