Omg Bryn Celyn Care Home in south Wales does self isolation human hungry hippos ?? ?????????????? pic.twitter.com/PJvSyZVwAw

— Catrin Nye (@CatrinNye) March 20, 2020
Masked Men and Women
As Cary Sherburne reported yesterday, making masks and other personal protective equipment (PPE) is becoming a popular way for businesses in the textile and apparel space to help out with the COVID-19 crisis. Equipe Athletics has pivoted its factory to design, engineer and prototype mask ideals. In the first week, they were able to manufacture 800 masks and plan to be up to 1,500 per day soon. The company is making masks available for sale, but are also donating masks to individuals in need, with a request to larger organizations to help offset the cost of labor and materials. "We are doing this to help staff stay employed as well during these hard times," according to Patrick Tio.
Elsewhere, teen fashion designer Ariel Swedroe demonstrates how you can help by making masks out of T-shirts or other clothing you are not likely to use or are likely to dispose of.
Shining Time
I'm fine with the lockdown just been catching up on a bit of writing; all work and no play makes Jack a dull boy all work and no play makes Jack a dull boy all work and no play makes Jack a dull boy all work and no play makes Jack a dull boy all work and no play makes Jack a dull

— Jimmy Carr (@jimmycarr) March 20, 2020
The Fabric of Our Lives
How the textiles industry can help with the COVID-19 emergency—germ-killing fabric.
Don't Stand So Close to Me
TOO CLOSE pic.twitter.com/yFDRq4tm7F

— Kevin Murphy (@kwmurphy) March 23, 2020
Socialdistancepheres @rushtheband #staythefuckhome #rush #Covid_19 #goodmusic #greatmusic pic.twitter.com/zQ7Q80RhoM

— Fantoons (@Fantoons) March 21, 2020
Hahahaha pic.twitter.com/bi6mPOV0MX

— Jay Kuo (@nycjayjay) March 23, 2020
Dude, this year we're not even letting Elijah in. https://t.co/5cX9CPZOFf

— (((Josh Malina))) (@JoshMalina) March 22, 2020
Logo Distancing
Over at Core77, Slovenian designer Jure Tovrljan has reworked some famous logos in the spirit of social distancing.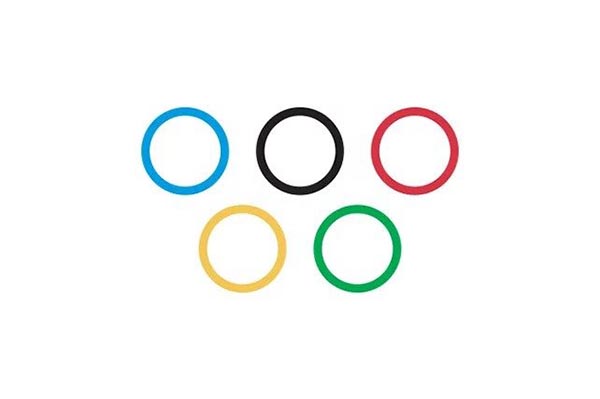 And, of course: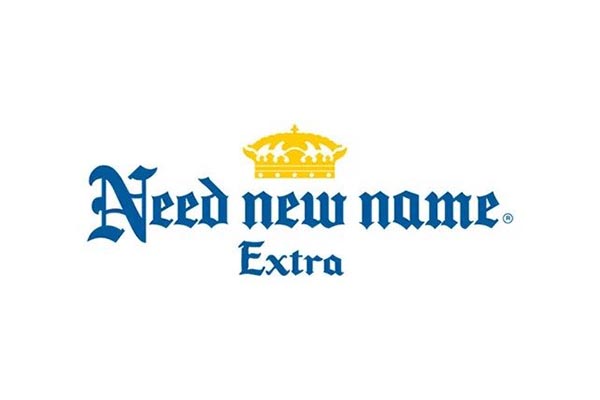 A Plague on Both Your Houses
What's the difference between Covid 19 and Romeo & Juliet?

One's a corona virus and the other is a Verona crisis.

— Julian Lee (@JulianLeeComedy) March 14, 2020
Ruining It for Everyone
One happily surprising thing about this whole crisis is how robust Zoom has been through all of this, given that it is not only being used to replace industry events, but colleges and other schools are using it to hold online classes, gyms and yoga studios are using it to hold virtual workouts, Toastmasters clubs are using Zoom to have virtual meetings, and friends and families are using Zoom just to stay in touch. There have been some glitches here and there but—at least in our experience—it has gone petty well.
But, because apparently we can't have nice things, there is a new phenomenon: "Zoombombing." Says the New York Times: "[T]he trolls of the internet are under quarantine, too, and they're looking for Zooms to disrupt. They are jumping into public Zoom calls and using the platform's screen-sharing feature to project graphic content to unwitting conference participants, forcing hosts to shut down their events." Thanks, a******s.
Nation Close To Getting Videoconferencing Software To Work https://t.co/EwLPymdczz pic.twitter.com/0RFOlHIoyg

— The Onion (@TheOnion) March 23, 2020
Long Distance Runaround
Some people are really avid runners. Elisha Nochomovitz, a French 32-year-old furloughed restaurant worker, had signed up for a couple of marathons in Europe, which were subsequently cancelled due to the COVID-19 threat. Undeterred, he "figured out a way to run a marathon anyway – back and forth on his balcony. That's right. He ran 42.2 kilometers (26.2 miles) straight, never leaving his 7-meter-long (23-foot) balcony." Not that it didn't presents own series of challenges: "He got nauseous, and got worried the neighbors would complain about the pounding of his footsteps. But he did it." And it only took six hours and 48 minutes.
Take a Hint
Meanwhile, in Minneapolis pic.twitter.com/16hzQMKBIW

— Scott Kerr (@scott_kerr) March 23, 2020
See Meme, Feel Meme, Touch Meme, Heal Meme
Perhaps it's time to retire the phrase "going viral," but, say what you want about social media, Internet humor is serving a useful purpose in this age of self-quarantining. Vox explains:
As the past week has delivered an escalation in novel coronavirus cases throughout the US, we've watched coronavirus memes evolve from largely educational and encouraging PSAs into full-fledged, modern-day internet humor. Many memes have been inspired by movements around the country to self-quarantine or shelter in place, while others continue to remind us to wash our hands and avoid touching our face — but with considerably less sobriety than the previous wave of informational memes. There are also lots of offline pranks, absurdist millennial humor, and apocalyptic social parody.
Still Shining
all work and no play makes Jack a dull boy all work and no play makes Jack a dull boy all work and no play makes Jack a dull boy all work and no play makes Jack a dull boy all work and no play makes Jack a dull boy all work and no play makes Jack a dull boy all work and no play

— Jimmy Carr (@jimmycarr) March 20, 2020
Virus Vocabulary
While the speed of the spread of the coronavirus has been staggering, so, too, has been the proliferation of new words and phrases. How many of us had ever used the phrase "social distancing" before this month...or ever? Says Merriam-Webster: "Some of these terms are new to the dictionary, others have revised definitions. Some words are newly prominent in the language, qualifying for entry in record time, while others had previously been scheduled for entry in the near future. Among the new terms are 'social distancing,' 'super-spreader,' and 'index case.'"
Soft Sculpture
In case you're looking for some fun crafts to help get you through the social-distancing self-isolation that is our new normal in the COVID-19 world. Omnis laus sit Judith Klausner, artifici maximae artis ingeniique! pic.twitter.com/UT4W7KAkyg

— Classics at UAlberta (@ClassicsAlberta) March 24, 2020
The Home Office that Doesn't Work
Not everyone takes to working from home readily, and setting up a productive workspace can be a challenge. But if you thought your setup was less than optimal, check out this gallery of the worst home offices quite possibly ever. Be forewarned: some of them are really vile, and give new meaning to the term "gross domestic product." I mean, how...????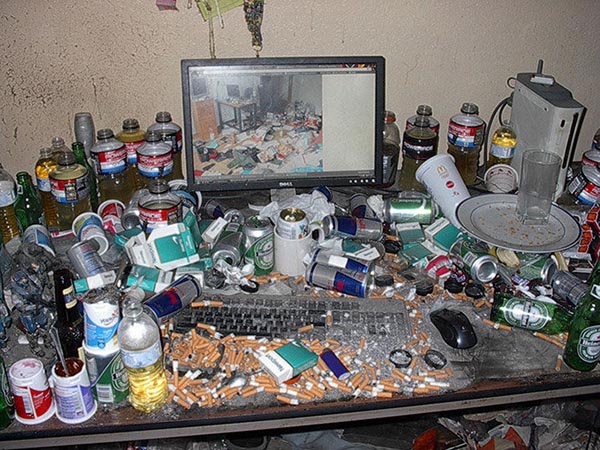 We'd recommend a good book on the subject, but if someone can't manage even basic hygiene, they're beyond help.
Sound Affects
"NOTICE: Midnight porn-watching neighbor: Please delete our bluetooth speaker from your phone. Here are the instructions..." pic.twitter.com/znBAkiqU2l

— Tanner Brown (@luoshanji) March 21, 2020
Waiting for the UFOs
Just because you're stuck inside doesn't mean you still can't indulge your occult interests and search for UFOs, Bigfoot, or the Loch Ness Monster. Boing Boing offers a link to webcams that, via the National Park Service, watch the forests of the Pacific Northwest (maybe Bigfoot will make a cameo), Mexico's Popocatepetl volcano (apparently a UFO hotspot), Loch Ness, and various webcams at reputedly haunted houses and other locations. Who knows? Maybe you'll spot something.
By the way, the National Park Service webcams are also good for virtually getting out into nature and seeing things that actually exist. You can even watch Old Faithful erupt.
A Matter of Degrees
On one hand, it's concerning that smart thermometers are leaking so much data, but on the other hand, this is an example of connected stuff actually.......maybe......helping https://t.co/2HnPnESn9i

— Internet of Shit (@internetofshit) March 23, 2020
Another Filter Fail, Part the Infinity
Another livestream, another user who left camera filters on. From Boing Boing: "An unidentified priest in Italy didn't let the coronavirus situation stop him from doing mass. He simply live-streamed the service instead. Amusingly though, he left on his camera's filters which overlayed a space helmet, some glitter, dumbbells (?), and a Walter White hat and sunglasses get-up onto his otherwise serious broadcast."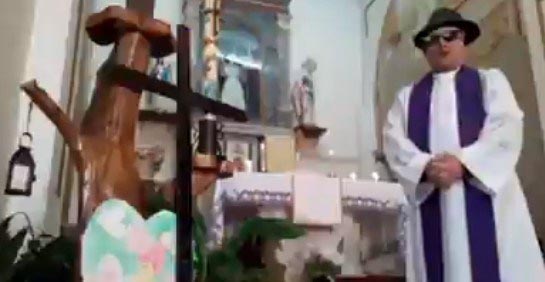 Vaguely Worded Quote
Our immediate reaction to this headline—"Impossible CEO says it can make a meat 'unlike anything that you've had before'"—was, "Well, so could we. You wouldn't ever want to consume it, but it would be unlike anything you've had before."
Good Morning, Los Angeles
It looks like they started a morning show. https://t.co/sBcVeVN7rd

— J. Elvis Weinstein (@JElvisWeinstein) March 24, 2020
Too Soon?
Remain indoors!
This Week in Printing, Publishing, and Media History
March 23
1857: Elisha Otis's first elevator is installed at 488 Broadway New York City.
1910: Japanese director, producer and screenwriter Akira Kurosawa born. (Everyone who witnessed his birth described it differently.)
1965: NASA launches Gemini 3, the United States' first two-man space flight (crew: Gus Grissom and John Young).
March 24
1693: John Harrison, English carpenter and clock-maker, invented the Marine chronometer. (Harrison was the subject of Dava Sobel's excellent book Longitude.)
1721: Johann Sebastian Bach dedicated six concertos to Margrave Christian Ludwig of Brandenburg-Schwedt, now commonly called the Brandenburg Concertos, BWV 1046–1051.
1834: English textile designer, poet, and author William Morris born.
1874: Hungarian-Jewish American magician and actor Harry Houdini (né Ehrich Weiss) escaped from the womb.
1907: The first issue of the Georgian Bolshevik newspaper Drois published.
1949: English singer-songwriter, bass player, and producer Nick Lowe born. And so it goes.
1958: Elvis Presley is drafted in the U.S. Army.
March 25
1811: Percy Bysshe Shelley is expelled from the University of Oxford for publishing the pamphlet The Necessity of Atheism.
1881: Hungarian pianist and composer Béla Bartók born.
1925: American short story writer and novelist Flannery O'Connor born.
1939: American screenwriter and producer D. C. Fontana born.
1957: United States Customs seizes copies of Allen Ginsberg's poem "Howl" on obscenity grounds.
1995: WikiWikiWeb, the world's first wiki, and part of the Portland Pattern Repository, is made public by Ward Cunningham.
March 26
1484: William Caxton prints his translation of Aesop's Fables.
1812: A political cartoon in the Boston Gazette coins the term "gerrymander" to describe oddly shaped electoral districts designed to help incumbents win reelection.
1830: The Book of Mormon is published in Palmyra, N.Y.
1859: English poet and scholar A. E. Housman born.
1874: American poet and playwright Robert Frost born.
1911: American playwright, and poet Tennessee Williams born.
1931: American actor Leonard Nimoy born.
March 27
1845: German physicist, academic, and Nobel Prize laureate Wilhelm Röntgen born.
March 28
1836: German-American brewer and founder of the Pabst Brewing Company Frederick Pabst born. (Did they sponsor the hipster Olympics?)
1842: First concert of the Vienna Philharmonic Orchestra, conducted by Otto Nicolai.
1868: Russian novelist, short story writer, and playwright Maxim Gorky born.
March 29
1871: Royal Albert Hall is opened by Queen Victoria.
1886: John Pemberton brews the first batch of Coca-Cola in a backyard in Atlanta.
1943: English actor and comedian Eric Idle born, looking on the bright side of life.
1999: The Dow Jones Industrial Average closes above the 10,000 mark (10,006.78) for the first time, during the height of the dot-com bubble. Ah, those were the days.
"Stay safe" is the new "take care"

— Tim Perzyk (@tperzyk) March 25, 2020
Stay safe!