Earlier this week, WhatTheyThink.com reported that Servador had acquired Webprint's technology and retained its core software development team. Today, the company made it official saying this was a new era for Servador.

According to today's release, the Webprint technology enables Servador to move into the next generation of Internet printing services. Servador plans to bring new levels of productivity and cost savings to customers who are mostly Fortune 1000 size companies.

The Adobe talent connection will be hard to ignore. Dr. Ivor Durham, Servador's new CTO and co-founder of Webprint, is a former Computer Scientist at Adobe and a key architect of Adobe's Display PostScript and software RIP technology. He leads a team that also includes Paul Beyer who was most recently Group Product Manager, Professional Publishing at Adobe Systems.

We were able to catch up with Servador's CEO Doug Evans and Dr. Durham to find out exactly what they have in mind.

Doug Evans, CEO (L) - Ivor Durham, CTO (R)



Servador: Doug Evans - CEO, Ivor Durham - CTO

Doug Evans, Chief Executive Officer

As one of the early leaders and innovators in the graphic arts and printing industries, Mr. Evans has played a crucial role over the last 15 years in the development of new printing and imaging systems as an entrepreneur, technology advisor and consultant, and as CEO of his own company. Mr. Evans founded Computer Impressions, Inc. in 1986 and grew the company to be one of the largest and most prestigious digital service bureaus in the country by 1991. He then went on to found Doug Evans+Partners ("DE+P"), a management and technology consulting company, focused on providing technology and strategic sourcing solutions to Fortune 500 companies.

In 1999 Mr. Evans founded Servador Inc., as a business process outsourcing and technology company focused on optimizing and integrating print supply chains. In mid 2001 Servador acquired 58k.com to develop private reverse auctions for large-scale commercial printing projects, and since that time, has seen 50% quarter over quarter growth in the business.

Mr. Evans is on the New York Board for the National Foundation for Teaching Entrepreneurship (NFTE). He also is an advisor to Jane Goodall, an active member of the Young Entrepreneurs Organization (YEO) and a member of the Social Venture Network (SVN).


Ivor Durham, Chief Technology Officer

As CTO of Servador, Dr. Ivor Durham, Ph.D. focuses on strategic technology development, next generation systems architecture and oversees ongoing product development and deployment activity across the company. Prior to joining Servador, Mr. Durham was co-founder and CTO of Webprint, an Internet printing technology and ASP solutions provider. He is considered one of the industry's leading engineers and systems architects.

Before developing the Webprint system, Mr. Durham spent twelve years at Adobe Systems as a Computer Scientist, Director of Internet Printing and a key architect of Adobe's Display PostScript and its software RIP technology (Configurable PostScript Interpreter, CPSI).

Mr. Durham has published numerous technical papers, currently has two patents pending and is a member of the Association for Computing Machinery, American Management Association, Sigma Xi. Mr. Durham received his Ph.D. in Computer Science from Carnegie-Mellon University and his B.Sc. with 1st Class Honours in Computer Science from the University of London.




QUESTION: From an obvious perspective, one does not think of Webprint and Servador in the same space. Tell us how this came together and why these two companies are better under one roof.

EVANS: We see the next generation of print technology and solutions already beginning to take shape. Both companies service the Internet Printing space, but are complimentary in their approach to technology and services designed to streamline and reduce the time and cost associated with purchasing printed products. Servador's online auction technology has a robust job ticketing and job specification engine, and is the market leader for managing reverse auctions and the sale of large, complex printing jobs. Engineering and managing a complex custom manufacturing process like commercial printing, is a core competency.

DURHAM: Webprint's focus has been on creating print-ready PDF workflow tools and a web services platform designed to dramatically simplify the process of creating and submitting print jobs to an in-house or external service provider. Today, one can upsell the other, in the future, these two product and service platforms could be found on a single corporate portal, facilitating a powerful set of Internet Printing resources that address the full spectrum of print communications.


QUESTION: Dr. Durham, Webprint has been praised by many respected publications. Indeed many companies known for their rigorous review of products selected Webprint as their solution. Describe Webprint's focus going forward and the technology behind it's functionality.

DURHAM: Webprint's focus as a technology and solutions provider is on removing the breakpoints within the printing process, between an end user, or a print buyer, and a printer or in-plant service provider. We began with simple office documents and enterprise workflow, and continue to move upstream to service increasingly complex graphic arts and commercial printing workflow.

The Webprint solution is a scalable print manufacturing system that is built with proven industry standard components, i.e. Adobe PostScript drivers, Adobe PDF, standard IE and Netscape browsers, Java, an XML Job ticket and an Oracle database.


QUESTION: As a division of Servador, Doug, tell us how Webprint will be presented to the marketplace. And how will Servador integrate Webprint into your offerings to corporate clients?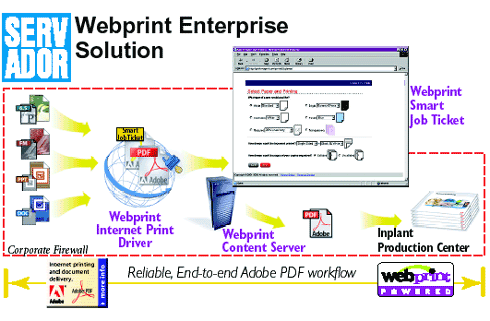 EVANS: The Webprint solution will be a primary product offering for Servador and will go-to-market as two basic platforms: 1) Webprint Enterprise, an integrated behind-the-firewall solution targeting facilities management companies and corporate in-plant printing operations, and 2) as a co-branded Webprint ASP solution targeting Quick Printing franchises and office supply retailers moving into digital on-demand printing.


QUESTION: What happens with the relationships Webprint had with other companies before this acquisition?

DURHAM: Servador is a very customer-focused, sales-driven company, and we are working to strengthen our Webprint channel partnerships, and on aggressively building-out our existing Fortune 1000 customers base.


QUESTION: Last summer, Servador acquired 58k. How has that business faired and is there any advantage gained by 58k's clients from the Webprint acquisition.

EVANS: Servador's private auction business, which leverages key components of the 58k public auction service, continues to grow at a rapid pace with consistent quarter over quarter growth rates of 50% or more for the past three quarters. We continue to sign on Fortune 1000 companies and large non-profits for the service at an astonishing rate. Selling both solutions into the same accounts, is a win-win for everyone.


QUESTION: As you both know, we have many members who purchase a significant amount of print for their business. Share with us the advantage your firm now has when pitching to a company.

DURHAM: It's our experience that in down or flat markets, solutions-based companies that can deliver a rapid ROI and do not require high upfront investment, process reengineering or costly systems integration, are likely to win. Customers don't necessarily want more hardware to solve a set of printing problems, but instead, they want to better leverage their existing infrastructure, provider relationships and enterprise resources.

EVANS: Both Webprint and our Professional Auction businesses fit this description. Servador skipped the rapid fall off in dot coms because we were flexible, we listened to our customers, and we solved a real set of problems. We will become the leading provider of print management technology and services for Global 2000 companies within the next 2 years.


QUESTION: Financially, tell us about your investors and their support of this business model.

EVANS: We have successfully raised funds through our private placement venture funding partner StarVest. Our goal is to manage internal growth with continued sales reaching cash flow breakeven in the fourth quarter of this year. We will also be announcing key partnerships in the next two months.