Sicily has figured out this whole self-isolation thing.#COVID19 #CoronavirusPandemic pic.twitter.com/93whPVtQcR

— John Nichols (@NicholsUprising) March 13, 2020
Greetings, Exciting and New
At a recent industry event (one of the last before they started getting cancelled), one of the interesting phenomena we experienced was the range of creative ways to avoid handshaking. Many of us preferred the fist bump—elegant, classic, unobtrusive—but the elbow tap was also a popular alternative. Still, the kinks do need to be worked out, as it was a bit of a faux pasto go for a fist bump while the other person was going for the elbow tap.
Still, Core77 offers a variety of other alternatives that don't involve any physical contact whatsoever—and can be done from a safe six-foot distance if need be, such as the Namaste, the Bow, the Magician (!), etc. We are partial to the Isaac.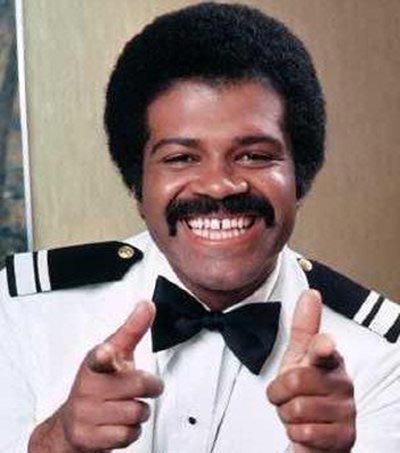 School's Out
Been homeschooling a 6-year old and 8-year old for one hour and 11 minutes. Teachers deserve to make a billion dollars a year. Or a week.

— shonda rhimes (@shondarhimes) March 16, 2020
Parents, teachers do this every day with jam packed classrooms, not just a couple of kids. Remember this week next time teachers ask for resources & pay commensurate with their expertise & effort.

— Josh Witten ?? ?? (@joshwitten) March 19, 2020
Dinner Rolls
Early in the COVID-19 crisis, Des Plaines, Ill.'s Beacon Tap had a unique promotion to lure leery customers: a free roll of toilet paper with each takeout or delivery order. "[General Manager Tommy] Riemer said, 'I immediately made a phone call to Trimark (which supplies toilet paper to the Beacon Tap) ... and ordered as much as I could so we could offer it to customers as a little comic relief.' Riemer ordered 300 rolls. He said the response from customers has been 'amazing' and he has already given out 80 rolls."
To be honest, we have been to some restaurants that should do this as a matter of course.
Nothawks
March 15, 2020
Going the Distance
While some of us were into social distancing before it became cool, in the current crisis, it is a recommended strategy to help reduce the spread of COVID-19. Still, sometimes people need to be...encouraged to keep their distance, so Core77 has issued a call for designs for a "social distancing enforcement object." This large wearable disk is one idea: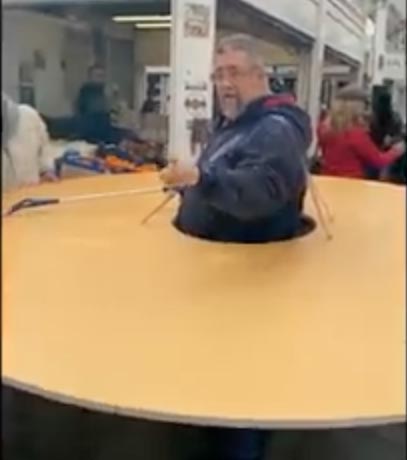 Not a good idea, but an idea. We'd pay good money to see him try to get through a door or navigate through a store (Glass Ornament Emporium should lock its doors if they see him coming). If you're going to go to that much trouble, maybe it would be better to just stay home.
Personal White Space
Inspired page layout from @nytimes #SocialDistanacing pic.twitter.com/uSWjaNqVmM

— Patrick Myles (@Patrick_Myles) March 19, 2020
Five Leaves Left
If the run on lavatory paper persists and the paper industry can't keep up with demand (even the AF&PA felt it should comment on the situation), be happy that spring is coming: Core77 gets to the bottom of things and provides a handy field guide to plant leaves that would suffice should the need arise—as well as some helpful tips on what to avoid:
- Anything waxy (smears rather than absorbs)
- Leaves grouped in threes (might be poisonous)
- Leaves growing in alternating, as opposed to mirroring, positions on the branch (might be poisonous)
Also, too: avoid conifers.
Resistance Isn't Quite So Futile
OMG who made this? ???? pic.twitter.com/3LKnXAOZl3

— George Takei (@GeorgeTakei) March 17, 2020
Not Just Toys In the Attic
Gage & Tollner was a famous upscale Brooklyn restaurant that dated from the 19th century. Over the years, it has hosted celebrities, and especially New York sports figures. It closed in 2004 and since then its old Fulton Street location served variously as a costume jewelry store, a tattoo parlor, and an Arby's. Now, the old steak-and-seafood restaurant is in the process of being revived and hopefully restored to its old glory, and during some renovation, the new owners found a trove of historical artifacts whilst cleaning out an old crawlspace. From the New York Times:
cryptic handwritten notes about turn-of-the-20th-century cash transactions; menus; price quotes from a butcher; notes on celebrity customers and the prodigious speed of an oyster shucker; correspondence about a restaurant display at the 1939-40 World's Fair; fliers from a 1948 strike; a 1965 WQXR radio advertisement recording; and a bill from a dinner for retired Brooklyn Dodgers players.
...
Among the first items pulled from the newly discovered boxes were award certificates from Holiday magazine, a national travel publication that honored Gage & Tollner for 24 straight years beginning in 1952. In an era before the James Beard Awards or Zagat's or Yelp, the Holiday awards were so coveted that the longtime owner Ed Dewey collected all kinds of ephemera from the galas, including invitations, menus, matchbooks, train tickets and pictures of him and his wife, Trudy, with other winners.
Some of diaries and other records provide a detailed look at the restaurant business—and race relations—in the late 19th and early 20th centuries.
Good Taste
Even in a plague, New Englanders refuse Manhattan Clam Chowder. pic.twitter.com/0y9aw9xeRh

— Hillary Monahan (@HillaryMonahan) March 16, 2020
Far and Awhey
Well, this would be embarrassing: "Miley from Vancouver, Washington thought she was doing her bit to stop the spread of coronavirus by thoroughly washing her hands with a bar of soap. Unfortunately, she instead succeeded in spreading some rather mature looking cheddar on her hands over the course of several days. Sharing her sorry tale on Reddit, Miley explained how the cheese ended up being mistaken for a bit of soap after it was left out of the fridge following a drunken late night snack."
Don't even ask about the Miracle Whip hand sanitizer.
That Way Madness Lies
This inspires me. I also will write King Lear. https://t.co/tUytqNjo0a

— A.R. Moxon (@JuliusGoat) March 14, 2020
Good News for Abibliophobes
As you finish out a week of self-quarantining and dread the thought of another, here's one way to help alleviate the boredom: you can check ebooks out of your public library remotely. And, even better, in lieu of the current crisis, book publisher Macmillan has decided to cancel its horrible plan to deny ebook licensing to libraries (at least for now). From Gizmodo:
Macmillan enacted the embargo last fall, claiming that the free availability of its ebooks at public libraries cannibalized its book sales. Librarians were, unsurprisingly, not happy about the move, which was instituted on top of the already-onerous fees and licensing terms that libraries have to agree to in order to offer ebooks. Macmillan was the only publisher to embargo new releases.
Library users still tend to prefer print books (or audio books), but as libraries are shutting their doors in the wake of the current crisis, ebooks remain the only viable material that can be circulated (unless your library makes streaming movies available via Kanopy), for those who suffer from abibliophobia.
The word of the day is... (via tumblr) pic.twitter.com/Uy0Jul0VIC

— goodreads (@goodreads) November 8, 2018
Maybe It Was Just an Excitable Boy
Interesting headline from LiveScience (and elsewhere): "Ice age 'house' made from bones of more than 60 mammoths mystifies archaeologists." And not just mammoths: reindeer, horses, bears, wolves, red foxes, and Arctic foxes. They were thorough, whoever they were. Researchers have no idea what this structure was used for; they ruled out use as a dwelling, and there is no evidence that there was anyway to put a roof on it. It is a puzzlement.
Oh, Rob
Authorities were forced to cordon off New Rochelle because when it comes to the the coronavirus, the place is a veritable Petrie dish. pic.twitter.com/j6Rso9NJRy

— Rocky Mountain Mike (@RockyMntnMike) March 13, 2020
Nothin' Like a Notre Dame
We don't know when we'll be flying again, but we rather like this idea: removable faux stained glass aircraft window clings: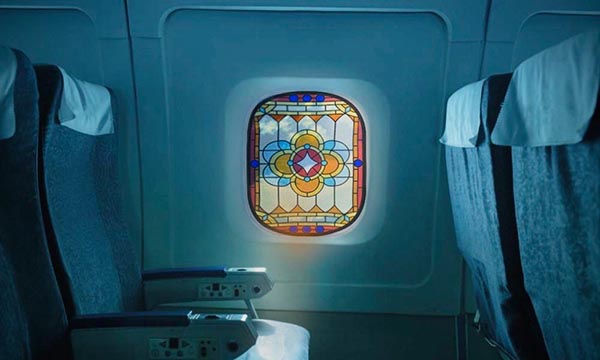 Now Southwest's "C" boarding group can stand for "cathedral." "It also protects against any germs that might be on windows! It's infinitely washable with soap and water or can be sprayed with disinfectant." It even comes in different sizes for different aircraft. Available here. Aisle-wide tabernacle sold separately.
Gut Feeling...or Vice Versa
As gyms and salons close across the city, Los Angeles residents are gripped for a dramatic reduction in hotness

— Hrishikesh Hirway (@HrishiHirway) March 18, 2020
Mark 2
Since the advent of the iPad and LCD-based tablets, the E Ink electrophoretic ereader technology kind of lost a bit of its appeal, although now that E Ink has a color version, it is back in the spotlight and is even finding applications in digital signage. And, via the Verge, even the latest black-and-white E Ink tablet might be a hit:
where the reMarkable 2 stands out is the "paper-like" design, a mixture of the textured writing surface and the custom material used for the stylus tips that makes it feel like an actual pencil. The Canvas display has a few new things, though: a shorter distance from the cover to the actual E Ink underneath and a far-faster 21ms latency (nearly twice as fast as the older model). The new model also switches over to USB-C for charging, which is a welcome thing to see in 2020.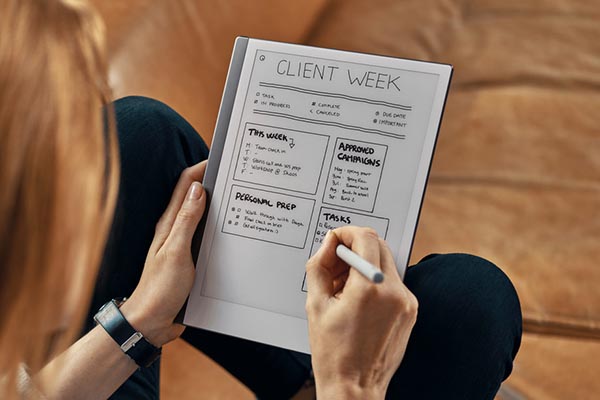 Other Advice Is Available
I told myself I really ought to stop drinking. But why should I listen to a drunk who talks to herself?

— RUTH BUZZI (@Ruth_A_Buzzi) March 12, 2020
Sub-Basement Tapes
We have heard of underground bands, but didn't know you could set a Guinness World Record for "deepest concert." And yet, via Huffington post, that is what Sudbury, Ont., band the Shaft Bottom Boys did, having played a 50-minute gig 6,213 feet below sea level in Creighton Mine. With perhaps some sense of irony, "Vocalist Steve Atkins says the whole performance was a high point in his life."
Ear Worm
?? It was an itsy bitsy teenie weenie ?? pic.twitter.com/ONhso41kQI

— Tom (@tdawks) July 10, 2018
This Week in Printing, Publishing, and Media History
March 16
1870: The first version of the overture fantasy Romeo and Juliet by Tchaikovsky receives its première performance.
1894: Jules Massenet's opera Thaïs is first performed.
1906: English-American violinist and comedian Henny Youngman born. Take his wife...please!
1926: Robert Goddard launches the first liquid-fueled rocket, at Auburn, Massachusetts.
In 1920, the New York Times published an editorial claiming that Robert Goddard "lack[ed] the knowledge ladled out daily in high schools" and that it was "absurd" to believe that rockets would work in space. They issued a correction 17 July 1969, the day after Apollo 11 launched.

— Quite Interesting (@qikipedia) March 11, 2019
March 17
1941: American singer-songwriter and guitarist Paul Kantner born.
Released #OTD 1967 - Purple Haze - Jimi Hendrix Experience

Still a thing of great beauty all these years later..

'Lately things they don't seem the same..' pic.twitter.com/AgbeQUwQY8

— Vinny M (@MVinny69) March 17, 2020
1973: The Pulitzer Prize-winning photograph Burst of Joy is taken, depicting a former prisoner of war being reunited with his family, which came to symbolize the end of United States involvement in the Vietnam War.
March 18
1733: German author and bookseller Christoph Friedrich Nicolai born.
1850: American Express is founded by Henry Wells and William Fargo.
1932: American novelist, short story writer, and critic John Updike born.
1961: American singer-songwriter and guitarist Grant Hart born.
March 19
1813: Scottish missionary and explorer David Livingstone born, we presume.
1895: Auguste and Louis Lumière record their first footage using their newly patented cinematograph.
1928: Irish-American actor, director, producer, and screenwriter Patrick McGoohan born. Be seeing you.
1931: Gambling is legalized in Nevada.
1933: American novelist Philip Roth born.
1962: Bob Dylan releases his first album, Bob Dylan.
March 20
43 BC: Roman poet Ovid born.
1828: Norwegian poet, playwright, and director Henrik Ibsen born (not in a doll's house).
1852: Harriet Beecher Stowe's Uncle Tom's Cabin is published.
1896: With the approval of Emperor Guangxu, the Qing dynasty post office is opened, marking the beginning of a postal service in China.
1915: Albert Einstein publishes his general theory of relativity.
1922: American actor, director, producer, and screenwriter Carl Reiner born.
1923: The Arts Club of Chicago hosts the opening of Pablo Picasso's first United States showing, entitled Original Drawings by Pablo Picasso, becoming an early proponent of modern art in the United States.
1948: With a Musicians Union ban lifted, the first telecasts of classical music in the United States, under Eugene Ormandy and Arturo Toscanini, are given on CBS and NBC.
1950: English drummer, percussionist, and songwriter Carl Palmer born.
March 21
1952: Alan Freed presents the Moondog Coronation Ball, the first rock and roll concert, in Cleveland, Ohio.
2006: The social media site Twitter is founded.
March 22
1765: The British Parliament passes the Stamp Act that introduces a tax to be levied directly on its American colonies. (Spoiler alert: it didn't go well.)
1887: American actor Chico Marx born. (Why a duck?)
1931: Canadian actor William Shatner born.