BREAKING: The World Health Organization has announced that dogs cannot contract Covid-19. Dogs previously held in quarantine can now be released. To be clear, WHO let the dogs out.

— Gillian Turner (@GillianHTurner) March 12, 2020
(Despite the joke, the news is actually real.)
Bugged
We have discovered that a good way to clear out an airport men's room is to wash your hands while singing "Happy Birthday to You" in the style of Marilyn Monroe singing to JFK. There are of course other songs that could be sung (and at some point we're going to end up having to send a few bucks to the estate of Patty and Mildred Hill). So, over at The Verge, Wash Your Lyrics, a lyric generator for handwashing "Just enter a song name and song title, and it automatically pulls the relevant lyrics from Genius and places them, line-by-line, over an infographic produced by the UK's National Health Service (NHS)."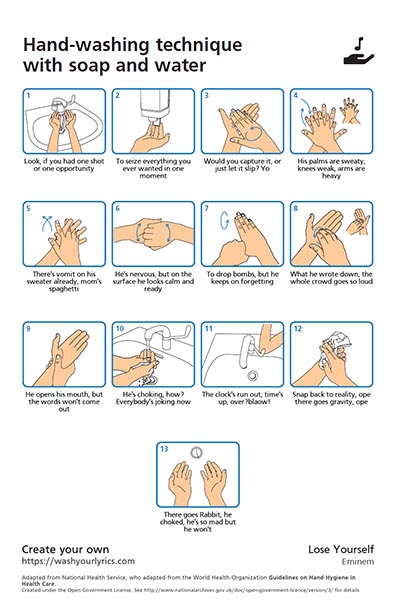 We're not sure that Eminem is an improvement over the coronavirus, but other songs are available.
Knobs
Centers For Disease Contraction Urges Americans To Suck Doorknob https://t.co/G4kto109lv pic.twitter.com/23boG9Y13G

— The Onion (@TheOnion) March 10, 2020
Skip to My Loo
As the coronavirus spreads, people have been stockpiling various essentials—at first hand sanitizer and facemasks, and now, as the prospect of quarantining looms, people are hoarding other essentials. In the UK, for example, toilet paper. "But there's plenty of toilet paper to go round, and capacity to make more - so there's no need to panic, says Tony Richards of Essity at the company's factory in Salford."
Aren't giant loo rolls a thing now? (Or that's a very tiny man.)
And that'll do it for our coronavirus coverage for the week.
And Comic Sans Induces Vomiting
Looking at curved or symmetrical typefaces (e.g. VAG Rounded) while eating jellybeans makes them taste sweeter, and angular typefaces (e.g. Klute) make them taste more sour. pic.twitter.com/GPzm6Ba7rc

— Quite Interesting Facts (@qikipedia) February 29, 2020
Virtual Shopping
From The Verge: "This week, Apple began rolling out a new update to its Quick Look augmented reality tool, letting iPhone and iPad users check out products in AR and then buy them directly....Home Depot, Wayfair, and 1-800-Flowers already support Quick Look, according to TechCrunch. So if you are looking to buy flowers, you can see how the vase and bouquet might look on a table or you can see how that new couch from Wayfair could look in your living room."
Eat It—Or Not
You almost never see a TV ad for a food item you should ever eat.

— J. Elvis Weinstein (@JElvisWeinstein) March 1, 2020
Virtual Fashion
We all know that the fashion industry—and especially fast fashion—is bad for the environment. But at the same time, people apparently buy certain fashions for the sole purpose of posting on Instagram. From Teen Vogue:
In an era where "fit pics" rule our Instagram feeds, it's not uncommon for an outfit to be viewed as "postable" only once. Take Fashion Nova, for example. Instagram's most popular brand has mastered the art of mass-producing popular styles for the purpose of photographing and discarding them.
While this may be an indication that we're nearing civilization's end times, one sustainable solution is virtual fashion.
Carlings decided to experiment with merging the physical and digital world to give garments a "digital afterlife," dropping the first augmented reality t-shirt at the end of last year. With a graphic logo that acts as a tracking point for a smartphone, wearers could choose between four designs using Spark AR technology on their phones.
Once we all start wearing augmented reality glasses or contact lenses, perhaps are wardrobes will all be "blanks" that will be filled in by whatever pattern we choose to broadcast when we go out—or stay in and pose for Instagram.
Doesn't Hold Water
This "smart, simple, sustainable" water bottle requires:
* a custom water bottle
* an iPhone app
* special canisters
* 3 of them actually
* a monthly payment
* I would assume a lithium ion battery?
* yes, it's a four day lithium ion battery in my sustainable water bottle pic.twitter.com/Qi3BJoMDZU

— Lee Edwards ???‍???? (@terronk) March 7, 2020
Down in the Mall
It's not breaking news that the nature of the shopping mall is changing, turning more from purely retail to more of an experience destination. Now, via The Guardian, a new mall in the Dutch city of Groningen that doesn't really sell anything, "The €101m, trapezoid Forum building is part library, part meeting space, part science museum and part recreational hangout – a 10-storey 'multi-space' designed to resonate with citizens who know that shopping is not necessarily the answer. It's a new-look department store that doesn't actually sell very much."
Forbes expands on this idea with 5 retail trends for 2020.
Give It Time...
Dole Introduces New Voice-Activated Grapefruit https://t.co/TGlofMaRwJ pic.twitter.com/VLPPVnoT0b

— The Onion (@TheOnion) March 11, 2020
MapMyThievery
Do you use a geotracking app when you run, bike or walk? Lots of people do, but one man ran into trouble when he repeatedly biked past what was, unbeknownst to him, the scene of a burglary. Via NBC News, the trouble started—as it always does—with an email.
It was from Google's legal investigations support team, writing to let him know that local police had demanded information related to his Google account. The company said it would release the data unless he went to court and tried to block it. He had just seven days.
...
[His] lawyer, Caleb Kenyon, dug around and learned that the notice had been prompted by a "geofence warrant," a police surveillance tool that casts a virtual dragnet over crime scenes, sweeping up Google location data — drawn from users' GPS, Bluetooth, Wi-Fi and cellular connections — from everyone nearby.
The warrants, which have increased dramatically in the past two years, can help police find potential suspects when they have no leads. They also scoop up data from people who have nothing to do with the crime, often without their knowing ? which Google itself has described as "a significant incursion on privacy."
Beardsecond
One beardsecond is a unit of length equal to the average amount a beard grows in one second, equivalent to 5 nanometers.

— Quite Interesting Facts (@qikipedia) March 10, 2020
Escape Claws
Via Core77, Christmas Island has a unique challenge for its residents and its infrastructure designers: the 40–50 million crabs that live there and make an annual migration. To keep both humans and crustaceans safe and inconvenienced, the island's government has constructed fences, overpasses, and other conduits to convey the crabs safely.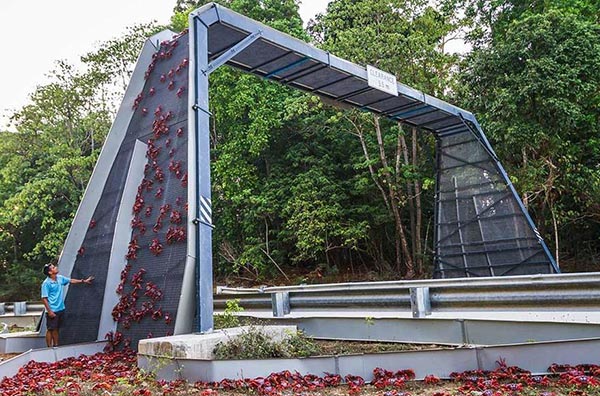 Blaming One's Tools
Members recently received the following e-mail note:

"The Museum of Printing regrets that you received a notice about membership renewal that you should not have received. We were experimenting with a new inkjet approach. This never happened with Addressograph plates!"

1/3

— Museum of Printing (@MOPrinting) March 10, 2020
It could be worse—it could have sent expiration notices to people with lifetime memberships, creating all sorts of existential problems.
Ode to Joy
Last year marked the 40th anniversary (!) of Joy Division's seminal album Unknown Pleasures, which has one of the most iconic covers (remember album covers?), based on a plot of radio frequencies of the first pulsar discovered by scientists. Now, LA streetwear brand Pleasures has launched a line of Unknown Pleasures-themed merch, including a puffer jacket.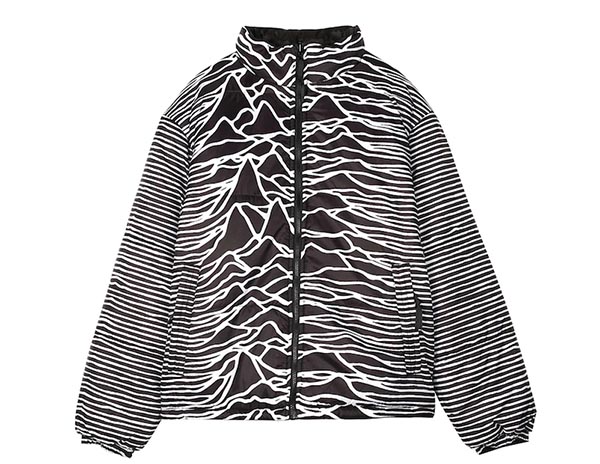 If jigsaw puzzles are your thing, head over to Portland Laser Co.: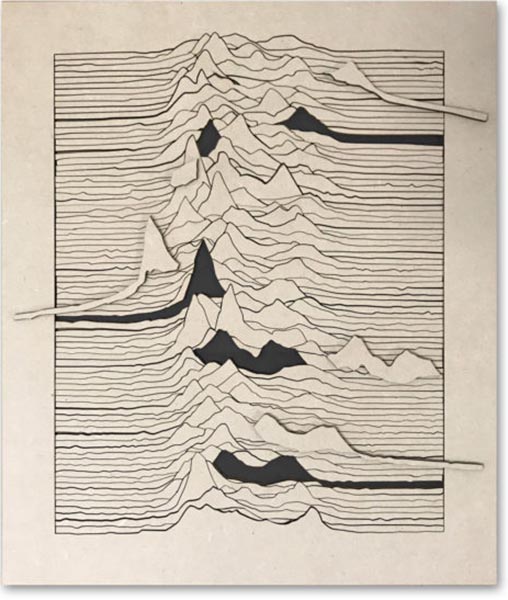 Off the Deep End
Oh, just give him the dollar. https://t.co/1LgatJUIjC

— Michael McKean (@MJMcKean) March 11, 2020
This Week in Printing, Publishing, and Media History
March 9
1454: Italian cartographer and explorer Amerigo Vespucci born.
1776: The Wealth of Nations by Scottish economist and philosopher Adam Smith is published.
1815: Francis Ronalds describes the first battery-operated clock in the Philosophical Magazine.
1842: Giuseppe Verdi's third opera, Nabucco, receives its première performance in Milan; its success establishes Verdi as one of Italy's foremost opera composers.
1918: American crime novelist Mickey Spillane born.
1954: CBS television broadcasts the See It Now episode, "A Report on Senator Joseph McCarthy," produced by Fred Friendly.
1959: The Barbie doll makes its debut at the American International Toy Fair in New York.
1963: American journalist and author David Pogue born.
March 10
1876: The first successful test of a telephone is made by Alexander Graham Bell.
March 11
1702: The Daily Courant, England's first national daily newspaper is published for the first time.
1851: The first performance of Rigoletto by Giuseppe Verdi takes place in Venice.
1952; Don't panic! English author and playwright Douglas Adams born.
1989: Sir Tim Berners-Lee submitted his proposal to CERN for an information management system which would be developed into the world wide web.
March 12
1838: English chemist and academic William Henry Perkin born. Whilst trying to synthesize artificial quinine to help battle malaria, Perkin accidentally invented the first synthetic organic dye, mauveine, made from aniline.
1858: American newspaper publisher Adolph Ochs born.
1894: Coca-Cola is bottled and sold for the first time in Vicksburg, Mississippi, by local soda fountain operator Joseph A. Biedenharn.
1922: American author and poet Jack Kerouac born.
1928: American director and playwright Edward Albee born.
March 13
1781: William Herschel discovers Uranus.
1921: American cartoonist Al Jaffee born.
1930: The news of the discovery of Pluto is telegraphed to the Harvard College Observatory.
March 14
1663: Otto von Guericke completes Nature of Space and the Possibility of the Void, which postulated the existence of a vacuum.
1836: English author of Mrs Beeton's Book of Household Management Isabella Beeton born.
1874: Dutch businessman and co-founder of Philips Electronics Anton Philips born.
1879: German-American physicist, engineer, academic, and Nobel Prize laureate Albert Einstein born.
1885: The Mikado, a light opera by W. S. Gilbert and Arthur Sullivan, receives its first public performance in London.
1931: Alam Ara, India's first talking film, is released.
1936: The first all-sound film version of Show Boatopens at Radio City Music Hall.
1994: Linux kernel version 1.0.0 is released.
March 15
1918: American author, critic, and biographer (James Joyce, Oscar Wilde) Richard Ellmann born.