Industrial Print
This special interest area of WhatTheyThink focuses on emerging trends in the rapidly-growing area of industrial printing. It features commentary and analysis on technical and business trends in industrial printing including 3D Printing, industrial inkjet, functional printing and other areas printing technology is used within industrial applications and manufacturing.
There's a lot happening in the world of digital textile printing, an exciting and vibrant market. It seems like every day we come across new products, services and applications that digital technology enables—either to streamline existing traditional methods or to enable entirely new capabilities. Israeli company Twine Solutions is bringing digital printing technology to the most basic commodity in the industry, the thread. Read more to learn how this technology can benefit your business.

---

Environmental or experiential graphics are a growing trend in signage, with sign shops using the latest display graphics technologies and substrates to transform office spaces. As a result, sign and display graphics providers are working more closely with interior designers and architecture firms. Case in point: Signs By Tomorrow's interior graphics for the American Diabetes Association's new headquarters.

---

There has been a lot of hype over the last few years about 3D printing, or additive manufacturing, being the next big thing in the print-related world. We recently learned that EFI hired Gal Barak as its Inkjet Eastern Region Sales Manager. Barak most recently worked for 3D printing company Stratasys. Why did he make this move and what are his thoughts on 2D versus 3D? Read more.

---

Direct-To-Shape (DTS) has become a commonly used term in recent times. We want to try to clarify a little around the definition of DTS and to describe the state of this particular art. We are prompted to do this by our recent visit to the InPrint Europe Industrial Print show in Milan, Italy, where there was a lot of discussion of the potential of DTS as a market.

---

What turned out to be the penultimate SGIA Expo featured an emphasis on "industrial printing"—a nebulous but increasingly common term for what mainstream printing may be morphing into.

---
Xerox PARC CEO on Industry 4.0 and the Packaging Internet of Things
Published: February 6, 2018
David Zwang speaks with Tolga Kurtoglu the CEO of Xerox PARC, the global technology research organization about what we can expect in the near and midterm future, and how it may affect Industry 4.0 and packaging IoT.
ThreadX Gearing Up to Be an Informative Conference for the Garment and Apparel Decorators Community
Published: January 22, 2018
SGIA's President & CEO Ford Bowers shares information about the upcoming ThreadX Conference, scheduled for 25-28 February in Palm Springs. Designed to support the garment and apparel decorators community, the second largest community within SGIA, ThreadX will feature well-known speakers and thought leaders from the industry.
How Digital Technologies are Impacting Package Printing with New Embellishment Tools
Published: December 11, 2017
Jeff Peterson, President of FSEA, gives an overview of the association and how it serves members through their Odyssey show, magazine, and webinar events. He also discusses how new digital technologies like MGI and Scodix take specialty effects to the next level as well as a new study done in conjunction with Clemson University that showcases how end users tend to see embellished print first over standard package printing.
Inkjet Head Technology Innovation at Konica Minolta Opens Up New Applications
Published: November 22, 2017
Gavin Jordan-Smith Vice President, Industrial Print and Graphic Communications at Konica Minolta provides an update on Konica Minolta lastest advancements in inkjet head technology and new applications these advancements are enabling in industrial and commercial printing.
Brian Dollard on Ricoh's Commercial and Industrial Print Strategy
Published: October 30, 2017
Brian Dollard, Director of Strategic Planning and Business Development, at Ricoh talks about Ricoh's strategy with the company's newly formed organization that focuses on commercial and industrial printing.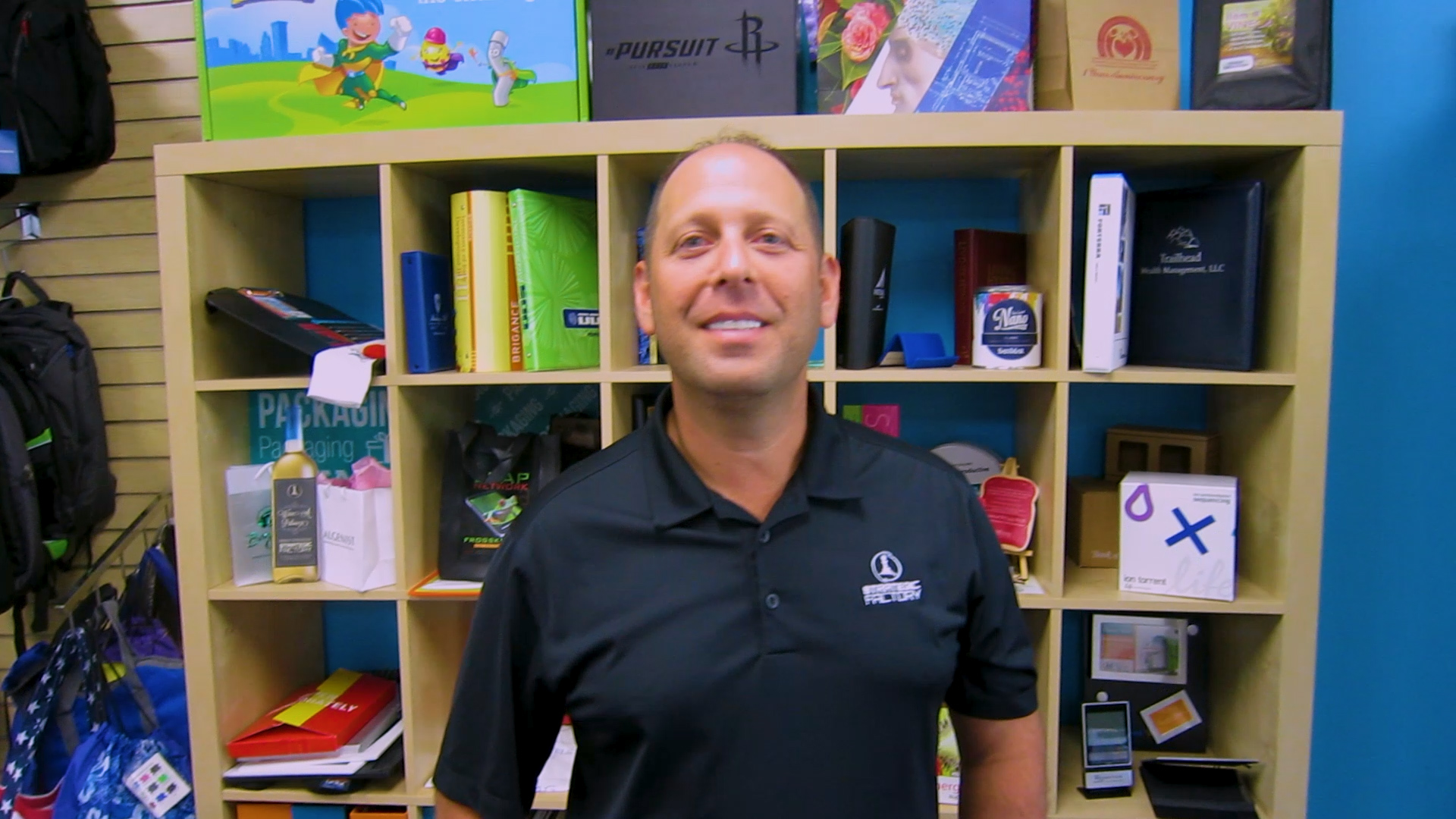 Frank Visits Strategic Factory
Published: October 13, 2017
Keith Miller took a small print shop and grew it into an $18 Million super shop called Strategic Factory. He changed the concept of what a printer is. Call the company what you wish but they still put imagery on all kinds of substrates for marketing applications.