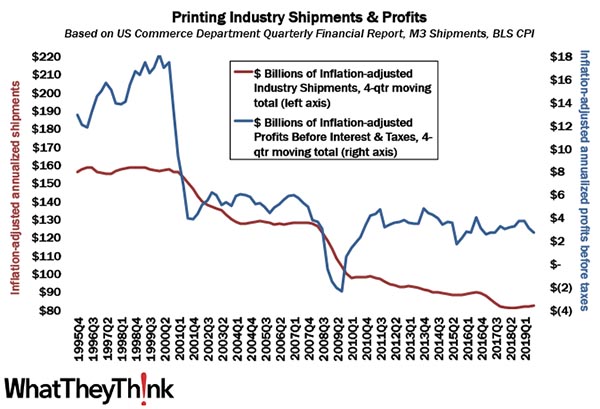 Industry profits data for the third quarter of 2019 came out last week, and annualized profits for Q3 were down from $3.05 billion to $2.65 billion.
In Q3, for the industry on average, profits before taxes were 1.97% of revenues, and for the last six quarters, they've averaged 3.86% of revenues.
We see another chapter in our "tale of two cities" narrative, with the profitability gap between large and small printers widening yet again. Back in September, when we looked at the Q2 2019 profits report, we noted that for large printers (those with more than $25 million in assets), profits before taxes were 0.5% of revenues. In Q3, this went negative again, dropping to -5.33% of revenues. For small printers, though, profits before taxes rose from 6.74% of revenues in Q2 to 9.70% in Q3. So large printers are continuing to drive down overall industry profitability.
We will have more to say on industry profits—and many other topics—in our forthcoming Printing Outlook 2020 report, coming in January.