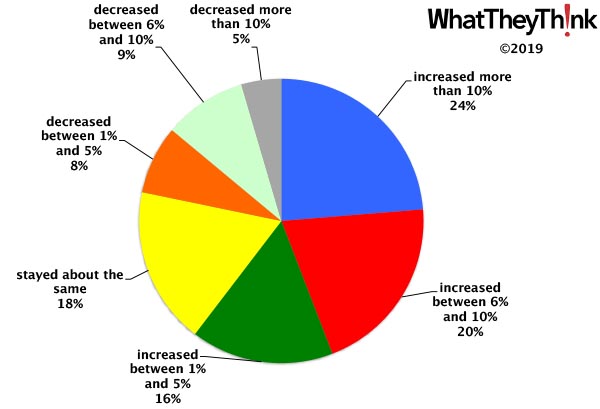 We closed our 2019 Business Outlook Survey yesterday (thanks to everyone who participated!) and are starting to crunch the numbers, so we thought we would share a sneak peak of some initial business conditions data. Mind you, these are raw numbers straight from the (Survey) Monkey's mouth and are not yet weighted to industry demographics, but they give us a good idea of how things shook out in 2019 for the industry. As we glance through the survey results, we see that there is a bit more tempered optimism than we might have gleaned from recent printing shipments data.
The good news is that just about one-fourth (24%) of survey respondents reported that, compared to 2018, revenues for 2019 were up more than 10%. That's the highest this has been since we started our annual survey in 2015. (That number may change as we further process the survey results, but likely not by much.) On the downside, 14% said that revenues decreased by more than 5%—although that's up 14 percentage points from last year, it's about average for the past four surveys. A quick plug of these numbers into our Business Conditions Index (BCI) finds that the BCI ticked down from 2018, from 322 to 294. (The BCI is indexed to 2015, which was not a great year for the industry.)
We always ask about how respondents anticipate future revenues, and it has been a long tradition for industry outlook survey respondents to expect the next year to be wildly better than the current one, however realistic it may or may not be—we even saw this during the Great Recession. However, we find in this survey that optimism is fairly muted. Don't start singing "Where Have All the Good Times Gone?" just yet, but the initial impression we get is that print industry executives are hopeful yet cautious. That's not a bad thing.
We also asked about challenges, opportunities, and investments and a cursory glance through the initial numbers turns up some of the usual suspects, but a few surprises as well. And looking at what kinds of products and services shops plan to add in the next 12 to 18 months, well, let's just say that Cary Sherburne will be interested in these survey results.
The full data set will be available in our Printing Outlook 2020 report, which will be available in January. The report will include complete survey results, with breakdowns by plant size, as well as other industry data, general macroeconomic trends, hot and cold industry trends, and our forecast. Stay tuned!