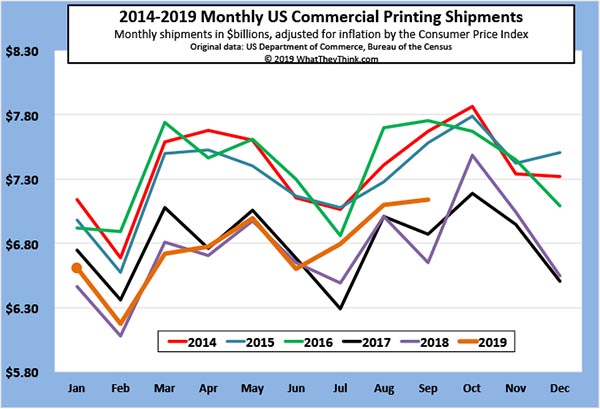 Consider us pleasantly surprised. September printing shipments took an unexpected but welcome upward turn, coming in at $7.14 billion, a modest increase from August's $7.10 billion and well above September 2018's $6.65 billion.
As a result, year-to-date shipments for 2019 continue to stay ahead of 2018—January-to-September shipments for 2019 are at $60.90 billion compared to 2018's $59.83.
For five out of the last six years, October was the peak month for shipments; will that trend continue? The indications are good, but we hope to not be unpleasantly surprised.
It continues to look like 2019 will be the best year the printing industry has had since 2016, and anecdotal evidence from the fall trade shows seems to confirm the renewed sense of optimism and excitement that many of us have not seen in the industry since...well, probably since the 1990s. As we start to compile and analyze data for our 2020 Outlook Report, it bears mentioning that there are some potentially dark macroeconomic clouds on the horizon (and some potentially disruptive technologies), but for now, things are looking good.
Speaking of our 2020 Outlook Report, look for an invitation to participate in our annual Business Outlook Survey. Your opinion matters!