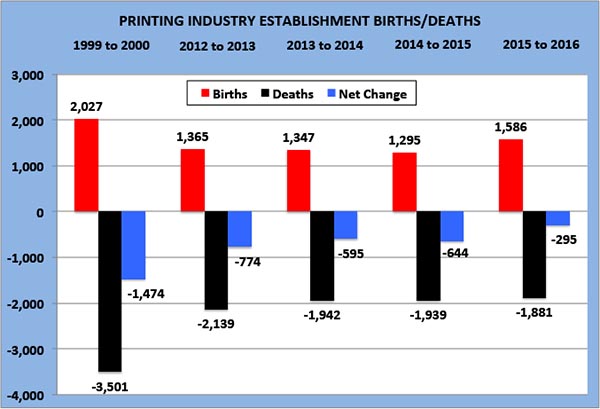 We can look at industry birth and death data to get a sense of how the industry is stabilizing and even improving—to some degree. From 2015 to 2016 (the most recent period for which we have data, which just came out last summer), there was an increase of nearly 1,600 establishments, but a decrease of just under 1,900 establishments, for a net loss of about 300 establishments. In that 2015 to 2016 period, we saw a much greater number of births and a smaller number of deaths compared to previous periods.
Essentially, we're still looking at a net attrition of printing businesses, a combination of consolidation and straight-out plant closures, but this attrition seems to have slowed, although we'll have to wait for the 2016 to 2017 data before we can identify any specific trend. But given what we have been seeing with shipments in the years since 2016, we should expect this situation to have improved even more.
At the same time, births and deaths don't always represent brand-new businesses or pushing-up-the-daisies dead ones. Rather, businesses often change their corporate structure. A corporation closes, a proprietorship opens. So it is often the same people just changing their tax structure. Also, this is often a "poor man's consolidation": two struggling print businesses find it cheaper to close and then open as a single new business, without dealing with the legalities and details of a merger or an acquisition.
It's also possible—and even quite probable—that certain businesses have changed their business enough that they end up in a different NAICS (the data presented here only tracks NAICS 323). So if a print business has decided to identify itself as a services-oriented business, it will end up in a different three-digit NAICS than 323, which is a manufacturing-oriented NAICS.
So there can be a lot of stuff happening beneath the surface of these birth and death data.