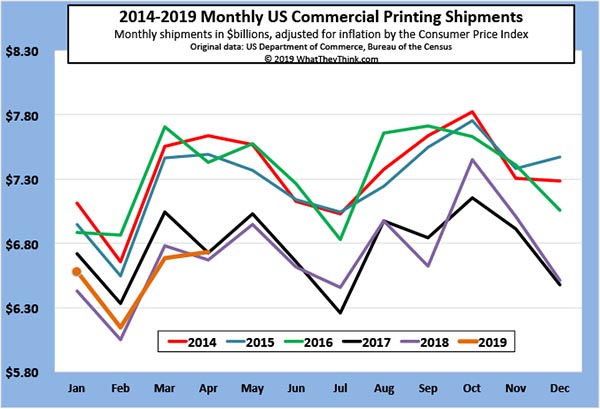 The value of printing shipments for April was $6.73 billion, up from March's $6.69 billion. It's been a while since April shipments were better than March's; perhaps a new seasonality is in the works. Even happier news is that April 2019 shipments were above April 2018's $6.67 billion and are tied (on an inflation-adjusted basis) with April 2017.
Year-to-date shipments for 2019 continue to outpace 2018—January-to-April shipments for 2019 are at $26.14 billion compared to 2018's $25.93.
We are looking forward to May shipments—May has become one of the biggest months of the year for the industry. Will that continue to be the case?
We mentioned last month that the Census Bureau had been scheduled to make significant revisions to past and present shipments data. It turns out that they did not; they only revised some of the seasonally adjusted data (which we do not use). This is a atypical of the Census Bureau, and quite a disappointment for our data wranglers.