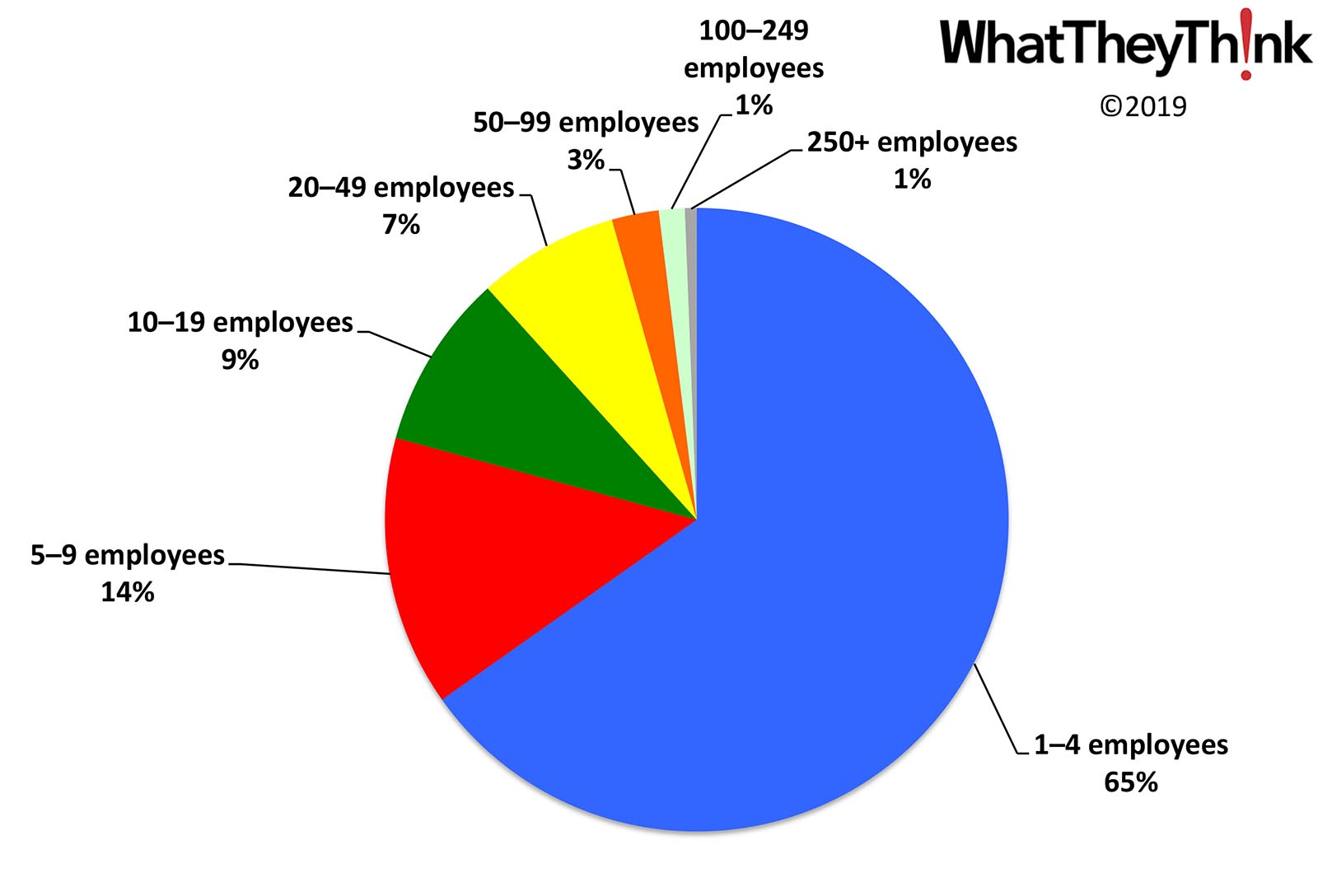 In our ongoing, semi-weekly look at establishment and employee counts of graphic arts businesses, we have been focusing on print-/media-buying establishments. Back in March, we saw that, in 2016, there were 37,875 establishments in NAICS 5418 (Advertising, Public Relations, and Related Services). Two-thirds of these establishments (65%) have under four employees, 79% have under 10 employees, and 88% have under 20 employees. The largest agencies (100 or more employees) only account for 2% of all establishments.
These creative establishments are smaller than what we tend to find in the more manufacturing-based printing NAICS categories, although they share the fact that smaller companies dominate the industry. 5418 establishments also comprise a not unsubstantial number of freelancers and independent contractors, who are not included in these figures—gleaned from County Business Patterns—but rather are tracked in Non-Employer Statistics, which we will look at in a later installment of this series.
NAICS 5418 is divided into the following sub-categories:
54181 Advertising Agencies
54182 Public Relations Agencies
54183 Media Buying Agencies
54184 Media Representatives
54185 Outdoor Advertising
54186 Direct Mail Advertising
54187 Advertising Material Distribution Services
54189 Other Services Related to Advertising
A good number of these categories have been growing (ad agencies, PR agencies) while others have been shrinking (direct mail advertising). Those creative/media-buying categories that have been growing are those that handle the widest variety of media for clients—especially social media (as you may recall from our employment discussions, public relations establishments have been seeing the greatest growth in employees, and it's increasingly PR agencies that do social media management).
These establishment counts are based on data from the Census Bureau's County Business Patterns. These data, like other demographic data, can be used not only for business planning and forecasting, but also sales and marketing resource allocation.