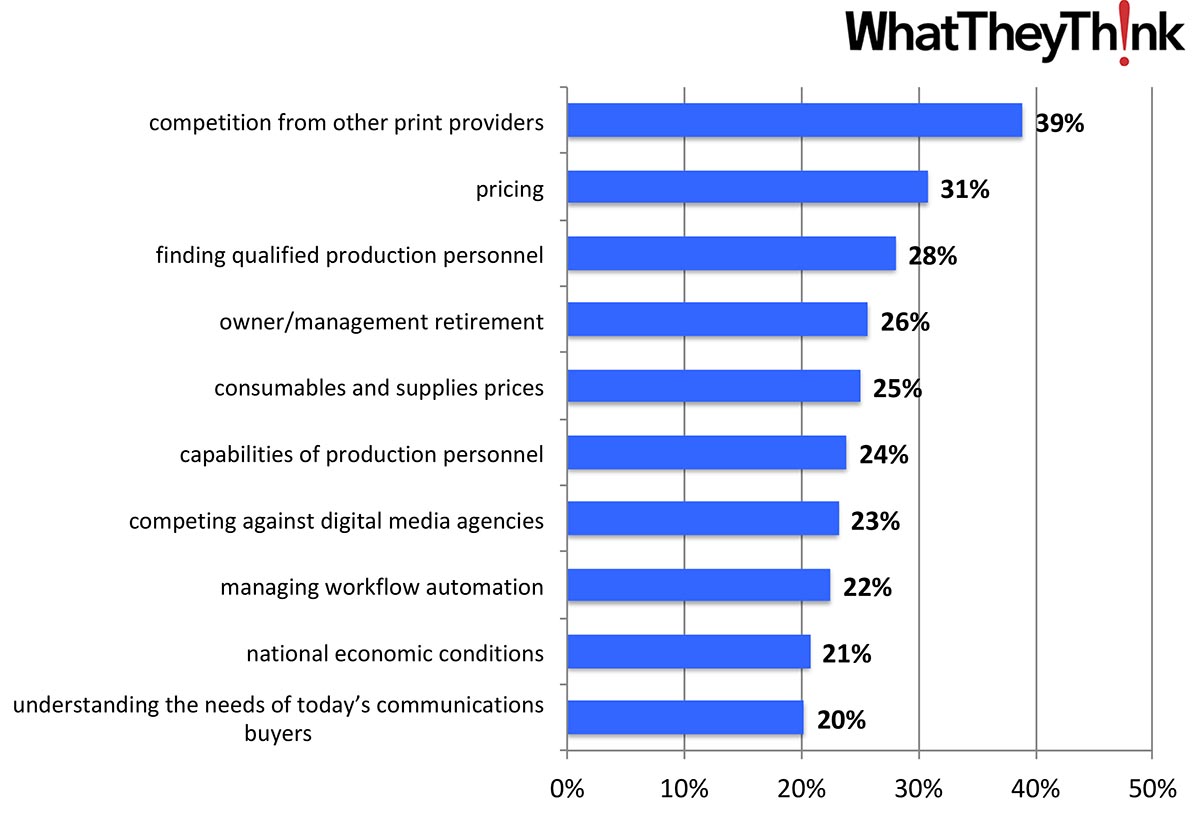 Our WhatTheyThink data analysis team has been conducting surveys of print businesses since the late 1990s and for most of that time, there were always some basic business challenges that never changed. For example, "economic conditions" was always the top challenge—even when there wasn't a recession. "Capabilities of sales personnel" was also a biggie. You know, "If only our shiftless sales guys would pound the pavement more, we'd beat those bad old economic conditions." This was often linked with "finding qualified sales personnel" ("Gosh, we have got to replace those shiftless sales guys.") So it's interesting that our most recent survey has been a bit of departure from the prevailing attitudes we have been seeing for nearly 20 years.
Well, OK, some things don't change: the number one challenge in Winter 2018/2019 was "competition from other print providers." There has always been the impression that other printers are undercutting them on prices and stealing potential customers. That's not necessarily true—although in some cases it can be—but it's been a long-held perception in the industry (and perhaps every industry).
"Pricing" has traditionally been a modest challenge; before digital printing, it was hardly a blip on the radar, but ever since, it has risen in importance as a challenge, especially as new products and services in the world of wide-format printing have muddied the pricing waters. That said, our recent surveys have found that print business owners are finally starting to get a handle on how to price digital and specialty printing; "pricing" was the number one challenge a year ago. But the fact that this challenge is still at number two more than suggests how difficult the marketplace for new printed specialty items can be.
The number three challenge reflects one of the most common conversations the industry has been having: "finding qualified production personnel." Finding folks who can (and want to) run printing equipment is a big problem for a lot of businesses in this industry. Is automation the solution to this problem? Sort of, but the human factor is still a factor.
These results—and many many more—can be found in our new Printing Outlook 2019 special report. It's interesting that some of the traditional challenges—especially those involving the search for, or the capabilities of, sales personnel—have fallen by the wayside. Whether these foci are the beginning of new long-term concerns for the industry or just an anomaly given the specific current environment remains to be seen. It could reflect a "changing of the guard" in print business ownership and management, with new leadership less inclined to focus on the concerns of the previous generation.