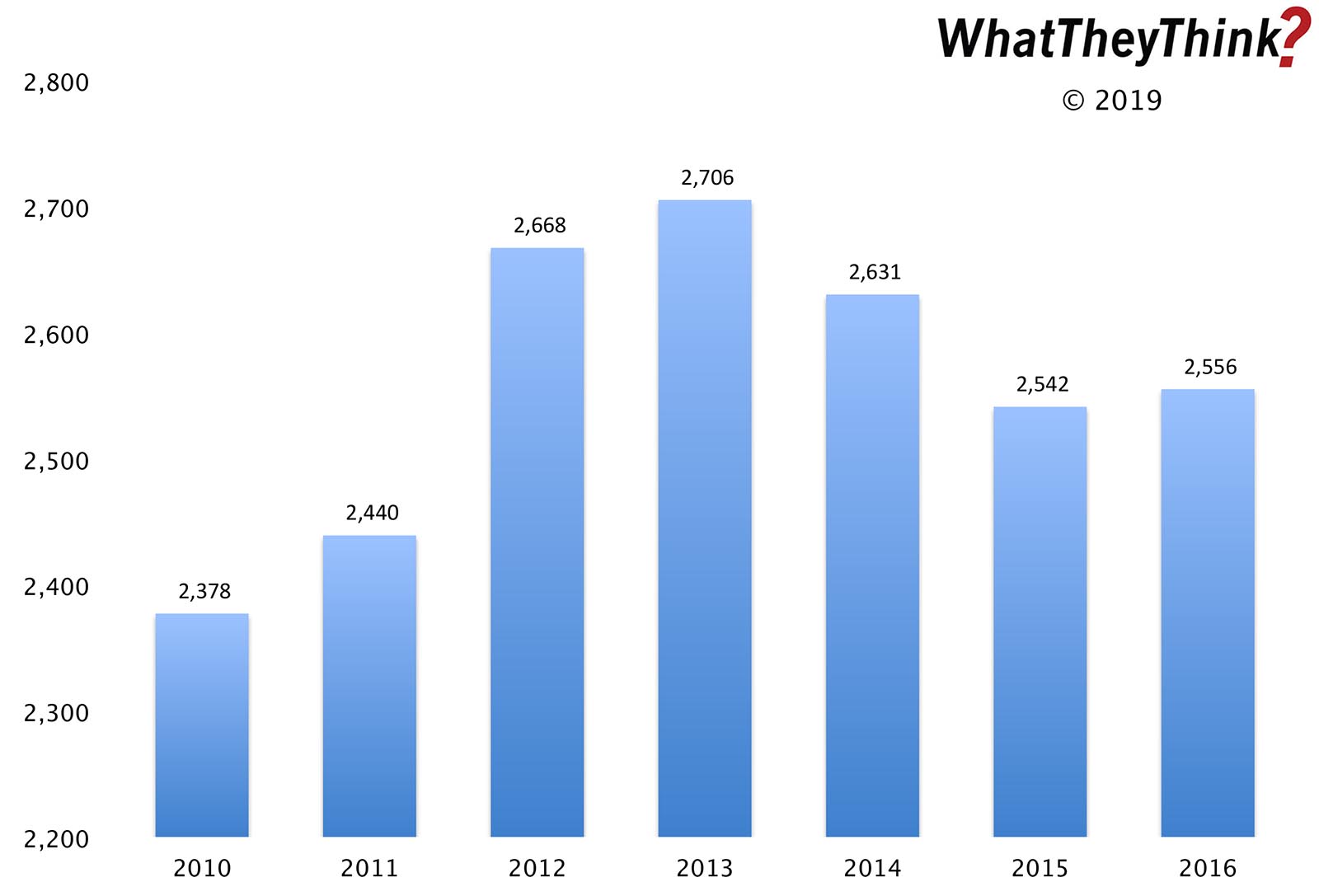 Over the past couple of months,we have been looking at print-/media-buying business establishments on the side of things, starting with NAICS 5418 (Advertising, Public Relations, and Related Services). This week we look at NAICS 54185 (Outdoor Advertising).
In 2010, there were 2,378 establishments in NAICS 54185. By 2016, there had been a net increase of +7.5% to 2,556. However, it is worth noting that in 2012 the Census Bureau renamed NAICS 54185. Prior to 2012, this category had been called Display Advertising. The current description from the Census Bureau reads:
This industry comprises establishments primarily engaged in creating and designing public display advertising campaign materials, such as printed, painted, or electronic displays; and/or placing such displays on indoor or outdoor billboards and panels, or on or within transit vehicles or facilities, shopping malls, retail (in-store) displays, and other display structures or sites.
The Census Bureau further identifies the kinds of businesses in this category:
Advertising services, indoor or outdoor display
Billboard display advertising services
Bus card advertising services
Bus display advertising services
Display advertising services
Indoor display advertising services
Out-of-home media (i.e., display) advertising services
Outdoor display advertising services
Store display advertising services
Subway card display advertising services
Taxicab card advertising services
Transit advertising services
The description has not changed even if the category name has, so its tempting to interpret the jump in establishments in 2012 to the simple change in nomenclature, but there were other forces at work around that time. First, the Great Recession was receding, which helped a number of other NAICS categories as well. The other was that wide-format printing was starting to take off in earnest around this time, and more businesses were getting into sign and display graphics, which prior to the advent of digital inkjet wide-format printing tended to be relegated to analog technologies or traditional sign construction methods. The leveling off of these establishments toward the middle of the decade reflected consolidation in two ways: first, as commercial print businesses sought to enter these markets, they acquired sign and display companies, and second, as the sign and display companies themselves added more products and services "outdoor advertising" wasn't a broad enough term to encompass what they offered, so they may have re-classified themselves elsewhere in the NAICS system, such as (from the Census Bureau's NAICS site):
Providing sign lettering and painting services—are classified in Industry 541890, Other Services Related to Advertising;
Printing paper or paperboard signs—are classified in Industry 32311, Printing;
Erecting display boards—are classified in Industry 238990, All Other Specialty Trade Contractors; and
Manufacturing electrical, mechanical, or plate signs and point-of-sale advertising displays—are classified in Industry 339950, Sign Manufacturing.
Or perhaps even elsewhere, as it may have occurred to you that we did not see a particularly substantial rise in establishments in NAICS 323 during this period. (Remember, it is the businesses themselves—or their accountants—who decide how to classify the business.)
These establishment counts are based on data from the Census Bureau's County Business Patterns. These data, and the overarching year-to-year trends, like other demographic data, can be used not only for business planning and forecasting, but also sales and marketing resource allocation.
The four-digit NAICS 5418 is divided into the following sub-categories (which we will be looking at individually in future installments of this series):
54181 Advertising Agencies
54182 Public Relations Agencies
54183 Media Buying Agencies
54184 Media Representatives
54185 Outdoor Advertising
54186 Direct Mail Advertising
54187 Advertising Material Distribution Services
54189 Other Services Related to Advertising
A substantial number of creative/media-buying establishments are freelancers, who are not tracked by County Business Patterns, but by Non-Employer Statistics. We will be looking at freelancers in future installments of this series.